Looking for some cauliflower breakfast ideas? Here's a yummy Low-Carb Sausage and Cauliflower Breakfast Skillet that features cauliflower in place of potatoes, cooked with crumbled sausage, eggs, and vegetables. My family didn't even notice the substitution and scared this low-carb skillet breakfast casserole right down.
Low-Carb Sausage and Cauliflower Breakfast Skillet Recipe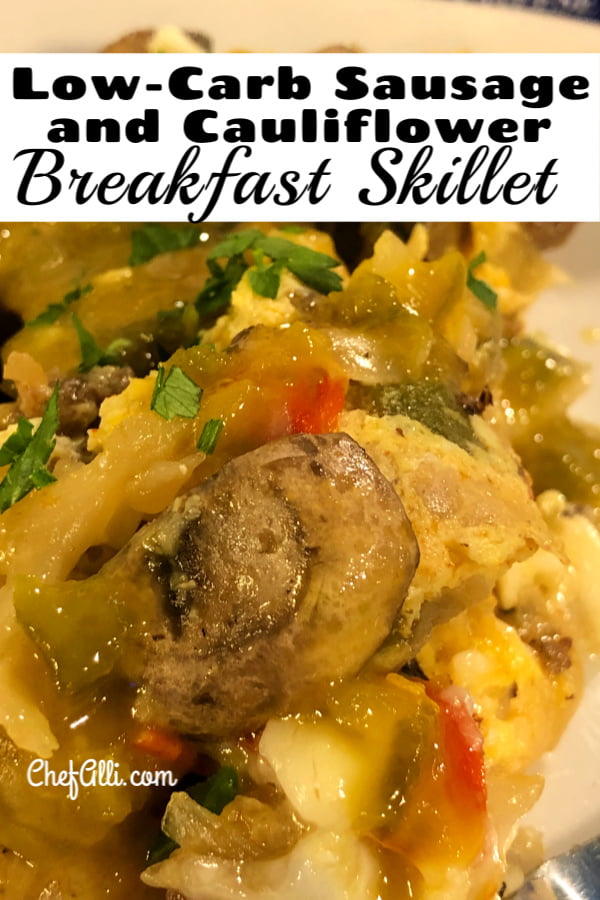 Please Note: We do use referral links for products and services that Chef Alli loves and recommends.
Howdy! Chef Alli Here. Let's Get You Cookin….
Yep, this easy breakfast meal features chopped cauliflower in place of potatoes. Sausage, vegetables, eggs, and cheese, in this skillet meal make a hearty keto breakfast that will get your day started off right, easily holding you over until lunch time.
My guys also like this scrambled egg and sausage skillet and don't even notice that I substitute cauliflower for the potatoes. Once the ingredients are nicely cooked and combined, it's difficult to detect that the potatoes are actually cauliflower isn't potatoes! I just keep my mouth shut and they scarf it right down!
What Ingredients Will I Need for Making This Low-Carb Breakfast Casserole?
Though this recipe calls for sausage, feel free to substitute any meat that you'd like to – chopped ham, Italian sausage, bacon, pepperoni, Canadian bacon, even ground beef! And, this breakfast skillet meal is a great way to incorporate leftover cooked or grilled meats, as well.
Lots of breakfast casseroles feature some sort of potato in the recipe, whether it's hash browns, shredded potatoes, or even roasted potatoes that were leftover from another meal. Potatoes are a great way to spike up your carb-count really quickly, so this recipe substitutes cauliflower in place of the potatoes. We enjoyed this recipe so much we didn't even
Besides the cauliflower, this breakfast meal includes lots of additional fresh veggies – you can actually add any low-carb vegetable that your heart desires. I often add some chopped baby spinach right at the end of the cooking time and even some chopped zucchini when it's plentiful in the summer months.
This ingredient puts a fun spin on this egg and sausage scramble. If you don't have sauerkraut on hand, add a cup of fresh slaw to the skillet when you stir in the bell peppers, cauliflower and mushrooms. Adding the slaw is also a good way to stretch this recipe further, if you've got extra mouths to feed!
It would be difficult to make a breakfast with eggs, don't you think? I try to keep "home-grown" eggs on hand via my egg lady, but store-purchased eggs are perfectly fine, too – all eggs will scramble and all eggs cook quickly! This recipe calls for cheddar cheese, but feel free to use up any shredded cheese you have on hand – I've used Swiss, Parmesan, mozzarella, even Muenster – the options are open to what you feel like and what your family enjoys.

Helpful Tips for Making a Low-Carb Cauliflower, Sausage, Egg, and Vegetable Breakfast Meal
Will this recipe still taste good if I want to opt out of adding any kind of meat?
Yes it will! If you leave out the meat, that means you have the drippings and fats left in the skillet that comes from browning the sausage. In that case, just a 1-2 Tbs. of olive oil or even coconut oil to the skillet as you begin cooking the garlic and onions.
Can I use frozen cauliflower in this recipe instead of raw cauliflower?
Yes, but be sure to add it into the the ingredients once they are fully cooked, since frozen cauliflower will cook very, very quickly. If you over cook it, the frozen type of cauliflower will get very mushy very fast, ruining the texture of both the cauliflower AND the skillet meal. (Frozen cauliflower is actually par-boiled before it frozen, so this is why is cooks much more quickly than raw cauliflower.)
What kind of a skillet should I use for making this dish?
I love my cast iron skillet! It's nice and heavy so it browns ingredients very nicely; cast iron also cooks super evenly – no hot spots! And, because cast iron holds heat really well, I like to place my skillet full of food right in the center of our table when we get ready to eat, and I can serve right from the pan. What's the only draw-back to cast iron cookware? In my opinion, due to the weight of cast iron, it's pretty hard to lift, especially when it's loaded with a nice meal for the family!
Speaking of skillets, is it safe to use a traditional cast iron skillet on my smooth top stove?
Great question! Sadly, the answer is no. Or rather, you shouldn't just as a precaution and to protect the smooth top. The best thing for cooking on a smooth top stove (as far as cast iron goes), is enamel-lined cast iron. I've got a few of these enamel-lined skillets and Dutch ovens for my smooth top stove and they work just great, plus I love the fun colors that are available in this type of cast iron cookware. FYI – my enamel-lined cast iron cookware is the Lodge brand – it works great and is super economical. Cast iron lasts a lifetime, another great plus.
If I don't have any Sarah Jane's Jalapeno Mustard on hand, what else can I substitute as a topping?
I'm glad you asked. I'd take some yellow mustard from the fridge and stir in a bit of honey, then drizzle this over each helping. If you happen to have a little pickled jalapeno juice, stir in a bit of that, too.
Can I add other types of meat instead of sausage?
Yes, you could use ground beef, ground venison, or even chopped pre-cooked meats, such as kielbasa sausage, little smokies, or brats. This skillet is super versatile and would be delicious with any type of meat stirred in. You could also substitute various type of cheeses to this skillet meal to vary the flavors.
More Delicious Recipes to Try –
Printable Recipe for Making Low-Carb Sausage and Cauliflower Skillet Breakfast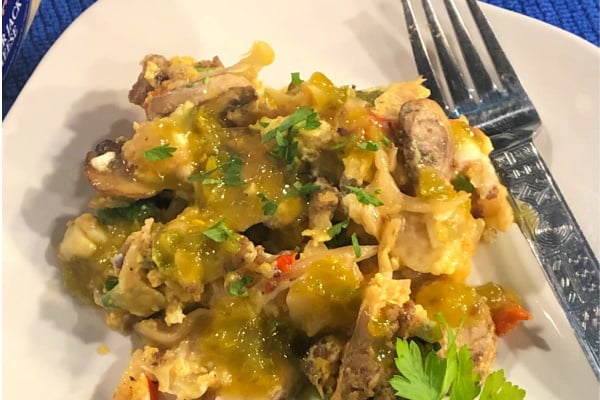 Low-Carb Breakfast Skillet with Sausage and Cauliflower
Looking for a breakfast scramble that's completely low-carb? This easy skillet meal substitutes chopped cauliflower for the typical breakfast scramble potatoes. It's flavorful, fast and beautiful, and can be served for any meal of the day.
Print
Pin
Rate
Ingredients
1/2

lb.

ground pork sausage

3

cloves

garlic, crushed

1/2

tsp.

smoked paprika

1

small red onion, diced

1

red bell pepper, diced

1

green bell pepper, diced

1

medium head of cauliflower, diced

8

oz.

sliced button mushrooms

1

cup

sauerkraut, well drained, optional, I love Hoganville Family Farms Sauerkraut, a mild and delicious Kansas-made sauerkraut

3

Tbs.

broth

3

scallions, chopped, green parts only

6-8

large eggs, beaten

kosher salt to taste and freshly ground black pepper to taste

1

cup

shredded Cheddar cheese, I prefer Alma Creamery Cheese, made in Alma, Kansas

Sarah Jane's Jalapeno Mustard, as a topping, another one of my favorite Kansas-made products
Instructions
In a large cast iron skillet (or your favorite heavy-bottomed skillet) over medium heat, crumble and cook the garlic and red onion with the pork sausage until the pork is nicely browned, no pink remains, and is fully cooked throughout. Remove the sausage mixture to a plate, reserving 1-2 tablespoons of the fats in the skillet.

Return the skillet to medium heat; add the bell peppers, cauliflower and mushrooms. Cook, stirring occasionally, until the vegetables begin to soften and turn golden. Add 3 tablespoons of broth to the vegetable mixture in the skillet; cover the skillet, cooking for another 5-10 minutes or until the cauliflower is fork-tender and the broth has evaporated.

Stir in the sauerkraut; return the reserved sausage mixture to the skillet. Pour the beaten eggs over all the ingredients in the skillet, cooking and gently stirring the eggs until they begin to set and are cooked to your preferred doneness.

Remove the skillet from the heat; season the breakfast scramble to taste with salt and pepper. Sprinkle the cheese and scallions over the entire scramble; cover the skillet with the lid, allowing the cheese to melt.

Serve at once, topped with Sarah Jane's Jalapeno Mustard, as desired.
Nutrition
Calories:
234
kcal
|
Carbohydrates:
9
g
|
Protein:
15
g
|
Fat:
16
g
|
Saturated Fat:
7
g
|
Cholesterol:
158
mg
|
Sodium:
365
mg
|
Potassium:
551
mg
|
Fiber:
3
g
|
Sugar:
4
g
|
Vitamin A:
1079
IU
|
Vitamin C:
72
mg
|
Calcium:
152
mg
|
Iron:
2
mg
We love hearing from our readers and followers, so leave us a comment if you'd like. And, if you don't hear back from us shortly, know that we may not have seen your comment. Feel free to reach out to us by email: [email protected].
Let's Get You Cookin',
Chef Alli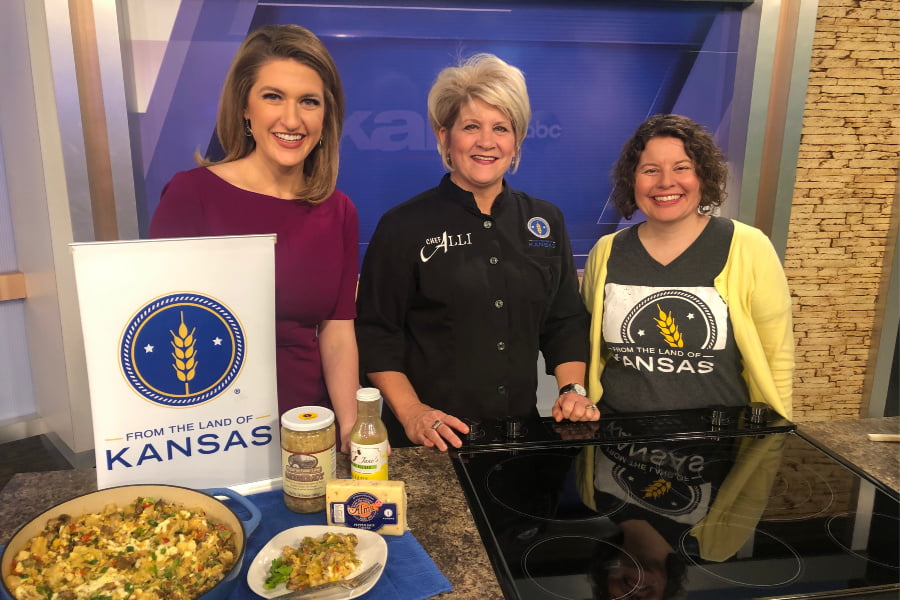 This is a sponsored recipe post, paid for by From the Land of Kansas, the state trademark program that promotes and celebrates agricultural experiences and products that are grown, raised or produced in Kansas. Visit their website for more information! Our featured guest for this televised segment on Good Morning KAKEland and recipe post Janelle Dobbins, Marketing Manager of the From the Land of Kansas program. All opinions expressed in this post are my own.