Do you have a special weekend brunch coming up? Here's what you need at the top of the menu: Very Berry French Toast Bake. Just assemble this breakfast casserole the night prior, and when morning arrives, you can bake up the most delicious pan of French Toast Bake you've ever put in your mouth.
Very Berry French Toast Bake Recipe

Please Note: We do use referral and affiliate links here for products and services that Chef Alli loves and recommends.
Howdy! Chef Alli Here. Let's Get You Cookin'….Shall We?? 🙂
I swear, we could eat French toast casserole every single day and NEVER tire of it! Topped with sugared berries and orange zest, this overnight French toast casserole is definitely on our list of family favorites. I love how fuss-free this French toast bake is! You can assemble it the night before which saves lots of time in the morning, and it's so easy to double the recipe and bake two pans if you've got to feed a crowd. The fruit topping makes this Very Berry French Toast Casserole seem extra special.
What Ingredients Will You Need to Make Classic Baked French Toast Casserole?
Using a loaf of French or Italian bread is great because you can slice the pieces of bread into the thickness that you prefer. We like our slices more on the thicker side, don't you? And, because French and Italian bread is dense, it really holds the custard (the milk/egg mixture) quite nicely, which is what gives French Toast Bake a nice, tender texture on the inside.
Eggs, whipping cream, milk, vanilla extract, granulated sugar, cinnamon, salt
These ingredients are what comprise the custard for the French Toast Bake. The custard is the mixture that the bread will be soaking up to make the French Toast tender and light on the interior. Using the combination of whipping cream and milk (instead of just milk) gives the French Toast a richer texture since whipping cream contains more fat. Fat in French Toast is what gives it a rich, velvety mouth-feel.
Sliced strawberries, blueberries, raspberries, dark brown sugar, cinnamon, orange zest
These ingredients make up the fruit topping. Use any combination of fruit that you prefer. I prefer about two-thirds sliced strawberries and one-third other berries.
Yes, this is an expensive ingredient, so don't faint when you get ready to make the purchase. Compared to pancake syrup (they are not even close to the same thing, actually) pure maple syrup seems pretty pricey.
Just know that you won't be using nearly as much pure maple syrup to get the same flavor and sweetness you desire since it's much more concentrated and also much thinner. Be sure to warm your pure maple syrup just before you drizzle it over the French Toast Bake to serve it.

Easy Recipe Tips for Making Baked French Toast
What's so great about making French Toast Bake? Isn't making French Toast on a griddle just as tasty?
Yep, French toast made on a griddle is absolutely delicious, there's no doubt about that. The only thing about that griddle is this: you've got to babysit it! If you don't you'll end up with some very scorched (blackened?) French Toast that your family will definitely turn their noses up at. However, once you've got your French Toast Bake (or French Toast Casserole) into the oven, guess what??? You can walk away and do OTHER things that need done. I love that. No standing next to the stove, tending each and every piece in a skillet…Woot! Woot!
What other breads make good cinnamon French Toast Casserole besides Italian and French bread?
Any dense bread that you can slice to the desired thickness you prefer is good, such as challah, potato bread, brioche, and sourdough.
Challah is a slightly sweet bread that makes excellent French Toast if you prefer it on the sweeter side of things. Potato bread is spongy and therefore really absorbs custard (the egg and milk mixture) nicely.
Brioche is a bread made with lots of butter and eggs, so of course it makes a fabulous French Toast. Sourdough is a rather tart bread, so it's a pretty lovely eating experience when you drizzle on the butter and warm syrup, powdered sugar, and sliced fruit.
Who knew there could be so many wonderful bread choices for making French Toast Bake? It's great to have options!
Why does this recipe instruct to remove the Very Berry French Toast Bake from the fridge, uncover, and let it rest for 30 minutes before baking it?
Letting the ingredients come to room temperature helps them bake much more evenly and also more quickly than if the ingredients are ice cold, straight from the fridge. Be sure to remove the foil when you set the chilled casserole on the counter before baking it – the foil can really hold in the chill, defeating the purpose of the rest at that point.
This recipe says to let the French Toast Casserole rest overnight. What if I want to serve it right away?
You may certainly do so, but you will need to let the French Toast soak up the custard for at least 30-40 minutes before you bake it. Otherwise, the French Toast could have a soggy texture because you haven't given the bread sufficient time to soak up the custard.
How do I know when my French toast bake is fully baked and done in the center?
I use the knife test. When the French Toast Casserole begins to puff up in the oven, getting beautiful and golden brown on the exterior and center seems to be "set" (it not longer jiggles when you move the pan a bit), I insert a butter knife into the center. If the knife comes out clean (or with just a very few bread crumbs stuck to it) I consider it done and remove the French toast bake from the oven.
Why is some of the fruit topping reserved for adding to the French toast bake AFTER it's baked?
The uncooked fruit you'll add once the French toast casserole is fully baked just adds color since fruit that's baked tends to lose all it's brightness. The fresh fruit also adds a bit more texture to the fruit topping and the French toast bake, as well. If neither of those things matter to you and your family, feel free to add all the fruit before you bake the French toast casserole – no problem at all.
Can I freeze this Very Berry French Toast Bake?
Yes, and here's how I'd do it: Assemble the recipe as directed, but don't top the French toast with the fruit. Place the fruit in a quart freezer bag, separately. Wrap the pan of French toast bake very well in plastic wrap, top with the bag of fruit, then wrap all of it in heavy duty foil and freeze. When you are ready to bake the French toast casserole, let it fully thaw in the fridge before baking it as the recipe directs. Strain the thawed fruit well, then spread it over the casserole and bake as directed.

Other Breakfast or Brunch Recipes to Enjoy –
Printable Very Berry French Toast Bake Recipe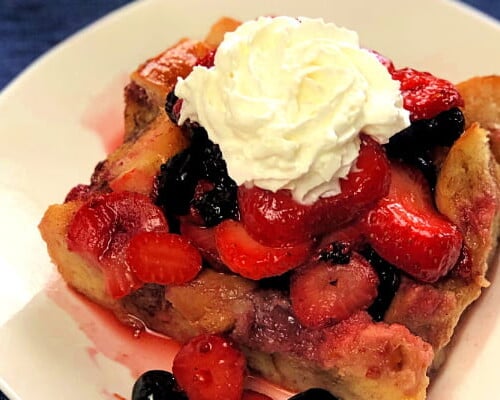 Very Berry French Toast Bake
Do you have a special weekend brunch coming up? Here's what you need at the top of the menu: Very Berry French Toast Bake. Just assemble this breakfast casserole the night prior, and when morning arrives, you can bake up the most delicious pan of French Toast Bake you've ever put in your mouth!
Print
Pin
Rate
Ingredients
1

lb.

loaf French or Italian bread, sliced into 1" cubes

8

eggs, beaten

1

cup

whipping cream

1 1/2

cups

milk, I used 2%

1

Tbs.

vanilla extract

1/3

cup

granulated sugar

1

tsp.

cinnamon

pinch

of kosher salt
Fruit Topping
4

cups

sliced strawberries, blueberries, raspberries, combined however you'd like to make the 4 cups needed

1/4

cup

dark brown sugar

1/2

tsp.

cinnamon

Zest of 1/2 orange

1/2

cup

Warm maple syrup, for drizzling
Instructions
Place the bread cubes into a greased 9 x 13 baking pan.

In a large mixing bowl, combine the remaining 7 French Toast ingredients, eggs - salt; pour over the bread cubes, gently pressing all of them into the egg mixture. Cover the pan and place into the fridge overnight, 6-8 hours.

To prepare the fruit topping, combine the sliced strawberries, brown sugar, cinnamon, and orange zest; reserve.

When you are ready to bake the French Toast, remove it from the fridge and uncover, letting it rest on the counter for 30 minutes. Preheat the oven to 350 degrees F.

Spread one-half of the prepared fruit topping over the French Toast; place, uncovered, onto the center rack of the preheated oven. Bake for 30-35 minutes, or until a knife inserted into the center comes out clean.

Top the French Toast Bake with the remaining fruit topping. Cut into 8 squares and serve with warm maple syrup, if desired.
Nutrition
Calories:
511
kcal
|
Carbohydrates:
74
g
|
Protein:
15
g
|
Fat:
18
g
|
Saturated Fat:
9
g
|
Cholesterol:
208
mg
|
Sodium:
390
mg
|
Potassium:
314
mg
|
Fiber:
4
g
|
Sugar:
38
g
|
Vitamin A:
756
IU
|
Vitamin C:
2
mg
|
Calcium:
165
mg
|
Iron:
3
mg
We love hearing from our readers and followers, so leave us a comment if you'd like. And, if you don't hear back from us shortly, know that we may not have seen your comment. Feel free to reach out to us by email: [email protected].
Let's Get You Cookin',
Chef Alli