You are just moments away from these Cranberry and Walnut Crescent Rolls that use your favorite Pillsbury crescent roll dough!
These golden brown pillows of flaky Pillsbury crescent rolls are full of sugared cranberries and toasted walnuts then drizzled with a warm powdered sugar glaze.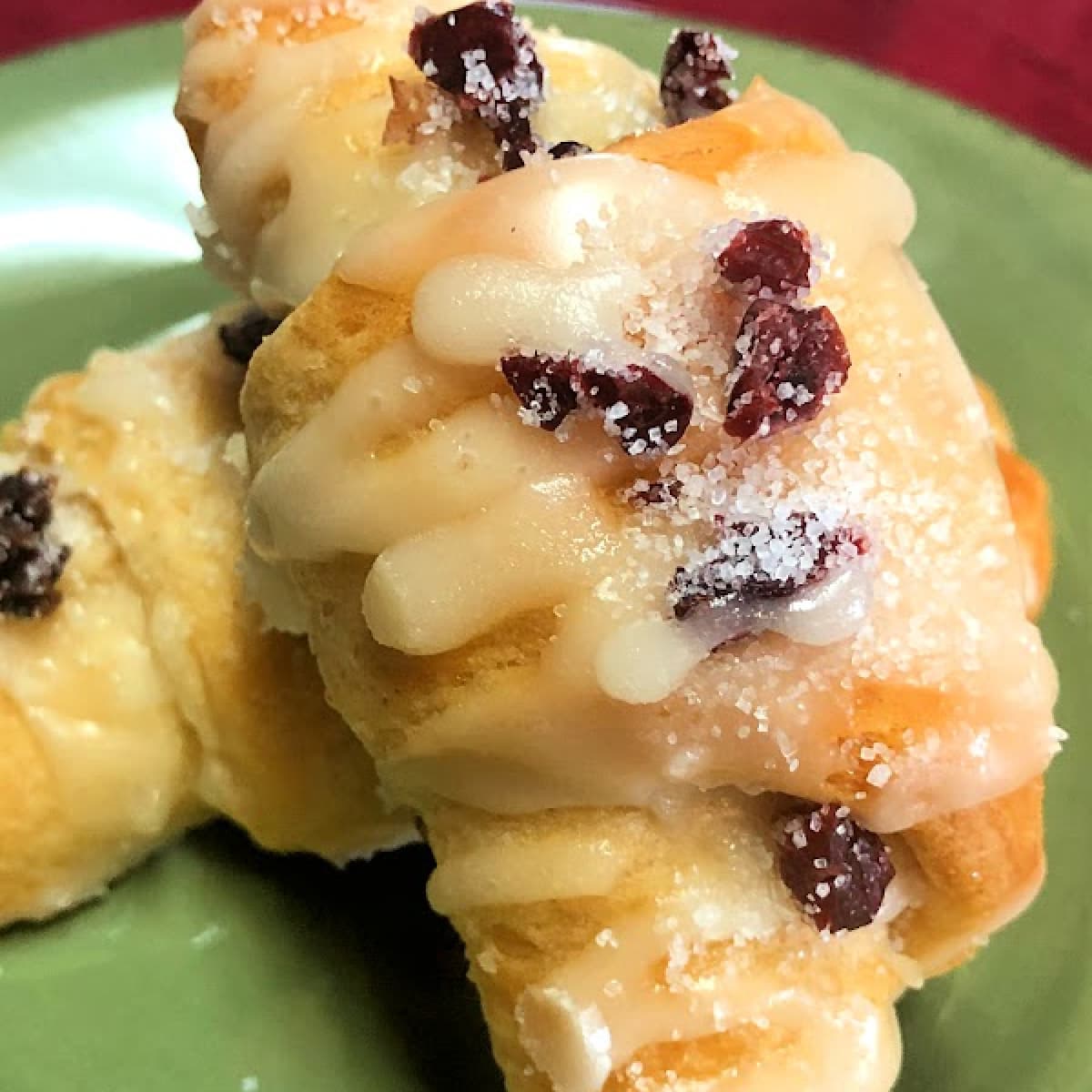 Glazed Cranberry and Walnut Crescent Rolls Recipe
This is a perfect Pilllbury Thanksgiving or Christmas crescent roll recipe. It's easy to freeze and reheat for large gatherings too!
When I first made these yummy cranberry crescent rolls for a gathering, I was immediately asked if I made the dough from scratch. And though that was definitely a compliment, the question totally made me laugh!
Why on earth would anyone MAKE crescent roll dough from scratch when it pops right out of a tube, then bakes up perfectly golden brown and tender in only 10 minutes?! Not me, that's for certain.
What to love about filled crescent rolls
Make these Cranberry Walnut Crescent Rolls for breakfast or brunch. They are delicious with a warm with a cup of coffee.
Or, if you'd like a sweet side dish to a meal, this cranberry roll recipe is just the ticket.
Make and bake these crescent roll pastries ahead of time. Once fully cooled, you can freeze them to reheat in the microwave later.
Ingredients Needed

For cranberry Crescent Rolls

Crescent Roll Dough – This recipe takes 2 cans (8-count each) of crescent roll dough and makes 16 pastries.

I always use the full-fat crescent roll dough as I find it to be easier to work with, but I think the low-fat version would also work fine as long as you don't mind that it can be a bit challenging (and sticky!) to work with as you are making the rolls.

Dried Cranberries, Toasted Walnuts, and Granulated Sugar – These ingredients make up the filling that's in the center of each crescent roll. The sugar really sticks to the dried fruit, making it easy to place onto each triangle of crescent roll dough as you prepare to roll each one up to make the crescent.

Powdered Sugar Glaze – This is a basic powdered sugar, melted butter, salt, and milk icing I use for lots of basic pastry recipes. See the recipe below for the ingredient amounts and directions.
Helpful Recipe Tips
How many people does this recipe feed?
This recipe feeds between 4-8 people. Don't assume that because this recipe makes 16 pastries it will feed 16 people or you're going to have some very disappointed peeps.
I'd figure at least two pastries per person or maybe even three. Unless you're feeding teenage sons, then you're going to need tons.
I've seen people eat several of these without hesitation – they are THAT yummy.
Do Cranberry Walnut Crescent Rolls freeze well?
Yes! These freeze wonderfully. Make sure to cook them fully first. Reheat them in the microwave just a bit and they are like you just like fresh.
Once the pastries are baked and glazed, let them fully cool. Place them onto a parchment-lined baking sheet, not touching each other, and freeze them solid.
Once frozen, remove them from the baking sheet and put them into a container. You can pull out one or two at a time, as desired.
Is there anything else I can glaze these Cranberry Walnut Crescent Rolls with once they are baked?
I've had this happen before so I grabbed a can of cream cheese frosting from my pantry, placing some of it into a small bowl that then goes into the microwave for a few seconds.
Once the frosting is warm, it will drizzle nicely over the warm rolls, and nobody is the wiser.

Can I use other types of dried fruits to make these crescent rolls?
I've used dried cherries and also dried apricots….sometimes even a combination of dried cranberries, apricots, and cherries for something a bit different.
Can I substitute pecans for the walnuts in this recipe?
You can use any nut you prefer -sliced almonds, chopped pecans, or chopped walnuts – I think I've even used chopped pistachios at Christmas before, too.
How do I toast walnuts?
I like to toast my nuts in the oven, and I do so in bulk instead of a few at a time. Pour your bag of pecans or walnuts onto a large-rimmed baking sheet in a single layer.
Place the baking sheet into a preheated 325 degree F. oven for 10-12 minutes, or until the nuts are fragrant and lightly toasted.
Remove from the oven, let ting the nuts fully cool, then store them in a mason jar in the freezer.
What's the easiest way to chop dried fruits?
I usually do my dried fruits on a wooden cutting board with my chef's knife, but you can also mince up the fruit with your kitchen shears in a pinch.
This works really well with dried apricots since they are larger, but not as easily with dried cranberries or dried cherries, though I have done it!
Can you double this recipe?
Yes, and I bet you'll be doubling this recipe quite often. You can cut this recipe in half if you only need to make a few pastries.
Other Breakfast and Brunch Recipes to Enjoy
We love crescent roll dough for all kinds of baked treats. Ham and Bacon Pastry Ring is a savory favorite, and my family adores Easy Orange Breakfast Crescents, as well. Please don't forget Cherry Cream Cheese Danish or Fudge Dipped Pecan Crescent Cookies, also made with crescent roll dough – so easy and fast.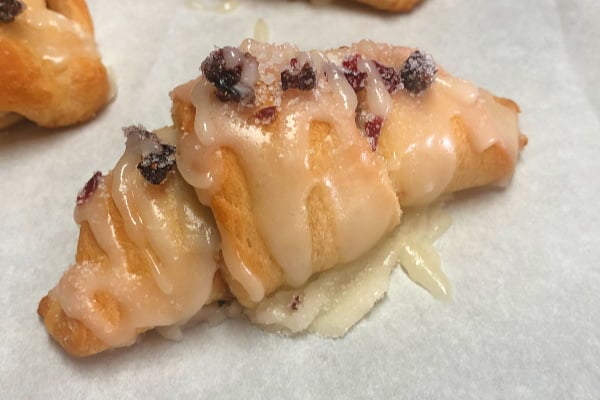 Glazed Cranberry Walnut Crescent Rolls
You are just moments away from these Cranberry and Walnut Crescent Rolls that use your favorite Pillsbury crescent roll dough!
Print
Pin
Rate
Servings:
16
crescent rolls
Ingredients
Crescent Rolls
2

tubes/rolls crescent roll dough, 8-count each

8-count each

1/2

cup

dried cranberries

1/2

cup

toasted chopped walnuts

2

Tbs.

granulated sugar
Powdered Sugar Glaze
1

cup

powdered sugar

1

Tbs.

butter, melted

1

tsp.

vanilla

3-4

Tbs.

whole milk, I prefer Highland Dairy Whole Milk
Instructions
Make the Crescent Rolls
Preheat the oven to 375 degrees F.

In a small bowl, combine the cranberries and walnuts with the sugar; reserve. (Set aside a little bit of this mixture for garnishing the crescents with, if desired.)

Unroll the crescent roll dough, working with one tube at a time, dividing the dough into 8 triangles; divide half of the prepared cranberry/walnut mixture between the 8 dough triangles, sprinkling it over the top of each one.

Starting at the large end of each dough triangle, roll up the pastry, using your fingers to tuck the cranberry/walnut filling in as you roll up each one. Place each crescent roll onto a greased pastry-lined baking sheet, making sure they don't touch each other.

Repeat with the remaining tube of crescent roll dough and the other half of the cranberry/walnut filling. Place the crescent rolls onto a second greased parchment-lined baking sheet.

Bake the crescent rolls, uncovered, for 5 minutes, then rotate the pans from top to bottom in the oven; bake another 5-7 minutes or until the crescent rolls are nicely golden browned.

Let the crescent rolls cool for just a few minutes, then drizzle with the glaze. Garnish each crescent roll with a bit of the reserved cranberry/walnut mixture, if desired.

Store the crescent rolls in an airtight container for up to two days. (They will NEVER last that long!)
Make the Powdered Sugar Glaze
To make the powdered sugar glaze, combine all the ingredients in a medium mixing bowl, whisking until smooth and adding enough milk to make the glaze easy to drizzle over the crescent rolls.
Nutrition
Calories:
92
kcal
|
Carbohydrates:
14
g
|
Protein:
1
g
|
Fat:
4
g
|
Saturated Fat:
1
g
|
Cholesterol:
2
mg
|
Sodium:
29
mg
|
Potassium:
20
mg
|
Fiber:
1
g
|
Sugar:
12
g
|
Vitamin A:
26
IU
|
Calcium:
7
mg
|
Iron:
1
mg