Homemade Jumbo Cinnamon Rolls….The Easy Way shows you a completely new cut-and-roll technique making your favorite sweet treat.
No matter what you call them – cinnamon buns, cinnamon monkey bread, cinnamon roll bread…..they all boil down to one sweet thing: warm, tender, ooey-gooey, cinnamon-y heaven. Am I right?
How to Make Homemade Jumbo Cinnamon Rolls….The Easy Way Recipe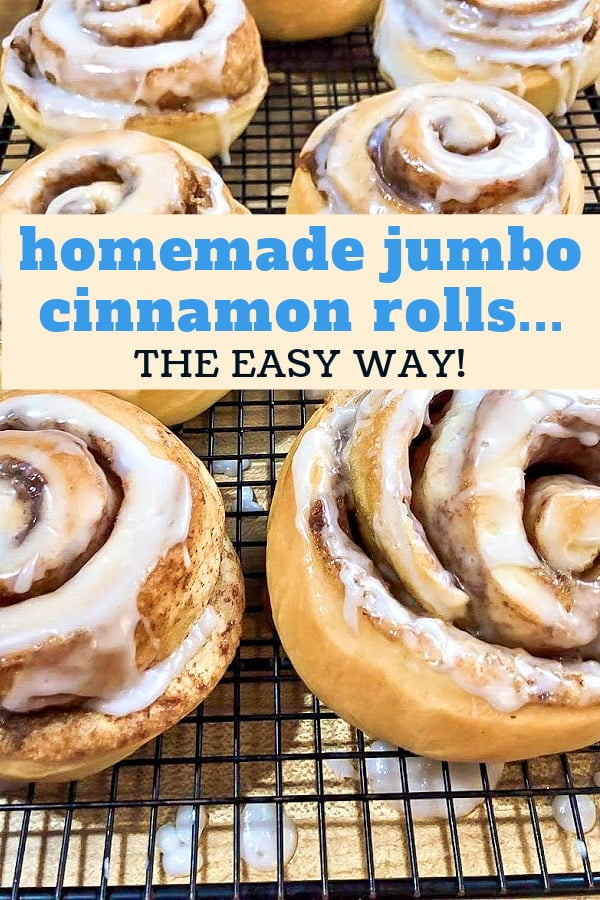 Howdy! Chef Alli Here. Let's Get You Cookin'….Shall We? ?
I've been making this cinnamon roll recipe for years. It's a speedy cinnamon roll recipe that can be made in just over 1 hour, start to finish.
Because my boys always get a GI-NORMOUS homemade cinnamon roll made for them on the morning of their birthday (complete with birthday candles, singing, and usually served in bed), I can't believe I've never figured out super-simple, easy way to make Homemade Jumbo Cinnamon Rolls….what is wrong with me??
Anyway, the morning my son Wyatt turned 23, I was in the kitchen (at 3:30 a.m., mind you!) making his cinnamon roll when I had an epiphany.
Everything became crystal clear in my mind and I realized EXACTLY how I needed to make jumbo cinnamon rolls….THE EASY WAY.
Omgosh. How could I have overlooked this easy method for so long?? I can't wait to show it to you.
What to Love About This Recipe for Homemade Cinnamon Rolls –
You get step-by-step instructions of the how-to for making cinnamon rolls from scratch – it's easy, btw!

You will be the envy of family and friends….probably even enemies. Prepare to watch them all fall at your feet, begging for your cinnamon rolls at every gathering.

You will be shocked at how easy this method is.

What Makes THIS Cinnamon Roll Recipe Different from All The Rest?
Traditionally, cinnamon rolls are made by rolling out the dough, spreading it with butter, cinnamon, and sugar.
Next the dough is rolled into a long log, slicing across the log of dough to make cinnamon rolls.
This recipe begins with the same first step (rolling out the dough and spreading it with butter, cinnamon, and sugar), but instead of rolling the dough into a log, it is sliced into strips.
The strips of dough are then individually rolled into cinnamon rolls making this part such an EASY task.
Using this method also ensures that your cinnamon rolls are all unison in size which helps them to bake evenly.
Can This Cut-and-Roll Method Be Used to Make Any Size of Cinnamon Roll?
Great question and the answer is YES!
To make 12 medium-sized cinnamon rolls, cut the dough into 6 long horizontal strips, then cut each of those strips in half vertically.
This will give you 12 shorter strips of cinnamon roll dough to roll up and place into your rimmed baking sheet.
If you want to make 16 small cinnamon rolls, cut the dough into 8 long horizontal strips, then cut each of those strips in half vertically, giving you 16 shorter strips to roll into cinnamon rolls.
What Basic Ingredients Do You Need to Make the Best Cinnamon Rolls Ever??
Milk
Water
Sugar
Vegetable oil
Yeast
All-purpose flour
Eggs
Butter
Brown Sugar
Cinnamon
Frosting (recipe included here, or use canned frosting)
The 5 Basic Components of Making Jumbo Homemade Cinnamon Rolls…The Easy Way –
Mixing the dough and letting it raise
Rolling out the dough and spreading the filling
Cutting the dough into long strips to create each cinnamon roll individually
Raising and baking the rolls
Frosting the rolls while warm from the oven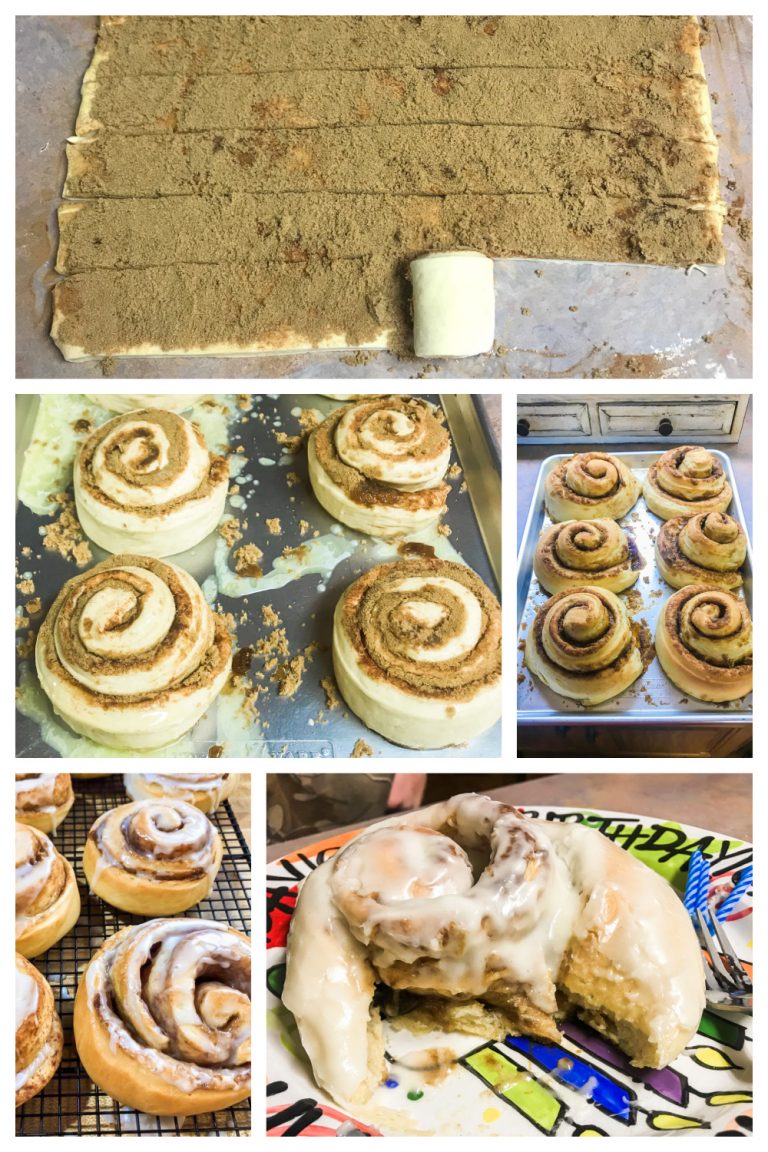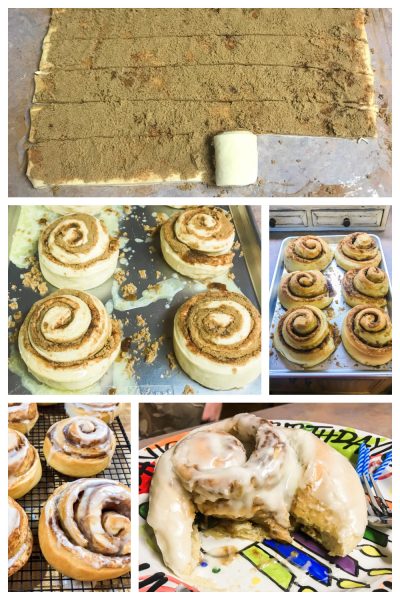 Recipe Tips for Making the Best Cinnamon Buns –
To help you bread dough (or your cinnamon rolls) raise a little more quickly, provide a warm environment for them.
Turn your oven on for 1-2 minutes, then turn it completely off. Place the bowl of dough or pan of cinnamon rolls into the warmed oven to let them raise. This warm environment really helps speed up the process of raising the dough.
When you place your ball of dough onto the floured work surface to begin rolling it out, give it the "resistance" test. If the dough rolls out, but then immediately sucks back, this means it needs to rest a bit more.
Walk away from the dough for about 10 minutes to give it some time, space, and a rest. Chances are, when you give the dough another shot with the rolling pin, it will roll out much more easily.
If you find that you have a "tail" that won't stay attached to the cinnamon roll after you've rolled it up, gently give it a bit of a stretch, using your fingers. Then, lift the cinnamon roll up and tuck the tail beneath it. This keeps the cinnamon roll in tact as it bakes.
How to Make Sure Your Cinnamon Rolls Have a Light and Tender Texture –
Be careful not to add too much flour when making the dough. The cinnamon roll dough should be pretty tacky to the touch when you get ready to pull the dough out of the mixing bowl.

TACKY to the touch is ok for dough that you're preparing to roll out, but not STICKY dough isn't want you want – it's not ready to roll out yet.

After you've added the majority of the flour the recipe calls for, only add flour a little at a time until the dough is not longer sticking to the sides of the mixing bowl as you are using the dough hook. Once the dough reaches that point, immediately stop kneading it.

Adding too much flour to the dough can make it tough and chewy. Adding too little flour keeps the dough from having enough structure to rise. With just a little practice, you'll be able to find the sweet spot for perfect dough.

Overworking (kneading) the dough causes it to release gluten, which is another reason dough can turn out to be tough and chewy, instead of tender, fluffy, and light.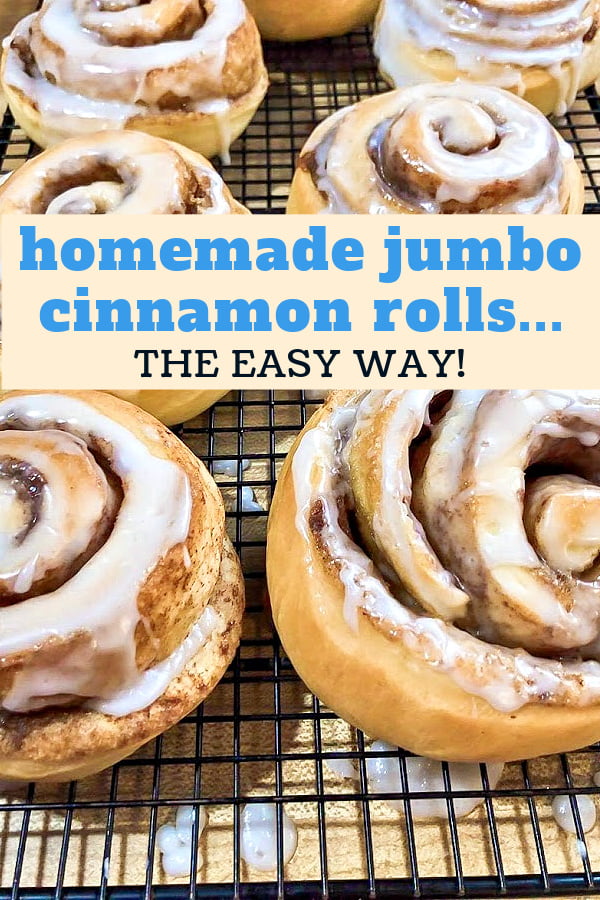 More Helpful Recipe Tips for How to Make Easy Cinnamon Rolls….The Easy Way!
Take care not to overbake the cinnamon rolls. If they seem to be getting too dark on the outside, yet not done at the center of the rolls, turn down the oven temperature 25 degrees to let the rolls finish baking.

To tell when cinnamon rolls are fully baked all the way to the center, I always use two forks to gently pull a small area of the roll apart right at the center. If it's still a bit dough-y at the center, I return the rolls for 5-10 minutes longer.

I usually frost my rolls while they are warm from the oven, but this is a personal preference. Some cooks prefer to frost their cinnamon buns once they are cooled so the icing doesn't melt down into the rolls too much and is more visible on top.
Tools That Are Helpful for Making Easy From-Scratch Cinnamon Rolls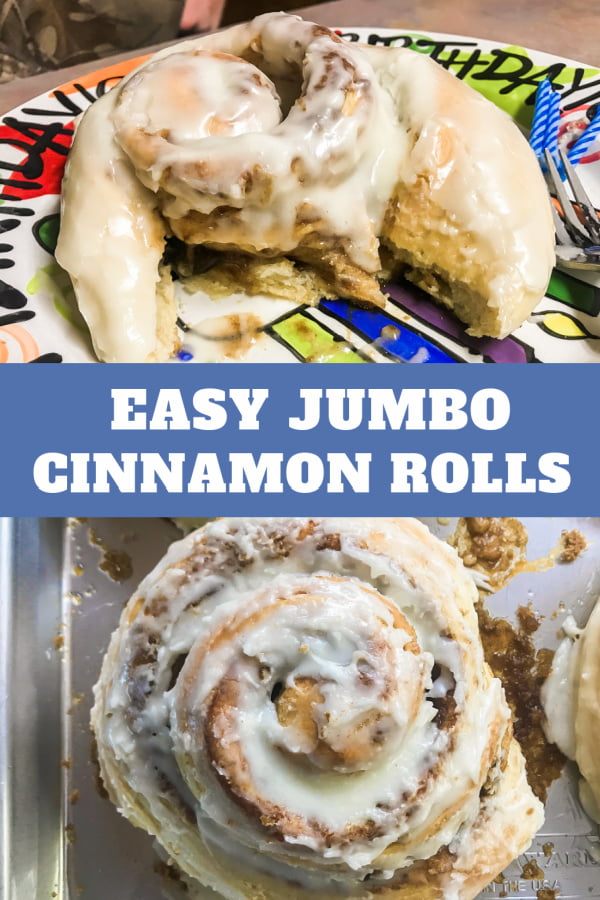 More Favorite Recipes to Enjoy –
Printable Homemade Jumbo Cinnamon Rolls Recipe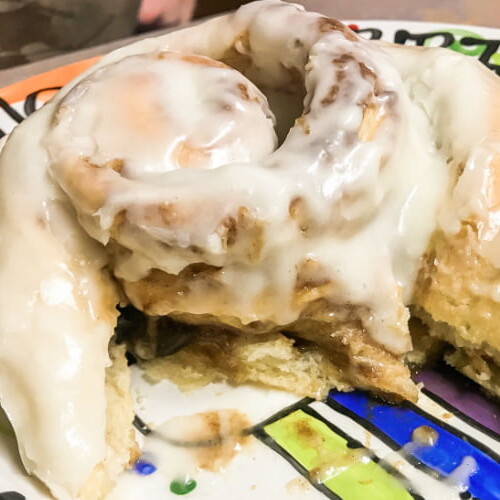 Homemade Jumbo Cinnamon Rolls….The Easy Way!
Homemade Jumbo Cinnamon Rolls….The Easy Way shows you a completely new technique for rolling and baking your favorite sweet treat. No matter what you call them – cinnamon buns, monkey bread, cinnamon roll bread…..they all boil down to one sweet thing: warm, tender, ooey-gooey, cinnamon-y heaven. Am I right?
Print
Pin
Rate
Ingredients
Jumbo Cinnamon Rolls
1

cup

milk

1

cup

water

½

cup

vegetable oil

½

cup

granulated sugar

1/2 – 1

tsp.

kosher salt

1

egg

room temperature, preferably

6-6 1/4

cups

all-purpose flour

5

tsp.

instant yeast

may use quick rise yeast if preferred

½

cup

unsalted butter

very softened

1-2

Tbs.

cinnamon

1

cup

granulated sugar
Creamy Jumbo Cinnamon Roll Icing
2

oz.

cream cheese

softened

4

Tbs.

unsalted butter

softened

1/2

tsp.

vanilla extract

2-3

Tbs.

milk

2

cups

powdered sugar

1/4

tsp.

kosher salt
Instructions
To Make the Jumbo Homemade Cinnamon Rolls
Preheat the oven to 350 degrees F.

Combine the milk, water, oil, sugar and salt in microwave safe bowl; heat 1-2 minutes, until the temperature is to 120 – 130 degrees F.

While the liquids are heating, measure 3 cups of flour into the bowl of a stand mixer; add the yeast, combining it with the flour.

Pour the heated liquids into the flour/yeast mixture; using the whisk attachment, beat at medium speed for 30 seconds, then add the egg, beating an additional minute.

Switch from the whisk to the dough hook, adding the remaining 3 cups of flour; knead the dough for 2-3 minutes if using a Kitchen Aid mixer, or, if using a Bosch mixer, knead the dough 1-2 minutes if using a Bosch mixer.

If the dough is still too sticky after adding the 6 cups of flour, add the remaining flour, just a little at a time, only adding as much flour as you need. The dough should be soft and pliable, tacky to the touch, but not sticking to the sides and bottom of the bowl.

Remove the dough from the mixing bowl, placing it into a greased mixing bowl; let the dough raised until doubled in size, approx. 25-30 minutes or so.

**Please Note: If you want to use the dough at a later time, the dough can go into the fridge at this time, or you can place the dough into the freezer to be thawed and used later on.)

Punch the dough down, then remove it from the bowl to a lightly floured work surface, allowing it to rest for 5-10 minutes.

Using your favorite rolling pin, roll the dough into a large rectangle, approx. 22"wide x 18" tall in size.

**If you begin rolling the dough out into the rectangle shape and the dough keeps pulling back each time, let the dough rest for an additional 5-10 minutes. Once the dough has fully relaxed, it will roll out much more easily.

Spread the softened butter over the surface of dough; sprinkle the dough evenly with cinnamon, and then the sugar. Using your palms, lightly press down over the sugar to kind of "adhere" it into the dough a bit.

Using a pizza cutter, trim up the edges of the dough to make the sides straighter, if needed. Now cut the dough into half horizontally, then cut each half into 3 horizontal strips.

Starting at one end, roll up one of the dough strips forming a cinnamon roll. Place each roll onto a greased, rimmed baking sheet, three rolls in two rows, for a total of 6 jumbo cinnamon roll.

Let the rolls raise in a warm, draft-free place for 15-20 minutes.

Bake in a preheated 350 degree F. oven for 10 minutes. Reduce the oven temperature to 325 degrees F., continuing to bake the jumbo cinnamon rolls for an additional 10 minutes, or until golden brown.

Let the cinnamon rolls cool for 5-10 minutes, then gently frost with the creamy icing. Serve warm!
To Make the Creamy Cinnamon Roll Icing
Using an electric mixer, beat together the cream cheese and butter in a large mixing bowl until creamy. Beat in the vanilla and milk, a little a time, then gradually mix in the confectioners' sugar and salt until the icing is smooth and fluffy.
Nutrition
Calories:
1271
kcal
|
Carbohydrates:
195
g
|
Protein:
18
g
|
Fat:
48
g
|
Saturated Fat:
32
g
|
Trans Fat:
1
g
|
Cholesterol:
103
mg
|
Sodium:
629
mg
|
Potassium:
277
mg
|
Fiber:
5
g
|
Sugar:
92
g
|
Vitamin A:
950
IU
|
Vitamin C:
1
mg
|
Calcium:
108
mg
|
Iron:
6
mg
Thanks for visiting! I hope you return soon for more yummy recipes for your family.
We love hearing from our readers and followers, so leave us a comment if you'd like. If you don't hear back from us shortly, know that we may not have seen your comment. Feel free to reach out to us by email: [email protected].
Let's Get You Cookin',
Chef Alli
Please Note: We do use referral and affiliate links here for products and services that are recommended.