Pork Shank Osso Buco. Sounds fancy, doesn't it? In reality this rich and hearty pork dish (initially a veal dish) is a very down-to-earth one-pot meal that absolutely anyone can make.
How to Make Pork Shank Osso Buco Recipe

Please Note: We do use referral links for products and services that Chef Alli loves and recommends.
Howdy! Chef Alli Here. Let's Get You Cookin'….Shall We?? 🙂
Pork Shank Osso Buco Recipe
I know that some of you may be wondering "What is Osso Buco?" I had the same question initially, so I did a bit of research. Osso Buco is a classic Italian dish, traditionally made of veal shanks, an expensive cut of beef, slowly braised in a tomato and vegetable based sauce.
The words "osso buco" literally translate to mean "bone with a hole" and the bone marrow from the shanks renders rich, deep flavor as the meat slowly cooks.
This recipe, Pork Osso Buco, is created using pork shanks as the meat, which are slow-braised in the same traditional method, cooking up into a deliciously satisfying meal.
The pork shanks are served on a bed of creamy polenta and garnished with just a bit of gremolata, which you will find to be a wonderful combination of flavors.
We enjoy many different pork dishes at our house, but most especially pork tenderloin meals! That includes this speedy Instant Pot Cuban Pork Tenderloin with Black Beans and Rice as well as this easy Roast Pork Tenderloin and Sweet Potato Sheet Pan Meal.
What are The Key Ingredients for Making Pork Osso Buco?
Pork shanks are typically not going to be found at your local grocer, but rather your local butcher shop or meat processor since they are a specialty meat.
I prefer to get pork shanks from my friends, Emily and Kaden, of R Family Farms in Lebanon, Ks, the geographical center of the entire United States! Visit their online store and website to learn more about their delicious Berkshire pork and what goes into raising their pigs.
Onions, Carrots, Celery, Garlic
Here are your aromatics, which provide the foundation of this dish and tons of essential flavor as a base. I consider these ingredients as the Holy Trinity plus one!
Kosher Salt, Freshly Ground Black Pepper, Red Pepper Flakes
Seasonings round out flavors and are always essential. Red pepper flakes give this pork dish just a tiny kick!
Here's the ingredient that really helps the osso buco sauce become rich and luscious, but only if you take the time to let the tomato paste brown a bit as it cooks with the vegetables. This will add a few minutes to the overall cooking time, but it's a very, very worthy step.
Used as a deglazing liquid in this recipe, the white wine makes a truly delicious sauce when combined with the tomato paste and browned vegetables.
All braised dishes need liquid for simmering the meats to slowly make them tender. Yes, you could substitute water for the liquid in this recipe, but the flavor profiles won't be as deep and flavorful.
A bay leaf is a herb that comes from the laurel tree. When infused into a warm cooking liquid, it releases a bit of a minty flavor and aroma, with subtle hints of black pepper and pine. Bay leaves actually provide a soft bitterness that rounds out the flavors of many heavy soups, stews, and sauces.
Made from coarsely ground cornmeal, polenta is often referred to as "Italian grits." Polenta is a hearty porridge that is slow-cooked on the stove, boasting a creamy texture that makes the perfect bed for this saucy pork shank osso buco!
Also known as gremolada, this garnish is a traditional accompaniment to osso buco, made from minced Italian parsley, garlic, and fresh lemon zest. Rather bitter by itself, gremolata brings the perfect flavors when paired with the tomato-based sauce, pork shanks, and creamy polenta.
Easy and Helpful Osso Buco Recipe Tips
What part of the pig is the osso buco cut?
The pork shank comes from either the front or back leg of the pig and is a cut that is a bit on the tough side since pigs use their front legs quite a lot in their daily lives. And because pigs use their legs a lot this is what gives incredible flavor to the pork shank. However, it does contribute to the reason this can be a sinewy cut of pork that will have to be braised low and slow.
Why does bone marrow give the pork shanks so much flavor?
Because of the way pork shanks are cut, each one sports a rather large bone (yes, with a hole in the center of the bone) right in the middle of the shank. As the marrow from the bones is cooked low and slow, it melts into the braise as the pork cooks. This provides not only rich flavor, but also body for the sauce, since marrow is connective tissue made from collagen.
Do I need to tie my pork shanks with kitchen string?
Tying the pork shanks with kitchen string helps them hold their shape as they are browned and then braised, though this is not essential to the flavor of the dish in any way.
Why does osso buco take so long to cook?
Because pork shanks are actually one of the tougher cuts of meat (which isn't a bad thing, by any means!), they need to be braised at a very low and slow pace, just at a simmer, never allowing the braising liquid to boil since this will toughen the pork.
What is braising, anyway?
Braising is a low and slow cooking method that always involves two things: liquid and tough cuts of meat that typically have a higher quantity of fat. As the liquid around the meat simmers, it gently cooks the meat and melts away the collagen that causes the meat to be tough. This collagen is also what helps the sauce become extra flavorful and rich, helping it thicken at the same time.
Why do I need to brown the vegetables and the tomato paste when making Pork Osso Buco?
When it comes to cooking, brown is not a COLOR, it's a FLAVOR. Anytime we can brown an ingredient as part of the cooking process, we are adding rich flavor profiles to our dish. Yes, this takes an additional few minutes, but is such a very worthy step!
What should I serve with Pork Osso Buco?
In this recipe, the pork shanks are served on a bed of creamy polenta, but the pork would also be delicious served over mashed potatoes, noodles, pasta or even rice. I like to serve a nice mixed greens salad with this pork dish along with a good crusty bread for dipping into the sauce. Delish!

What Tools Will I Need to Make Pork Shank Osso Buco?
6 Quart Cast Iron Dutch Oven – I love cast iron! It offers superior browning and holds the heat. Plus it goes from stove top to oven and back – super versatile.
Flat Silicone Whisk – Here's an essential kitchen tool! Use a flat silicone whisk (as opposed to a balloon whisk) any time you are making a sauce or gravy – no more lumps!
Silicone Spoonula or Spatula – I've been in love with silicone spoonulas and spatulas for years now. I love how you can "feel" what you're stirring so much better and also how the silicone can get right up next to the edge of the bowl.
Citrus Zester – this tool makes zesting any citrus a breeze! Citrus is an important ingredient since just a small amount of it provides alot of flavor and brightness to any dish. Don't ever skip the lemon zest!
Cutting Board – I prefer a large wooden or bamboo cutting board that has a channel on one side of the board. This is the side that slice meats on and the opposite side of your cutting board should be used for fruits and vegetables.
Chef's Knife – This pairs with the cutting board and is likely the most essential tool of ALL kitchen tools. A good sharp and straight chef knife if so so helpful for all kinds of prep. If you need a good straightener for your knife, I love this one.
7 Quart Slow Cooker or 6 quart Instant Pot – Pork Osso Bucco can alternatively be made in either one of these small appliances, as well.
Other Hearty Recipes to Enjoy –
Printable Pork Shank Osso Bucco Recipe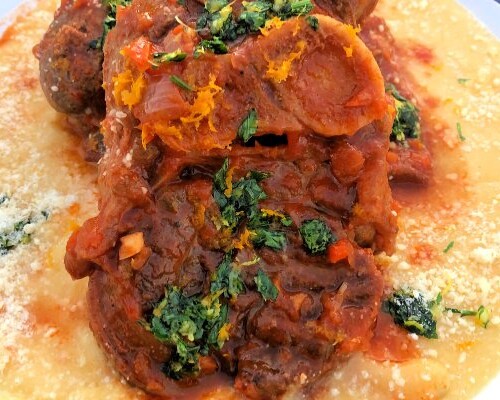 How to Make Pork Shank Osso Buco
Pork Shank Osso Buco. Sounds fancy, doesn't it? In reality this rich and hearty pork dish (initially a veal dish) is a very down-to-earth one-pot meal that absolutely anyone can make.
Print
Pin
Rate
Ingredients
Osso Bucco (Pork Shanks)
1-2

Tbs.

good olive oil

4

lbs.

pork shanks, tied with string to help them hold their shape if needed, I prefer R Family Farms pork shanks for this recipe

kosher salt and freshly ground black pepper, to taste

2

small yellow onions, cut into quarters

3

large carrots, cut into thirds

3

celery stalks, cut into thirds

4

cloves

garlic, peeled

smidgen of red pepper flakes

8

oz.

tomato paste

1

cup

dry white wine

2-3

cups

chicken stock

2

bay leaves
Gremolata
1

cup

fresh Italian parsley

minced

zest of 2 lemons

1

tsp.

orange zest

2

cloves

garlic

crushed and minced well

kosher salt and freshly ground black pepper

to taste
Creamy Polenta
1 1/2

cups

medium-grind yellow cornmeal

6

cups

chicken or vegetable broth

1/2

tsp.

kosher salt

1/3

cup

heavy cream

1/4

cup

unsalted butter

chunked

1/4

cup

grated Parmesan
Instructions
To Make the Osso Bucco (Pork Shanks)
Preheat the oven to 300 degrees F.  Season the pork shanks liberally kosher salt and pepper.

Meanwhile, place the vegetables into the bowl of a food processor, pulsing 10-12 times until the vegetables are are a coarse paste. (Be sure not to over process the vegetables into a puree - they should have a bit of chunky texture to them.)

In a large Dutch oven over medium-high heat, add the oil; when the oil is hot, add the seasoned pork shanks, browning them well on all sides in the hot oil. When the shanks are nicely browned, remove them to platter. Discard the oil in the Dutch oven, making sure to keep all of the browned bit in the bottom of the pot (these are gold!).

Over medium-high heat, add a bit of olive oil again to the Dutch oven; when the oil is nicely hot, add the vegetables to the pot, letting them get nicely browned, only stirring occasionally; add the red pepper flakes and season the vegetables with a bit of kosher salt and pepper, to taste.

Once the vegetables are browned, stir in the tomato paste, letting it cook with the vegetables until it begins to brown. Now, deglaze the pot with the wine to loosen all the browned bits on the bottom of the pot, gently stirring it into the vegetable mixture; let the wine cook down until reduced to about half.

Return the reserved, browned pork shanks to the Dutch oven; pour in the hot broth, then add water if needed, to bring the liquid in the pot up to the meat's shoulders. Bring the liquid to a boil, then add the bay leaves and cover the pot with the lid.

Transfer the pork to the preheated oven, letting the pork cook for 1 hour.  After the first hour, check the pork to see if more liquid needs to be added to the pot; cook one more hour, then remove the lid and let the pork cook uncovered for the last 30 minutes. Meanwhile, prepare the gremolata and the polenta.

Gently remove the osso bucco to a serving platter. Skim the fat from the surface of the of the sauce, then adjust the seasonings to taste.

To serve, ladle the warm polenta into four shallow serving bowls, topping each one with the pork osso bucco, cutting the strings around each one. Spoon a bit of the sauce in the pot over the pork, then garnish with the gremolata.
To Make the Gremolata
To make the gremolata, combine all the ingredients in a medium mixing bowl; season to taste with kosher salt and pepper.
To Make the Creamy Polenta
Prepare the polenta in a large sauce pan over medium heat; add the broth and the cornmeal, stirring to combine over medium-high heat.  Add the salt and bring the polenta to a boil; immediately reduce the heat to medium or medium-low, letting the polenta simmer, partially covered with a lid, until it becomes soft, smooth and nicely thickend, approx. 25-30 minutes. Remove from the heat and stir in the cream, butter and Parmesan; adjust the seasonings to taste before serving.
Nutrition
Calories:
1208
kcal
|
Carbohydrates:
78
g
|
Protein:
114
g
|
Fat:
43
g
|
Saturated Fat:
19
g
|
Cholesterol:
366
mg
|
Sodium:
2832
mg
|
Potassium:
2765
mg
|
Fiber:
11
g
|
Sugar:
18
g
|
Vitamin A:
11277
IU
|
Vitamin C:
42
mg
|
Calcium:
230
mg
|
Iron:
9
mg
We love hearing from our readers and followers, so leave us a comment if you'd like. And, if you don't hear back from us shortly, know that we may not have seen your comment. Feel free to reach out to us by email: [email protected]
Let's Get You Cookin',
Chef Alli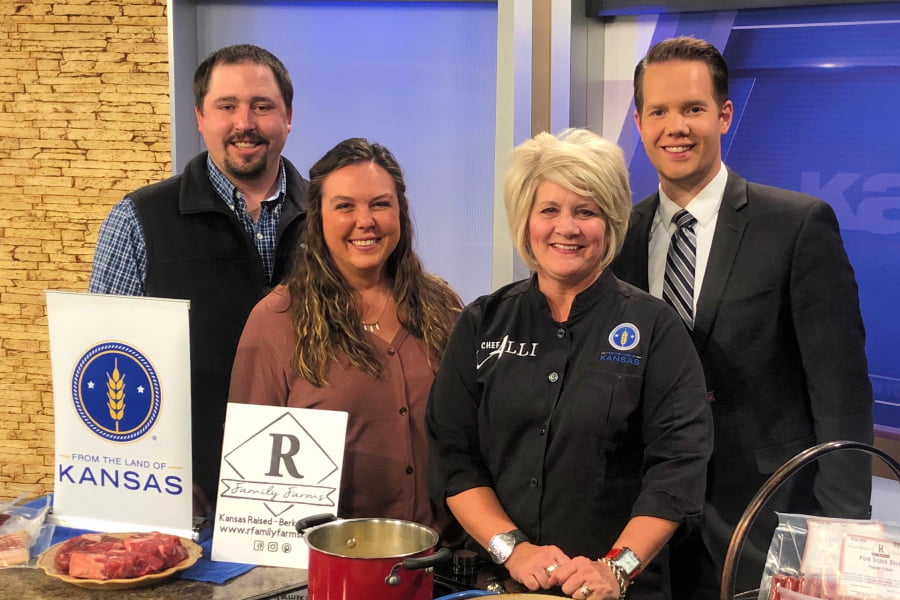 This is a sponsored recipe post, paid for by From the Land of Kansas, the state trademark program that promotes and celebrates agricultural experiences and products that are grown, raised or produced in Kansas. Visit their website for more information! Our featured guests and member business for this televised segment on Good Morning KAKEland and recipe post are Kaden and Emily Roush, of R Family Farms, Lebanon, KS. All opinions expressed are very much my own.