Sausage, Egg, and Biscuit Casserole – the all-time favorite breakfast casserole recipe at our house, hands down! This easy breakfast casserole is made with frozen biscuits, eggs, cooked sausage and cheese, all in a 9 x 13-inch pan.
Sausage, Egg and Biscuit Casserole with Cream Gravy Recipe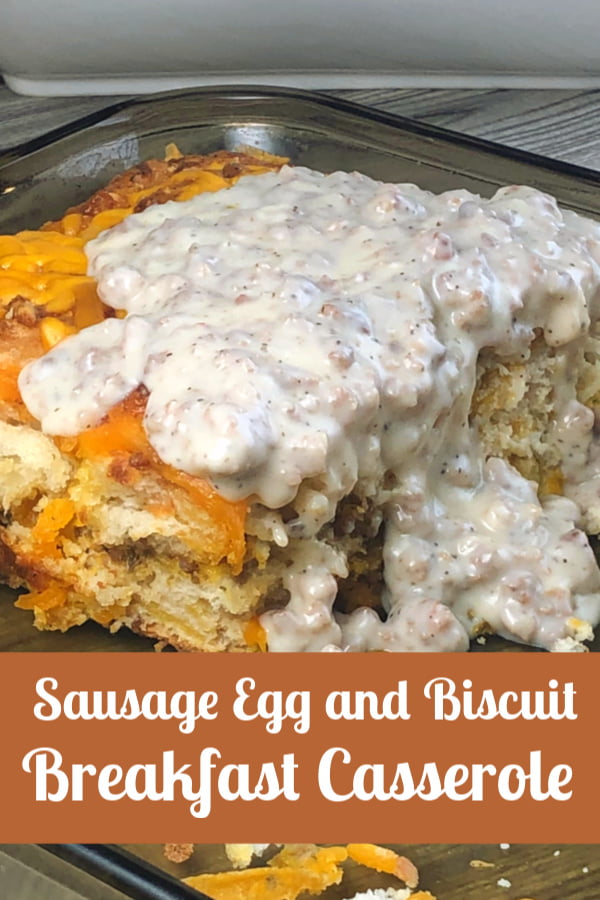 Howdy! Chef Alli Here. Let's Get You Cookin'….Shall We?? 🙂
We are big breakfast eaters at our house – it's a fact. And, yes, we often eat breakfast for dinner, too, so I enjoy having a breakfast casserole available in our fridge for whenever somebody's hungry – it's so handy!

We are pretty partial to Jan's Sausage, Egg and Cheese Breakfast Casserole that you can whip up the night before and bake the next morning before the clan wakes up. Everybody wants to wake up to a hot yummy baked breakfast, right??
If your family needs a hand-held breakfast that can walk out the door with them on busy mornings, you'll want to make Cowboy Breakfast Bites or maybe Instant Pot Pop-And-Go Egg Bites (just like they make at Starbucks!).
My boys love donuts, so I love to make Baked Cinnamon-Sugar Donuts for them, along with Baked Pumpkin Spice Donuts, too.
If your family is crazy for bacon like mine is, I bet they would go crazy for Sheet Pan Bacon Egg and Cheese Breakfast Biscuits . We keep cooking BACON easy and mess-free by making it in the oven!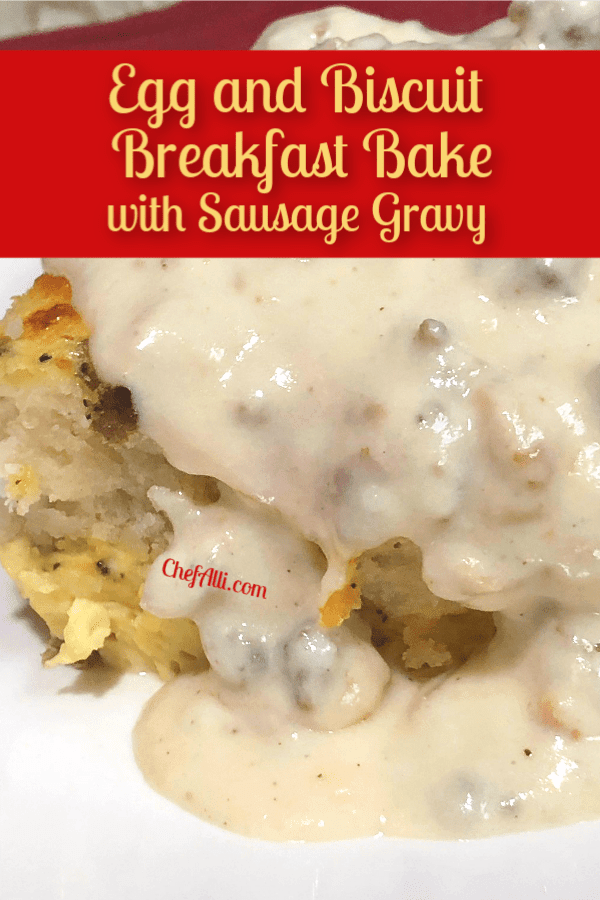 Easy Tips for Creating This Easy Breakfast Casserole Recipe
Can other meats be substituted for the pork sausage in this breakfast casserole?

I love to make this breakfast bake with sausage, but you could use cooked crumbled bacon or chopped Canadian bacon, diced ham….or even mini pepperoni, for a twist. You can use any meat that you prefer, just as long as it already fully cooked. (You could even use cooked ground beef, in a pinch!)
Will this breakfast casserole still be tasty if I opt to make it without meat?
It sure will and I'm so glad you asked. I usually make it with sausage or bacon since I live in a house of carnivores, but if you prefer a meatless option or don't have the meat on hand that you need, you can definitely make it without. It's delicious!
Does this breakfast bake have to be served with gravy?
Nope, but I'm telling you right now that you're missing the icing on the cake if you leave out the gravy. The combination of the creamy gravy and the layers of biscuits, sausage, eggs, and cheese is heavenly. Please don't skip the gravy!
Is there a secret ingredient for making really creamy gravy?
There definitely is! I like to add a can of evaporated milk to my gravy, whisking it in until it's well combined and beginning to thicken. (The remainder of the liquid I add to the gravy is 2% milk.) The evaporated milk makes the cream gravy extra rich and yummy, so I always keep my pantry stocked up.
Are there special tools for making SMOOTH cream gravy….without lumps?
What a great question! This is everyone's biggest worry when making gravy, let me assure you. The best thing you can use when making lump-free gravy is a silicone-coated FLAT whisk. I use it every time I make a sauce or a gravy since it really snugs up close to the edge of any skillet. I prefer to make gravy in my Lodge 12″ cast iron skillet, but you can use any heavy-bottomed skillet or even a Lodge Dutch oven, if you need something nice and deep.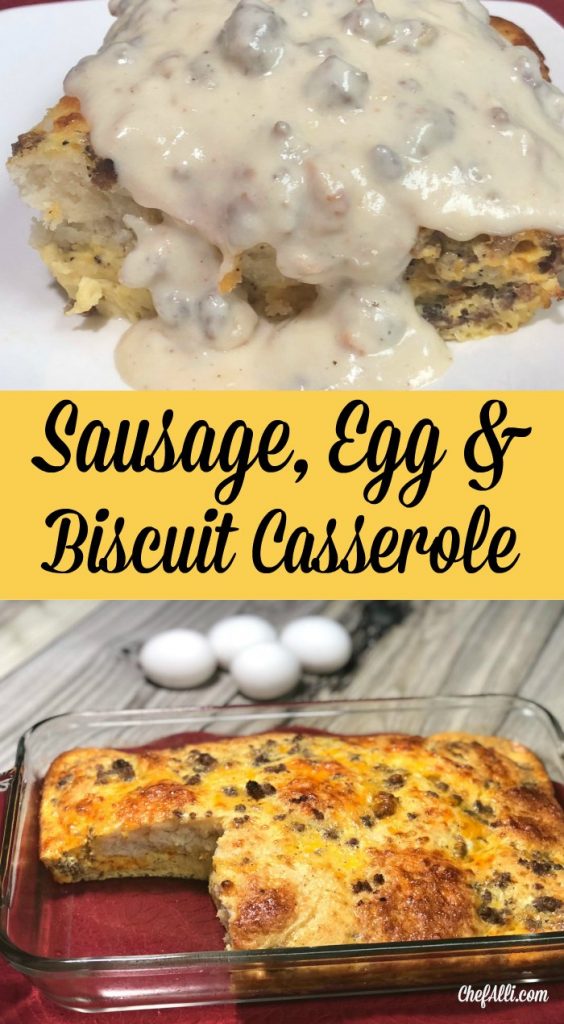 More Delicious Recipes to Enjoy –
Printable Sausage Egg and Biscuit Casserole with Cream Gravy Recipe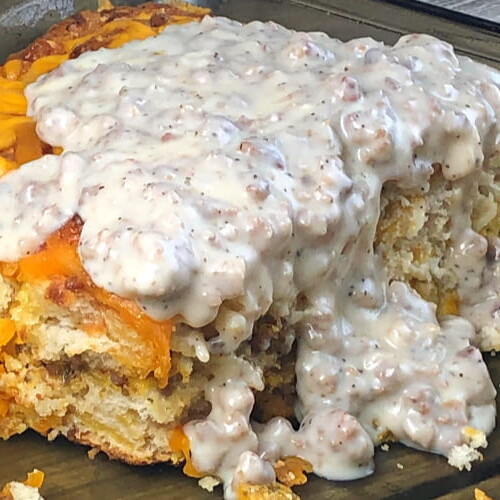 Sausage, Egg and Biscuit Casserole with Cream Gravy
Sausage, Egg, and Biscuit Casserole – the all-time favorite breakfast casserole recipe of my sons and husband, hands down! I'm dead serious when I say I've made this breakfast casserole hundreds of time for my guys over the years – they love, love, love it.
Print
Pin
Rate
Ingredients
Biscuit Casserole
1

lb.

mild sausage

10

eggs,

beaten

1 1/2

cups

milk

3/4

cup

whipping cream

1 tsp.

each

kosher salt and black pepper

10

frozen buttermilk biscuits, thawed

1 1/2

cups

shredded cheddar cheese
Gravy
sausage drippings,

from frying the sausage

1/2

cup

butter, oil, or margarine

1/2

cup

all-purpose flour

12

oz.

can evaporated milk

2-3

cups

milk

1

Tbs.

fresh, minced sage (or substitute 1/2 tsp. dried sage)

red pepper flakes, to taste

cooked, crumbled bacon, for garnishing
Instructions
Assembling the Breakfast Casserole
Preheat oven to 375 degrees F. Coat a 9 x 13 baking dish with non-stick spray.

Meanwhile, brown sausage in a large, heavy skillet over medium heat, crumbling into chunks and cooking until no longer pink. Removed cooked sausage from skillet, setting it aside to drain on paper towels, reserving the drippings in skillet to make gravy.

In a large mixing bowl, whisk eggs with milk, cream, salt and pepper.

Layer 10 biscuit halves across the bottom of the prepared 9 x 13 baking dish; sprinkle half of the cooked sausage over the biscuit bottoms, then top the sausage with half of the cheese. Repeat once more with the remaining biscuit tops and the other half of the sausage.

Pour the prepared egg mixture over the layers of biscuits and sausage in the baking dish, then transfer the pan to the center rack of the preheated oven; bake for 30 minutes.

Remove casserole from the oven and sprinkle the remaining cheese over the top; bake casserole an additional 10-15 minutes, or until a knife inserted into the center of the casserole comes out clean and the center is no longer jiggly.

Let casserole stand for 10 minutes before cutting into squares. Serve topped with gravy, garnished with crumbled bacon.
Making the Cream Gravy
Place a large skillet over medium heat, add the butter or margarine to your pan drippings; add the flour, stirring constantly until this mixture turns from white in color to more of a tan color (this tells you your flour is fully cooked); remove the skillet from the heat. (very important!)

Remove the skillet from the heat! Now slowly add the evaporated milk, a little at a time, whisking constantly, never adding more until what you've added is fully incorporated. Now whisk in the regular milk in the same way, only adding milk as you need it.

Return the skillet of gravy to the burner over medium heat. Add the sage, then season the gravy to taste with salt, pepper, and red pepper flakes, as desired, whisking the gravy until it's creamy and simmering.
Nutrition
Calories:
479
kcal
|
Carbohydrates:
22
g
|
Protein:
16
g
|
Fat:
36
g
|
Saturated Fat:
15
g
|
Cholesterol:
81
mg
|
Sodium:
733
mg
|
Potassium:
359
mg
|
Fiber:
1
g
|
Sugar:
7
g
|
Vitamin A:
929
IU
|
Vitamin C:
1
mg
|
Calcium:
287
mg
|
Iron:
2
mg