This fresh strawberry pie with jello recipe combines the sweetness of ripe strawberries, jello, and cool whip with a flaky, buttery crust.
Indulge in the delightful taste of summer with our fresh and easy strawberry jello pie.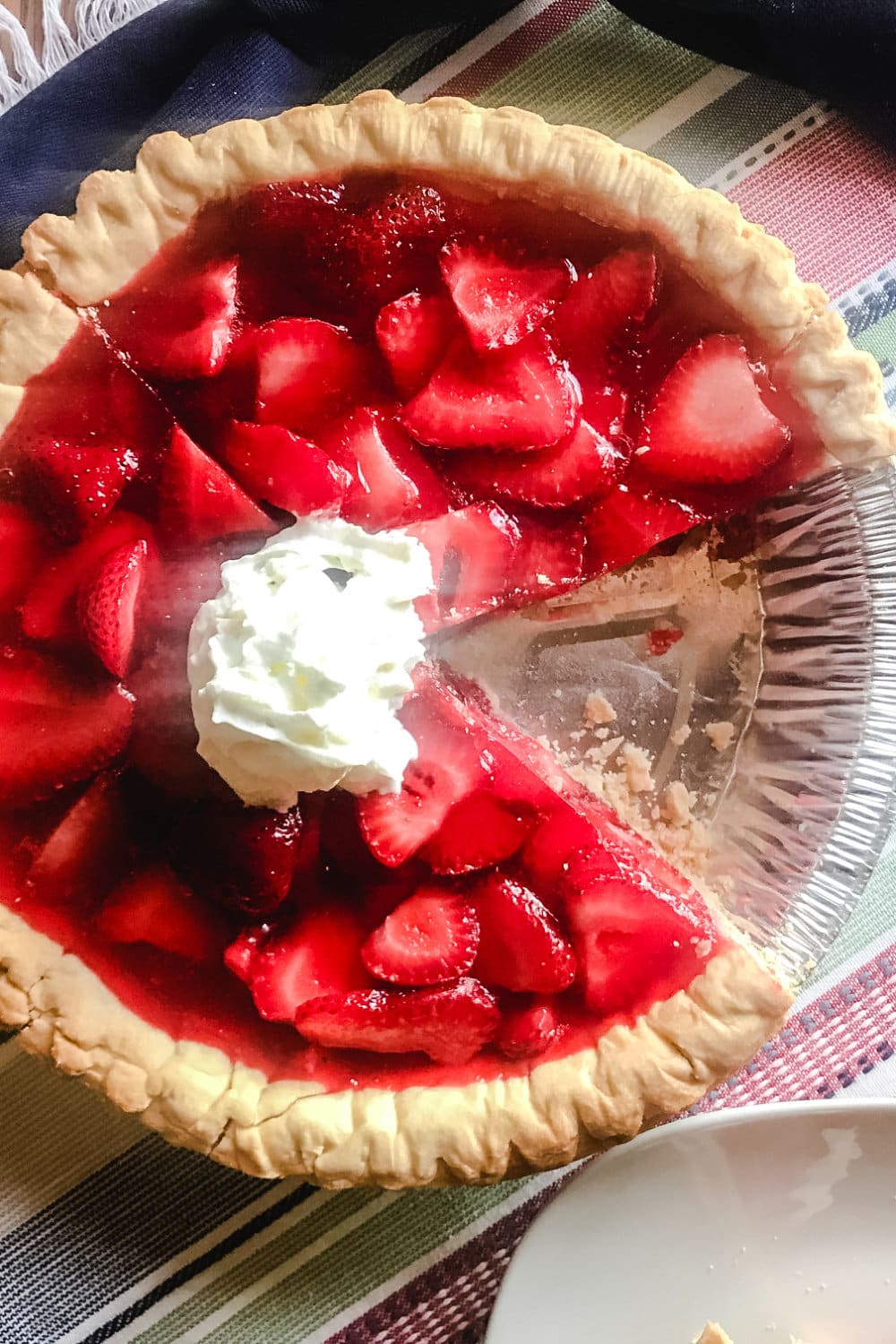 Strawberry Pie Made with Jello
High on my list of summer desserts would be a strawberry pie recipe with jello. It is so cool and refreshing when our summer temperatures soar.
This irresistible dessert combines the vibrant flavors of ripe strawberries with the tangy sweetness of Jello, resulting in a truly sensational treat.
My family digs this recipe for Strawberry Jello Pie, and I like how easy and quick it is to make for them.
3 reasons to love this strawberry pie with jello recipe
It makes everybody swoon.
You probably already have most of the ingredients on hand, and all you need is 6!
It's gonna be your new summer go-to recipe….promise.
What do you need to make a strawberry pie with jello and cool whip?
Baked pie crust
Strawberries
Sugar
Cornstarch
Strawberry jello or gelatin
Whipped topping like Cool Whip is optional, but recommended
How to make Strawberry Jello Pie
Combine the sugar, cornstarch, and water in a saucepan over medium heat.
Cook the mixture until nicely thickened, whisking often.
Remove from the heat and whisk in the jello or gelatin until it is completely dissolved.
Allow the mixture to cool slightly, then gently fold in the sliced strawberries.
Spoon this mixture into a baked and cooled pie crust.
Refrigerate the pie until the filling is set and the pie is fully chilled throughout.
Top the pie with whipped topping to serve.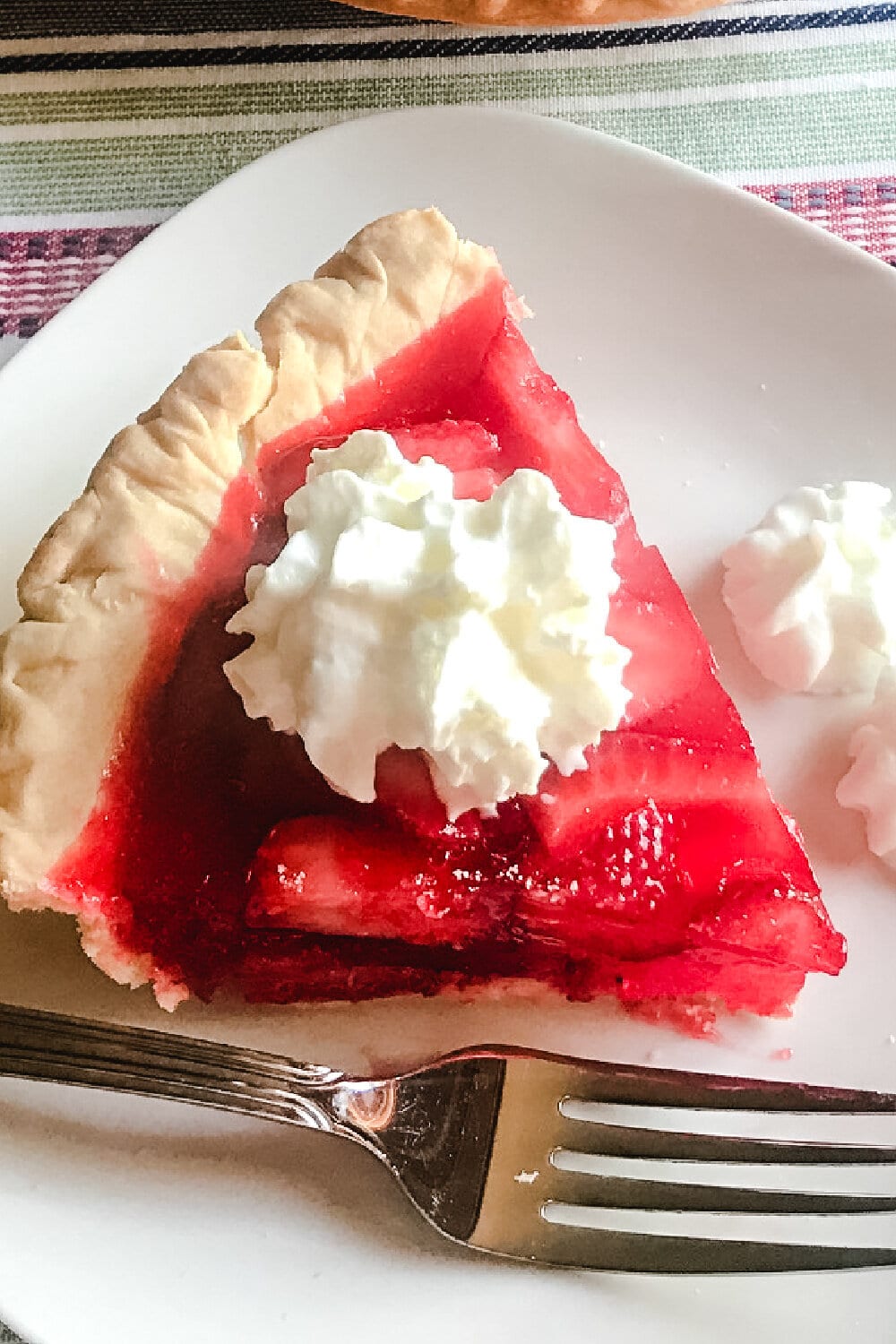 Tips for making Strawberry Jello Pie
Can I use sugar-free jello or gelatin for making this strawberry pie?
I'm 90% sure it will work. Let me know if you try it!
Is a frozen pie crust is okay?
A store-bought frozen or refrigerated pie crust works great, and that's usually what I use in this recipe because I'm always in a hurry!
Is it okay to make my pie crust?
Yes, and here's my favorite recipe for making tender and flaky homemade pie crust. Iit's super easy.
If you make homemade pie crust, the dough freezes very well.
It's easy to make several batches at once and put the extra into the freezer whenever you need it.
H
ow to blind bake without weights
When I pre-bake a pie crust for a pie such as this one, I place a sheet of foil over the pastry crust, then fill it with my pie weights to keep the bottom of the crust nice and flat while it bakes.
Don't have pie weights on hand? Use dried beans instead – they work perfectly!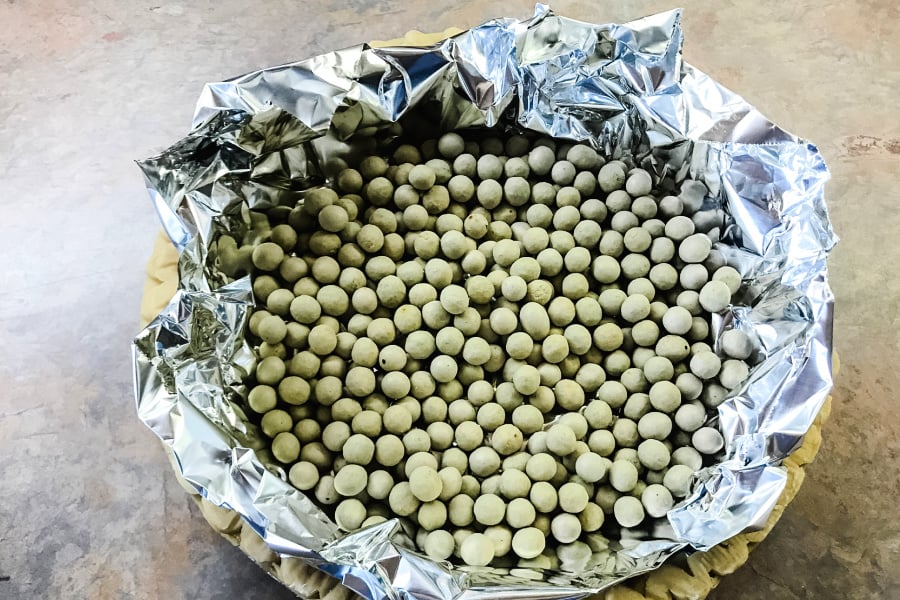 How to Blind Bake a Frozen Pie Crust
Before pre-baking a frozen pie crust, preheat the oven to 425 degrees F.
Unpackage the frozen pie crust, placing it onto a baking sheet; prick the bottom of the crust a few times using a fork.
Place a sheet of foil over the pie crust, gently pressing it down into the pie crust and up the sides; fill the foil with pie weights or dried beans.
Place the pie crust into the oven on the lowest rack. Bake for 10 minutes; remove the pie crust from the oven.
Pull the foil's edges towards each other, lifting the foil with the pie weights out of the pie crust.
Return the empty pie crust to the oven, this time on the center rack. Bake the empty pie crust for 5-10 minutes until golden brown on both the top and the bottom.
Cool on a cooling rack before adding the filling.
Is pre-baking the same thing as baking blind?
Pre-baking a single (bottom) pie crust is also called baking blind.
This is baking a pie crust or other pastry without the filling.
Pre-baking or blind baking a pie crust is necessary when it will be filled with a filling, so the crust has to be fully baked beforehand.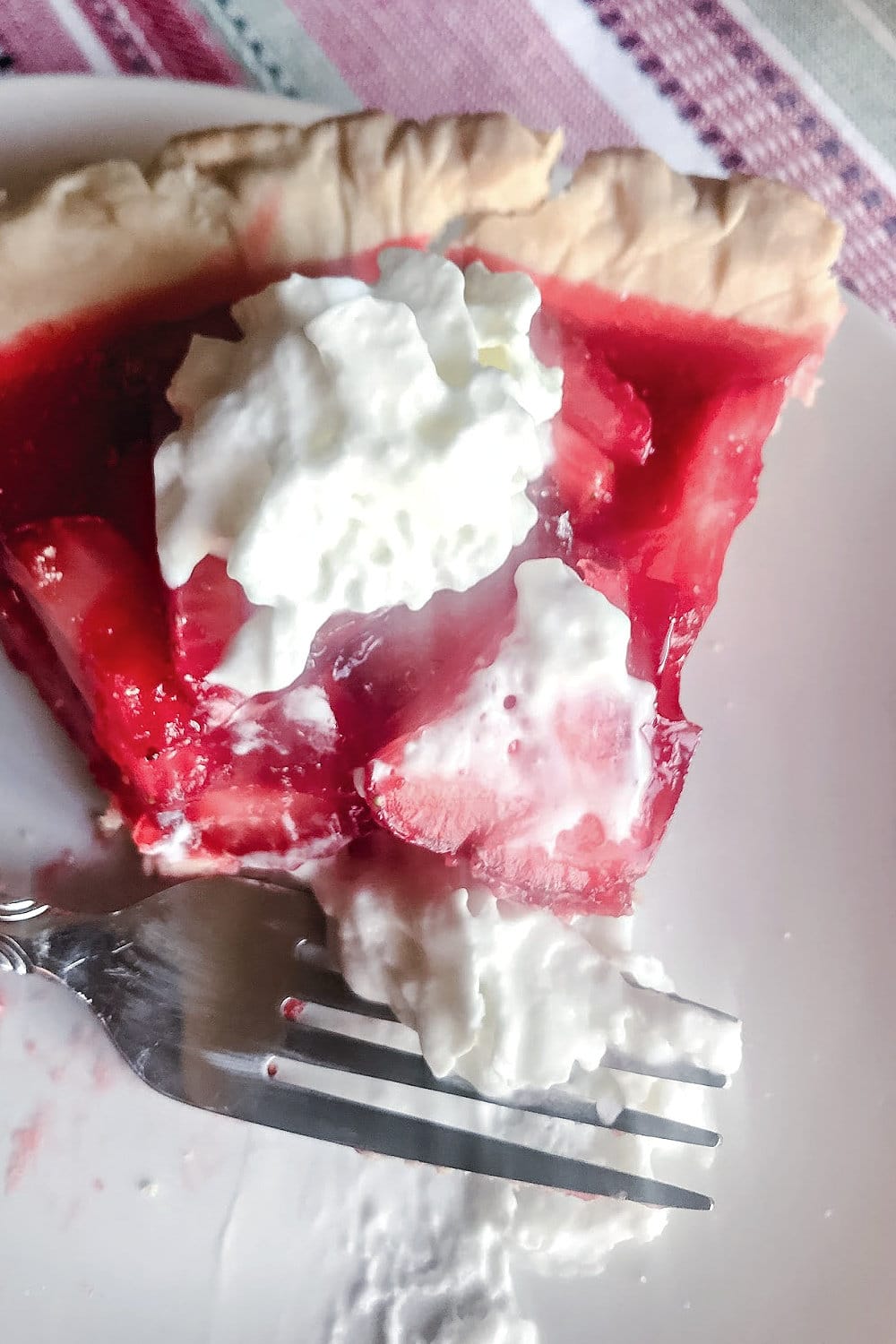 Which tools are helpful for making this strawberry pie recipe?
I like flat whisks that are silicone-coated in case I happen to be using a non-stick pan or saucepan; the silicone-coating ensures the whisk won't ruin the pan by scratching the finish.
If you already own a balloon whisk (which is made for a mixing bowl) you can use it for whisking the gelatin mixture.
Are you making your own crust for this recipe? You'll need a deep-dish 10-inch pie pan. Or, if you happen to have a deep-dish 9-inch pie pan on hand, this will work fine.
For stirring the pie filling and then spooning it into the baked crust, I love, love, love Le Crueset silicone spatula spoons (also known as spoonulas).
Ceramic pie weights are helpful for baking pie crusts because they keep the crust nice and flat across the bottom while it bakes.
More Favorite Recipes
If you follow my blog, you might see more than one strawberry recipe posted here, that's for sure. We enjoy White Chocolate Strawberry Poke Cake and Strawberry Angel Dessert, too.
If you're looking for something warm and comforting that's great topped with ice cream, give the Farm House Strawberry Crumble a try – it's heavenly! If you are a strawberry shortcake fan, be sure to try my recipe for Creamy Strawberry Shortcake Dip, served with vanilla wafers.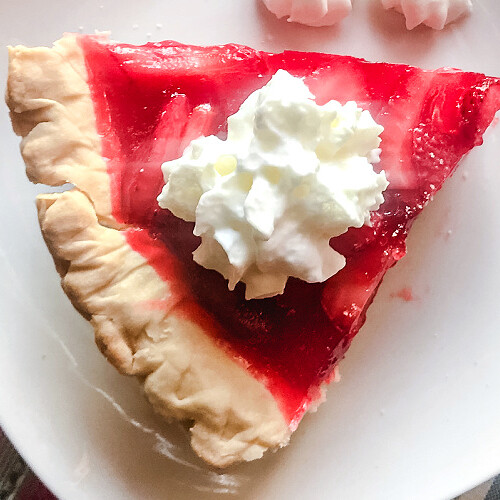 Fresh and Easy Strawberry Pie
This fresh strawberry pie with jello recipe combines the sweetness of ripe strawberries, jello, and cool whip with a flaky, buttery crust.
Print
Pin
Rate
Ingredients
3/4

cup

granulated sugar

3

Tbs.

cornstarch

1 1/2

cups

water

3

oz.

strawberry gelatin

such as Jello brand

2

lbs.

fresh strawberries

sliced

1

baked pie crust, 10-inch

1-2

cups

whipped topping

if desired and very much recommended
Instructions
In a saucepan over medium heat, combine the sugar, cornstarch and water, whisking until this mixture is nicely thickened; remove from heat.

Add the strawberry gelatin, whisking again until the gelatin is completely dissolved. Cool the prepared strawberry mixture slightly, then fold in the sliced strawberries. Spoon the prepared strawberry pie filling into the baked crust.

Refrigerate the pie until it is set and completely chilled throughout. Top with whipped topping to serve. Enjoy!
Nutrition
Calories:
279
kcal
|
Carbohydrates:
52
g
|
Protein:
3
g
|
Fat:
7
g
|
Saturated Fat:
3
g
|
Polyunsaturated Fat:
1
g
|
Monounsaturated Fat:
3
g
|
Cholesterol:
1
mg
|
Sodium:
147
mg
|
Potassium:
205
mg
|
Fiber:
3
g
|
Sugar:
36
g
|
Vitamin A:
21
IU
|
Vitamin C:
67
mg
|
Calcium:
31
mg
|
Iron:
1
mg