A favorite summer strawberry dessert at our house, Strawberry Angel Dessert is absolutely refreshing on a hot day or evening. I'm continually on the hunt for easy strawberry desserts similar to this one – they are always a BIG hit with family and friends. Cool and creamy strawberry cake is darn hard to resist!
Plus, this dessert calls for ingredients that I typically already have on a hand for strawberry recipes and I find that a great thing. Take this to your next potluck or family gathering to be the hit of the party.
Strawberry Angel Dessert Recipe
Howdy! Chef Alli Here. Let's Get You Cookin'….Shall We?? 🙂
Strawberry pie. Strawberry cake. Any strawberry dessert, truly. We love them ALL, especially when they are easy and fast desserts to make, just like this one.
Are you a white chocolate fan? If so, be sure to check out my White Chocolate Strawberry Poke Cake, another cool and refreshing summer dessert. Or, if you're longing for a warm dessert that has oozing strawberries and their juices bubbling out, give Farm House Strawberry Crumble a go, please! (And don't forget the ice cream on top.)
Creamy Strawberry Shortcake Dip is luscious and cool, and I enjoy making Strawberry Lemon-Lava Angel Cakes when I'm needing a special dessert that makes fun individual servings.
3 reasons to love this recipe –
Easy. Cold. Refreshing on a hot day!
This recipe makes a gi-normous dessert – perfect for the gang.
It's gorgeous. Makes ya wanna swim right in…
What Ingredients Do You Need to Make Strawberry Angel Dessert?
Angel food cake
Fresh strawberries
Cream cheese
Powdered sugar
Whipped topping
strawberry gelatin
ice cubes and boiling water
whipped topping as a garnish, for serving, if desired
How to Make Strawberry Angel Dessert in 5 Easy Steps –
Place the cubes of angel food cake into a 10 1/2″ x 14 1/2″ casserole dish.
In a mixing bowl, beat together the softened cream cheese with the powdered sugar until smooth; use a spatula to gently fold in the whipped topping by hand.
Spread the prepared cream cheese mixture over the angel food cubes, pressing down to get some of the topping down into the angel food cake area; sprinkle with diced strawberries.
Meanwhile, bring the water to a boil and whisk in the gelatin, stirring until fully dissolved; stir in the ice cubes to cool and thicken the gelatin.
Using a ladle or a measuring cup, carefully and slowly pour the cooled gelatin over the top of the cake, allowing the gelatin time to soak down into the bottom of the dessert a bit. Place the dessert into the fridge to chill over night or at least 8-10 hours before serving.
Common Questions Asked About
This Recipe
What if I don't own a 10 1/2″ x 14 1/2″ casserole dish? That is huge!
Use a basic 9″ x 13″ pan and roll with it. Just know that you'll have some extra ingredients to enjoy that won't quite fit into the 9″ x 13″ pan.
Since this makes such a large batch, can I make two pans of this dessert instead?
Surely. When I want to split this dessert, I assemble each one in 8″ x 8″ or 9″ x 9″ pans, or a couple of 9″ deep-dish pie plates. Works great and you can share a dessert with someone!
Does the gelatin ice trick really work?
Wait until you try it! You'll be amazed at how much more quickly the gelatin begins to thicken and set up. This also makes it easier to pour over the strawberry layer since it doesn't slosh around as much and as easily.
What about ingredient substitutions?
Feel free to use low-fat cream cheese, low-fat whipped topping, and sugar-free gelatin. I've done this many times and this dessert is still FANTASTIC. Nary a soul will even notice….they will be too busy shoving it into their face.
Why are the strawberries diced instead of sliced in this recipe?
You can do either option. I personally think the diced strawberries making a prettier topping but that's up to you. Sometimes when I use the strawberry slices, I feel like they look like big eye balls staring back at me….weird, I know.
Should I make this strawberry dessert recipe ahead of time?
Yeeees!!! The longer this dessert rests and chills, the better it gets. This resting time gives the angel food cake the opportunity to soak up lots of good moisture from the creamy filling, giving the cake cubes a more tender texture and better eating experience.
Can this strawberry cake be served as a frozen dessert?
I did this once, totally on accident! Not sure why the pan of dessert went into the freezer, instead of my fridge that day, but it definitely did. That said, I ended up with a frozen-solid dessert for my gathering.
Of course, the frozen dessert is harder to serve since it now needs to thaw and bit and has to be sliced instead of scooped, but nobody cared a lick and it was totally delicious.
How long will this strawberry dessert keep in the fridge?
After about the 3-4 day, this dessert gets pretty "weepy". But don't worry – you won't have any remaining for that long!
More Favorite Recipes Your Fam Will Enjoy –
Printable Strawberry Angel Cake Recipe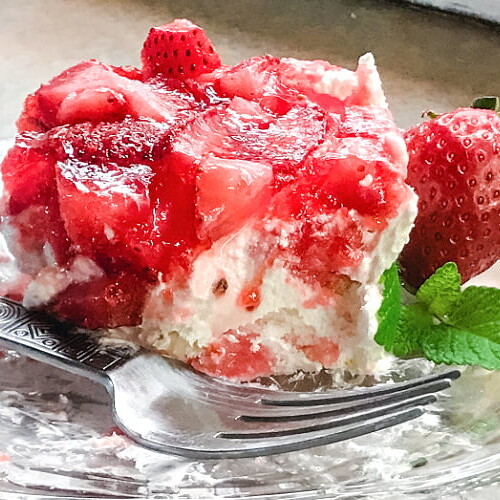 Strawberry Angel Dessert
A favorite summer strawberry dessert at our house, cool and creamy Strawberry Angel Dessert is so refreshing on a hot day or evening. I'm continually on the hunt for easy strawberry desserts similar to this one - they are always a BIG hit with family and friends.
Print
Pin
Rate
Ingredients
1

angel food cake mix

baked according to pkg. directions, cooled and cut into 1-inch cubes, may use a purchased 12-14 oz. pre-baked angel food cake, if desired, works great

16

oz.

cream cheese

softened, may use low-fat cream cheese

2

cups

powdered sugar

8

oz.

whipped topping or light whipped topping

1

lb.

box fresh strawberries

cleaned, stemmed, and diced

2 - 3

oz.

pkgs. strawberry gelatin

may substitute sugar-free gelatin, if desired, it works great

1 1/2

cups

boiling water

3

cups

ice cubes

whipped topping or whipped cream

for serving, if desired
Instructions
Evenly spread the angel food cake cubes over the bottom of a 10 1/2" x 14 1/2" glass casserole dish; reserve.

In a large mixing bowl, using an electric mixer, beat the cream cheese with the powdered sugar until very smooth.

Using a silicone spatula or large spoon, gently fold (don't beat) the whipped topping into the cream cheese mixture by hand; place the prepared mixture on top of the angel food cubes in the pan.

Use a long spreader or narrow spatula to spread the cream cheese mixture out evenly over the angel food cubes, press down as you work so that some of the cream cheese mixture gets down into the angel food chunks a bit. **You will feel as though you are squashing the cake cubes, but don't worry. Doing this step also ensures that the dessert will cut into nice servings and hold their shape well.

In a single layer, sprinkle the diced strawberries over the cream cheese topping.

Meanwhile, combine both packets of strawberry gelation with the boiling water; whisking until all the gelatin is fully dissolved; add the cubed ice, stirring until the ice is melted and the gelatin has cooled and is starting to thicken slightly.

Using a ladle or measuring cup, slowly and gently pour the cooled gelatin mixture over the strawberries on top. As you add the gelatin, you will see that it slowly seeps down a bit into the dessert which is exactly what you want. Add the gelatin a little at a time - you may not need quite all of it since it can make your pan a bit too full sometimes.

Refrigerate the dessert over night or until very well chilled, at least 8-10 hours. Serve topped with whipped cream or more whipped topping, if desired.

Dessert is much better made the day ahead of serving so all the ingredients can meld and moisten together.
Nutrition
Calories:
334
kcal
|
Carbohydrates:
54
g
|
Protein:
5
g
|
Fat:
12
g
|
Saturated Fat:
7
g
|
Cholesterol:
31
mg
|
Sodium:
378
mg
|
Potassium:
123
mg
|
Fiber:
1
g
|
Sugar:
45
g
|
Vitamin A:
395
IU
|
Vitamin C:
17
mg
|
Calcium:
87
mg
|
Iron:
1
mg
Let's Get Cookin',
Chef Alli
Thanks for visiting! I hope you return soon for more yummy recipes for your family.
We love hearing from our readers and followers, so leave us a comment if you'd like. If you don't hear back from us shortly, know that we may not have seen your comment. Feel free to reach out to us by email: [email protected].
Let's Get You Cookin',
Chef Alli
Please Note: We do use referral and affiliate links here for products and services that Chef Alli loves and recommends. I may receive a small compensation when you use these links. This really helps me keep my recipe blog moving forward. Thank you so much!