White Chocolate Strawberry Poke Cake….even the name sounds dreamy, creamy, and chill! And who doesn't like strawberry chocolate cake, right?? This is the perfect chilled cake for the long, hot days of summer. I love a cake that is super easy and quick, and made with a box mix!
White Chocolate Strawberry Poke Cake Recipe


Here's the Scoop on Making White Chocolate Covered Strawberry Cake for Your Fam – They are gonna LOVE you!
Howdy! Chef Alli Here. Let's Get You Cookin'….Shall We? ?
Oh man! You are gonna LOVE this strawberry cake. It's very easy to create, no matter your cooking confidence level, and it's a totally gorgeous dessert.
Plus, isn't it super fun to make a dessert that literally melts in your mouth??? Your guests will be impressed when you serve this, trust me. And, if it appears they aren't (that will NOT happen), just let them lift this cake with two hands – it's a 9 x 13 dessert that weighs in at close to 100 lbs. 🙂

Because White-Chocolate Strawberry Poke Cake is so creamy, cool, and moist, due to the ah-mazing white-chocolate sauce, pie filling and whipped cream combination, each bite is heavenly. And in case any of you are wondering why a poke cake is called a poke cake, it's due to poking holes down into the cake so that the white chocolate/strawberry jello filling can do it's job and OOOOOZE down into the holes. Now you know!


Let's Talk Ingredients
Sweetened condensed milk. This is not to be confused with evaporated milk, though they do typically sit side-by-side on the shelf at the grocer. Sweetened condensed milk is a super thick, super sweet consistency that is typically used when making desserts and specialty baked goods. Evaporated milk (sometimes called un-sweetened condensed milk) is milk that is a shelf-stable canned milk product with about 60% of the water removed, making it more concentrated and rich, though the consistency is not thick like sweetened condensed milk.
White chocolate chips. I typically use Ghiradelli brand white chocolate chips. If you've ever wondered if white chocolate is REALLY chocolate, here's the down low: White chocolate doesn't qualify as genuine chocolate because it doesn't contain chocolate solids (a.k.a. cocoa powder). White chocolate is typically made from a blend of cocoa butter, milk solids, granulated sugar, milk fat and lecithin….an emulsifier that works as a fat to hold everything together.
Jello strawberry flavored gelatin. You don't have to use the Jello brand of gelatin, but it seems I always do. (Probably because that's the brand that I saw my grandmothers and mom always using.) I often use the sugar-free Jello gelatin and have had great success with it in this recipe – absolutely NOBODY has ever asked "Is this sugar-free?" – you cannot tell it!
Strawberry pie filling. In our area here in NE Kansas, the premiere brand of strawberry pie filling that you'll find at our local grocers is Wilderness pie filling. I usually purchase this brand, since I've tried other less expensive brands of pie fillings only to be disappointed. I never take the risk any more, especially with a super neat dessert like this White-Chocolate Strawberry Poke Cake.
Whipping Cream. Also known as heavy cream, in our neck of the woods. I love me some Hildebrand Farms Dairy whipping cream – so rich and luscious! When beating it to make whipped cream for this recipe, it's got stiff peaks before you can even turn around – a true sign of quality whipping cream. You'll find whipping cream in the refrigerated dairy section at your local grocer, likely next to the half-and-half.
Granulated Sugar. This makes your whipping cream SWEET.
Vanilla. This flavors your whipping cream.
Fresh strawberries. If your fresh strawberries are a bit on the over-ripened side, you'll definitely want to dice them, using paring knife. Otherwise, if they are looking pretty good, you are welcome to slice the strawberries, laying or layering the slices over the top of your cake. Either way is super pretty. Add fresh mint if you want the cake to look extra-special.
Helpful Recipe Tips for Making White Chocolate Cake with Strawberries….Your New Favorite Summer Dessert
What if I don't have a white cake mix on hand for this recipe? Can I substitute a different flavor cake mix? A White Cake mix is best for this recipe, but in a pinch you can use a yello cake mix….or even a CHOCOLATE cake mix. (Now that I think about it, that a chocolate cake mix would be delish.)
What if I don't feel like going to all the trouble of making my own whipped cream? If you are super short on time when preparing this dessert, you could certainly substitute 16 oz. of whipped topping (Cool Whip) instead making your own whipped cream….it just won't be quite as dreamy and rich. Still good, but not quite as dreamy and rich!

Can I let this cake chill longer before serving it? What if I want to make it the day ahead or even a couple days ahead?

This cake definitely needs to chill for at least 8 hours in the fridge before serving, this will make the cake extra tender. If it chills for a longer amount of time, even better! I love being able to make this cake ahead of time.

How long can this cake sit out after being removed from refrigeration? This cake can sit out on the counter inside the house for 30 minutes or so without doing any harm. If you serve this as a picnic or outdoor gathering, I'd keep a cooler handy so you can tuck it away pretty quickly. Warm temperatures will make the whipped cream soften and shrink if kept out too long.
What's the best way to cut and serve this cake? When slicing the White-Chocolate Strawberry Poke Cake, wipe your knife after each cut you make to help your pieces look prettier – it's fun to be able to see all the pretty layering of this dessert when you serve it! Wiping the frosting and cake ingredients from the knife after each slice allows you make a clean, even cut each time.

More Favorite Sweet Treat Recipes to Love –
More Favorite Cake Recipes to Enjoy –
Printable Directions for White-Chocolate Strawberry Poke Cake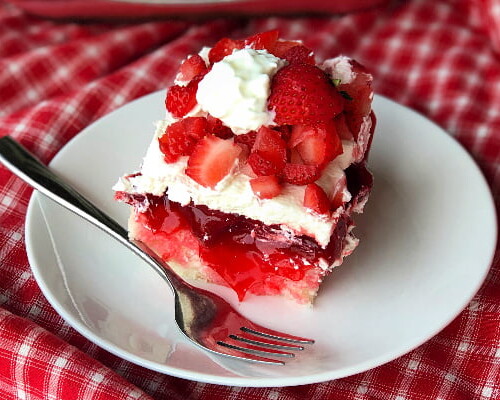 White-Chocolate Strawberry Poke Cake
It's dreamy, creamy and cool....the perfect strawberry cake for the long, hot days of summer. White Chocolate Strawberry Poke Cake is made with a basic white box cake that is layered with a white-chocolate strawberry topping, strawberry pie filling, whipped cream, and chopped fresh strawberries.
Print
Pin
Rate
Ingredients
1

box white cake mix, mixed and baked in a 9 x 13 pan, according to package directions
White-Chocolate Strawberry Mixture
14

oz.

can sweetened condensed milk

3/4

cup

white chocolate chips

3

oz.

pkg. Jello strawberry flavored gelatin, may use sugar-free strawberry flavored gelatin, if desired

1/4

cup

very warm water

2

21 oz.

cans strawberry pie filling
Whipping Cream Mixture
2

cups

heavy cream or whipping cream, I love to use Hildebrand Farms Whipping Cream!

1/4

cup

granulated sugar

1

tsp.

vanilla extract

1

lb.

fresh strawberries, stems removed, diced
Instructions
Let baked cake cool for at least 20-30 minutes after removing it from the oven. Using the tip of the wooden spoon or spatula handle, poke holes all over the cake.

Meanwhile, in a medium glass bowl, combine the sweetened condensed milk with the white chocolate chips; heat in the microwave in 30 second increments on full power until chocolate is melted, whisking after each one until the mixture is smooth and shiny.

In a separate small bowl, place the very warm water, stirring in the strawberry jello, whisking well so that the jello dissolves completely; add the strawberry jello mixture to the white-chocolate mixture, stirring to combine.

Once the cake has cooled for at least 20-30 minutes, pour the prepared white-chocolate strawberry mixture over the top of the cake, using a rubber spatula to spread it evenly into the holes and around the edges of the cake. Let the cake cool completely, then refrigerate for 1 hour.

Once the cake has chilled for 1 hour, evenly top the cake with both cans of strawberry pie filling.

In a large mixing bowl, using an electric mixer, beat the whipping cream with the granulated sugar and vanilla extract until stiff peaks form. Spread the prepared whipped cream mixture evenly over the top of the strawberry pie filling.

Top the whipped cream layer with the diced fresh strawberries, sprinkling them evenly over the top of the cake as a pretty garnish. You may also garnish the strawberries with fresh mint, if desired, if you want to make this cake really fancy!

Refrigerate the cake for a solid 6-8 hours before serving to allow all the layers to co-mingle and get super chilled.
Notes
Makes one very full 9 x 13 pan of cake.  Serves 12-15, depending on the size of the pieces.  
www.ChefAlli.com
Nutrition
Calories:
360
kcal
|
Carbohydrates:
39
g
|
Protein:
5
g
|
Fat:
21
g
|
Saturated Fat:
13
g
|
Cholesterol:
68
mg
|
Sodium:
101
mg
|
Potassium:
242
mg
|
Fiber:
1
g
|
Sugar:
37
g
|
Vitamin A:
676
IU
|
Vitamin C:
23
mg
|
Calcium:
148
mg
|
Iron:
1
mg
We love hearing from our readers and followers, so leave us a comment if you'd like. And, if you don't hear back from us shortly, know that we may not have seen your comment. Feel free to reach out to us by email: [email protected]
Let's Get You Cookin',
Chef Alli
Please Note: We do use referral and affiliate links here for products and services that Chef Alli loves and recommends.