Calling all s'mores lovers!! These thick and yummy graham cracker cookie bars are oozing with warm chocolate and gooey marshmallows. We can never get enough of these Golden S'mores Cookie Bars and they are incredibly easy to make in your favorite 9 x 13 baking dish.
Golden S'Mores Cookie Bars Recipe


Howdy! Chef Alli Here. Let's Get You Cookin'….Shall We?? 🙂
Ever since my boys were little, we have enjoyed camp fires. And boys, camp fires, and s'mores simply go together, am I right?? We still have camp fires quite often here at home in our fire pit, and I've got lots of wonderful memories of the times we went camping at the lake and all sat around the fire in the evening – it was casual, relaxing, and fun. And, of course, every camp fire HAD to include s'mores!
I love the idea of s'mores cookie bars because they are baked in just one pan and that's so much easier than the individual creation of s'mores made one by one. And, because these bar cookies are so thick and rich, you can feed a lot of people with just one batch – always a good thing.
So. What Ingredients Do You Need for Making These Easy Bar Cookies for a Crowd?
Soften your butter before making this recipe. You can set it out on the counter for a couple hours, OR place the stick of butter into the microwave and cook in 30 second increments at 30% power, touching the butter after each one to see if it's softened. Be sure you don't use full power or you'll quickly end up with melted butter and this will change the entire texture of your cookies. #BeenThereDoneThat
Butter also provides flavor, mouthfeel, and texture, also imparting a rich, distinct flavor to all baked goods.
Dark brown sugar and granulated sugar
Here's where your sweetness comes in, and the brown sugar adds a nice caramel flavor to these bar cookies, perfectly complimenting the graham cracker flavor.
Eggs provide structure, leavening, richness and flavor to baked goods and cookies.
Vanilla enhances all the flavors in your baked goods recipes; without it, baked goods tend to taste flat and even bland. I love to use pure vanilla extract (or even make my own!) but it's expensive. You can substitute imitation vanilla extract if you need to – no worries.
All-purpose flour, baking powder, kosher salt
These are the dry ingredients that provide the lift (leavening) to your baked goods. Be sure to combine these well BEFORE adding them to your butter/sugar/egg mixture.
I usually always purchase boxed graham cracker crumbs from the baking aisle at the grocer, but in a pinch you can certainly make them in your food processor from whole graham crackers. They are done in a flash and all you have to do is place the graham cracker sections into the bowl of the food processor, then pulse it to process them to fine crumbs. Easy peasy.
You need the BIG Hershey bars for this recipe. However, if you can't find those, you can use the candy bar size Hershey bars (like you'd find at the check out stand). Just make sure you have several for covering the entire pan of cookie dough.
Fluff has always been made from four basic ingredients, which will likely never change much: sugar, dried egg whites, corn syrup and vanilla. Yes, it's a sticky mess to work with, but oh so yummy.

Easy and Helpful Recipe Tips for Making S'mores Cookie Bars with Marshmallow Fluff and Chocolate
I hate working with marshmallow fluff – it's always so sticky. Is there a way I can make it easier to handle?
Yes – great question, by the way. I always stick my container of marshmallow fluff into the microwave for 15-20 seconds (just until it barely warm) and then use a long spatula to remove it from the container. It's much easier to work with once it's softened, though it is still rather sticky!
What is the purpose of the parchment paper that is placed into the 9 x 13 pan before adding the cookie dough?
This is what creates a "sling" of sorts for easily lifting the entire batch of bar cookies from the 9 x 13 pan once they have baked and cooled. Once you've lifted the sheet of bar cookies from the baking dish, they are much easier to cut because the sides of the pan are no longer in your way. You may substitute foil for the sling if you don't have parchment paper on hand.
What's the easiest way to cut bar cookies?
I like to use my bench scraper. I often cut the cookie bars into squares, then into fingers. This small, elongated portion is easy to grab from a platter and also doesn't make anyone feel guilty for enjoying a sweet treat.
Can I make these Golden S'mores Cookie Bars in two smaller pans instead of the 9 x 13 pan?
Yep. I'd use two 8 x 8 baking dishes – they will work fine and then you've got an extra pan of cookies to give away or freeze for later. Or, if you're giving the cookies as a food gift, you can certainly bake them in foil pans so you don't need to worry about getting your baking dish back. If you opt to use smaller pans for making the cookie bars, you won't need to bake them as long, either. When they are golden brown and nicely puffed, they are done!
Do these cookie bars freeze well?
They sure do. Bake first, then either freeze as an entire sheet of the cookie bars, or cut them into individual pieces, freezing them like that. I always wrap my bar cookies tightly in plastic wrap, then in heavy-duty foil before placing them into a freezer bag to freeze. They will keep in the freezer for up to 6 months with no problem. Just thaw and serve.
What's the best way to serve these cookies?
I am very partial to serving these cookie bars WARM. However, do make sure you chill first before cutting them into squares as that makes the task so much easier to accomplish! If you cut them while warm, the marshmallow cream and chocolate oozes out everywhere and makes a giant mess. To serve the cookies warm (so they are oozing again), place them onto a cookie sheet into a 200 degree F. oven for a few minutes, just until they are warmed through. Or, you can always microwave the cookie bars for a few seconds to reheat them.
Do these cookie bars easily serve a crowd?
Yes! Because these Golden S'mores Cookie Bars are so decadent and rich, your guests will only want a small piece so you can get at least 24 servings from one 9 x 13 pan. And because the bar cookies are solid and dense, they don't crumble apart as you enjoy them.
Other Sweet Recipes to Enjoy –
Printable Golden S'mores Bar Cookies Recipe –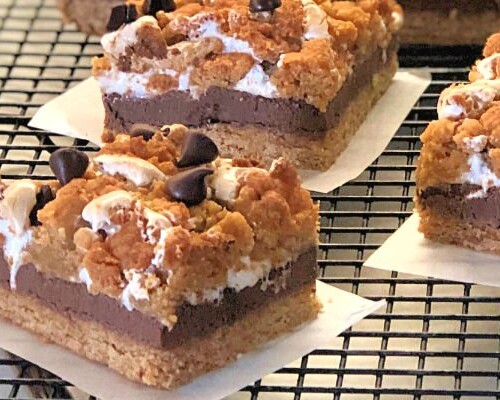 Golden S'mores Cookie Bars
Calling all s'mores lovers!! These thick and yummy cookie bars are loaded with graham cracker flavor and oozing with warm chocolate and gooey marshmallows. We can never get enough of these Golden S'mores Cookie Bars and they are incredibly easy to make in your favorite 9 x 13 baking dish.  No campfire required. 🙂 #grahamcrackers #marshmallows #chocolate #campfire #cookies


Print
Pin
Rate
Ingredients
1

cup

unsalted butter, softened

1/2

cup

packed dark brown sugar

1

cup

granulated sugar

2

eggs

2

tsp.

pure vanilla extract

2 2/3

cups

all-purpose flour

2

tsp.

baking powder

3/4

tsp.

kosher salt

1 1/2

cups

graham cracker crumbs

4

large Hershey bars, 7 - 11 oz. each, depending on how thick you'd like the chocolate in the center

13

oz.

container marshmallow fluff

1/3

cup

milk chocolate or semi-sweet chocolate chips
Instructions
In a large mixing bowl, using an electric mixer, beat the butter with both sugars; add the eggs and vanilla, beating again until light and fluffy.

In a separate mixing bowl, combine the dry ingredients with the graham cracker crumbs; add to the butter mixture, mixing until well combined.

Grease a 9 x 13 baking dish with nonstick spray. Fold a large sheet of parchment paper in half lengthwise so that it covers the bottom of the pan, letting the parchment hang over each end of the pan. Spray the parchment paper with nonstick spray. *Note: These over-hanging parchment paper ends will become your handles for lifting the cookie bars out of the pan after they have baked and cooled – very important! If needed, substitute foil for the parchment paper.

Divide the prepared dough in half, pressing one half of the dough over the bottom of the parchment paper that is lining the greased baking dish.

Place the chocolate bars over the dough in a single layer, cutting them if necessary to make them fit the pan.

Warm the marshmallow fluff in the microwave for a few seconds, then use a small spatula to spread it over the chocolate bars, making sure to touch the edges on all sides of baking dish to hold the fluff in place as you're spreading it.

Now crumble the remaining half of the dough into small pieces over the marshmallow fluff; gently patting it down a bit after crumbling it over the top. Place the cookie bars into the preheated oven, uncovered, on the center rack and bake for 25-30 minutes or until golden brown and puffed; remove from the oven and sprinkle with chocolate chips. Cool the pan of cookie bars on a cooling rack.

Once the s'mores cookie bars are cooled to room temperature, place them into refrigeration for 3-4 hours letting them chill.   Next, using a butter knife, go around the edges of the pan, gently loosening the cookie bars from the sides where needed. Grab hold of each end of the parchment paper and lift the sheet of cookie bars from the pan; place onto a large cutting board, then use a knife or bench scraper to cut the sheet into serving pieces, as desired.


Nutrition
Calories:
408
kcal
|
Carbohydrates:
64
g
|
Protein:
4
g
|
Fat:
16
g
|
Saturated Fat:
9
g
|
Cholesterol:
51
mg
|
Sodium:
220
mg
|
Potassium:
106
mg
|
Fiber:
2
g
|
Sugar:
37
g
|
Vitamin A:
384
IU
|
Calcium:
63
mg
|
Iron:
2
mg
I love hearing from our readers and followers, so leave us a comment if you'd like. And, if you don't hear back from us shortly, know that we may not have seen your comment. Feel free to reach out to us by email: [email protected].
Let's Get You Cookin',
Chef Alli
Note: We do use referral and affiliate links here for products and services that Chef Alli loves and recommends.