Nothing says summertime like a slice of Watermelon Dessert Pizza. This easy, low-carb treat is a breeze to make and looks so refreshing when you add the berries and mint. When hot days call for a refreshing, cool and healthy dessert, you'll have the perfect solution.
Watermelon Dessert Pizza Recipe


Howdy –
I think it's fun to offer a summer dessert that's both refreshing and healthy when we host a summer gathering or take dessert to our small group bible study. Nobody feels guilty about eating a piece and it's not going to wreck anyone's eating plan too much. Plus, this Watermelon Dessert Pizza looks like you've gone and done something incredible because it looks beautiful, not to mention inviting.
Let's Talk Ingredients and Tools. Man, I love a Recipe that Requires Just a few Ingredients, Don't You???
The tools you'll need. Aside from a nice sharp knife for slicing the watermelon, you'll find a nice, long spatula helpful when you spread on the creamy topping. I also like to use my kitchen shears when cutting the mint from my plants or for chopping the mint as a garnish.
The creamy topping. To make the topping, you'll combine ricotta cheese and softened cream cheese with a bit of honey and vanilla extract to give it just a hint of sweetness. This topping is also what holds the blueberries and strawberries on top of the watermelon slices.
The berries. You can actually use any fruit topping that you'd like. I think fresh berries are nice for summer, but you could also add chopped mango, sliced peaches, or kiwi – the only limitation you have is your imagination!
The watermelon. I hope you get a good, sweet watermelon. I've always had pretty good luck with watermelon, but when you get a really fresh, crisp and sweet one, you feel like the stars have aligned!
Toasted coconut. I didn't think the addition of toasted coconut would make such a big difference in this dessert pizza, but I was completely wrong! This added bit of crunchy sweetness is very good.
Fresh mint. Don't be tempted to skip the mint….it makes this dessert pizza so beautiful and just add a super nice finishing touch. I always grow mint in the summer so I can make Mojitos and it's really nice to have it right outside my kitchen door for garnishing desserts like this one all season long.


Easy Recipe Tips for Making A Delightful Watermelon Dessert Pizza – You will Be the Hit of the Party!
Can I make this dessert pizza in advance? I've discovered you can make this dessert pizza about 2 hours ahead of time, but that's about it. The ricotta topping just won't hold much longer than that due to the moisture it absorbs from the watermelon and the berries.
Can I use baby watermelons to make this dessert pizza? Wow. Now why didn't I think of that??? Then these pizzas become INDIVIDUAL Watermelon Dessert Pizzas – who won't love that at a summer gathering?
What if I'd rather not use ricotta to make the creamy topping? Are there alternatives? Yes. You could use sour cream in it's place and I've often done that because sometimes I don't have ricotta cheese on hand. I also like how creamy the sour cream makes the topping since sometimes ricotta cheese can have a bit of a gritty texture somewhat.
How do I toast coconut? Whenever I purchase a big bag of sweetened coconut, I immediately pour the entire contents out onto a large, rimmed baking sheet in a single, even layer. Then, I place the baking sheet into a preheated 325 degree F. oven and bake the coconut until it's golden brown, tossing every 5-10 minutes so that it toasts evenly. As you toast the coconut, you'll notice that it will become very fragrant. Once the entire batch is nicely golden brown, I remove it from the oven and let it cool fully. Once it's cooled, I place the toasted coconut into a large Mason jar and store it in my freezer until I need it. It's so handy to be able to grab what I need from my stash in the freezer!
Why is toasting coconut a good idea? For two reasons, actually. Since coconut is a rather fattening ingredient, toasting it makes it much more flavorful so you can use less in your recipe. And, secondly, toasting the coconut changes the texture completely. You no longer have limp, wimpy coconut – you have toasted, crispy, flavorful shreds of goodness!
What are some tips for choosing a good watermelon? No matter the size of the watermelon, it should feel heavy. I also look for the yellow spot on the bottom of the watermelon where it rested on the ground; if it's a creamy yellow, this is usually a good indicator that the watermelon is ripe. Give that watermelon a good thump! A nicely ripened watermelon with give a deep, hollow sound while a watermelon that's under or over-ripened will sound more on the dull side.
Other Recipes to Enjoy –
Printable Watermelon Dessert Pizza Recipe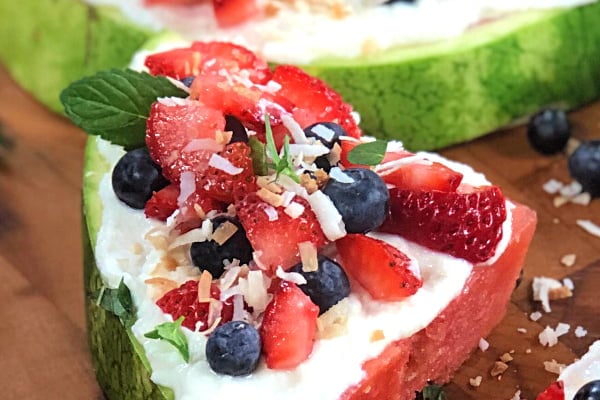 Watermelon Dessert Pizza
Nothing says summertime like a slice of Watermelon Dessert Pizza.  This easy, low-carb treat is a breeze to make and looks so refreshing when you add the berries and mint.  When hot days call for a refreshing, cool and healthy dessert, you'll have the perfect solution.
Print
Pin
Rate
Ingredients
1

c.

ricotta

1

c.

whipped cream cheese

2-3

tbsp.

honey

1

tsp.

pure vanilla extract

1/2

Watermelon, sliced into 1" thick rounds (these become the base for the pizzas)

1

pint

fresh blue berries

2

cups

diced fresh strawberries

Fresh mint, for garnish

Toasted coconut, for garnish
Instructions
In a small bowl, mix ricotta, cream cheese, honey, and vanilla together until combined and smooth.

Spread mixture onto the watermelon slices, then top with berries, as desired. Garnish with toasted coconut and fresh mint. Cut watermelon dessert pizza into wedges and serve at once.
Nutrition
Calories:
197
kcal
|
Carbohydrates:
25
g
|
Protein:
5
g
|
Fat:
10
g
|
Saturated Fat:
5
g
|
Cholesterol:
32
mg
|
Sodium:
82
mg
|
Potassium:
325
mg
|
Fiber:
2
g
|
Sugar:
19
g
|
Vitamin A:
1441
IU
|
Vitamin C:
33
mg
|
Calcium:
79
mg
|
Iron:
1
mg
We love hearing from our readers and followers, so leave us a comment if you'd like. And, if you don't hear back from us shortly, know that we may not have seen your comment. Feel free to reach out to us by email: [email protected]
Let's Get You Cookin',
Chef Alli
Please Note: We do use referral and affiliate links here for products and services that Chef Alli loves and recommends.