Want to take a quick trip back to your childhood? We grew up eating this Crumbled Butter Brickle Ice Cream Dessert at Grandma's house. A crunchy crumble topping, butterscotch, and vanilla ice cream come together to create a refreshing summer time dessert recipe.
Crumbled Butter Brickle Ice Cream Dessert Recipe

Howdy! Chef Alli Here. Let's Get You Cookin'….Shall We?? 🙂
Crumbled Butter Brickle Ice Cream Dessert. Yes, that's a mouthful! This super simple frozen treat is always a big hit, no matter where it's served. I love easy recipes like this one, especially when they garner rave reviews from family and guests alike. Another recipe you might like to try that is similar to this Ice Cream Brownie Pie.
Plus, I love a good 9 x 13 dessert because it serves lots of people and if you need to use a disposable 9 x 13 pan, they are easy to find. You will learn that wherever you take this dessert, you will have folks begging you for the recipe!
Let's Talk Ingredients
There are three basic components of this dessert: the crumble topping, the ice cream, and the butterscotch. How simple is that?
Flour, oats, dark brown sugar, chopped pecans, sliced almonds, and melted butter. These are the ingredients that will come together to make the crumble topping. Once combined, spread the mixture out onto a baking sheet and bake until golden brown – super easy and super delish. (And so nice for snacking!)
Vanilla ice cream. Use your favorite store-purchased brand, or feel free to make your own. You can use any flavor of ice cream that suits your fancy.
Butterscotch topping. Pour this straight from the jar! If you can't find butterscotch topping, you can substitute caramel topping instead. It's still delicious, but I do prefer the deeper flavors of the butterscotch.

Which tools are helpful for making this ice cream dessert?
If you want to make homemade ice cream, you will love a Cuisinart counter-top ice cream maker. I use mine all the time and it's great to have homemade ice cream in about 20 minutes without all the fuss of the ice and salt like is needed when you use an old-fashioned-type ice cream maker.
When baking the crumble topping, you will find that a rimmed baking sheet is helpful for keeping the crumble contained on the pan.
I like using a glass 9×13 pan for this dessert instead of a metal one.
Easy Recipe Tips for Making Crumbled Butter Brickle Ice Cream Dessert For Your Family and Friends
My son has a nut allergy. Can I make the crumble topping without the pecans and almonds? Yep. Your crumble topping might not be quite as crunchy, but it will still be absolutely delicious. Sometimes I leave the nuts out or even substitute different types of nuts in the topping – pistachios, walnuts, or use slivered almonds instead of sliced almonds.
What about the ice cream….can I use a different flavor if I want to? Sure thing. I always urge my followers to experiment with any recipe they want to. A recipe is simply a guide – customizing it to your liking is what makes it YOURS!And for the record, I've used several different flavors of ice cream in place of the vanilla – dulce de leche, butter brickle, and tin roof sundae to name a few. I've never tried any of the fruity ice creams, but I think they would be delicious, too. You could also switch out the butterscotch topping and try hot fudge or any other jarred topping that sounds good.
How long will this dessert keep in the freezer? You could keep it in the freezer for a few weeks, easily, as long as it's tightly covered. However, we've never had it last longer than a day or two because everyone goes crazy for it!
What is the easiest way to serve this dessert? I like to let it sit out on the counter, uncovered, for about 10 minutes so that I can slice it a little easier. Because this dessert is pretty rich, you can serve small-medium-sized servings and it's plenty.
Enjoy more favorite dessert recipes –
Printable Crumbled Butter Brickle Ice Cream Dessert Recipe –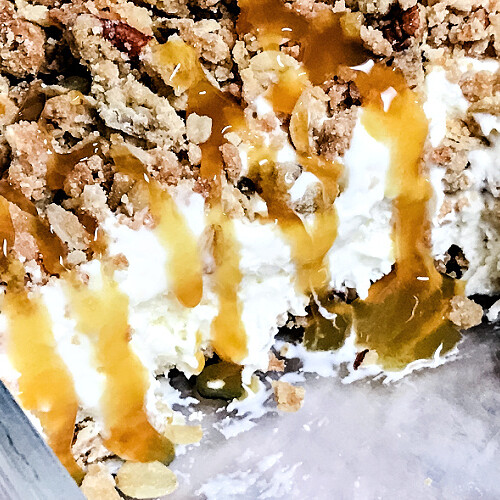 Crumbled Butter Brickle Ice Cream Dessert
Want to take a quick trip back to your childhood? We grew up eating this Crumbled Butter Brickle Ice Cream Dessert at Grandma's house. A crunchy crumble topping, butterscotch, and vanilla ice cream come together to create a wonderful summer time treat.
Print
Pin
Rate
Ingredients
2

cups

all-purpose flour

1/2

cup

old-fashioned oats

1/2

cup

packed dark brown sugar

½

cup

chopped pecans

½

cup

sliced almonds

1

cup

melted butter

1

container

vanilla ice cream, 48 oz., softened

12

oz.

jar butterscotch ice cream topping
Instructions
Preheat oven to 375 degrees F.

In a large mixing bowl, prepare the crumble topping by combining the flour, oats, brown sugar, pecans and almonds; stir in the melted butter and mix thoroughly; spread the prepared mixture evenly over a baking sheet and bake for 15-20 minutes, stirring halfway through the baking time. Remove from the oven and cool completely.

To assemble the dessert, spread half of the baked and cooled crumble topping over the bottom of a 9 x 13 pan; drizzle with half of the butterscotch sauce.

Remove the softened ice cream from the container, cutting it into fat slices, placing them on top of the butterscotch topping in the 9 x 13 pan. (You may need to cut a few of the slices to fit, filling the pan.) Or, if the ice cream is super soft, you can just drop it by the spoonful over the crumble topping, gently spreading it together and towards the edges of the pan.

Sprinkle the remaining crumble topping over the ice cream slices, then drizzle with the remaining half of the butterscotch sauce. Place the dessert into the freezer until partially frozen, then cover with foil or plastic wrap and continue to freezer for 6-8 hours before serving. Let dessert soften a bit before you cut it into squares to serve.
Nutrition
Calories:
500
kcal
|
Carbohydrates:
49
g
|
Protein:
6
g
|
Fat:
32
g
|
Saturated Fat:
17
g
|
Cholesterol:
41
mg
|
Sodium:
31
mg
|
Potassium:
158
mg
|
Fiber:
3
g
|
Sugar:
29
g
|
Vitamin A:
473
IU
|
Calcium:
56
mg
|
Iron:
2
mg
Thanks for visiting! I hope you return soon for more yummy recipes for your family.
We love hearing from our readers and followers, so leave us a comment if you'd like. If you don't hear back from us shortly, know that we may not have seen your comment. Feel free to reach out to us by email: [email protected].
Let's Get You Cookin',
Chef Alli
Please Note: We do use referral and affiliate links here for products and services that Chef Alli loves and recommends. I may receive a small compensation when you use these links. This really helps me keep my recipe blog moving forward. Thank you so much!