Who can resist a moist, tender layer cake that's piled high with beautiful whipped frosting? Not me, and that's for certain. Your family will be begging for this cake at every birthday and family gathering from now on, and it's a cake that will make anyone you give it to feel super special because it looks so gorgeous. #layercake #decoratedcake #rosecake
Layer Cakes are Always So Delicious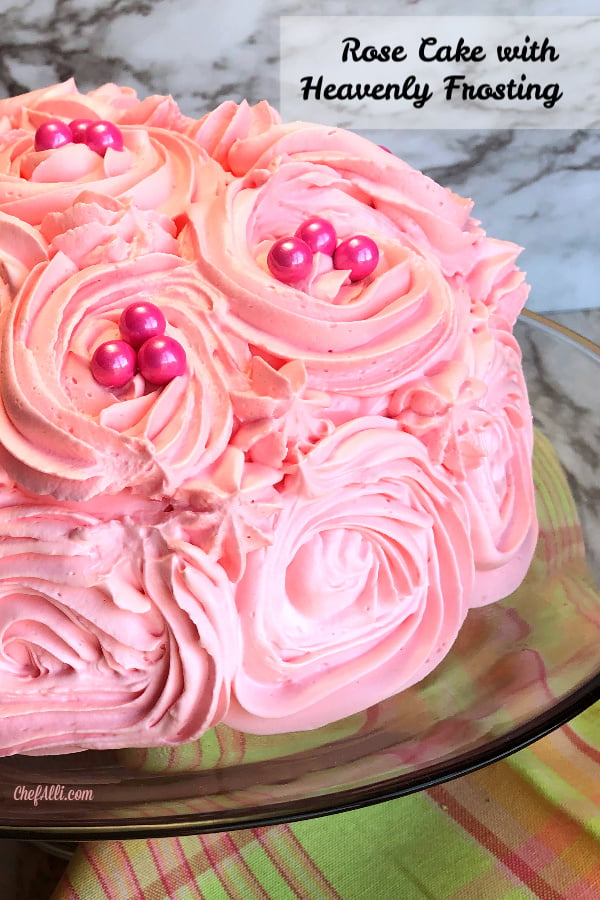 Please Note: We do use referral links for products and services that Chef Alli loves and recommends.
Howdy –
So WHY is it, do you suppose, that a layer cake (in comparison to a 9 x 13 cake or sheet pan cake) always tastes so dang good??? Could it be that when it's piled high, perched on a pretty pedestal, and covered in frosting that's fluffy and billow-y, you are absolutely guaranteed a delicious experience? It seems very likely to me.
I'm no cake decorator, but I do seem to bake my fair share of birthday cakes for family and friends, and truth be told, I totally enjoy it. T
his rose cake is probably my favorite cake to bake to give to someone as a special treat. I love seeing the look on their face when they realize you've baked and decorated a cake just for them. (They get the cake and you get the gift!)
Recipe Tips for Making Rose Cake with Heavenly Frosting
This recipe calls for granulated sugar in the frosting. That seems weird. Shouldn't it be powdered sugar? Nope. Use granulated sugar and heavy whipping cream with the cream cheese in this frosting – it's just heavenly and one of my all-time favorite frosting recipes.
Why does the recipe say to cover the cakes with foil right after they come out of the oven? Covering the hot cakes with foil and letting them cool that way traps the residual heat, forcing all the condensation that's created to go down into your layer cakes. This is a tip that my Grandma Lucille shared with me years ago and boy does it ever make for super moist cake!
I'm not a very good cake decorator. Are you sure that anyone can be successful at making this cake and frosting it? Don't worry. I was afraid of that very thing when I first attempted to frost this cake. Before you begin piping the roses onto the cake, take the time to pipe a few onto a sheet of wax paper to get the hang of the piping bag and how the frosting flows from it. This will make you feel more confident when you begin piping the frosting onto the cake to make the roses. You will be amazed at how easy the roses are to create! Just start at the very center of the rose, piping the frosting around and around, making the rose as big as you'd like, right as you go.
More Favorite Cake Recipes to Enjoy –
Printable Recipe for Making this Rose Cake with Heavenly Frosting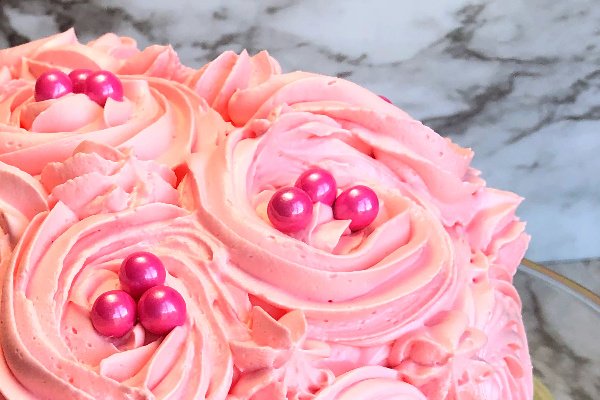 Rose Cake with Heavenly Frosting
Who can resist a moist, tender layer cake that's piled high with beautiful whipped frosting? Not me, and that's for certain! Your family will be begging for this cake at every birthday and family gathering from now on, and it's a cake that will make anyone you give it to feel super special because it looks so gorgeous.
Print
Pin
Rate
Ingredients
Layer Cakes
1

white cake mix, I prefer Super Moist or Duncan Hines (I also like the cakes mixes from Aldi)

1/2

cup

butter, melted and cooled slightly

1

tsp.

vanilla extract

1

cup

water

4

egg whites
Heavenly Frosting
16

oz.

cream cheese, softened

1

cup

granulated sugar

1

tsp.

almond extract

2

tsp.

vanilla extract

3

cups

whipping cream
Instructions
Layer Cakes
Prepare the cake batter as per the package directions using the ingredients listed here in this recipe. (You will be substituting butter for the oil and adding vanilla extract.)

Grease two 8-inch round cake pans, adding a parchment round to the bottom of each pan; spray the parchment with nonstick spray, as well. Place half of the prepared batter into each cake pan. Bake as per the package directions, or until a cake tester inserted into each cake comes out clean.

Upon removing the cakes from the oven, immediately cover each pan with foil, letting the cakes cool completely.
Heavenly Frosting
In a large mixing bowl, using an electric mixer, beat the cream cheese with the sugar and the extracts until well combined. Add the whipping cream, beating it in a little at a time until stiff peaks form, adding the food coloring of your choice during this time, if desired. Refrigerate the frosting at this point if you aren't immediately frosting the layer cakes.

When the layer cakes have cooled completely, remove them from the pans.  Place the first cake top-side-down onto your cake plate or pedestal, covering the top and sides with the prepared frosting.

Add the second cake to the top of the frosted layer cake, placing this one so that it is top-side-up (this puts the flat bottoms of each cake together and they will "sit" better for you). Now, frost the second layer cake on the top and the sides, smoothing the frosting over both layers, as desired.

Place the remaining frosting into a large piping bag that has been fitted with a large coupler and star tip.  Begin piping the roses onto the sides of the cake, making your way around the cake until it is fully decorated with the roses.  (To give yourself an idea of how large to make the roses and how many you'll need, I usually place a rose at 12 o'clock, 6 o'clock, 3 o'clock and 9 o'clock, then fill in between those four roses as a guide.)

Next, you'll want to fill the top of the cake with roses.  Pipe a rose in the very center of the top of the cake, then fill in with more roses around that one, as desired.  Decorate the centers of each rose on top with pink chocolate beads (or whatever color you desire).

Once the cake is frosted, place it into a large cake carrier and store in the fridge for 8-10 hours to let layers absorb some of the moisture from the frosting and to thoroughly chill. Cake will keep 2-3 days in the fridge.
Let's Get You Cookin',
Chef Alli