If you love barbecue as much as my family does, these Pulled Pork Parfaits are going to be a big hit. This savory specialty will put other bbq favorites to shame! Juicy pulled pork, crisp, crunchy coleslaw, sweet baked beans, and creamy mashed potatoes….all the flavors of a backyard barbecue… in a jar!
Mason Jar Pulled Pork Parfaits Recipe

Please Note: We do use referral and affiliate links here for products and services that Chef Alli loves and recommends.
Howdy! Chef Alli Here. Let's Get You Cookin'…..Shall We??  🙂 
We always love to get Pulled Pork Parfaits when we attend the Kansas State Fair each September.  Though they aren't made in a jar at the state fair, but rather a big plastic cup, they are still absolutely delicious. After eating like a hundred or so of them, I finally realized how dang easy these parfaits would be to make at home!
To make them even more nostalgic, I decided to assemble our parfaits in pint-size Mason jars instead of plastic cups, but if you're packing a picnic, the plastic cups are genius! This way, just like at the state fair, you don't have to worry about breaking glass like you do when using the Mason jars.
These Mason Jar Pulled Pork Parfaits are awesome for a change up in your weeknight meal, or a fun alternative at a tailgate or game-day gathering! Just throw the mason jars into the dishwasher when you're done. Easy peasy.
Here's How to Easily Assemble the Pulled Pork Parfaits:
Cook up a big ole pork butt, using your favorite pulled pork recipe.  Here's mine – 4 Easy Ways to Make Delicious Pulled Pork . 
Make a big batch of your favorite mashed potatoes, baked beans, and coleslaw….or purchase them from your local deli/grocery store, if that's easier for your schedule.
Now comes the fun part – the assembly!:
Layer the warm ingredients (except for the coleslaw and the pickles, keep these chilled) into mason jars in this order:
BBQ Sauce
Shredded pork
Mashed potatoes
Shredded pork
Baked beans
Shredded Pork
Coleslaw
Shredded pork
BBQ sauce and pickles on top
Dig in!
Helpful Tips for Making The Best Mason Jar Pulled Pork Parfaits
Do I need to serve anything alongside these pulled pork parfaits?
Not really!  Everything is pretty much covered, right in the jar. My kids like to have chips in addition to the parfaits, and maybe brownies for dessert, but that's it.  Add a beverage and you're good to go!
My family doesn't really like coleslaw.  Can I substitute something in it's place?
How about potato salad? It won't be crispy in texture like the coleslaw is, but it's creamy and would lend itself nicely to the other flavors in the parfaits.  And, if you're using potato salad, you could definitely eliminate the mashed potato layer and use potato salad there, as well.
Can these Mason Jar Pulled Pork Parfaits be made ahead and kept warm until it's time to serve them?
Yes. Just don't add the coleslaw until the last layer, if you can, and that way you can place the parfaits into a low oven to hold until you're ready to serve.  When it's time to eat, add the coleslaw as the last layer, then top with pickles and serve!
What's the easiest way to get the layers of ingredients INTO the jars, exactly?
I like to use an ice cream scoop (or a cookie dough scoop) with a trigger for layering the ingredients into the jars. The trigger action gives a little force to the ingredients as you add them to the jars, making this task super easy and quick. I try to have a scoop for each ingredient when I want to assemble my jars, so I don't have to wash anything in between each layer.
Can I use shredded beef or chicken instead of pork in these parfaits?
Absolutely.  Any type of fully cooked, shredded and seasoned meat works great in these parfaits.  My family loves the pulled pork, but leftover shredded Barbacoa Beef works well, as does shredded Buffalo Chicken!
Can I use quart-size Mason jars instead of the pint jars to make these pulled pork parfaits?
This is a great idea, actually! A quart-size jar would would be awesome if you're feeding couples who could share. Each quart jar would definitely be more than enough for two people. Quart-size jars for pulled pork parfaits are also good if you happen to be serving growing, bottomless-pit teenage boys, too.  🙂

Other recipes to enjoy –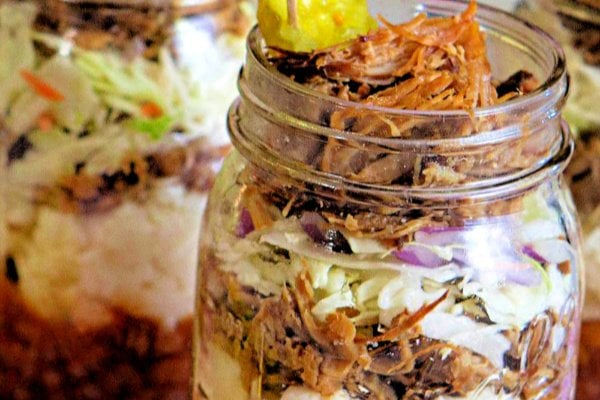 Pulled Pork Parfaits
If you love barbecue as much as my family does, these Pulled Pork Parfaits are going to be a big hit. This savory specialty will put other bbq favorites to shame! Juicy pulled pork, crisp, crunchy coleslaw, sweet baked beans, and creamy mashed potatoes....all the flavors of a backyard barbecue... in a jar! #pork #pulledpork


Print
Pin
Rate
Ingredients
2

lbs

cooked pulled pork

3

cups

warm mashed potatoes

3

cups

warm baked beans

3

cups

dressed coleslaw

BBQ sauce for the pork layers and the top of the parfait

sliced dill pickles, for garnish
Instructions
Layer these ingredients into the pint mason jars, as desired:
Good squirt of BBQ sauce into the bottom of the Mason jar

Pickles and bbq sauce, as garnish
Nutrition
Calories:
572
kcal
|
Carbohydrates:
46
g
|
Protein:
47
g
|
Fat:
23
g
|
Saturated Fat:
8
g
|
Cholesterol:
145
mg
|
Sodium:
652
mg
|
Potassium:
1417
mg
|
Fiber:
10
g
|
Sugar:
2
g
|
Vitamin A:
45
IU
|
Vitamin C:
37
mg
|
Calcium:
121
mg
|
Iron:
5
mg
We love hearing from our readers and followers, so leave us a comment if you'd like.  And, if you don't hear back from us shortly, know that we may not have seen your comment.  Feel free to reach out to us by email:  [email protected]
Let's Get You Cookin',
Chef Alli