Solve your weeknight dinner dilemma with this flavorful, healthy meal – Roast Pork Tenderloin and Sweet Potato Sheet Pan Dinner. We love pork tenderloin, and even more so when it's surrounded by caramelized roasted veggies.
Roast Pork Tenderloin and Sweet Potato Sheet Pan Dinner Recipe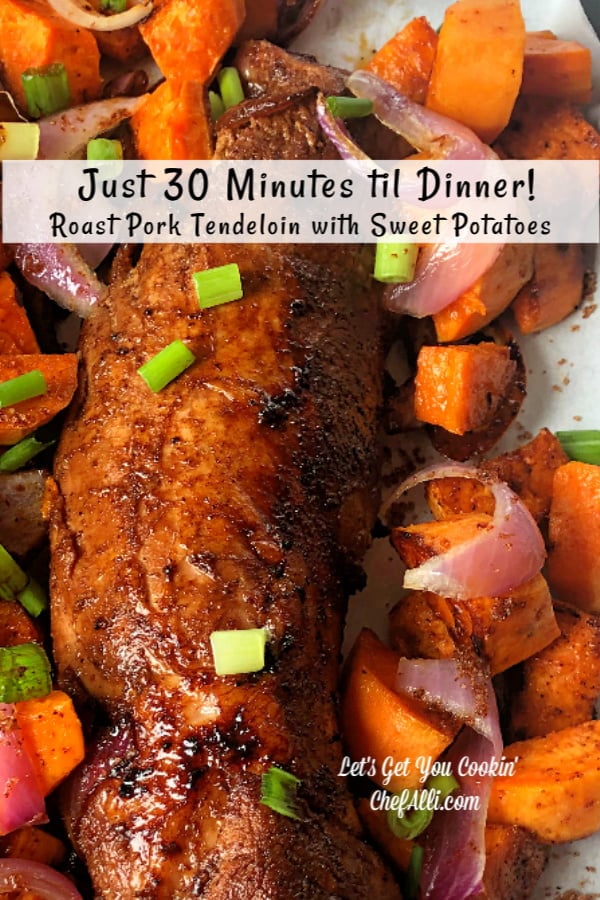 Howdy –
Sheet pan dinners are easy to make and easy to clean up. With just a little understanding of sheet pan dinner dynamics you can treat your family to a healthy, whole food meal any day of the week! I love being able to toss all of my ingredients onto one sheet pan and have a delicious meal on the table in about 30 minutes or less.
How to Make This Easy Sheet Pan Dinner Work for Your Family
Pork Tenderloin. This is hands-down my favorite cut of pork, not to be confused with a pork LOIN. We are talking TENDERLOIN here and there's a big difference between the two. When you purchase pork tenderloin, they are typically packaged in cryovac and the package will weigh about 2 lbs. Though you really can't tell from the outside, there are two pork tenderloins inside, each one weighing in at about 1 lb. each.
Dark Brown Sugar, Chili Powder, Kosher Salt, Granulated Garlic, Cinnamon and Butter. These ingredients make up the spice rub that coats both of the tenderloins as well as the onions and sweet potatoes – lots of flavor here!
Sweet Potatoes and Red Onions. These are key ingredients in this recipe and become your "side dish" to serve alongside the pork tenderloin at dinner. Roasted sweet potatoes are sweet and savory beings that are crazy delicious….bet you can't eat just one!
Easy Recipe Tips for Making Roast Pork Tenderloin Sheet Pan Dinners
What's so great about pork tenderloin, anyway? Pork tenderloins are from the back of the pig. Since they don't get much use, they are super tender! And, because the pork tenderloin in a whole muscle without any bones, it's super economical because we get to eat the entire piece of meat. A single pork tenderloin will typically feed 3-4 people easily.
I thought pork needed to be cooked until it's 160 degrees F. at the center. Why does your recipe say to cook it to 140-145 degrees F.? There's a new FDA ruling on cooking pork! We can now safely cook pork until it's 140-145 degrees F. at the center, as long as we then give it a 3 minute rest so it can raise a few more degrees in temperature. Then, when we slice this pork tenderloin into medallions, you will see that the meat has a tiny tinge of pink – this is just right. Pink Pork is Perfect!
How can I easily test the internal temperature of the pork? Use an instant read meat thermometer. This tool really helps keep us from over-cooking foods out of fear. Insert the stem of the instant-read meat thermometer into the center of the pork tenderloin and then watch the face of the thermometer. When the temperature stops rising for a couple of seconds, that is the internal temperature of the pork tenderloin. Keep in mind that the pork will still raise a few more degrees as it rests, especially if you tent it with foil.
What kind of baking sheet should I use for making sheet pan meals? I like to use baking sheets that are heavy-duty so they really promote browning. And, I prefer baking sheets that have a rimmed edge so that I don't "lose" my ingredients when transferring them from the counter to the oven and back. There's nothing more frustrating than being in a hurry to get dinner on the table and in the process your ingredients manage to fly off the baking sheet and onto the floor…..so exasperating! Also, keep your baking sheets OUT of the dishwasher! The water pressure and soap really wreak havoc on baking sheet and cookware and can quickly remove the finish. Always hand wash your baking sheets, if you can. I use a lot of aluminum foil to cover my baking sheets so that clean up is way easier and faster.

Other Favorite Recipes to Enjoy –
Printable Roast Pork Tenderloin and Sweet Potato Sheet Pan Dinner Recipe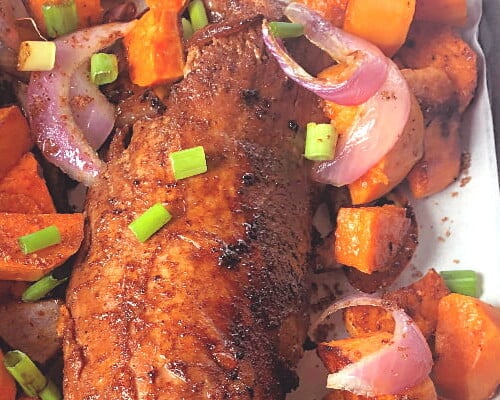 Roast Pork Tenderloin and Sweet Potato Sheet Pan Dinner
Solve your weeknight dinner dilemma with this flavorful, healthy sheet pan meal. I love pork tenderloin, and I adore it even more when it's surrounded by roasted veggies and has virtually ZERO cleanup! #sheetpandinners #porktenderloin #eatpork
Print
Pin
Rate
Ingredients
1/3

packed dark brown sugar

2

tsp.

chili powder

1 1/2

tsp.

kosher salt

1/2

tsp.

ground cinnamon

1/2

tsp.

granulated garlic

2-3

large sweet potatoes, peeled and cut into 1-1/2" inch cubes

1

red onion, cut into 1/2" wedges

2

Tbs.

unsalted butter, melted

2

pork tenderloins, approx. 1 lb. each
Instructions
Preheat oven to 400 degrees F. In a large bowl, combine brown sugar and spices; reserve 2 tablespoons. Add sweet potatoes, onions and melted butter to bowl; toss well to coat, then spread over a large foil-lined or parchment-lined rimmed sheet pan that has been sprayed with non-stick cooking spray; roast for 10 minutes.

Meanwhile, rub pork tenderloins with the reserved seasoning mixture. Push sweet potatoes and onions to the sides of the sheet pan, placing the pork tenderloins in the center.

Roast tenderloin for 20-22 minutes or until pork is 140-145 degrees F at center when tested with an instant-read meat thermometer, and sweet potatoes are fork-tender.

Tent pork tenderloins with foil and let them rest for 3-5 minutes before slicing them into medallions. Serve with sweet potatoes and onions alongside.
Nutrition
Calories:
629
kcal
|
Carbohydrates:
14
g
|
Protein:
95
g
|
Fat:
19
g
|
Saturated Fat:
7
g
|
Cholesterol:
302
mg
|
Sodium:
646
mg
|
Potassium:
2017
mg
|
Fiber:
3
g
|
Sugar:
3
g
|
Vitamin A:
8478
IU
|
Vitamin C:
2
mg
|
Calcium:
54
mg
|
Iron:
5
mg
We love hearing from our readers and followers, so leave us a comment if you'd like. And, if you don't hear back from us shortly, know that we may not have seen your comment. Feel free to reach out to us by email: [email protected]
Let's Get You Cookin',
Chef Alli
*This post contains affiliate links, but I only recommend products that I know you will love!