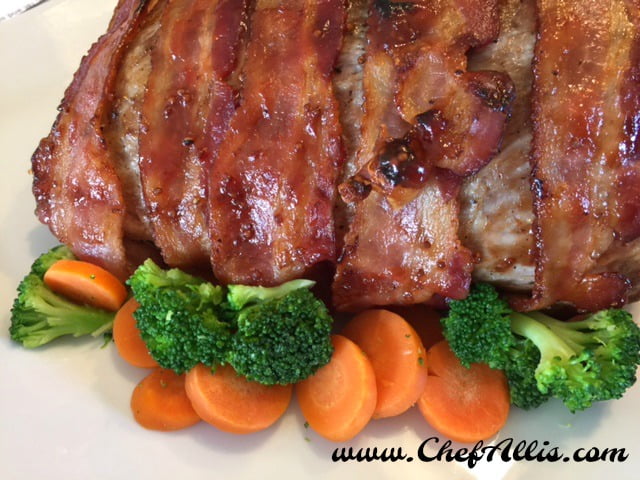 Simply Saucy Bacon-Wrapped Pork Loin Roast
4 lb. boneless center-cut pork loin roast
1 1/2 tsp. kosher salt
1 tsp. black pepper, freshly ground
1 Tbs. vegetable oil
8 slices bacon
1 cup barbecue sauce
Preheat oven to 450ºF.
Season roast on all sides with salt and pepper. In a large skillet over medium-high heat, add oil; when oil is hot, add seasoned pork roast and brown on all sides; transfer to plate and cool for 10 minutes.
Wrap bacon slices vertically around pork roast; do not overlap bacon. Tie lengthwise and crosswise with kitchen string to hold bacon in place; tuck loose ends of bacon under string. Place wrapped roast onto a rack in a roasting pan, tucked-bacon- side down.
Roast on rack for 15 minutes. Turn roast over; reduce temperature to 350ºF and roast for 15 minutes. Remove rack and return pork to pan, tucked-end- side up. Roast, turning occasionally, 45-50 minutes, until bacon is browned and an instant-read thermometer inserted into the center of the roast reads 145ºF. Remove roast from oven and let rest, covered, for 10 minutes.
Remove roast to a platter; skim fat from pan juices, leaving browned juices in pan. Add barbecue sauce and 2 Tbs. spicy brown mustard; bring to simmer over medium heat, stirring to loosen browned bits in pan; simmer 2 minutes, until thickened slightly.
Remove strings from roast, carve pork, and serve topped with warm sauce.
Serves 8-10
You can vary this recipe, just by changing up the sauce!:
• Savory: Whisk 2 tablespoons Dijon mustard into the sauce.
• Spicy: Stir in 2 tablespoons pickled jalapenos, drained and finely chopped, into the sauce.
• Fruity: Stir one 8.25-ounce can crushed pineapple, drained, into the sauce.
• Smoky: Stir in 1 or 2 minced canned chipotle chilies in adobo into the sauce.
Now You're Cookin',
Chef Alli