And here's a sizzle steak recipe you don't want to miss out on! Two-Minute Garlic Butter Sizzle Steaks are tender and juicy, full of flavor, and on the table in mere minutes.
If you've got a house full of carnivores like I do, your family will flip for this easy weeknight dinner.
Two-Minute Garlic Butter Sizzle Steaks Recipe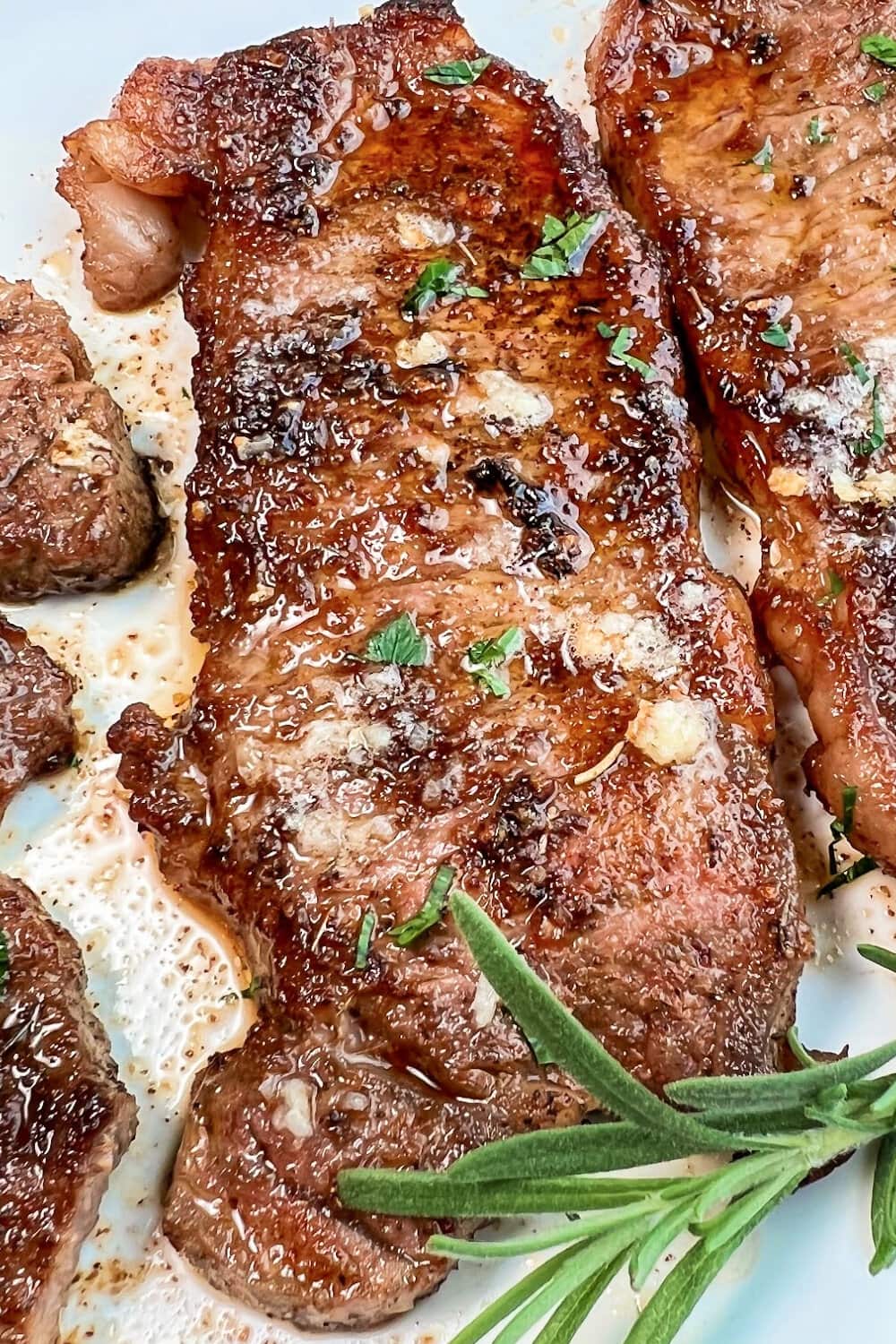 Howdy! Chef Alli Here. Let's Get You Cookin'…. Shall We?? 🙂
We eat a ton of beef in this household, for sure. This is likely because we raise beef cattle, but also just because we love beef and all the savory flavors that go with it.
That said, you'll find several beef recipes here on my blog. Some of our favorites include Air Fryer Marinated Steak Bites, Big Bold Beef Carnitas, and Instant Pot Eye of Round Roast.
Oh! And I can't forget Killer Hamburger Steak in a Skillet or Country Fried Steak Fingers with Creamy Lump-Free Gravy….we do eat a heck of A LOT of gravy around here.
What ARE sizzle steaks….exactly?? I had the same question at first.
To me, sizzle steaks are any thinly sliced steaks (or even thinly sliced roast!) that are seared very quickly on each side at a high temperature. Because the steak is very thin, it can literally be cooked in just a minute or two (tops!) on each side.
What to love about this recipe
This recipe only requires a few on-hand ingredients.
These steaks are ready in a flash….not even kidding.
Lots of beefy flavor abounds – you won't be disappointed.
Ingredients you need to make this recipe
Thinly sliced steaks, such as New York or KC strip, sirloin, (any top loin steak will work great and if it's a bit thicker than 1/4-inch, you can pound it out)
Olive oil, for searing the steaks
Your favorite steak seasoning
Butter
Garlic
Fresh rosemary sprigs, optional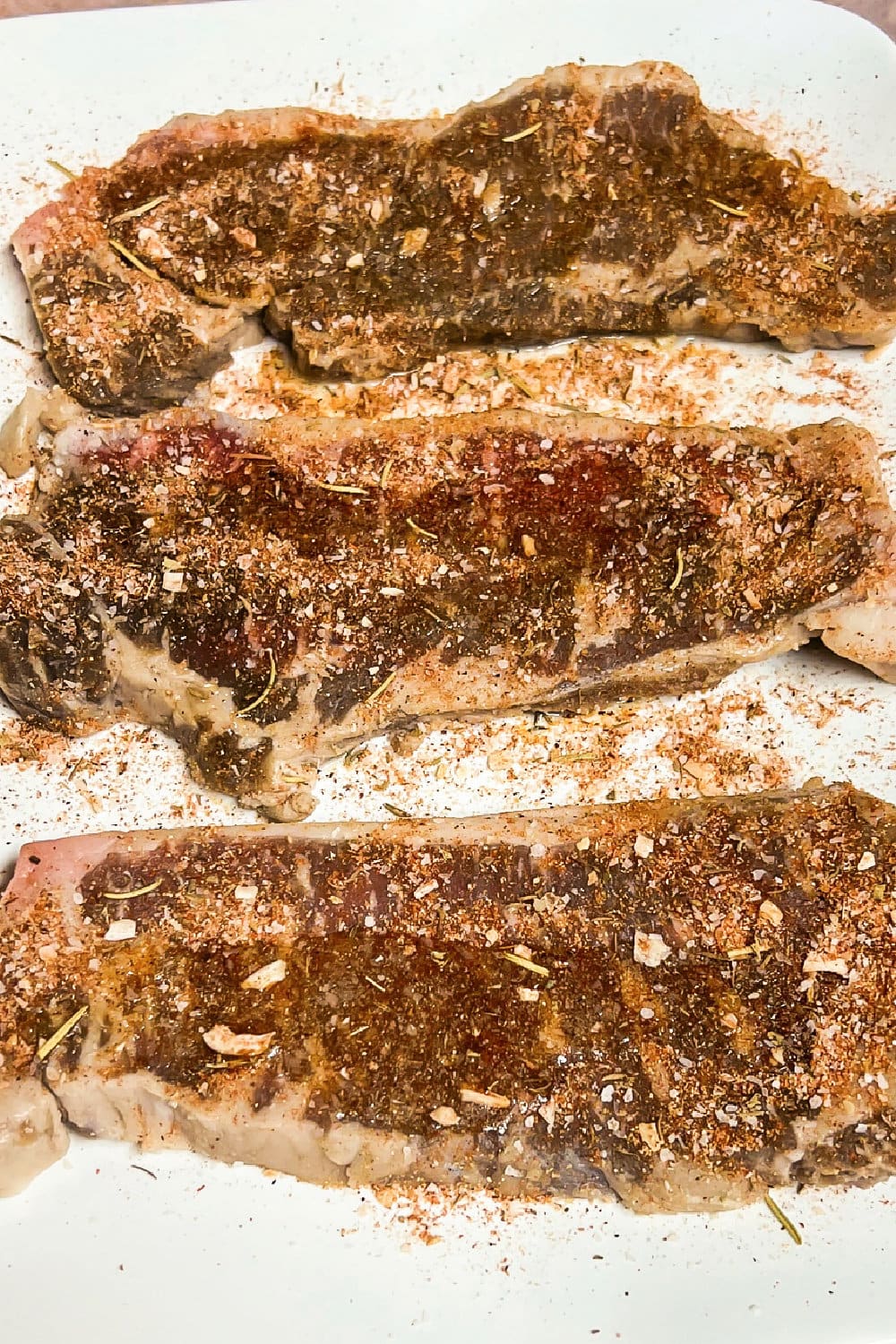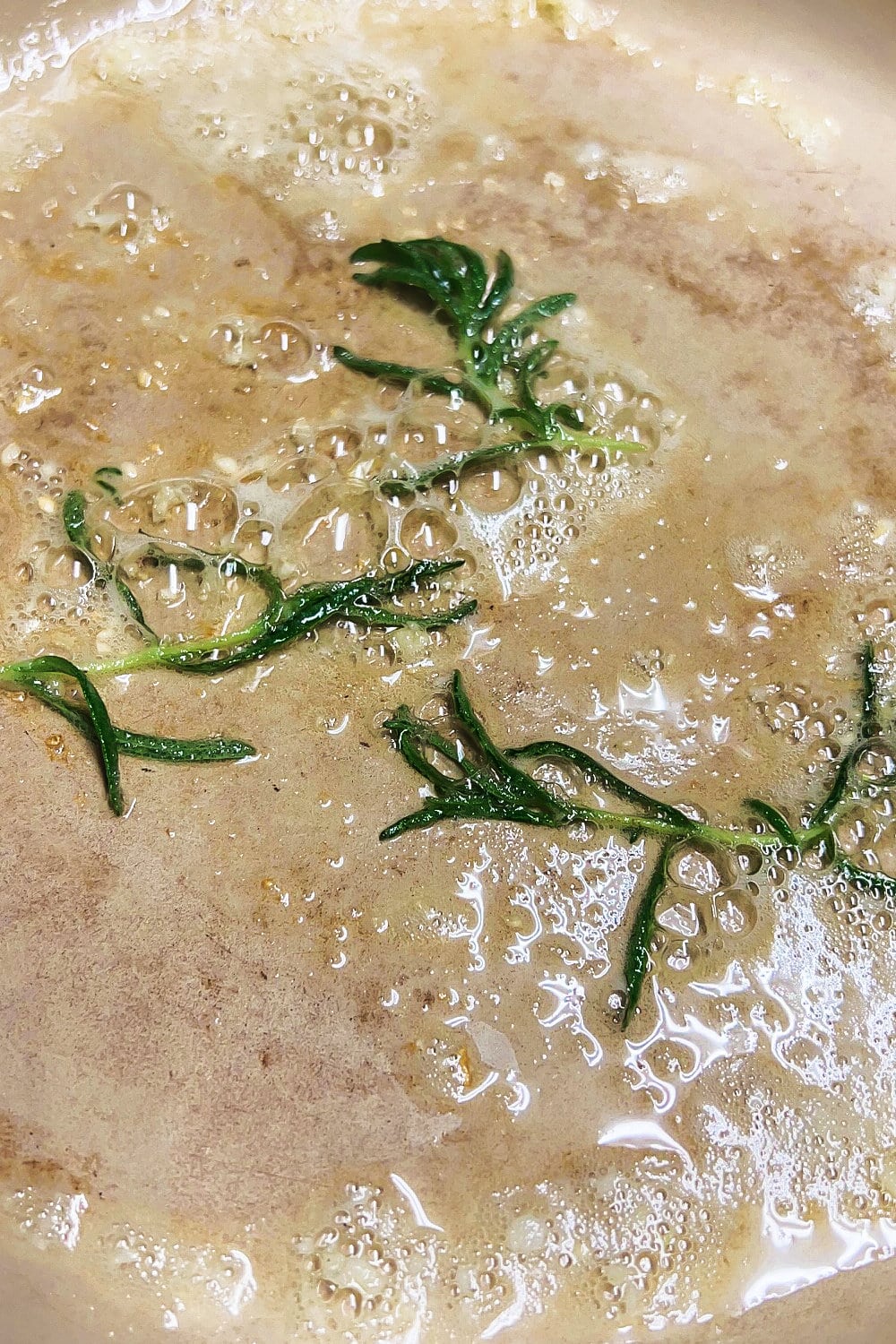 How to Make Sizzle Steak in just 4 easy steps
Season the steak and let it rest at room temperature for an hour to remove the chill from the meat.

Using high heat and olive oil, sear the steaks until nicely browned and caramelized, about 1 minute per side.
Make the garlic butter, then pour it over the cooked steaks.
Serve at once!
Common Questions Asked About This Recipe
Which tools are helpful when making sizzle steaks?
Chef's knife – a good chef's knife is such an essential kitchen tool! Whether you're slicing meat or vegetables, it makes kitchen tasks so much easier and better. **If taken care of properly, a good quality chef's knife will last a lifetime, definitely make it worth the initial investment.
Large wooden cutting board with a channel – a good (large) wooden cutting board is what supports your chef's knife, providing a surface that gives to the edge of your blade each time you make a cut. One side of the cutting board will feature the channel around the edge. This is the side that you should slice meats on – the meat juices funnel into the channel so they cannot run off the cutting board to create a mess on the counter. Use the other side of the cutting board for cutting and dicing fruits and vegetables.
Knife straightener – a hand-held knife straightener (often called a knife sharpener) is what keeps your chef's knife blade straight so that it can make a precise, clean cut, no matter what you're slicing or chopping. Run your knife (never a serrated knife, though) through the straightener 2-3 times each and every time you prepare to use it to keep the blade in good shape.
Meat thermometer – I prefer an instant-read probe, but a traditional meat thermometer works fine, as well. It's also handy to use a digital thermometer that has dual probes that can notify you when the meat raises to the temperature you've programmed for.
Lots of folks enjoy the digital thermometers that are connected to apps on their phone. Those are cool and all, but kinda fancy for this cook! 🙂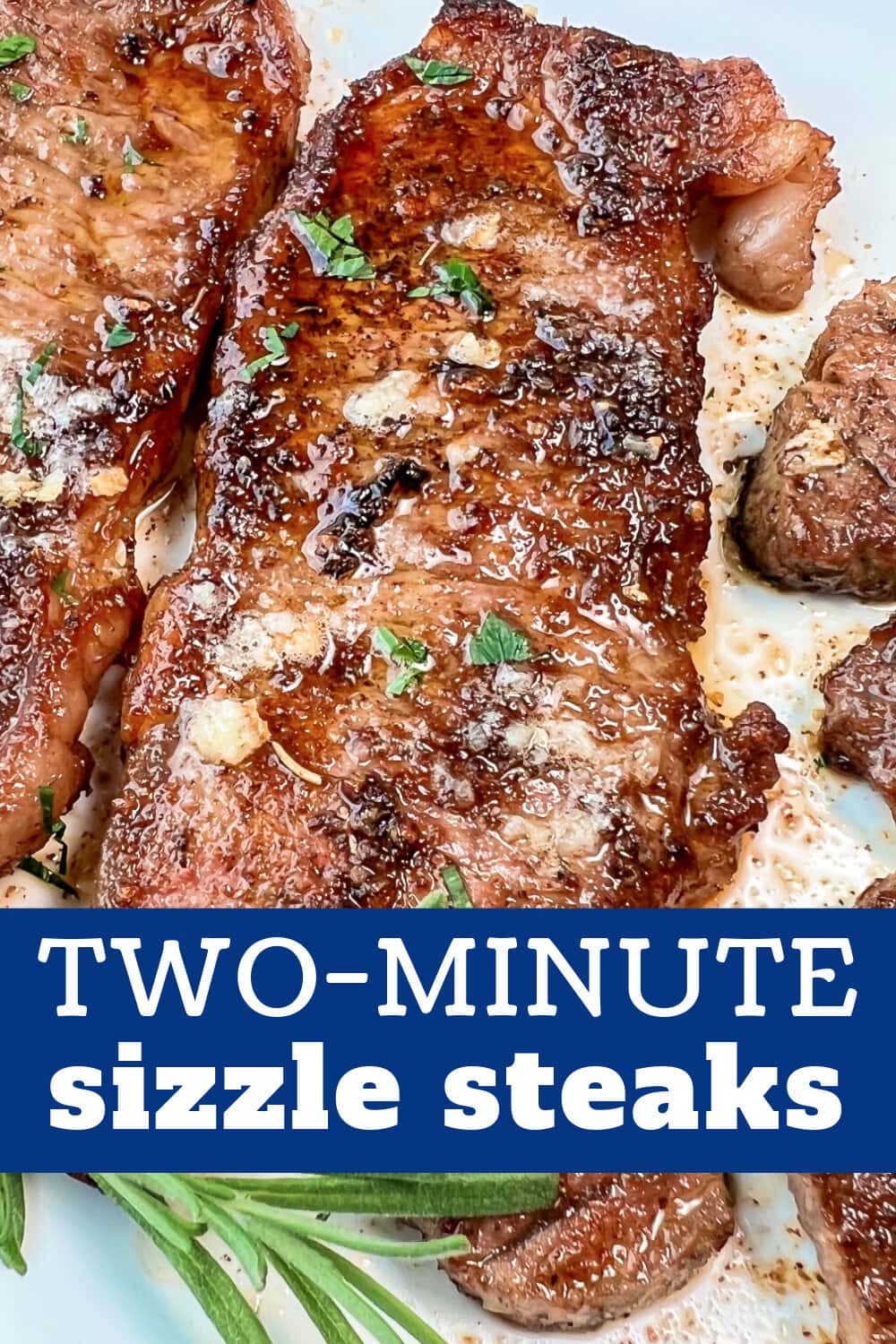 What should I do if the steaks I purchased for making sizzle steak are thicker than 1/4-inch?
If your steaks are thicker than 1/4-inch, just use a meat mallet to pound them out to the thickness you prefer – it's quick and easy.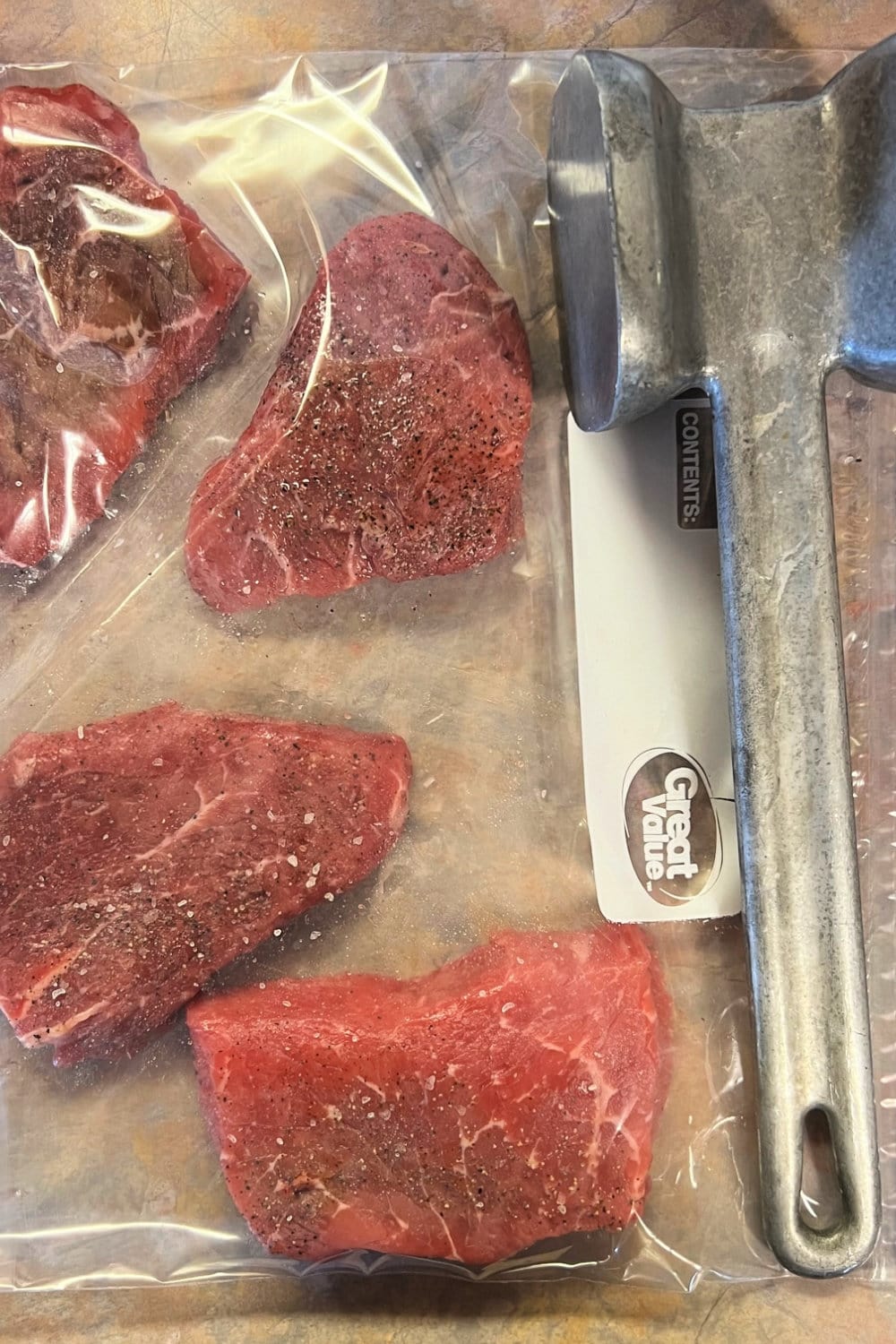 What is the best way to pound out a steak to make it thinner?
To pound out a steak, place the it into a gallon freezer bag, pressing out the air and sealing the bag – you can even do a few at a time. Use the smooth side of a meat mallet to pound out the steak, feeling it as you go, until the steak is the desired thickness of 1/4-inch.
**If you don't have a meat mallet, use a can of beans or vegetables to pound out the steaks – it works great in a pinch!
Why should sizzle steaks be thinly cut (1/4-inch thickness)?
Thin-cut steaks cook super fast, and that's what sizzle steaks are – very thinly sliced steaks. This allows you to sear them off on each side just a couple minutes on each side. BOOM! Your sizzle steaks are hot and ready to eat.
Why does this recipe say to let the steaks rest for an hour on the counter before cooking them?
Any time we are cooking ANY kind of whole muscle meat (never ground meat), the number one thing we can do to maximize the cooking and eating experience is to always be sure the meat is not ice cold when it hits the cooking surface of the skillet or grill.
Letting the meat rest on the counter helps remove the chill from being in refrigeration. This step helps all the juices and fats that coagulate at the center of the meat slowly move to the outer edges of the muscle.
And, letting the meat rest at room temperature lets all the protein fibers relax so that the meat can cook much more evenly and receive the heat in a better manner.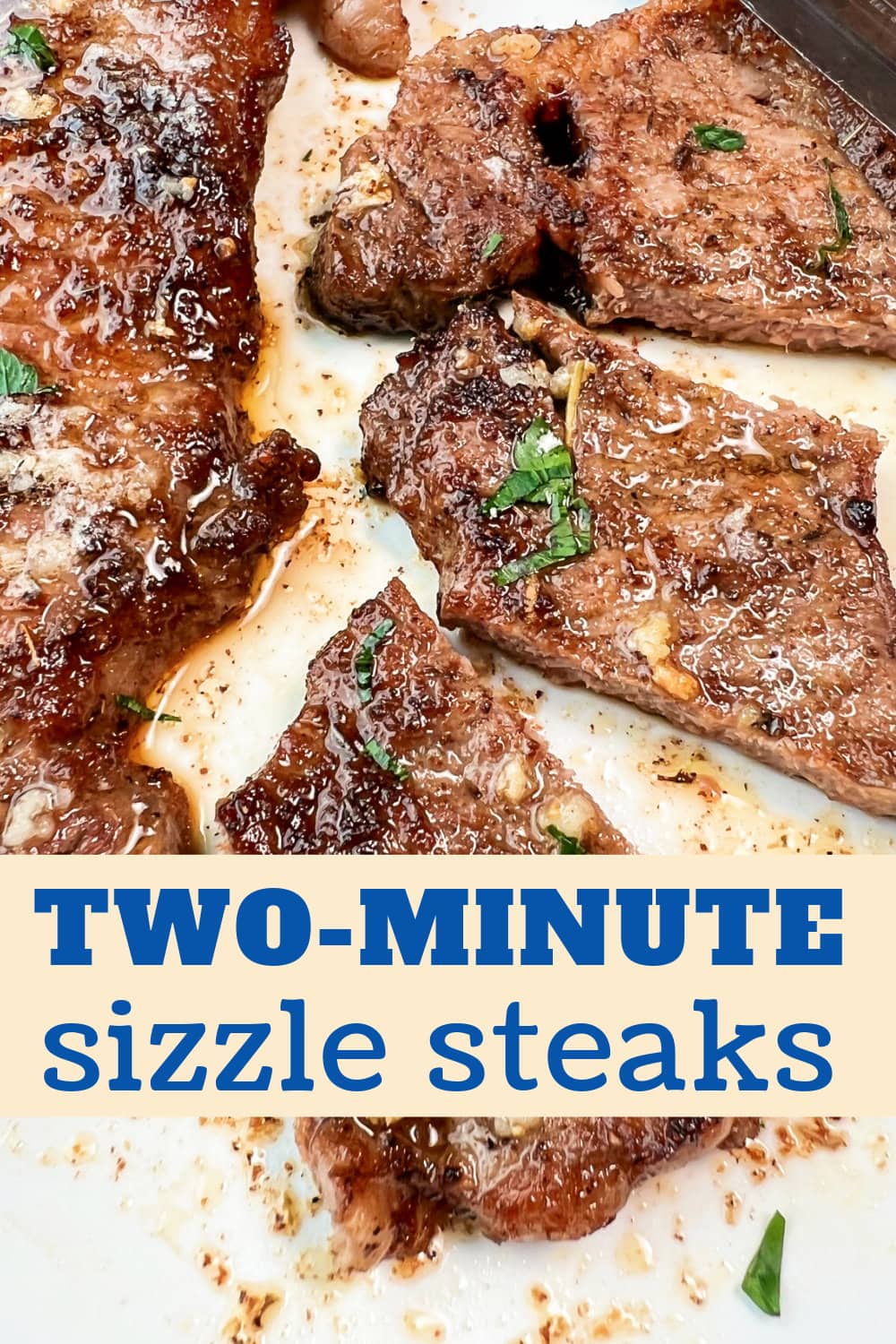 Is letting meat rest at room temperature on the counter a safe cooking practice?
It is, actually, because this resting only involves a short period of time. It depends on how large the cut of meat is that you are preparing to cook.
For instance, a very large 15 lb. prime rib may need 4-5 hours resting before being cooked. Roasts should do well with 1-2 hours at room temperature and steaks about 1 hour at room temperature.

Can you cook sizzle steaks on the grill instead of in a skillet?
Yep! Just get that grill good and hot and cook like the recipe directs for a skillet….super fast.
Can any type of steak be used for making sizzle steaks?
Yes, as long as it's very thinly sliced so it cooks quickly – that's what makes it a SIZZLE STEAK…thin and fast.
Your better cuts of steak (like thin-cut New York or KC Strip or sirloin steaks) are going to make a more tender sizzle steak, but any steak that is very thinly sliced can be used for making sizzle steaks, in reality.

No matter which type of steak you use for making sizzle steaks, be sure you don't overcook it! A sizzle steak is cooked for just 1-2 minutes on each side and served at medium-rare doneness.
What is a safe internal temperature for sizzle steaks?
Because sizzle steaks are thin-cut and cook so quickly, they are best cooked just to 140-145 degrees F. as an internal temperature, which is medium-rare doneness. Sizzle steaks cooked just to medium rare are perfectly cooked and safe to enjoy.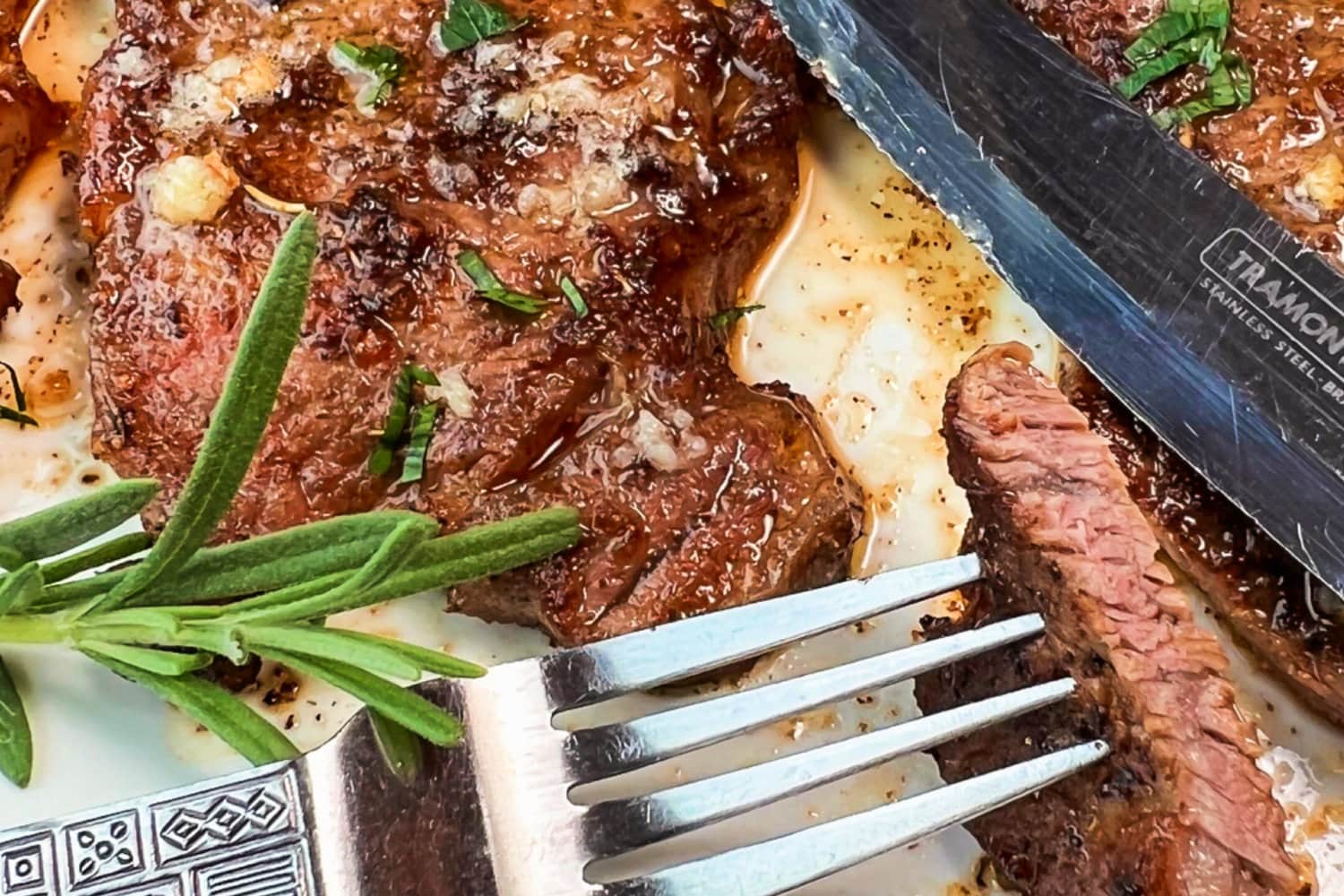 More favorite meat recipes to enjoy –
Printable Two-Minute Garlic Butter Sizzle Steaks Recipe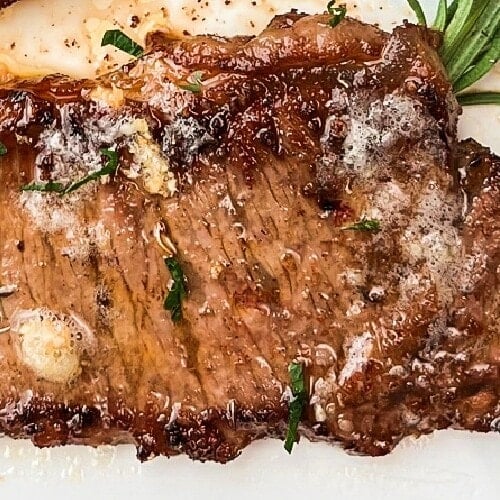 Two Minute Garlic Butter Sizzle Steaks
Now here's a sizzle steak recipe you don't want to miss out on! Two-Minute Garlic Butter Sizzle Steaks are tender and juicy, full of flavor, and on the table in mere minutes. If you've got a house full of carnivores like I do, your family will flip for this easy weeknight dinner.
Print
Pin
Rate
Ingredients
4

thin-sliced

New York or KC Strip steaks, about 2 lbs., thin-sliced sirloin steak is also a good option **At the time of this post, thin-sliced steaks are more readily available in most meat cases since beef prices are rather expensive.

1 – 2

tsp.

your favorite steak seasoning, or to taste

1

tsp.

olive oil, for searing the steak

2-3

Tbs.

butter

2

cloves

garlic, crushed, may substitute 1/2-1 tsp. granulated garlic

1-2

sprigs

fresh rosemary, optional
Instructions
Remove the steaks from refrigeration 1 hour before you want to cook them; unwrap the steaks and season them with the steak seasoning on both sides. Let the steaks rest on the counter, uncovered, during this time.

To a hot large skillet over medium high heat, add a good swish of olive oil. As soon as the oil is nicely hot, add the seasoned steaks, one or two at time (so you don't over crowd the skillet), browning the steaks on each side, about one minute per side, just to medium-rare doneness.

Remove the steaks to a platter as you work; repeat with the remaining steaks; cover to keep warm.

Reduce the heat to medium; add the butter, garlic, and rosemary sprigs to the drippings in the skillet; cook just 30-60 seconds, only until the garlic is fragrant and light golden brown. **Don't overcook since the butter can burn and the garlic will turn bitter quickly.

Remove the rosemary sprigs, then drizzle the warm garlic and butter over the cooked steaks. Serve at once!
Notes
**Be sure to check the blog post for lots of my favorite tips and tricks, specific instructions, recommended tools and FAQ's for making this recipe.
Nutrition
Calories:
546
kcal
|
Carbohydrates:
3
g
|
Protein:
46
g
|
Fat:
39
g
|
Saturated Fat:
18
g
|
Polyunsaturated Fat:
2
g
|
Monounsaturated Fat:
18
g
|
Trans Fat:
0.2
g
|
Cholesterol:
153
mg
|
Sodium:
120
mg
|
Potassium:
641
mg
|
Fiber:
0.5
g
|
Sugar:
0.1
g
|
Vitamin A:
307
IU
|
Vitamin C:
1
mg
|
Calcium:
57
mg
|
Iron:
5
mg
We love hearing from our readers and followers, so leave us a comment if you'd like. If you don't hear back from us shortly, know that we may not have seen your comment. Feel free to reach out to us by email: [email protected]com.

Let's Get You Cookin',
Chef Alli
Please Note: We do use referral and affiliate links here for products and services that Chef Alli loves and recommends. We may receive a small compensation when you use these links. This really helps us keep the recipe blog moving forward. Thank you so much!