Who loves Mexican Cheese Bread??? We do, that's who. Pretty sure your family will feel the same within just one bite. Mexican food recipes are always popular at our table and this easy cheese bread takes just 6 common ingredients.
Because my family enjoys Mexican food so much, I have many Mexican and Tex Mex Recipes here on my blog. I hope you'll enjoy them.
Mexican Cheese Bread Recipe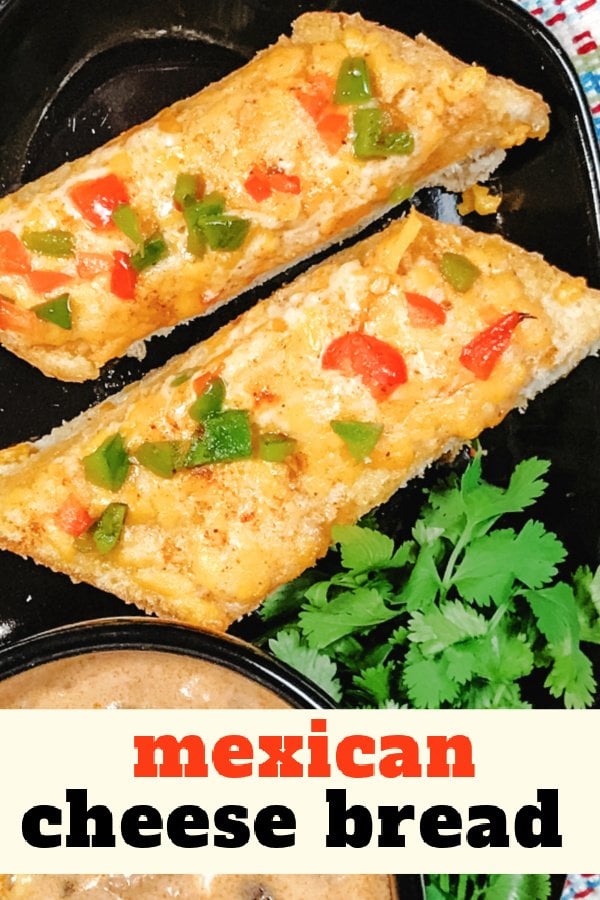 Howdy! Chef Alli Here. Let's Get You Cookin'….Shall We?? 🙂
I admit it. I can't stop eating bread to save my soul; it has always been one of my greatest struggles. If it's warm, crusty, and slathered with butter, there's no way I'm not going to help myself.
So because I'm addicted to bread, I make it for my family quite often. We enjoy no-knead Dutch oven bread (I use a Lodge cast iron 6-quart Dutch oven for extra crispy bread) because it's quick and easy to make.
Another no-knead favorite is English muffin bread. It is delicious served warm from the oven with salted butter, or toasted and slathered with our favorite strawberry refrigerator jam.
If you like to keep frozen bread rolls in the freezer like I do, you will love Skillet Rosemary Rolls….and I guarantee that nary a soul is going to know these rolls are made with frozen bread dough – they are THAT good. And if you don't own a cast iron skillet, don't worry – a glass baking dish works fine.
Mexican Cheese Bread is Born!
This easy bread recipe is a result of a epiphany that occurred to me when I needed a quick side dish to go with an chicken enchilada soup that I like to make for my boys.
Because I make Artichoke Olive Cheese Bread quite often, I realized I could use the same butter/mayo mixture to make a Mexican version….so I did just that!
3 Reasons to love this recipe –
Talk about fast and easy.
This bread is going to steal the show wherever you take it – be prepared to share the recipe!
Customize however you prefer – add more peppers, try different types of cheese, use your favorite seasonings.
What ingredients do you need to make easy Mexican Cheese Bread? Just 6!
Crusty French or Italian Bread
Cheddar or Colby Jack cheese
Unsalted butter
Mayonnaise
Taco seasoning
Red or green bell pepper, optional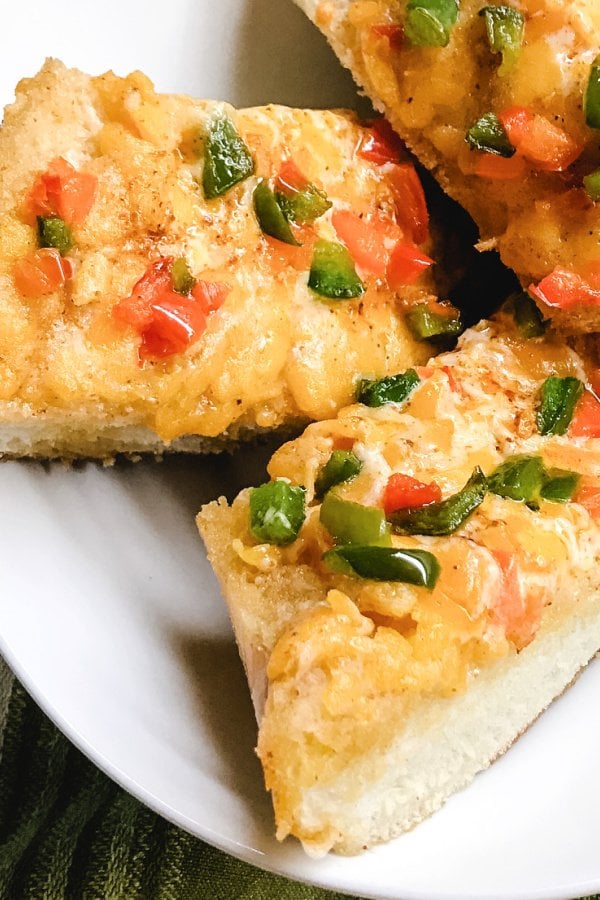 Which tools are helpful for making cheese bread?
Use heavy-duty baking sheets, no matter what you're popping into the oven. This will help ingredients to cook much more evenly and consistently, as well as promote good browning, which is a flavor layer we don't want to skip!
I prefer stainless steel baking sheets that have a rim around the edge since there is nothing more frustrating than an un-rimmed baking sheet that lets food fall to the floor way too easily. (Who even thought that was a good idea, anyway???)
Always hand wash your baking sheets, never let the dish washer do it. The high pressure and soap can remove the exterior finish that protects your baking sheets.
Always covering your baking sheets with heavy-duty foil or by using parchment paper really makes clean-up quick and easy. Once you get in the habit of doing this, you won't mind hand washing your baking sheets since they will only be minimally dirty, if at all.
A long serrated bread knife really makes short work of slicing the bread lengthwise. My favorite spreader makes it easy to use long, sweeping strokes when applying the butter mixture. Make slicing the warm bread into fat bread sticks a quick job by using the help of a pizza cutter – super slick!
How to Make Mexican Cheese Bread in 4 Easy Steps –
Slice the loaf of bread into half lengthwise; spread each half with the prepared seasoned mayonnaise/butter mixture.
Sprinkle each loaf of bread with cheese, then top the cheese with diced bell peppers, as desired.
Bake the bread, uncovered, in a preheated 325 degree F. oven for about 20 minutes.
Slice the bread and serve at once!
Common Questions Asked About This Recipe –
Does Mexican Cheese Bread freeze well?
Yesssss! I like to freeze it before it's baked so I can bake it fresh when I'm ready to serve it. Prepared the bread as directed in this recipe, then place a sheet or parchment paper, foil, or wax paper on top of one prepared half; now top with the other prepared half of the loaf. Wrap in lots of heavy-duty foil and pop into the freezer.

It's also a great idea to make several loaves at one time by doubling or tripling the recipe.
How should I bake the frozen cheese bread when I'm ready for it?
Great question! Don't thaw this bread before baking it. Thawing it can allow condensation to make the loaves soggy – so disappointing!

Instead, unwrap the loaf while it's still frozen, then separate the loaf and remove the parchment that's between the halves. Now place each half onto a sheet of parchment that's been placed onto a rimmed baking sheet and bake, uncovered, just as directed.
If my family doesn't like bell peppers and I leave them off, will the cheese bread still taste good?
Absolutely. It won't look as pretty, but it's still totally yummy.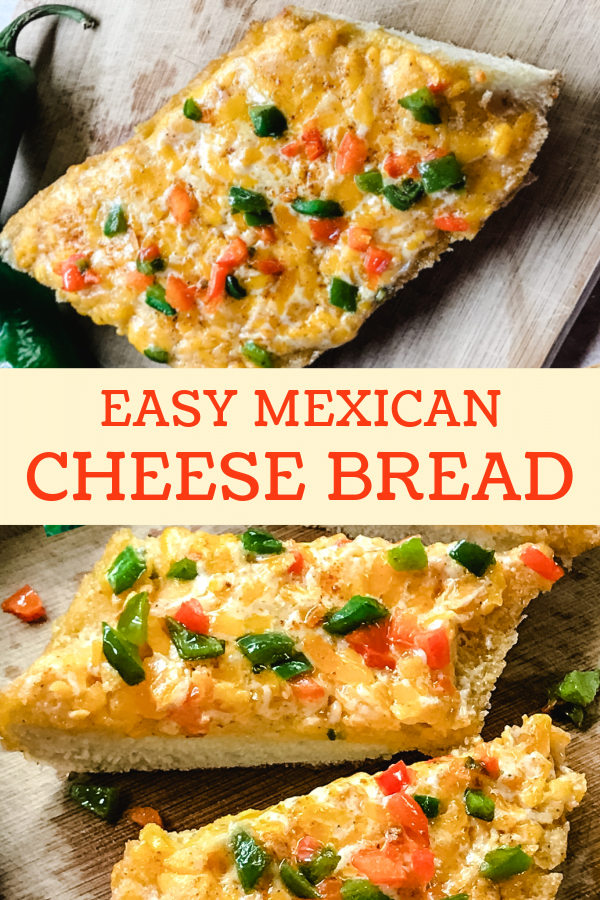 Things to serve with Mexican Cheese Bread –
Printable Recipe for Easy Mexican Cheese Bread –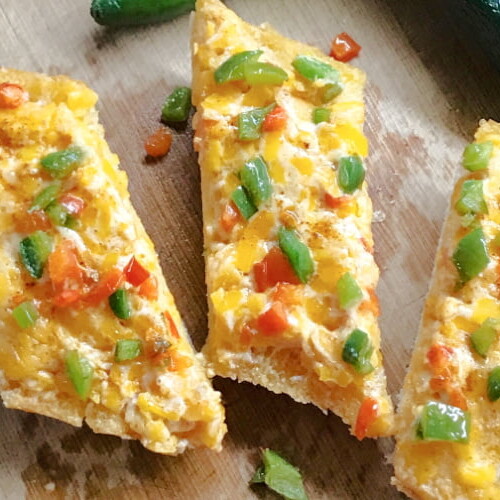 Mexican Cheese Bread
Who loves Mexican Cheese Bread??? We do, that's who. Pretty sure your family will feel the same within just one bite. Mexican food recipes are always popular at our table and this easy cheese bread takes just 6 common ingredients.
Print
Pin
Rate
Ingredients
1/2

cup

unsalted butter

very softened

1/2

cup

mayonnaise

2

tsp.

taco seasoning

or to taste

1

loaf crusty French or Italian bread

1/2

cup

diced red or green bell pepper, seeds and membranes removed

or more as desired

1

cup

shredded cheddar or Colby-jack cheese
Instructions
Preheat the oven to 325 degrees. Place a sheet of parchment paper or foil onto a large rimmed baking sheet.

In a medium mixing bowl, combine the butter, mayonnaise, and taco seasoning; reserve.

Using a serrated knife, slice the loaf of bread in half lengthwise; place the bread halves, cut-side-up onto a baking sheet.

Using your favorite spreader or a skinny spatula, spread the prepared butter mixture over the bread, dividing it equally between the loaves. Sprinkle each loaf with the cheese, then top with the desired amount of diced bell peppers.

Bake the bread, uncovered, on the center oven rack, for 20-25 minutes or until hot throughout and bubbly on top.

Using your favorite pizza cutter, slice each loaf of cheese bread into 10 slices, or as desired. Serve at once.
Nutrition
Calories:
83
kcal
|
Carbohydrates:
2
g
|
Protein:
2
g
|
Fat:
8
g
|
Saturated Fat:
4
g
|
Trans Fat:
1
g
|
Cholesterol:
19
mg
|
Sodium:
125
mg
|
Potassium:
19
mg
|
Fiber:
1
g
|
Sugar:
1
g
|
Vitamin A:
365
IU
|
Vitamin C:
5
mg
|
Calcium:
45
mg
|
Iron:
1
mg
Thanks for visiting! I hope you return soon for more yummy recipes for your family.
We love hearing from our readers and followers, so leave us a comment if you'd like. If you don't hear back from us shortly, know that we may not have seen your comment. Feel free to reach out to us by email: [email protected].
Let's Get You Cookin',
Chef Alli
Please Note: We do use referral and affiliate links here for products and services that are recommended.