Are you yearning for a super tasty "dump and go" soup? Dig into this hearty Tex Mex Corn Chowder! This one-pot chowder is basic enough for the kids to love, yet complex enough for the grownups to enjoy as a well. Pair it with corn muffins and a toasty fireplace for maximum warming effect!
Tex Mex Corn Chowder (and Tips for Hosting a Soup Swap) Recipe

Please Note: We do use referral and affiliate links here for products and services that Chef Alli loves and recommends.
Howdy! Chef Alli Here. Let's Get You Cookin'…..Shall We?? 🙂
Go ahead. Cozy on up to a big bowl of this comforting corn chowder. I promise you'll be so glad you did! Super easy to make with either fresh, canned or frozen corn, we make this soup year-round.
I try to keep a pound or two of pork and turkey sausage in my freezer at all times for speedy weeknight meals like this soup, and I like taking this to potluck gatherings, too. My pot is always empty following the meal, a great indicator that everybody is a fan of this chowder.
What Ingredients Will You Need for Making this Comforting Corn Chowder?
I always keep a couple of pounds of pork sausage in my freezer. They thaw quickly and I can use them to make sausage gravy, Cheddar and Green Chili Cornbread, or Jan's Sausage, Egg, and Cheese Breakfast Casserole, to name just a few! Whenever I find pork sausage on sale, I stock up, throwing it all into the freezer to use later. You can certainly substitute ground beef or even ground turkey in this recipe, too.
Here are your aromatics! I love to add a diced onion to this recipe, but if I don't have time for that, I opt for granulated onion or onion powder to get that flavor layer. I usually substitute 1/2 – 1 tsp. granulated onion for each oning the recipe calls for. And, I do love to crush my garlic fresh if I can, but if that' not on had, I can always use granulated garlic with no problem. I typically substitute 1/2 tsp. granulated garlic for every garlic clove the recipe calls for.
This adds a bit of spiciness to the chowder. If your family isn't a fan, you can certainly opt out of this ingredient. Sometimes I replace the red pepper flakes with a teaspoon full of chipotle sauce, instead, to add a bit of smoky flavor to this chowder.
I typically use Campbell's Cream of Chicken Soup, but you can use whichever brand you prefer. I've used the low-fat version of Campbell's Cream of Chicken Soup in this recipe and it works great since you are adding so many other flavorful ingredients, FYI.
Diced Tomatoes and Green Chilies
If your family is super picky about seeing a diced tomato in the chowder, drain the tomatoes then toss them into the food processor and pulse to process until they are the consistency you'll need to please your family. My boys are picky about diced tomatoes, so I often process my tomatoes and green chilies until they are smooth in texture.
You can use canned corn, frozen corn, or corn you've cut off the cob – any one of these will work fine in this recipe.
2% milk works great in this recipe and I've even substituted a can of evaporated milk in a pinch a few times – it works great and make the chowder extra creamy. If you want less fat, you can use 1% milk or even skim milk but the consistency of the soup is a bit less substantial.
Always stir in the fresh cilantro just before serving the soup. Fresh herbs can't withstand lots of cooking so for the most flavorful experience, stir them in right at the end of the cooking process. Or, you can also opt to use the cilantro as a garnish for this chowder, too.
Shredded Cheese, Sour Cream, Guacamole, Salsa, Tortilla Chips, sliced pickled jalapenos, additional cilantro
These are you toppings! I like cheddar cheese or Colby-Jack, but you can use any shredded cheese that suits you. You can be as basic or as creative with the toppings as you prefer – there's no right or wrong way to do it.
Easy and Helpful Recipe Tips for Making a Bowl of Creamy Corn Chowder
If I want to use plain diced tomatoes instead of tomatoes and green chilies, will this chowder still taste good? My family doesn't really like foods that are too spicy.
So glad you asked! Yes, you may certainly use plain diced tomatoes and also skip the red pepper flakes to tone down the spiciness of this dish. It will definitely still be absolutely delicious.
Can I make this soup in a slow cooker?
Yes, you sure can. Just brown the sausage in a skillet first, adding in the granulated onion and garlic. When the sausage is fully cooked, drain the fats, then place the browned sausage into the slow cooker. Stir in the remaining ingredients, expect for the cilantro and toppings for garnish, combining well. Cook in the slow cooker on low for 2-3 hours. Serve garnished with cilantro and your preferred toppings.
I'd like to host a soup exchange. What are some guidelines for doing so?
This is a great way to cook one soup recipe, then share some with friends who do the same thing so you each wind up with a nice variety. This is also a good thing to do if you cook for one or two people, since eating one big batch of soup until it's gone can get frustrating. A soup swap is easy and fun!
Can I make this soup ahead and reheat it later for my family?
Yes, and I do this ALL the time. I love keeping soups in the fridge so my family can reheat a bowl anytime they are needing something quick and warming. I've found that it's super handy to keep the soup in a pitcher in the fridge so it can be poured directly into a bowl as needed, then reheated in the microwave.
Here's how I like to do my soup swaps with friends –
Choose 3 friends with like-minded food interests, flavor palates, and cooking abilities.
As a group, decide what soups/chowders/stews are to be part of the exchange and the day that the soups need to be ready to swap. (Choose recipes that will freeze well, which should be nearly any hearty soup, stew, or chowder.)
Create your assigned soup, making 1 gallon (4 quarts or 16 cups). Keep one quart for yourself, placing the remaining prepared soup into 3 one-quart containers with lids.
Meet with the group, giving each of your three friends a quart of the soup you're created, having them do the same. Everybody leaves with 3 different soup varieties to make a total of 4 assorted soups you'll now have in your stockpile. (How sweet is that??!)
If needed, repackage your soups into smaller serving size containers and place into the freezer. To serve, thaw the soup in refrigeration, reheat over low heat and enjoy!
This a food swap can be done with so many different dishes – pastas, casseroles, meat dishes, skillet meals, etc. You're only limited by your imagination and food budget.

More Favorite Mexican Recipes to Enjoy –
Printable Directions for Making Tex Mex Corn Chowder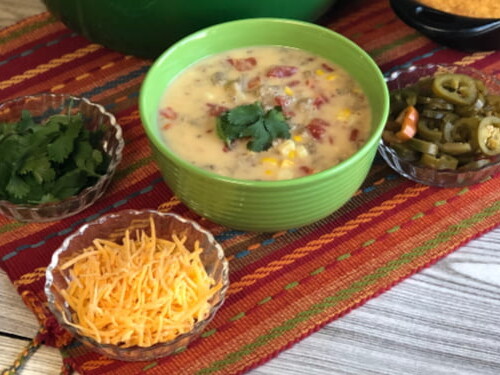 Tex Mex Corn Chowder
Are you yearning for a super tasty "dump and go" soup? Dig into this hearty Tex Mex Corn Chowder! This one-pot chowder is basic enough for the kids to love, yet complex enough for the grownups to enjoy as a well.
Print
Pin
Rate
Ingredients
1

lb.

ground pork sausage (may substitute ground beef, or ground turkey)

1

tsp.

granulated onion, or 1 medium yellow onion, diced

3

cloves

garlic, minced

1/2

tsp.

red pepper flakes

2

cans Campbell's Cream of Chicken Soup, 10 3/4 oz. each

2

cans diced tomatoes and green chilis (such as Rotel), with juices

1-2

cups

sweet corn

2-3

cups

milk, depending on how thick you prefer your chowder

1/4

cup

chopped fresh cilantro

sour cream, guacamole, salsa, tortilla chips, shredded cheddar or Colby-Jack cheese, for garnishing
Instructions
In a large saucepan over medium heat, brown the pork sausage with the granulated onion, garlic, and red pepper flakes until the sausage is fully cooked throughout and onions are softened; drain fats well.

Stir in the soup, diced tomatoes and green chilies, sweet corn, and milk; bring chowder to a simmer then reduce heat to low, cooking the chowder until all the ingredients are hot throughout. Stir in the fresh cilantro.

Serve the chowder at once, garnished with your favorite toppings, such as sour cream, salsa, tortilla chips, shredded cheese, etc. 
Nutrition
Calories:
311
kcal
|
Carbohydrates:
11
g
|
Protein:
15
g
|
Fat:
23
g
|
Saturated Fat:
8
g
|
Cholesterol:
63
mg
|
Sodium:
526
mg
|
Potassium:
373
mg
|
Fiber:
1
g
|
Sugar:
5
g
|
Vitamin A:
423
IU
|
Vitamin C:
3
mg
|
Calcium:
105
mg
|
Iron:
1
mg
Click here for a list of my favorite Soups, Stews, & Chowders!
We love hearing from our readers and followers, so leave us a comment if you'd like. And, if you don't hear back from us shortly, know that we may not have seen your comment. Feel free to reach out to us by email: [email protected].
Let's Get You Cookin',
Chef Alli