Cheesy hash browns piled high in a moist meatloaf crust? Yes, please!! Cheesy Hash Brown Meatloaf Pie is a recipe for one-pan meatloaf for a quick and easy meal that my family really enjoys.
Made from basic on-hand ingredients, this one-pan meatloaf casserole (think of it as meatloaf with a glaze AND a filling) comes together in a flash.
Cheesy Hash Brown Meatloaf Pie Recipe

Howdy! Chef Alli Here. Let's Get You Cookin'….Shall We?? 🙂
I found this recipe in an old recipe box that belonged to my husband's Grandmother, Louise Sharp. We discovered it when we moved my mother-in-law to a retirement community and I immediately had to pull all the recipes out of the box to see what treasures I could find.
It was fun going through all the recipes, most of which were handwritten or newspaper clippings.
This recipe was called Meatloaf Potato Pie and it peaked my interest because it's a meat-and-potatoes kind of meal and I knew my family would really enjoy it.
This casserole is nice and hearty, and made with ingredients that are usually on hand for me, which is always a plus.
The only thing I changed was the addition of BBQ sauce as a garnish over the top when the pie is served, which is quite delicious, yet completely optional.
What Meatloaf Sides are Good When Served With this Dish?
Because this recipe already features two staple food groups (meat and potatoes), we really like to add a refreshing vegetable salad to this meal. Crunchy Corn Salad (made with Fritos!) hits the spot and so does Summer Corn Salad – we love the creamy dressings.
For side dish that's colorful, you may like to make this Crispy Bacon Hash, which can also be served as a main dish, too. And don't forget about this easy air fryer recipe – Roasted Broccoli Parmesan!
What Ingredients Do You Need for Making Cheesy Hash Brown Meatloaf Pie?
I used lean ground beef but the original recipe called for ground chuck, which would have quite a bit of fat. I'm sure it would be delicious, but sometimes using ground chuck in meatloaf can cause it to have a greasy outcome – ick!
I prefer Panko breadcrumbs for a binder instead of oatmeal when making meatloaf. Panko is a Japanese-style breadcrumb traditionally used for coating deep-fried foods. Panko breadcrumbs are made from bread without crusts and are very irregular in shape which is why they make superior
This adds flavor and sweetness to the meatloaf. Use your favorite BBQ sauce, whatever you have on hand. I also like to drizzle this cheese and potato casserole with a bit of BBQ sauce as a garnish when serving it, but that is completely optional.
If you don't have dehydrated onion flakes on hand, you can certainly substitute 1/2 – 1 tsp. granulated onion or onion powder instead.
I prefer shredded hash browns but I bet you could actually use any type of hash browns for making the potato filling. I always use frozen hash browns, but you could certainly shred your own potatoes, if needed, to make the hash browns
Eggs are used for a binder in both the meatloaf and also the hash brown topping, helping to give strength and stability to hold both mixtures together.
I used a Colby-Jack cheese in this recipe, but the original recipe called for mozzarella cheese. Use what you prefer or what you've got on hand.
Dried oregano leaves, dried parsley, salt and pepper
Oregano gives flavor to the meatloaf while parsley gives a bit of a peppery flavor and some color to the hash brown mixture. Salt and pepper round out all the savory flavors.

Helpful Recipe Tips for Making Cheesy Hash Brown Meatloaf Pie
Can I use other types of ground meat for making this meat and potato pie?
Yes. Any type of ground meat will work fine – turkey, chicken, pork, even ground venison. Just keep in mind that because ground turkey and ground chicken are much more lean, they will cook more quickly and you'll need to make sure you don't over cook those types of meats or the meatloaf will be dry and crumbly.
Can I double this recipe and make two or more meatloaf pies at once?
Great question. I love to double or triple this recipe and make several meatloaf pies at one time. I bake one for now and throw the others into the freeze for later. Such a good feeling to work ahead on dinner. This meatloaf pie also makes a great meal to give to others when they need it – a new baby, a death in the family, when someone is sick with the flu. Who doesn't need DINNER??
Does this Cheesy Hash Brown Meatloaf Pie freeze well?
I freeze the pies before baking them so they can be baked fresh when needed, instead of just be reheated. You can bake the meatloaf pies from frozen, reducing the oven temperature to 325 degrees halfway through the baking time so the meatloaf pie can cook through to the center without the exterior getting over cooked.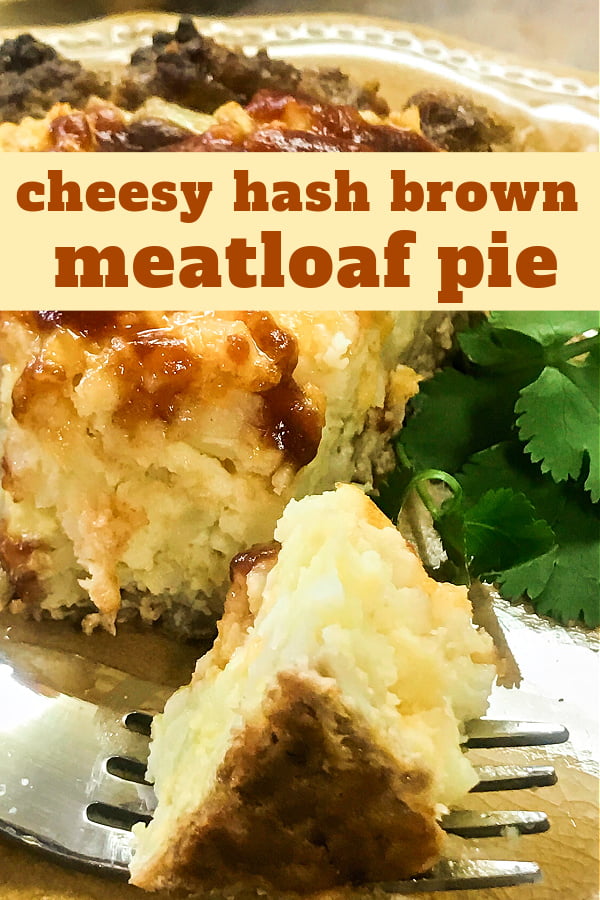 Other Favorite Recipes to Enjoy –
Printable Recipe for Cheesy Hash Brown Meatloaf Pie

Cheesy Hash Brown Meatloaf Pie

Cheesy hash browns piled high in a moist meatloaf crust? Yes, please!! This one-pan meatloaf casserole is a quick meal and my family never seems to tire of this meatloaf recipe. Made from basic on-hand ingredients, this Cheesy Hash Brown Meatloaf Pie (think of it as meatloaf with a glaze AND a filling) comes together in a flash.

Print Pin Rate

Ingredients

3/4

lb.

lean ground beef

1/2

cup

BBQ sauce

1

Tbs.

dehydrated onions

may substitute 1 tsp. granulated onion

1/2

– 1 tsp. dried oregano leaves

1/2

cup

panko bread crumbs

4

eggs

divided use, beaten

3

cups

shredded frozen hash brown potatoes

thawed

2/3

cup

shredded Colby-Jack cheese

1

tsp.

dried parsley flakes

1/2

cup

BBQ sauce for garnishing

Instructions

Preheat the oven to 375 degrees F.

In a mixing bowl, gently combine the ground beef with the BBQ sauce, onions, oregano, and panko bread crumbs with 1 beaten egg, taking care not to overwork the meatloaf mixture; press this into a greased 9″ deep-dish pie plate, evenly across the bottom and up the sides, using your fingers; reserve.

In another mixing bowl, combine the remaining 3 beaten eggs with the hash browns, shredded cheese, and parsley; gently spoon this mixture into the prepared meatloaf "crust" in the pie plate, spreading it out evenly.

Place the meatloaf pie, uncovered, on the center rack of the preheated oven and bake for 30-35 minutes or until the hash brown mixture is set and the meatloaf is done. Remove the meatloaf pie from the oven and let rest for 5 minutes before slicing into wedges to serve. Garnish each piece with a generous drizzle of BBQ sauce, as desired.

Nutrition

Calories:

272

kcal

|

Carbohydrates:

30

g

|

Protein:

18

g

|

Fat:

9

g

|

Saturated Fat:

4

g

|

Trans Fat:

1

g

|

Cholesterol:

119

mg

|

Sodium:

636

mg

|

Potassium:

500

mg

|

Fiber:

2

g

|

Sugar:

11

g

|

Vitamin A:

281

IU

|

Vitamin C:

8

mg

|

Calcium:

122

mg

|

Iron:

3

mg
Thanks for visiting! I hope you return soon for more yummy recipes for your family.
I love hearing from our readers and followers, so leave us a comment if you'd like. And, if you don't hear back from us shortly, know that we may not have seen your comment. Feel free to reach out to us by email: [email protected].
Let's Get You Cookin',
Chef Alli
Note: We do use referral and affiliate links here for products and services that Chef Alli loves and recommends.