Here's a masterpiece for your next brunch: Ham and Bacon Pastry Ring. I love this recipe because it looks fancy-schmancy when you serve it to your guests, but in reality it's pretty dang easy to whip up, and it's loaded with ham and bacon….perfection!
Ham and Bacon Pastry Ring Recipe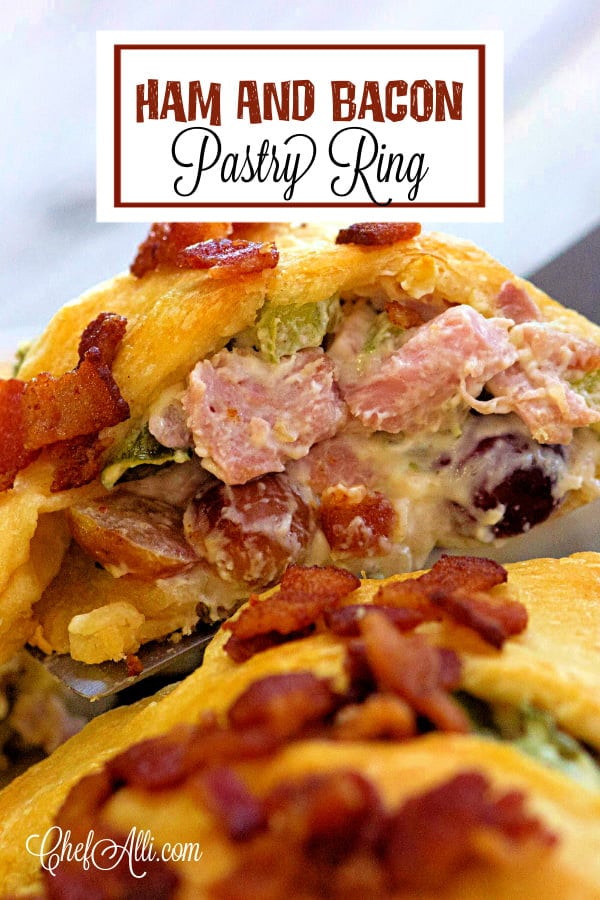 Please Note: We do use referral and affiliate links here for products and services that Chef Alli loves and recommends.
Howdy! Chef Alli Here. Let's Get You Cookin'….Shall We?? 🙂
I've almost always got a couple of cans of crescent roll dough in my fridge. I know it's incredibly fattening, but man does it ever make some YUMMY baked goods…..can I get a witness??
These Orange Breakfast Crescents and Cream Cheese Cherry Danish are perfect examples. Or, if you need a delicious savory recipe using crescent roll dough, we are big fans of this Spicy Italian Sub Crescent Ring.
I don't get the chance to make brunch for my family super often, but when I do, I can honestly say there's nearly always a recipe that includes crescent roll dough.
As we all know, when you make a dish that's got crescent roll dough involved, you can be assured it's always going to bake up golden brown and luscious, with layers of pastry that are light, flaky and tender. (Which, of course, gets you a lot of brunch kudos with everybody!)
What Ingredients Will You Need for Making this Tasty Ham and Bacon Pastry Ring?
So here's a great way to use up that leftover ham you've stockpiled into the freezer following a holiday meal. I also like to keep ham steaks on hand in my freezer for recipes like this one – super handy, and they thaw quickly.
Sometimes I also add some diced cooked bacon to the ham for the filling, instead of just using it on top as the recipe directs.
Chive and onion cream cheese, Caesar dressing, chopped apple, red grapes, diced green bell pepper
These ingredients are added to the diced ham to make the filling for this tasty crescent roll ring. If you've only got plain cream cheese on hand, you can add some onion powder to make it work and I've also minced up some scallions to add, too – it works great.
The Caesar dressing adds moisture to the filling, while the apples, grapes, and green bell pepper add nice crunch!
I typically use the full-fat crescent roll dough, but the low-fat type works just fine, as well. You will find that the crescent roll dough is easiest to work with when it's super chilled, so I'd recommend leaving it in the fridge until you've got the filling all combined and your pizza stone or the pizza pan laid out.
When the dough warms up, it doesn't want to come apart at the perforations as easily and the texture is pretty sticky.
Egg wash gives your Ham and Bacon Pastry Ring a nice gloss once it's baked. Must you add the egg wash? Not necessarily, but it sure does make it look pretty if you do. Use a silicone pastry brush to gently brush the egg wash all over the crescent roll dough before popping the pastry ring into the oven.
I like to cook my bacon in the oven, and if I'm going to do so, I always go ahead a cook it a pound at a time. I use what I need for my recipe at hand, then freeze the rest in a freezer bag so I can grab cooked bacon when I need it.
Having it handy in the freezer, already cooked and chopped or crumbled, is super convenient when we want to add it to soups, pastas, salads, and the like.

Easy Recipe Tips for Making a Ham and Bacon Pastry Ring
Can I freeze the Ham and Bacon Pastry Ring?
Absolutely! When I make this recipe for my family, I often double the recipe and make two pastry rings while I'm at it. It doesn't take that much more time and I like to pop the second ring into my freezer to bake fresh later, at the time that I need it.
Bake the pastry ring from frozen, at 350 degrees F., for 30-35 minutes, or until golden brown and hot throughout.
The recipe says to bake the pastry ring until it's golden brown and hot throughout. What is the best way to know when the filling is hot at the center, exactly?
What a great question! I find that the best way to know when the center of something I'm baking is hot (say a casserole or something such as this pastry ring), is to temp the filling using my instant read meat thermometer. A safe and hot internal temperature should register 160-65 degrees F.
What should I serve with the Ham and Bacon Pastry Ring?
We like to serve fresh fruit or fruit salad alongside this tasty crescent roll ring, along with scrambled eggs or an omelette, because we are most often serving this for brunch. If you're serving it as an appetizer, say for a watch party or tailgating party, it's good served with side salads and chips.
Does this Ham and Bacon Pastry Ring have to be baked on a pizza stone?
I love how crispy the pizza stone makes the bottom crust of this pastry, but you don't absolutely have to have one, that's for sure. You can use any baking sheet that the pastry ring will fit on.
I usually bake the pastry ring on the center rack of the oven, but if you want better browning on the bottom of the pastry ring, you can lower it to the rack closest to the bottom element in the oven for part of the baking time and this will result in a crust that's golden brown and more crispy.
What should I do if I can't find chive and onion cream cheese spread at my local grocer?
Great question. Sometimes I have trouble finding this item, as well. In that case, I take plain cream cheese that's been softened and I add a bit of granulated onion and some finely chopped scallions or chives.
It works great, so no worries! When you live in a rural area like I do, this is a common, so I'm used to making ingredient substitutions – it's just part of cooking sometimes. 🙂
More Favorite Brunch Recipes to Enjoy –
Printable Directions for Making a Ham and Bacon Pastry Ring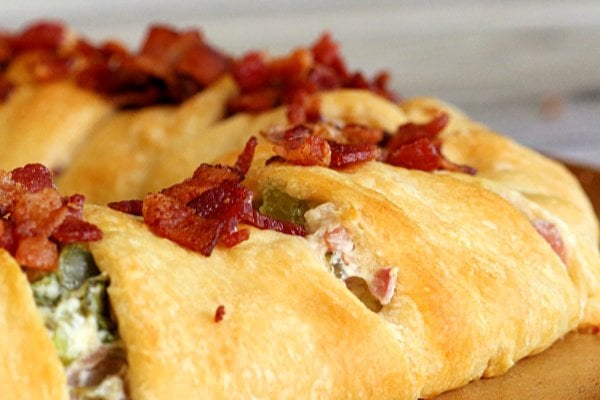 Ham and Bacon Pastry Ring
Here's a masterpiece for your next brunch: Ham and Bacon Pastry Ring.  I love this recipe because it looks pretty special when you serve it to your guests, but in reality it's pretty dang easy to whip up, and it's loaded with ham and  bacon....perfection!
Print
Pin
Rate
Ingredients
1

cup

cooked ham, diced

½

cup

chive and onion cream cheese spread, softened

2

Tbs.

Caesar salad dressing

1

apple, skin on, seeded and chopped

½

cup

red grapes, cut in half lengthwise

¼

cup

green bell pepper, diced

2

cans refrigerated crescent rolls, 8 oz. each

Egg wash, made from 1 egg beaten with 1 Tbs. water

1/3

cup

chopped cooked bacon
Instructions
Preheat the oven to 375 degrees F.

In a large mixing bowl, make the filling by combining the ham, cream cheese spread, Caesar dressing, apples, grapes, and bell pepper.

Unroll both cans of crescent roll dough, pulling the dough apart into triangles at each perforation.

Using a large, greased (or well seasoned) pizza stone, or greased pizza pan, place the triangles of dough onto the outer edge of of the pizza stone, forming a large ring, overlapping each triangle slightly (at the wider end) with the next, letting the points over lap the pizza stone onto the counter. (The crescent roll dough on the pizza stone will now look like a big sun!)

Spoon the prepared filling evenly around widest part of the dough that's been laid in a ring around the pizza stone. Gently pull each dough triangle up and over the filling, tucking these points underneath the dough edge at the center, allowing some filling to be visible in between the dough triangles.

Using a pastry brush, brush the dough with the prepared egg wash.  Bake the pastry in the preheated 375 degree F. oven, on the center rack, uncovered, for 25-28 minutes, or until the pastry is nicely golden brown.

Remove the pastry from oven and let it rest for 5-10 minutes.  Gently use a large spatula to loosen pastry ring from pizza stone, then slide it from the pizza stone to a platter or large cutting board.

Sprinkle the baked pastry ring with warm, chopped (cooked) bacon, then slice to serve.
Nutrition
Calories:
137
kcal
|
Carbohydrates:
9
g
|
Protein:
6
g
|
Fat:
9
g
|
Saturated Fat:
4
g
|
Cholesterol:
27
mg
|
Sodium:
470
mg
|
Potassium:
90
mg
|
Fiber:
1
g
|
Sugar:
5
g
|
Vitamin A:
164
IU
|
Vitamin C:
8
mg
|
Calcium:
20
mg
|
Iron:
1
mg
We love hearing from our readers and followers, so leave us a comment if you'd like. And, if you don't hear back from us shortly, know that we may not have seen your comment. Feel free to reach out to us by email: [email protected].
Let's Get You Cookin',
Chef Alli