These baked Cowboy Breakfast Bites are an easy grab-and-go breakfast when you're in a hurry. Your family can grab one hot from the oven on busy week day mornings.
Cowboy Breakfast Bites Recipe
I think this delicious recipe may have originated from Ree Drummond, The Pioneer Woman…I'm not completely sure. What I do know for certain is that my guys immediately fell in love with it and I've been making it faithfully ever since!

Cowboy Breakfast Bites Fill Up Everyone…
Howdy! Chef Alli Here….Let's Get You Cookin', Shall we?? 🙂
My favorite part about these breakfast bites is how easy it is to modify the recipe for your family's taste buds.
I love the kick that the mustard and horseradish give the mix, but you can easily tone that down. Do your kids love bacon? Then use bacon! Got leftover steak? Go for it.
Any type of cooked meat works great, so use whatever leftovers you have on hand. All you have to do is pile up the filling on your bagels, bake on a baking sheet, and grab a hot, hearty breakfast on your way out the door!
Things to Love About Making Cowboy Breakfast Bagels –
You can customize it to your family's tastes.
A great recipe for using leftover cooked meats.
The perfect grab-and-go breakfast for on the run.
What Ingredients Do I Need for Making Cowboy Breakfast Bites?
The aromatics – onion, red bell pepper, jalapeno. These actually provide the foundation of this dish, just as they do in any dish. Change them up any way you wish. Sometimes I skip the jalapeno, or I may add dehydrated onion flakes in place of the actual onion, if I'm in a hurry.
Bacon. We love our bacon in this Cowboy Breakfast Bites, but I've used cooked sausage lots of times and I know I'd LOVE cooked salmon in the egg mixture topping, but my boys probably wouldn't. Once, I did get to use leftover grilled steak in this recipe and my guys went bananas – so good. Use any leftover cooked meat that you'd like.
Hardboiled Eggs. Well, if you haven't made hardboiled eggs in your Instant Pot, you are completely missing out on something super cool. Once you make hardboiled eggs in your Instant Pot, let's just say you're ruined for life…..you simply won't be able to make them any other way because the Instant Pot way makes such short, awesome work of it!
Cheese. Like the cooked meats we talked about above, this ingredient can be customized too. We almost always have Colby-Jack and Cheddar on hand, so that's what I use since that's my family's preference. If I had it my way, we jack these Cowboy Breakfast Bites up with Pepper-Jack!
Mayo, Plain Greek Yogurt, Red Pepper Flakes, Spicy Brown Mustard, Grated Horseradish, Minced Garlic, Worcestershire Sauce. All of these ingredients together are what make up the creamy part of the egg topping for Cowboy Breakfast Bites. It's like the glue that holds everything together! I have to be careful when I'm making this part as I have tendency to use too much horseradish and too much garlic! I sometimes forget that not everyone wants the flavors to be as strong here as I do. Again, customize to your heart's content, truly. Make your Cowboy Breakfast Bites how YOU prefer them.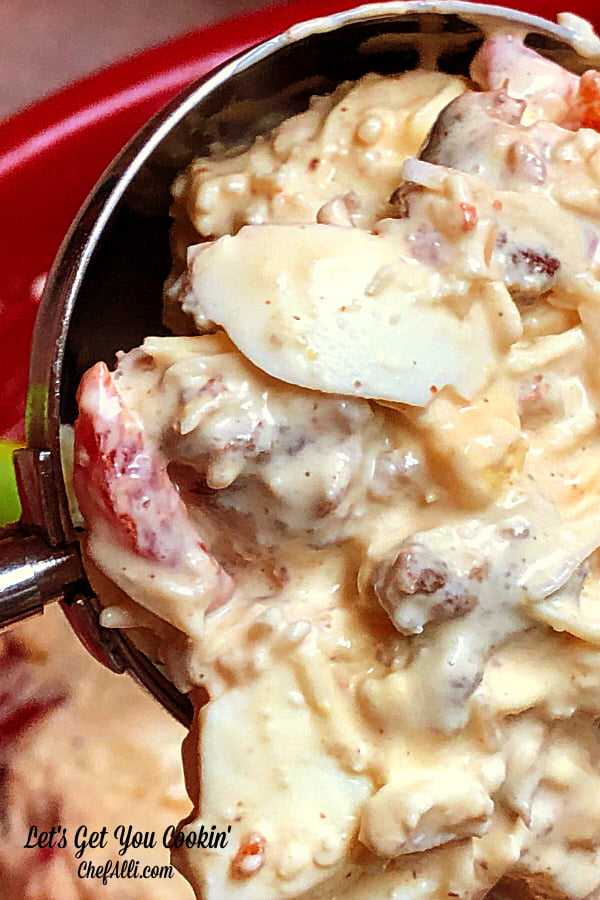 Bagels. We like using mini bagels for Cowboy Breakfast Bites, but you could sure use full-size bagels or even English muffins as the base. I've never tried using biscuits as the base, but I'm betting it would be delicious!
Easy Recipe Tips for Making Cowboy Breakfast Bites
Do Cowboy Breakfast Bites freeze well? I'm so glad you asked – GREAT question, because YES, THEY DO! You can freeze them two ways: BEFORE they are baked, or AFTER they are baked and have cooled.I personally prefer freezing them BEFORE they are baked, so I can bake them fresh when we need them. However, if you choose to bake them FIRST, then freeze them, you'll just need to reheat them a bit in the microwave to serve them.
What's the best way to freeze Cowboy Breakfast Bites? Assemble the Cowboy Breakfast Bites as per the instructions, placing them all onto a large baking sheet; pop into the freezer and freeze them solid.Once frozen, remove to an air-tight container and return to the freezer. Now, you can simply pull out as many of the Cowboy Breakfast Bites as you want, whenever you get a hankerin' for a hot, delicious, on-the-go breakfast for your fam.
If I freeze the Cowboy Breakfast Bites, do I need to adjust the baking time? Do I need to thaw them first? Bake the Cowboy Breakfast Bites from frozen – don't thaw first.Bake the breakfast bites, uncovered, on a baking sheet in a preheated 325 degrees oven for about 20 minutes – it works great.
Are there any tools that are helpful for making this recipe? I like using my 1/4 cup stainless steel scoop for piling the topping onto the the bagels – this makes the whole process super fast and easy.Also, for freezing and baking the Cowboy Breakfast Bites, a good rimmed baking sheet is helpful, too. (If you keep your baking sheets OUT of the dishwasher and always wash them by hand, they will look like new for a long time, especially if you can throw a sheet of parchment paper down on it each time you get ready to use it!)

More Recipes to Enjoy –
Printable Directions for Making Cowboy Breakfast Bites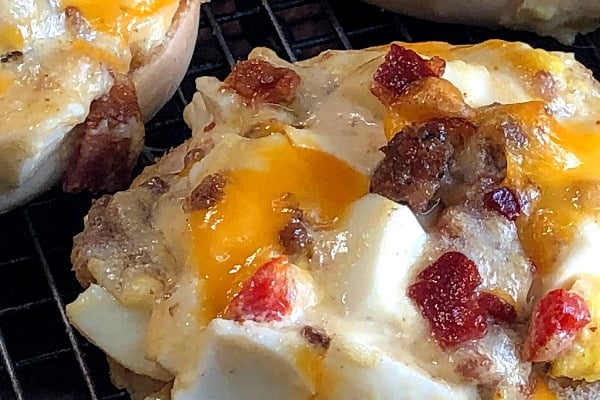 Cowboy Breakfast Bites
These Cowboy Breakfast Bites are a great grab-and-go breakfast when you're in a hurry but want something protein-packed and full of flavor!
Print
Pin
Rate
Servings:
16
breakfast bites
Ingredients
1

small onion, diced

1

sweet red bell pepper, diced

1

jalapeno, seeds and membranes removed, minced

1-2

tsp.

olive oil

8-10

slices

bacon

8

hard-boiled eggs, peeled and chopped

1 1/2

cups

shredded Colby-Jack or Cheddar cheese, preferably from Alma Creamery, Alma, KS

2/3

cup

mayonnaise

1/3

cup

plain Greek yogurt

1/4

tsp.

red pepper flakes

1

Tbs.

spicy brown mustard

1

tsp.

grated horseradish

1

clove

garlic, minced

1/2

tsp.

Worcestershire sauce

8

mini whole wheat or whole grain bagels, split (may substitute English muffins, if desired)
Instructions
In a 12" cast iron skillet over medium heat, saute the onion, bell pepper, and jalapeno until softened; let cool slightly and reserve.

Cook bacon on a rimmed baking sheet in the oven until browned and slightly crispy; remove the bacon to a paper-towel-lined plate to cool slightly, then crumble or cut the bacon into small pieces.

In a large mixing bowl, add cooked bacon, chopped eggs, cheese, mayo, yogurt, mustard, horseradish, garlic, and Worcestershire sauce; gently fold all ingredients together, then season to taste with salt and pepper. Fold in the reserved veggies.

Preheat oven broiler to low and place the rack in the center of the oven position. Place the bagel halves onto a baking sheet. Using a 1/4 cup cookie dough scoop, place some of the prepared egg mixture onto each bagel half. Use your fingertips to compact mixture slightly and to secure filling on top of each bagel half.

Place the baking sheet into the preheated oven beneath the broiler and broil the bagel bites for 3-4 minutes, taking care not to burn them, cooking just until the topping is hot throughout and cheese is slightly melted. Serve at once. May cool and store in the refrigerator and reheat later as needed.
Nutrition
Calories:
178
kcal
|
Carbohydrates:
14
g
|
Protein:
9
g
|
Fat:
9
g
|
Saturated Fat:
4
g
|
Cholesterol:
107
mg
|
Sodium:
295
mg
|
Potassium:
98
mg
|
Fiber:
1
g
|
Sugar:
1
g
|
Vitamin A:
508
IU
|
Vitamin C:
11
mg
|
Calcium:
99
mg
|
Iron:
1
mg
Feel free to leave us a comment – we love hearing from our readers and followers! If you don't hear back from us here, just know we may have somehow missed your comment or question. Do reach out to us by email: [email protected]. We will get right back to you!
Let's Get You Cookin',
Chef Alli
Please Note: We do use referral links for products and services that Chef Alli loves.