Maple Apple Glazed Breakfast Meatballs combine the spicy, sweet flavors you love in one unforgettable bite! Once you try them, you'll be making a batch every week. #breakfastmeatballs #favoriterecipes #savorysweet #meatballrecipe
Maple and Apple Glazed Breakfast Meatballs
This recipe came from my friends, Craig and Amy Good, Good Farms, Olsburg, Ks. Amy served these meatballs when I toured their farm a few years back as part of a Ks Farm Bureau blogger tour. These meatballs are unforgettable so I emailed Amy right away, hoping she would share her recipe. She did, telling me the recipe originated from an issue of Midwest Living magazine.
Please note: We do use referral links here for products and services that Chef Alli loves and recommends!
Cooking Tips for Glazed Breakfast Meatballs
Using a small metal scoop will keep the meatballs all the same size, ensuring even cooking in every one.
After you make the meatballs, pop them in the freezer for about an hour. This will allow them to hold their shape better when they cook.
Line your baking sheet with a large sheet of aluminum foil for easy cleanup!
Maple Apple Glazed Breakfast Meatballs freeze very well! Spray a foil or wax-paper lined baking sheet with non-stick cooking spray, spread your uncooked meatballs out so none of them are touching, then put them in the freezer until frozen solid. Remove frozen meatballs from baking sheet and store in your freezer in a large ziploc bag. When you're ready to bake them, simply pull them out, place on a foil-lined baking sheet, and bake for 15 minutes. Check temperature and turn if desired, cooking until insides reach 160-165 degrees.
Glazed Breakfast Meatballs for Breakfast or Brunch
I love taking these meatballs to a special brunch and they're great for serving a crowd. Just like most meatball recipes, they can easily be prepared and then kept warm in a slow cooker. The combination of spicy pork sausage, sage, and fennel with the apples, maple syrup, and jelly make these meatballs completely irresistable, though, so you may need to make a double (or triple) batch!
Printable Recipe for Maple and Apple Glazed Breakfast Meatballs: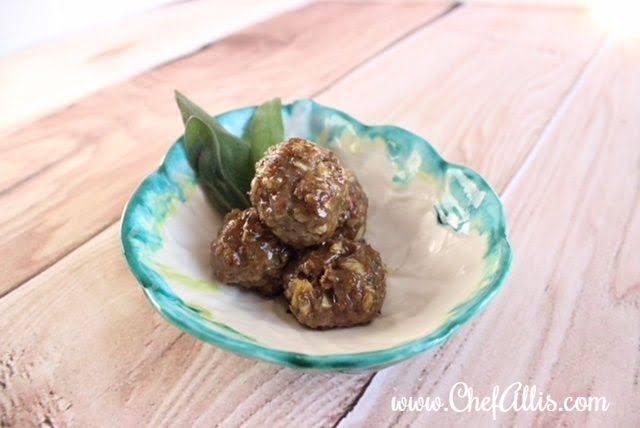 Maple Apple Glazed Breakfast Meatballs
Maple Apple Glazed Breakfast Meatballs combine the spicy, sweet flavors you love in one unforgettable bite! Once you try them, you'll be making a batch every week. 
Print
Pin
Rate
Ingredients
1

egg

1/2

cup

quick-cooking oats

1/2

cup

very finely minced red-skinned cooking apple

2

tsp.

snipped fresh sage

3/4

tsp.

fennel seeds, crushed

1/2

tsp.

salt

1/8

tsp.

ground black pepper

1

lb.

ground pork (not ground sausage)

1/4

cup

apple jelly

1/4

cup

pure maple syrup

fresh sage leaves, for garnishing
Instructions
Preheat oven to 400 degrees F. Line a 15 x 10 x 1 inch baking sheet with foil; coat with cooking spray and set aside. 

In a large bowl, beat egg lightly; stir in oats, apple, sage, fennel seeds, salt and pepper.  Add pork; gently mix until combined.

Shape the prepared mixture into 36 1-inch meatballs. Place meatballs 1/2-inch apart on the prepared baking sheet. (At this point, meatballs can be stored, covered, in the refrigerator for up to 8 hours, or frozen for use later.) Bake the meatballs on the center oven rack of oven for 10 minutes.

Meanwhile, in a small saucepan, heat the jelly and maple syrup over medium-low heat, whisking until the jelly is melted and the mixture is smooth.  Drizzle 1/4 cup of the jelly mixture over the baked meatballs, lightly tossing to coat, then bake the meatballs 2 minutes longer.

Transfer meatballs to a serving platter and drizzle with the remaining jelly mixture.  Garnish with fresh sage and sprinkle with a small amount of coarse sea salt if desired.
Brunch is Complete with Glazed Breakfast Meatballs and…
We love hearing from our readers and followers, so leave use a comment if you'd like. And, if you don't hear back from us shortly, know that we many not have seen your comment. Feel free to reach out to us by email: [email protected]
Let's Get You Cookin',
Chef Alli