Are you looking for an easy breakfast crescent roll recipes? These Easy Orange Breakfast Crescent Rolls are simple to make and will be the best breakfast crescent roll idea for any breakfast or brunch!
They are the perfect spin on Pillsbury orange Danish and can easily be made into orange cinnamon rolls. My family begs for these all of the time.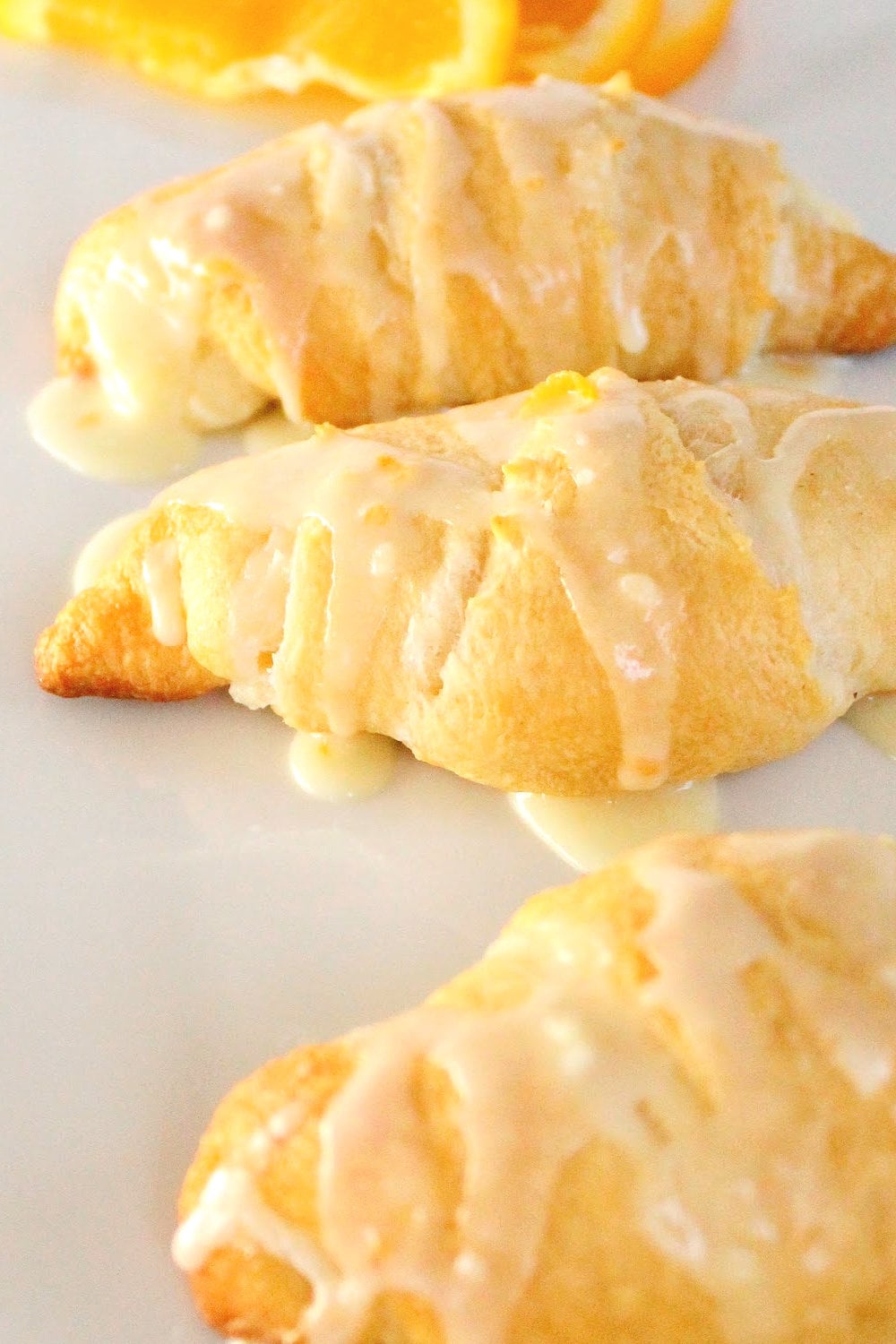 Orange Crescent Breakfast Rolls Recipe
Easy Orange Breakfast Crescents are perfect for a special morning treat.
I discovered this recipe in a Gooseberry Patch cookbook long ago. When you've got a hungry team of men (who have gotten up early to do chores ) anxiously waiting for breakfast, every minute saved is important!
These are especially delicious from the oven, slathered in the warm orange glaze.
Similar to Pillsbury Orange Danish
I love a good breakfast crescent, but the orange flavor in these pastries gives it that little extra something special. It's reminiscent of the recently retired Pillsbury Orange Danish.
You can get this flavor with orange extract or essential oil (use only the food-grade kind), but I prefer to get my orange flavoring straight from the fruit!
To do that, I use my favorite flavor tool: the Microplane Zester! This handy little tool quickly shaves all that flavorful citrus zest from the skin of your oranges, adding TONS of flavor without any calories or fat. I promise you, that orange zest makes these breakfast crescents pop!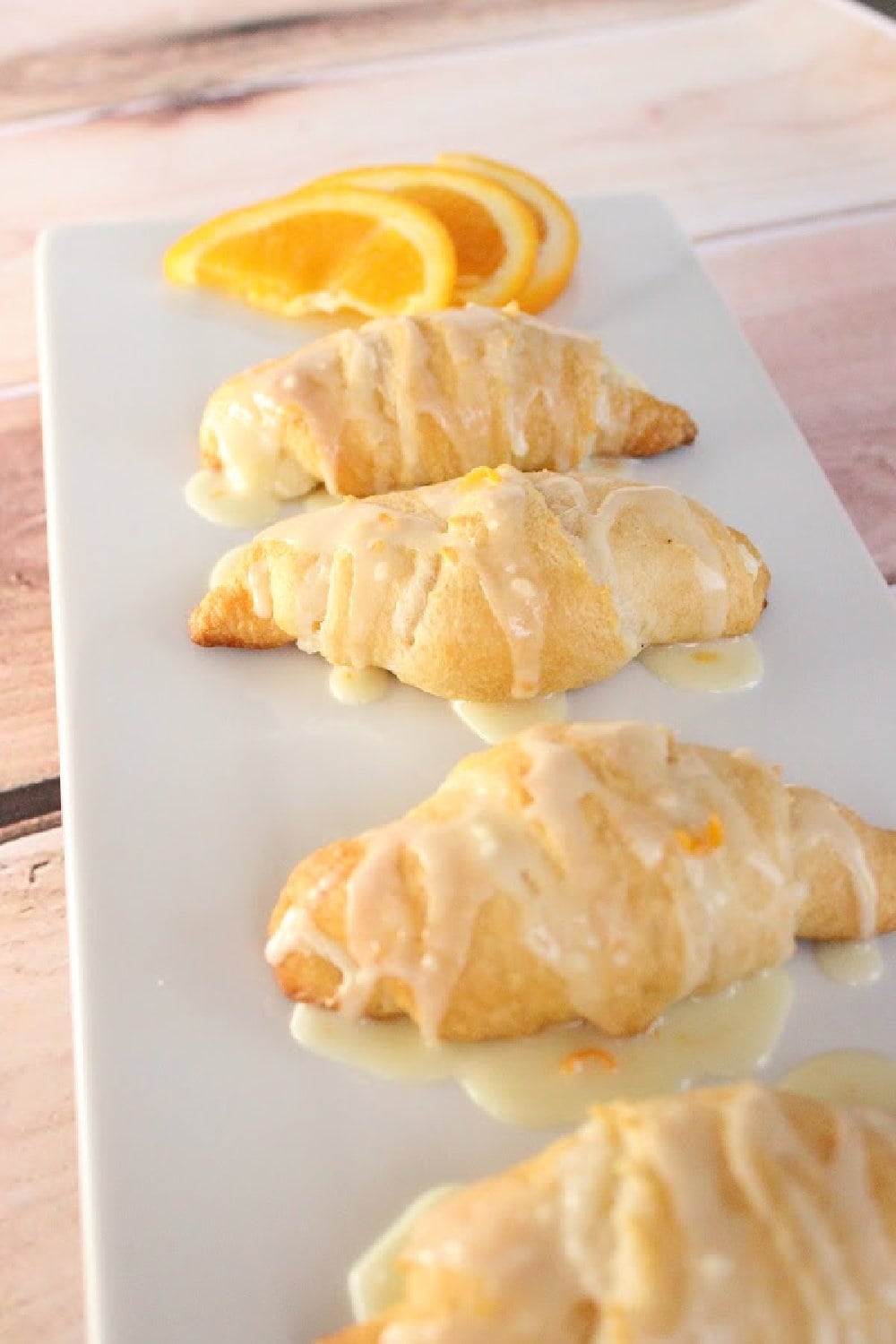 What to Love About this Recipe
Crescent roll dough! Perfect for pastries….both sweet and savory.
These rolls are versatile! You can serve them at brunch or for a comfy-cozy breakfast with the family. (Or how about with a friend and a cup of coffee?)
All the ingredients are items you'll probably already have on hand.
What Ingredients Will You Need for Making These Easy Glazed Crescent Rolls?
crescent roll dough – Pillsbury is always a great choice
cream cheese – either full-fat or one-third-less-fat
granulated sugar – just plain old sugar
almond extra – can use vanilla if that's all you have on hand
orange zest – this is the secret ingredient for perfection
These ingredients are what you need to make your recipe. Make sure the cream cheese has softened a bit at room temperature and it will let you incorporate the other ingredients very easily.
If there's one ingredient you want to ensure you don't leave out, it's the orange zest. As I said earlier in this post, it's a powerful ingredient and takes these little pastries right over the moon.
Breakfast with Crescent Roll Dough
You will typically find crescent roll dough in a refrigerated section of your favorite grocer, near the canned biscuits, pizza dough, and cookie dough.
Yes, you can make these pastries with the less-fat version of crescent roll dough – it works fine, though sometimes the less-fat dough is a bit harder to work with, especially if you've let it come to room temperature.
Keep the crescent roll dough chilled right up when you're ready to work with it.
Orange Breakfast Crescent Roll Glaze
Powdered sugar, orange zest, melted butter, almond extract, and orange juice are combined to make the glaze that will be drizzled over the warm pastries. (Yes, powdered sugar is the same thing as confectioner's sugar.)
And, you can use orange juice right from the carton in this glaze, but since you are needing the orange for the zest in this recipe, why not pull out your citrus juicer and juice the orange at the same time? Super easy and nothing goes to wait.
Can I make these into mini orange cinnamon rolls instead of individual crescents?
Absolutely, and it works perfectly. Rolling up each crescent takes more time, and this makes them have beautiful presentation for a special brunch or breakfast.
I'm often scrambling to get more done than is ever possible, I quickly discovered a shortcut that tastes just as good!
Unroll the entire roll of crescent dough, pressing the seams closed so that it becomes a solid sheet of dough. Then, spread the cream cheese filling on top, rolling up the entire sheet of crescent roll dough cinnamon-roll-style.
Slice the roll into individual 24-36 mini rolls, depending on how big you want them to be.
As soon as they come out of the oven, pour the orange glaze over the top so it can make its way into every nook and cranny of each roll.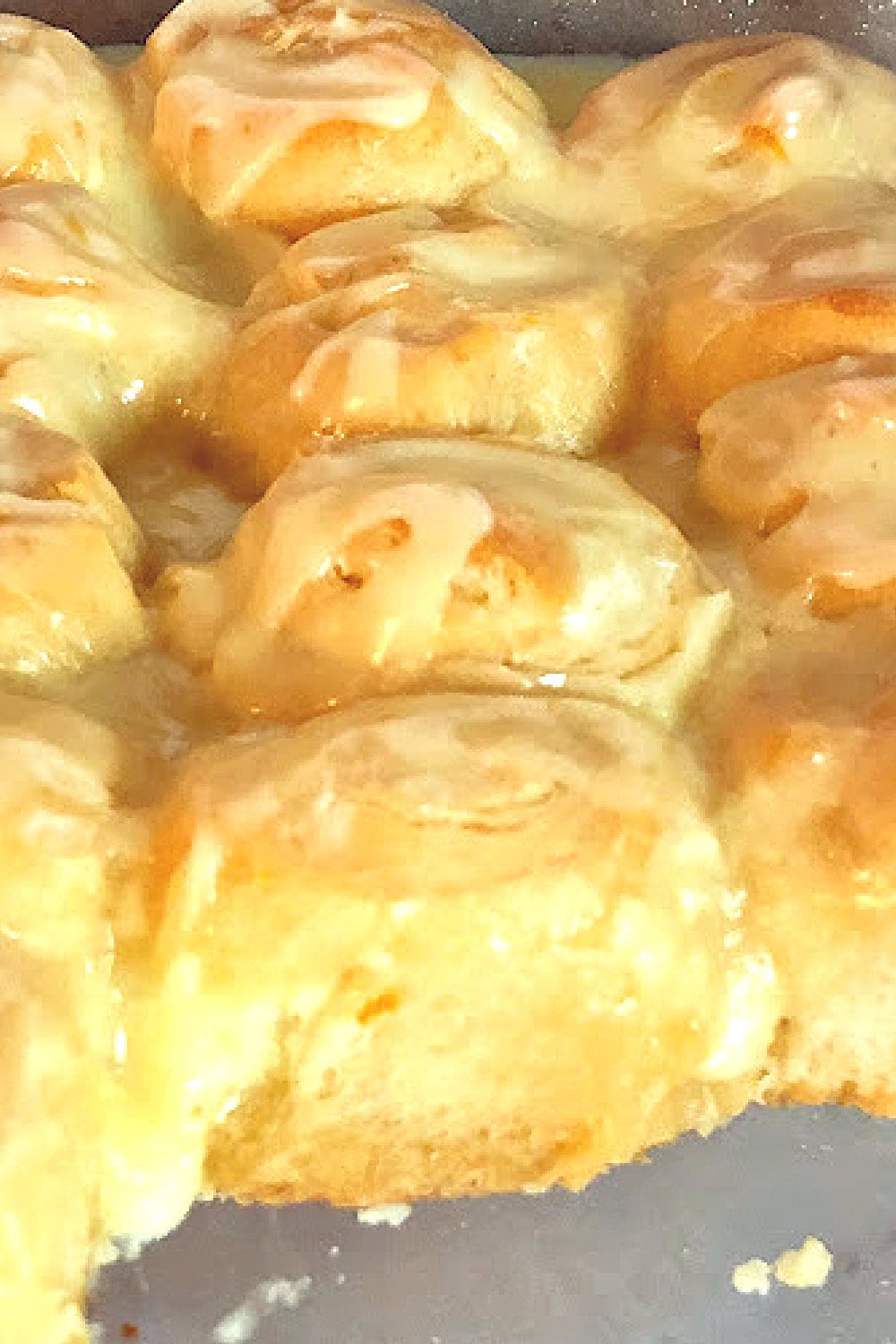 What kind of baking pan should I use for orange breakfast crescent rolls?
I use a rimmed baking sheet when making these pastries as breakfast crescents.
If I'm making them as little mini rolls where they are placed side-by-side), I use a 9 x 13 glass baking dish.
Or, you could certainly divide them between two smaller baking pans if you feel like sharing with a friend – they will love you for it.
Can I cut this recipe in half?
You sure can and you will only need 1 roll of crescent roll dough to do so. Also, a half a recipe bakes perfectly in an 8″ x 8″ baking pan or even a 9″ pie plate.
What should I do if I don't have almond extract on hand for this recipe?
That's an easy one! Use vanilla extract – it will work just fine. I do prefer the almond extract along with the orange, but vanilla is still delicious.
What should I serve with the Orange Breakfast Crescent Rolls?
Orange breakfast crescents would pair perfectly with these Maple Glazed Breakfast Meatballs and my Mason Jar Breakfast Parfaits for a delightful brunch spread! We also enjoy them served with a big bowl of fresh fruit.
We have even been known to eat these breakfast rolls as a dessert because our family loves them so much. I often make them as gifts for people who've had a new baby, some surgery, a death in the family, or just for someone who needs a lift.
Will these Orange Breakfast Crescents freeze well?
Yes!!! And I'm so glad they do. I often double this recipe and make two pans of orange rolls (rolled up like cinnamon rolls), then freeze one pan to bake fresh later on.
You'll want to make sure you bake them from frozen – don't thaw first or they turn into a big pile of mush! Bake them on the center rack, fully frozen, uncovered, at 325 degrees F. until they are puffed and golden brown, then drizzle with the orange glaze while they are still hot. Super delish. 🙂
Can I use the low-fat version of crescent rolls to make this recipe?
The low-fat crescent rolls work just fine for this recipe. Sometimes I feel like the dough is a bit harder to work with than the regular full-fat type.
Putting a little bit of flour on the counter top before you lay them out helps a ton. Also, make sure you don't take the crescent roll dough out of the fridge until you're ready to work with it – keep it chilled is key.
Can I use low-fat cream cheese in this recipe?
Yes. I use the one-third-less-fat cream cheese for nearly all recipes at my house. It works great in this recipe – you won't notice much of a difference, if any.
I forgot to set my cream cheese out to soften for this recipe. Is there anything I can do in a hurry to soften it quicker?
Yep. I unwrap my cream cheese and place it into a glass mixing bowl, then put the bowl into the microwave. Set your microwave to 30 seconds at 30% power. Working in intervals, test the cream cheese with your finger after each one, checking to see if it's as softened as you want it.
Full power in the microwave will make your cream cheese too hot and it will also have a tendency to explode in there, too – which is totally no fun to clean up.
Other Breakfast and Brunch Recipes to Enjoy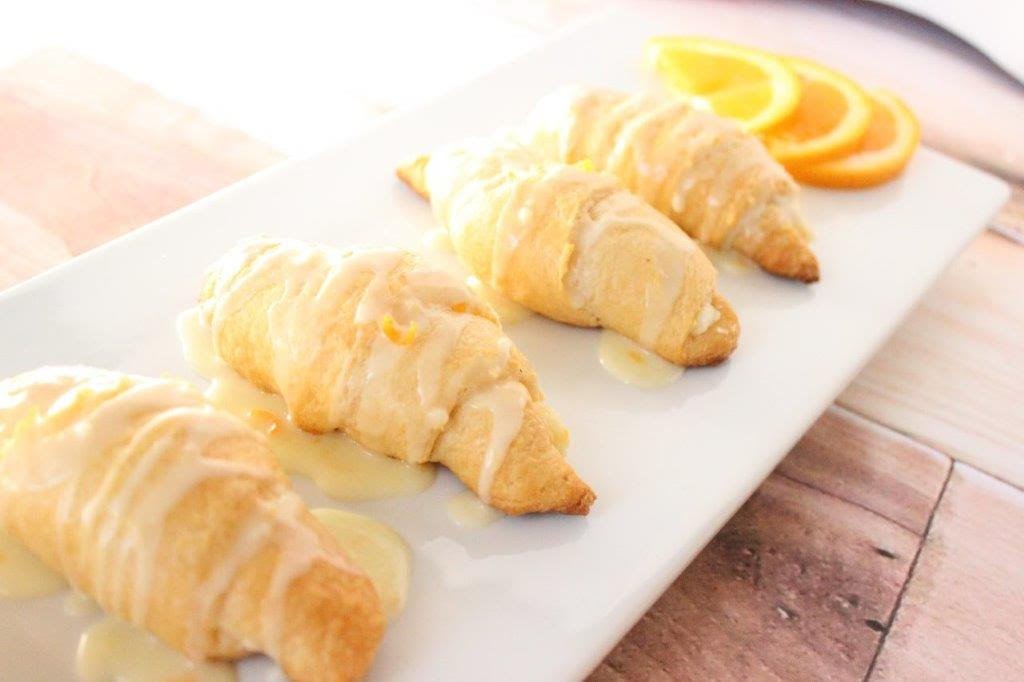 Easy Orange Breakfast Crescents
These Easy Orange Breakfast Crescent Rolls are simple to make and will be the best breakfast crescent roll idea for any breakfast or brunch!
Print
Pin
Rate
Ingredients
Filling
6

oz

cream cheese, softened (I prefer Highland Dairy cream cheese)

1/3

cup

granulated sugar

1/2

tsp.

almond extract

1

tsp

fresh orange zest

2

cans (8 count each)

crescent roll dough
Glaze
3/4

cup

powdered sugar

1

tsp.

fresh orange zest

2

Tbs.

melted butter

1/4

tsp.

almond extract

3-4

tsp.

orange juice
Instructions
Preheat oven to 350 degrees F. Unroll both rolls of crescent roll dough and separating each roll at the perforations so that you wind up with 16 triangles. In a small mixing bowl, combine the softened cream cheese, sugar, extract, and orange zest until smooth.

Divide the prepared cream cheese mixture between the 16 triangles, spreading it out evenly, leaving a 1/8" border around each triangle. Starting at the widest end of each triangle of dough (directly opposite of the point), roll up each one, just as it instructs on the crescent roll dough can.

Place each crescent onto a greased baking sheet, leaving a bit of space between each one. Bake the crescents, uncovered, for 15-17 minutes or until golden brown.

While rolls are baking, combine all the glaze ingredients in a small bowl, mixing until smooth, adding the orange juice a bit at a time, as needed.

Remove the crescent rolls from the oven, letting them cool for 5 minutes, then drizzle each one with the prepared glaze. Serve the orange crescents warm or at room temperature.
Notes
These crescent rolls freeze well once they are baked and cooled. Add the orange glaze once the crescents have thawed.
Nutrition
Calories:
186
kcal
|
Carbohydrates:
22
g
|
Protein:
2
g
|
Fat:
11
g
|
Saturated Fat:
5
g
|
Cholesterol:
15
mg
|
Sodium:
254
mg
|
Potassium:
15
mg
|
Fiber:
1
g
|
Sugar:
13
g
|
Vitamin A:
187
IU
|
Vitamin C:
1
mg
|
Calcium:
10
mg
|
Iron:
1
mg