Here's a super easy homemade breakfast pastry your family will do handstands for – Cherry Cream Cheese Danish! You are just 5 ingredients away from a delightful treat that you can have ready in less than 30 minutes, start to finish.

Please Note: We do use referral links for products and services that Chef Alli loves and recommends.
Howdy! Chef Alli Here. Let's Get You Cookin'…Shall We? 🙂
Why This Recipe is a Keeper!
Cherry Cream Cheese Danish are an easy breakfast pastry to make and they require very few ingredients. Anything made with crescent roll dough bakes up pretty heavenly and are always popular with friends and family.
This recipe can be made 2-3 hours of ahead of when you want to serve breakfast, can be doubled, and also frozen to bake fresh later on. And, if you prefer, you can make these pastries into mini danish, as well.
How to Make Cherry Cream Cheese Danish in 6 Easy Steps
Unroll the crescent roll dough placing 2 triangles of dough side by side; press the seam between the triangles closed so they form a rectangle.
Starting at the long edge of the dough, roll it into a long tube.
Form the tube of dough into a circle, pressing the ends together.
Now, using your finger tips form the circle of dough into a shallow cup; repeat these steps until you have 8 cups.
Fill each dough cup with the prepared cream cheese filling, then bake until the pastries are golden brown and the filling is set.
Top with your favorite pie filling. Serve warm or at room temperature.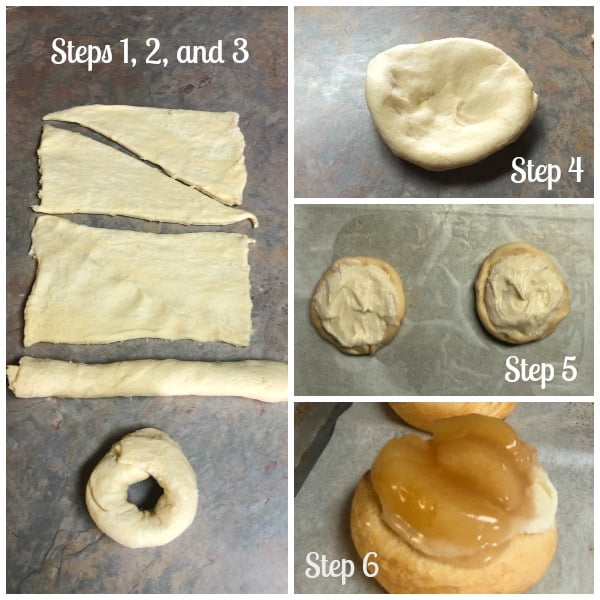 Easy Recipe Tips for Making Cream Cheese Danish with Crescent Roll Dough
What tools will I need to make the breakfast pastries?
A good baking sheet, some parchment paper, and a cooling rack. I like baking sheets that are rimmed and heavy-duty, made of aluminum or stainless steel; they promote nice browning as things bake. Also, always keep your baking sheets OUT of your dishwasher. The pressure and the soap can ruin a nice baking sheet quicker than anything.
Can I make mini danish using this recipe?
You sure can. Instead of making 8 pastries, divide the dough into 16 portions to make 16 small cups and proceed with the recipe. Since the pastries are smaller in size, bake them for just 13-15 minutes or until golden brown.
Do these pastries really need a powdered sugar glaze?
Well, they don't need it, but it sure does make the pastries look really pretty. My guys snarf these danish down so fast, I don't actually do the glaze. However, if I were taking this to a gathering or serving them to a guest with coffee, I'd glaze them.
Can I use other pie filling toppings when making these pastries?
You sure can and I do it all the time. We make apple quite a lot and I love using peach pie filling, too. The sky is the limit! It's also fun to serve an assortment of pie filling toppings on one platter to give your guests variety.
Can I make these danish ahead of time? Also, do they freeze well?
You can make these danish 2-3 hours of time; store in the fridge until ready to bake. These pastries to freeze well; after you've filled the pastry cups with the cream cheese filling, they can be frozen. Don't thaw before baking as per the directions – keep in mind that they may need a couple of extra minutes of baking time when baking from frozen.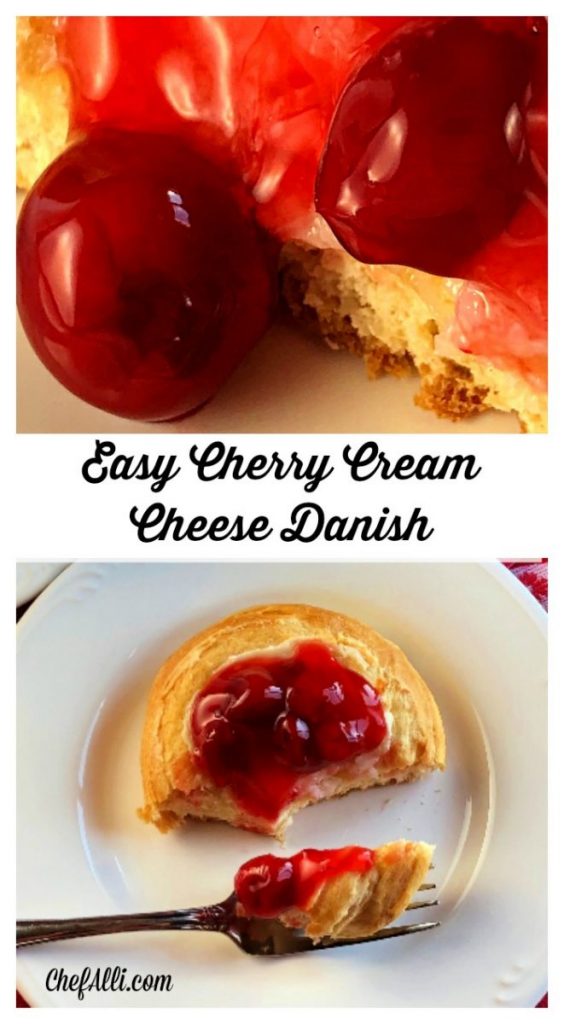 Is it okay to use low-fat cream cheese in this recipe, and also the type of pie filling that has less sugar?
Yep. Low fat cream cheese works great and you can actually use any type of pie filling that you desire.
What can I serve alongside these pastries for a brunch or breakfast?
More Favorite Recipes to Enjoy –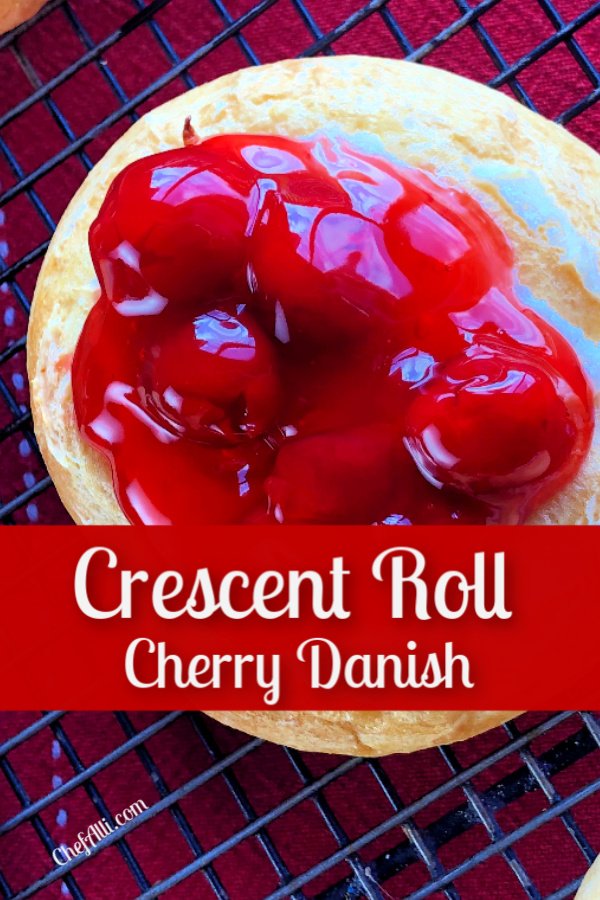 More Crescent Roll Recipes to Enjoy –
Printable Directions for Making Cherry Danish Pastries
We love hearing from our readers and followers, so leave us a comment if you'd like. And, if you don't hear back from us shortly, know that we may not have seen your comment. Feel free to reach out to us by email: [email protected]
Please return soon for more recipes! I'm so glad to have you visit.
Let's Get You Cookin',
Chef Alli