Everybody loves an easy orzo 30-minute meal that features the familiar, festive flavors of Mexican enchiladas, right? One-Skillet Cheesy Enchilada Orzo Pasta is We a speedy skillet meal that involves just one-pan and only two steps.
One-Skillet Cheesy Enchilada Orzo Pasta Recipe

Please Note: We do use referral and affiliate links here for products and services that Chef Alli loves and recommends.
Howdy! Chef Alli Here. Let's Get You Cookin'….Shall We?? 🙂
It's pretty easy to look at orzo pasta and think it's RICE. Upon studying it a bit closer, you'll see that it's actually a bit larger in size and definitely cooks much more quickly. And, just like any other pasta (or rice, for that matter) it's got no flavor whatsoever, so it's totally takes on the flavors of your dish. In this case, that's the big, bold flavors of enchiladas!
My family loves this dish and I'm a huge fan because I can have it on the table in a flash. I love a good 30-minute speedy meal that only takes one, single pan! Now, I do have to admit that my guys do prefer that I make the addition of cooked ground beef to this pasta dish. No big surprise, right? They are carnivores, so I get it and I'm glad to accommodate. 🙂
Let's Chat About The Ingredients You'll Need for this Mexican Orzo Skillet
As noted above, orzo is a rice-shaped pasta. You can find it in the pasta aisle of your favorite grocer, usually sold in a one pound box. Unlike rice, orzo pasta takes on a rather creamy texture as it cooks. And, because of it's small, elongated shape, orzo cooks much more quickly than rice does, as well.
This recipe calls for vegetable broth, but feel free to substitute chicken broth or beef broth if that's what you are more comfortable with or have on hand. Know going in that the orzo pasta will absorb nearly all of the broth as it simmers.
Drain and then rinse the canned black beans, or, if you prefer, you can always cook up a batch of black beans in your Instant Pot – so delicious and they cook up so quickly. I like to make a big batch of black beans in my Instant Pot and then freeze them in 1 cup portions in freezer bags. If you don't have black beans on hand, you can certainly substitute chili beans or pinto beans in this recipe.
We use Old El Paso enchilada sauce, but you can use any brand that you prefer in this pasta skillet. I prefer the red enchilada sauce but did recently discover that if you don't have red enchilada sauce on hand, green enchilada sauce works fine, as well. My guys didn't even notice! They simply inhaled their dinner, as usual. God love 'em.
I always have frozen sweet corn in my freezer it seems, but in a pinch, you can certainly substitute canned corn that's been well drained – it works great. I've used canned Mexi-corn before and it looked really pretty in this dish. Plus, I've even had to substitute white shoepeg corn and it worked just fine, as well. As I always say, "use what ya gots!"
Use your favorite taco seasoning blend that's on hand in your spice cabinet, or whip up your own. Sometimes I just add 2 parts chili powder to 1 part granulated onion and 1 part cumin.
Our favorite Co-Jack cheese is made by Alma Creamery, located in Alma, Kansas. All of their cheeses are full-fat cheeses and therefore superior melting and snacking cheeses. If you have Alma Creamery cheese in your area of Kansas (nearly all Dillons stores across the entire state stock Alma Cheese) DO give some a try. Also, be sure to look for their CHEESE CURDS! Alma Creamery offers 7 different flavors of cheese curds and we love how squeaky they are when you eat them closer to room temperature instead of chilled. We enjoy sending Kansas cheese from Alma Creamery to our out-of-state friends during the holidays – order online right here.
Feel free to add any toppings you like – extra shredded cheese, sliced black olives, salsa, picante sauce, sour cream, scallions, cilantro, tomatoes – the options are endless. (I once caught one of my boys putting cottage cheese on top of his bowl of this enchilada pasta!)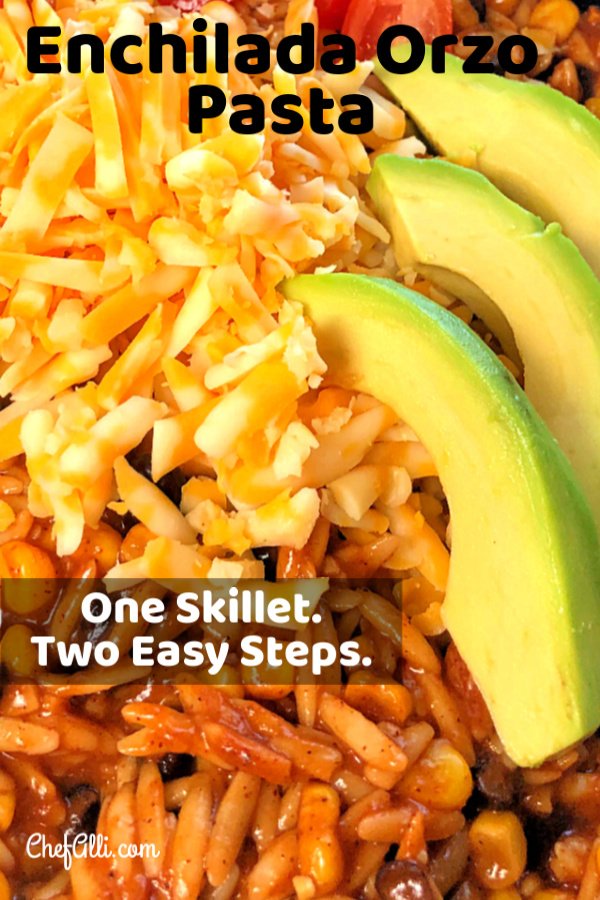 Easy Recipe Tips for Making Orzo Mexican Rice – A One-Skillet Cheesy Enchilada Pasta Dish
Why does orzo cook faster than rice?
Because orzo is actually pasta, it cooks much more quickly than rice and also takes on a creamy texture as it cooks. You can stir it into lots of dishes – we especially like it in soups, salads, and it also makes super tasty side dishes, as well. A couple of our favorite recipes that include orzo pasta are this Orzo Pasta Salad with Grilled Flat Iron Steak and Orzo Chicken Soup with Vegetables.
If I don't have broth on hand for this recipe, can I use water instead?
Yes, though broth definitely adds more flavor to this dish. You can also substitute chicken or beef broth in place of the vegetable broth, if desired. When you add all the ingredients to the skillet or pot to begin cooking, it will look as though there's too much liquid. Don't panic! Just give the orzo time to simmer over medium heat and you'll see that by the end of the cooking time. the orzo pasta will have absorbed all of the liquid…AND all of the flavors of enchiladas, too!
Can I substitute cheddar cheese in place of the Colby-Jack cheese?
You can actually substitute any shredded cheese that you prefer – cheddar cheese is delicious as a topping for this enchilada orzo pasta meal. I like to shred my cheese with my cheese grater at home since most pre-shredded cheeses you'll purchase at the grocer are coated with anti-caking agents. However, when I'm running short on time, I DO use pre-shredded cheese, let's be clear!
Do I need to rinse the orzo pasta before I add it to this skillet meal?
Great question! And the answer is NO. When cooking orzo pasta that will be served cool, say in a salad, go ahead and rinse the orzo. Otherwise, don't rinse the orzo or you'll remove the outside coating of starch which helps sauces thicken and also enables them to cling to the pasta better, giving you more flavor in every bite!
Is it possible to cook orzo pasta in the microwave instead of simmering it on the stove top?
Totally! Orzo is easy to cook in the microwave because of it's small size and elongated shape. Here's how: Combine the orzo pasta with the water or broth in a large microwave-safe bowl; cook on high power for 5-6 minutes or until the orzo has absorbed the liquid, is tender in texture and creamy in consistency.
What is the best water/broth to orzo pasta ration to use when cooking orzo pasta? And does that vary depending on whether you're cooking it in the microwave or on the stove top?
No matter how you cook orzo pasta, whether in the micro or in a saucepan on the stove, the liquid to orzo pasta ration stays the same: 2 parts liquid to 1 part orzo. This may seem like a small amount of pasta, but in reality, as orzo absorbs the liquid as it cooks, it really plumps up! I find myself cooking 1 cup of orzo in two cups of broth as a general rule, for most side dish recipes and skillet meal recipes.
Is orzo considered healthy?
Orzo by itself isn't unhealthy, but it IS pasta, so it's a bit carb-laden. And, as we all know, with carbs we can have a tendency to add cheeses and sauces that can add lots of calories and fat before we realize it – so yummy!

Other Recipes to Enjoy –
Printable Recipe for One-Skillet Cheesy Enchilada Orzo Pasta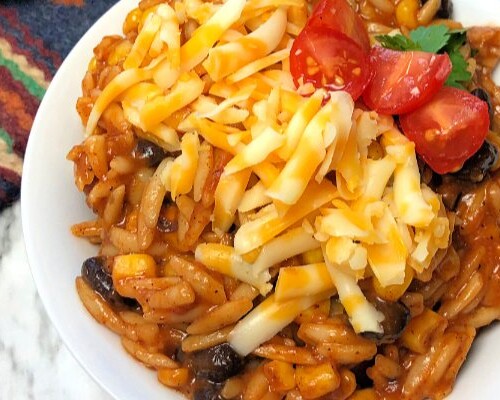 One-Skillet Cheesy Enchilada Orzo Pasta
Everybody loves an easy orzo 30-minute meal that features the familiar, festive flavors of Mexican enchiladas, right? We often enjoy a speedy skillet meal like this one that involves just one-pan and only two-steps.  #speedymeal #oneskillet #pasta #onepanmeal #enchiladas #orzo


Print
Pin
Rate
Ingredients
1

cup

dry orzo pasta

2

cups

vegetable broth

15

oz.

can black beans, drained and rinsed

20

oz.

mild red enchilada sauce, may substitute green enchilada sauce, if desired

2

cups

frozen sweet corn, thawed

2

Tbs.

of your favorite taco seasoning

1

cup

shredded Alma Creamery Co-Jack Cheese

optional toppings: diced tomatoes, chopped cilantro, sliced black olives, sour cream, fresh salsa, sliced avocados
Instructions
Combine orzo, broth, black beans, enchilada sauce, corn, and taco seasoning in a large, deep skillet or Dutch oven, stir ring to combine.

Cover the skillet, cooking over medium heat for 20-25 minutes, until all the liquid is absorbed and the orzo is plumped and nicely tender.

Uncover the skillet, giving the orzo a gentle stir, then sprinkle the shredded cheese over the top; cover once more and remove from the heat, allowing the cheese to melt.

Serve at once with the desired toppings.
Notes
www.ChefAlli.com
This also makes a great filling for quesadillas!  Feel free to add cooked ground beef to this speedy meal - it's a delicious option. 
Nutrition
Calories:
336
kcal
|
Carbohydrates:
51
g
|
Protein:
16
g
|
Fat:
8
g
|
Saturated Fat:
5
g
|
Cholesterol:
21
mg
|
Sodium:
1607
mg
|
Potassium:
414
mg
|
Fiber:
9
g
|
Sugar:
10
g
|
Vitamin A:
1229
IU
|
Vitamin C:
7
mg
|
Calcium:
181
mg
|
Iron:
3
mg
We love hearing from our readers and followers, so leave us a comment if you'd like. And, if you don't hear back from us shortly, know that we may not have seen your comment. Feel free to reach out to us by email: [email protected].
Let's Get You Cookin',
Chef Alli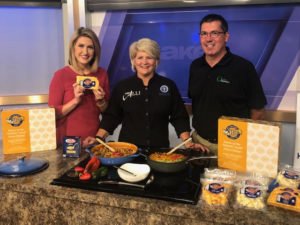 This is a sponsored recipe post, paid for by From the Land of Kansas, the state trademark program that promotes and celebrates agricultural experiences and products that are grown, raised or produced in Kansas. Visit their website for more information! Our featured guest and member business for this televised segment on Good Morning KAKEland and recipe post is Shon Hansen, of Alma Creamery, Alma, KS. All opinions expressed are my very own.