Who loves a breakfast treat that can walk out the door with you?? We sure do. And since my family is always on the run, these Pop-And-Go Instant Pot Egg Bites are a super tasty hand-held egg snack that can go right along with them.
Pop-And-Go Instant Pot Egg Bites Recipe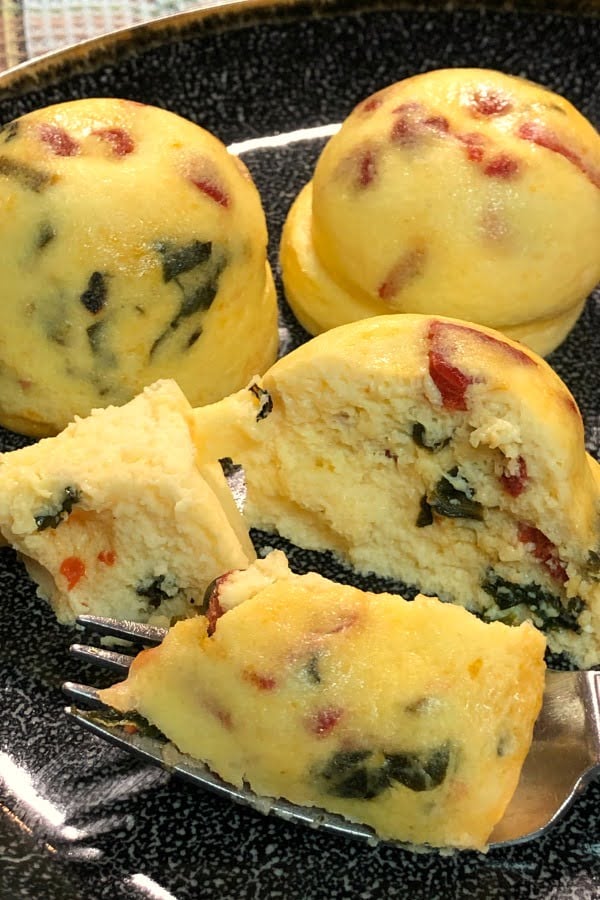 Howdy. Chef Alli Here! Let's Get You Cookin' …..Shall We?? 🙂
I adore these Pop-And-Go Instant Pot Egg Bites. When I first learned about them, I have to admit that I was worried they might be all hype. Boy, was I WRONG!!
I don't know about you, but sometimes I get tired of boring ole hard-boiled eggs as a snack. When I first made egg bites in my Instant Pot I was super excited to see how flavorful they are. We ate the entire batch of 6 almost immediately and there was only 2 of us home at the time.
They say variety is the spice of life. When it comes to these Pop-And-Go Instant Pot Egg Bites variety definitely applies – you can customize them with a wide array of your favorite ingredients and cheeses, and the sky is the limit!
You could add leftover caramelized onions, chopped baby kale, broccoli, scallions, bell peppers, sharp cheddar, Parmesan….not to mention all kinds of leftover cooked meats like smoked salmon, grilled steak, shredded chicken, pulled pork. Are you getting the picture??
Are Instant Pot egg bites the same as Starbuck's Egg Bites?
The ingredients and cooking method vary a bit, but technically they are the same thing – yes!
What Ingredients Will I Need to Make Egg Bites?
Butter, spinach, roasted red peppers. Butter is a flavorful fat for sauteing the spinach and roasted red peppers which provide the aromatics for these Pop-And-Go Instant Pot Egg Bites.
Large eggs. I love using farm fresh eggs that my Egg Lady (I LOVE my Egg Lady!) delivers to me – the yolks are such a beautiful orange color and the eggs have such a rich flavor. However, sometimes her "GURLS" aren't laying as many eggs as they should be, so I have to fill in with store-bought eggs and guess what? They work just GREAT!
Shredded cheese. I used smoked Gouda in this recipe, but feel free to substitute which ever cheese you prefer or have on hand.
Cottage cheese. Here's where two things come into play: extra protein and good texture. You can use any type of cottage cheese you prefer – lard curd, small curd, low fat, full fat, etc.
Heavy cream. Also, known as whipping cream, this adds creaminess to your egg bites. (In a pinch, I have used milk instead of whipping cream and it does work, but it definitely affects the final product experience. Opt for the cream!)
Granulated Onion. Much like onion powder, granulated onion provides additional flavor for these egg bites. I prefer keeping granulated onion and granulated garlic in my spice cupboard in case I don't have time to chop an onion (or don't even have one!) or crush fresh garlic.
What Tools Will I Need to Make Egg Bites?
Trivet, Instant Pot, silicone egg bite molds, and a food processor or blender. These are the tools you'll be needing to make Cheesy-Bacon Egg Bites. If you're stacking two molds into the
6-quart Instant Pot (or any electric pressure cooker that's 6 quart in size) you'll want a thin trivet or your molds will be above the 2/3 mark and sometimes your Instant Pot can't pressurize if your pot is past that 2/3 mark. I use the metal trivet that came with my Instant Pot, and it's just like this one. As for the silicone egg bite molds, the options are limitless! These are the egg bite molds I use all the time.
And, I don't have a blender, but I use my food processor at least 2-3 times a week. Yes, this will be a big investment for your kitchen, and know going in that if you purchase a good brand (such as Kitchen Aid or Cuisinart or the like) you are going to have this small appliance for a lifetime, finding endless ways to use it.
Easy Recipe Tips for Making Your Favorite Egg Bites in the Instant Pot
Can I make egg bites in advance of when I want to serve them? Yes, and I do this all the time! Since there's 5 of us always scavenging for something to eat, we can go through a couple dozen egg bites in a big hurry!

I like to make 12 egg bites at once in my Instant Pot, so I fill and stack 2 egg bite molds in my Instant Pot every time I make a batch. And, because you can make each batch in just 8 minutes, I make several batches back-to-back so I can keep my fridge stocked.

How should I reheat the egg bites?I always use the microwave, but if you've got an air fryer, you could definitely reheat the egg bites in there for a few minutes, as well.
Can I customize my egg bites? Heck yes!! I really like it that I can make a VARIETY of egg bites, and super easily, at that. Any cooked meat can be added to the egg mixture – we usually use cooked and crumbled sausage, ham, or bacon, but you could also add chopped steak, salmon, or shredded pork just as easily.I've found it's a great way to use up small amounts of leftover grilled meat that's not really enough to serve as a meal.
But what if I want vegetarian egg bites?Go for it. Your vegetable options for egg bites are endless! This recipe features roasted red peppers and fresh baby spinach with smoked Gouda cheese, but what about artichokes with Asiago or Parmesan, or Swiss chard paired with Fontina cheese? I think broccoli, pimento and cheddar together sounds darn good too. Use what ya got!


Other Breakfast Recipes You May Enjoy –
If you're new to Instant Pot cooking, you may find our Instant Pot Free Printables helpful, and also our Instant Pot Guide for Beginners. Print these off and secure them to the inside of a cupboard door for quick reference when you're needing help with what's cookin' in your Instant Pot!
Printable Pop-And-Go Egg Bites Recipe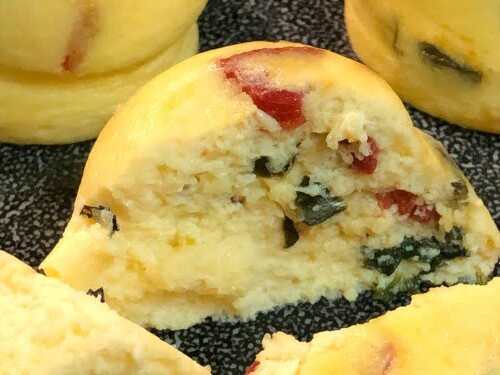 Instant Pot Pop-and-Go Egg Bites
Who loves a breakfast treat that can walk out the door with you?? We sure do.  And since my family is always on the run, these Pop-And-Go Instant Pot Egg Bites are a super tasty hand-held egg snack that can go right along with them.
Print
Pin
Rate
Ingredients
1-2

Tbs.

unsalted butter

1

cup

fresh spinach

1/3

cup

fire roasted red peppers, diced

7

large eggs, beaten

6

oz.

smoked gouda cheese, shredded

1

cup

cottage cheese

4

Tbs.

heavy cream

1

tsp.

granulated onion onion

½

tsp.

kosher salt
Instructions
Add 1 cup of water to the Instant pot.

Using the sauté setting on your Instant Pot, add the butter. When the butter is sizzling, add the spinach and red peppers and saute for 1 minute; turn off the Instant Pot.

Spray both of the silicone egg bite molds with non-stick cooking spray, then spoon the prepared spinach/red pepper mixture into the bottom of each egg bite cup.

In a mixing bowl, mix the eggs, Gouda cheese, cottage cheese, heavy cream, granulated onion, and salt until well combined.

Pour the prepared egg mixture into each egg bite cup, filling each one about 2/3 full. Using a small spoon, mix the ingredients in each cup.

Cover the egg bite mold very tightly with the silicone lid or aluminum foil; repeat with the second mold.

Stack both of the egg bite molds on top of each other, then place them on top of a foil or silicone sling.

Add trivet to the bottom of the Instant Pot. Using the foil or silicone sling, lift the filled egg bite molds, lowering them into the Instant Pot, placing them on top of the trivet.

Lock the Instant Pot lid into place. Choose High Pressure for 8 minutes, bringing the Instant Pot to full pressure.

When the timer sounds, perform a quick release to remove all pressure from the Instant Pot.

Use the sling to lift the egg bite mold from the Instant Pot. Remove the foil and let the egg bites stand for 5-10 minutes to cool a bit.

Gently invert the molds onto a platter so the egg bites can slide out. Serve at once, or let the egg bites cool completely, then refrigerate and reheat as needed.
Notes
**If you are stacking 2 egg bite molds into the Instant Pot at once, add 1 minute to the cooking time.   
**Please note:  the cooking time stated for this recipe does not include the time required to bring the Instant Pot up to pressure since this can vary. This recipe was made using a 6-quart Instant Pot. 
Nutrition
Calories:
133
kcal
|
Carbohydrates:
2
g
|
Protein:
9
g
|
Fat:
10
g
|
Saturated Fat:
5
g
|
Cholesterol:
124
mg
|
Sodium:
353
mg
|
Potassium:
98
mg
|
Fiber:
1
g
|
Sugar:
1
g
|
Vitamin A:
600
IU
|
Vitamin C:
3
mg
|
Calcium:
137
mg
|
Iron:
1
mg
We love hearing from our readers and followers, so leave us a comment if you'd like. If you don't hear back from us shortly, know that we may not have seen your comment. Feel free to reach out to us by email: [email protected].
Let's Get You Cookin',
Chef Alli
Please Note: We do use referral and affiliate links here for products and services that Chef Alli loves and recommends. If you click on a link and make a purchase, I may receive a small commission at no extra cost to you. For more information, please read my disclaimer here.