THE BEST chocolate chip muffin recipe in the land is this Super Moist Chocolate Chocolate-Chip Muffins. These moist and chocolate-y muffins are all that one longs for in a muffin.
With a rich and moist chocolate base infused with an abundance of decadent chocolate chips, these easy chocolate chip muffins are a chocoholic's dream.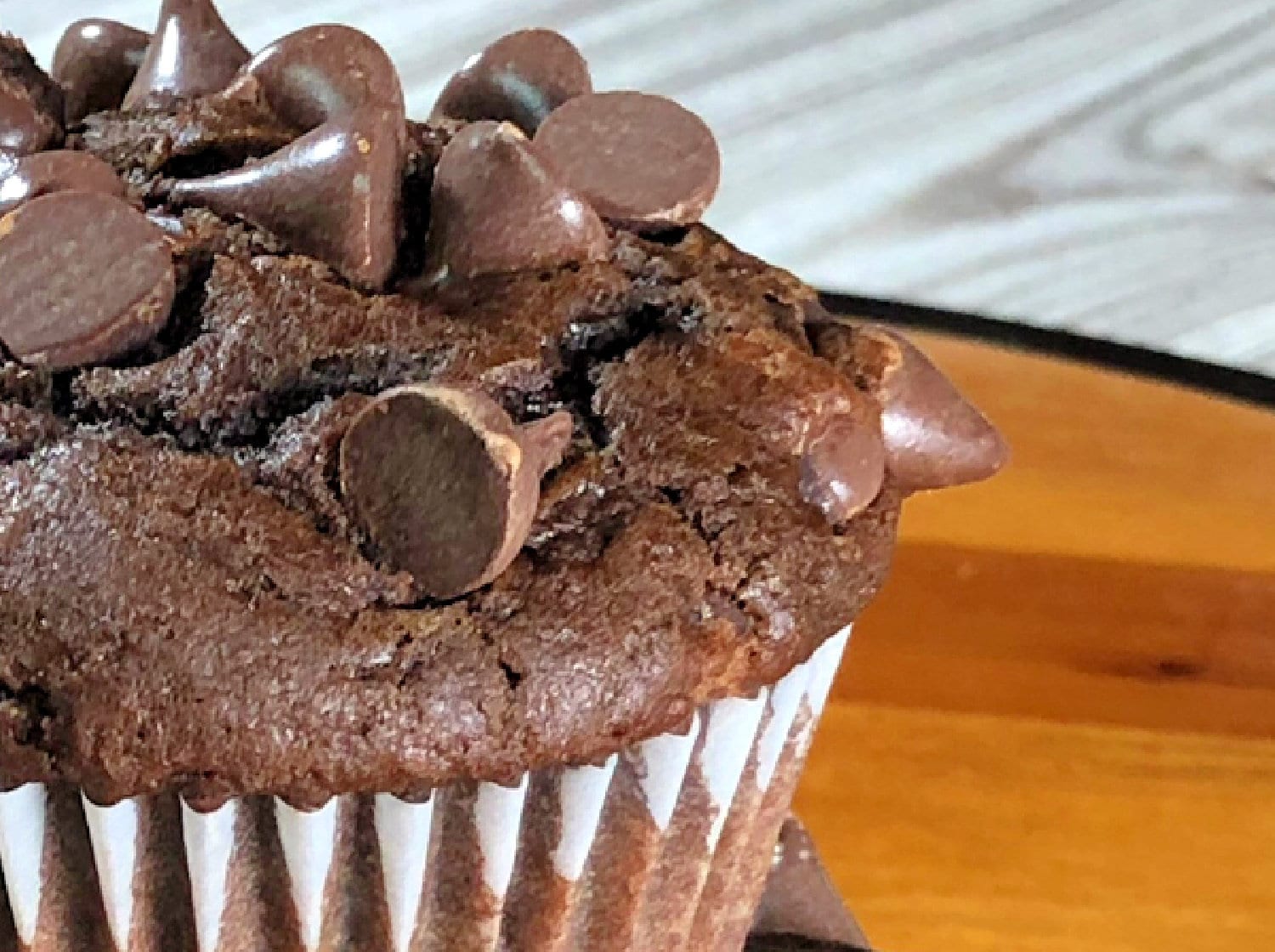 The Ultimate Chocolate Chocolate-Chip Muffin Recipe
We love all things breakfast at my house and for absolutely any meal, any time of the day. Chocolate Chocolate-Chip Muffins as a midnight snack? You bet.
I love taking these bakery-style chocolate chip muffins to family and church gatherings. They also make sweet blessings for teachers, coworkers, and classrooms! Need more? Double the batch.
How to Make the Best Bakery Style Chocolate Chip Muffins
If you love chocolate, these Moist Chocolate Chip Muffins MUST be in your recipe box.
I love all things chocolate, and there's something specially yummy about chocolate muffins that are warm from the oven, all ooey-gooey, and dotted with melted chocolate chips.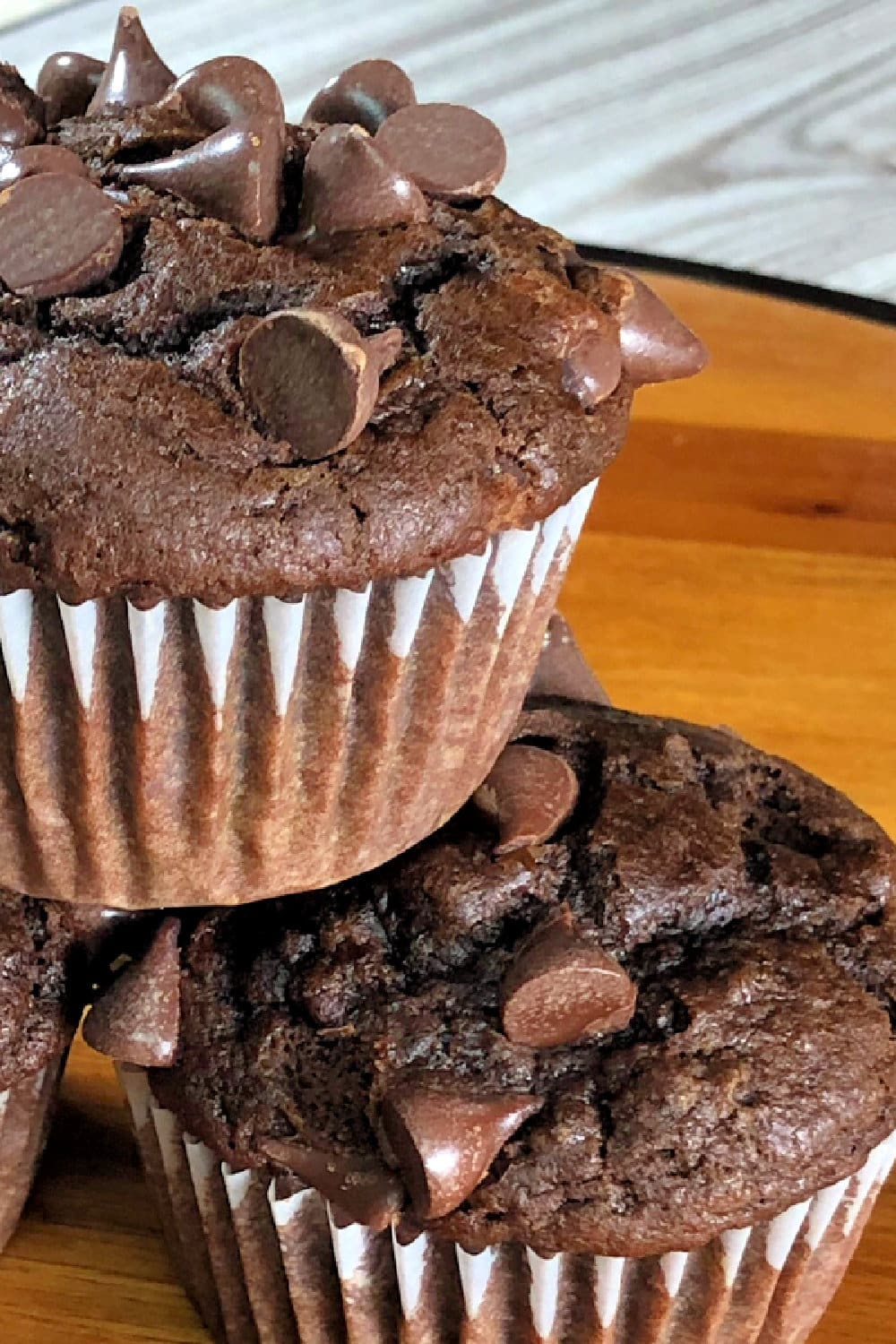 So many of you have reached out to share how much you've enjoyed this easy muffin recipe:
Tammy says: "This is the second time I'm using this recipe. It's easy & quick. Muffins are moist & delicious. Always double the recipe b/c they don't last long."
Dallas says: "First time I've ever reviewed a recipe and I've been making these every month for about a year and they are amazing!! Kid & husband approved!"
Sara says: "Made this muffin recipe today and it's soooo delicious. Even my husband liked it and he's not very keen on chocolate."
Reggie says: " These are really easy to make, and absolutely yummy to eat!"
So What's the Secret to Moist Chocolate Chocolate-Chip Muffins?
First: Applesauce! In addition to milk, oil, and eggs, adding applesauce to this muffin batter provides an extra punch of moisture to the recipe.
Applesauce also adds a touch of sweetness so your chocolate-chip muffins are the perfect level of sweet and the perfect kind of moist. No more crumbly muffins….ever!
Secondly: Be sure to cover the muffin pan with a sheet of foil once you remove the muffins from from the oven.
My Grandma Lucille showed me how to do this with cakes that are hot from the oven and I've always done this with my muffins, as well. Such a great kitchen hack!
Ingredients in Moist Chocolate Chip Muffins
Flour, baking soda, salt: Flour creates the foundation of your muffins, providing a nice thick batter that holds up your chocolate chips within each muffin. Baking sodas gives the lift to your muffins and salt adds flavor.
Granulated sugar, dark brown sugar, vanilla extract: Sweetness. I really like the depth that the dark brown sugar adds to the flavors in these muffins, too. Vanilla extract adds more flavor.
Chocolate chips and cocoa powder. Here's what provides your FIX. 🙂
Oil, milk, applesauce, eggs. These ingredients produce a moist, tender muffin. If you prefer, you could do half oil and half melted butter to add more flavor.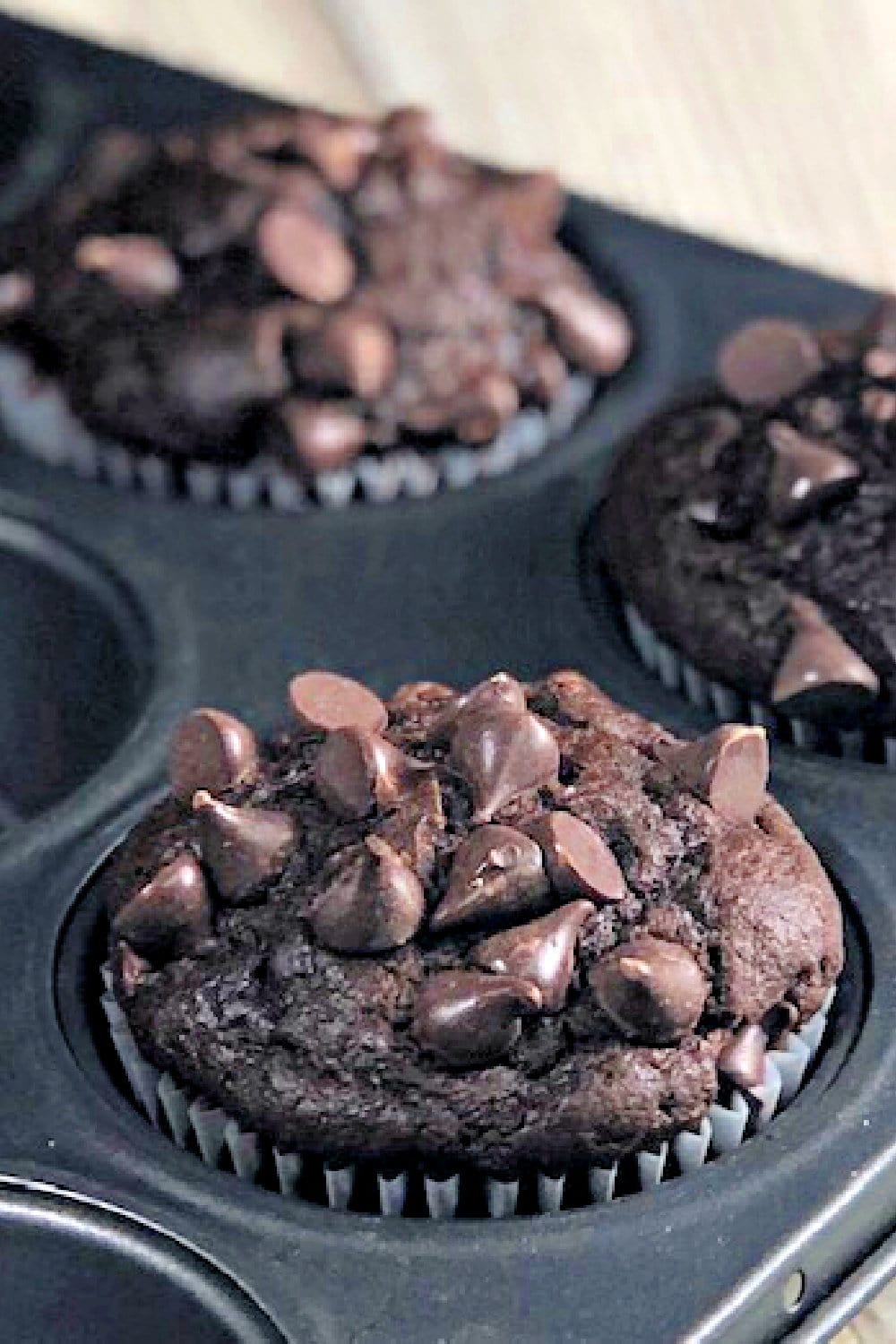 Recipe Tips for Making Super Moist Chocolate Chip Muffins
Can I make these muffins into mini chocolate chip muffins?
Want to eat these muffins guilt-free? Make mini-muffins instead in this mini-muffin pan.
Substitute a bag of mini-chocolate chips in place of the regular-sized chocolate chip bag. No matter how you bake them, these muffins taste as good as they look every time!
Do I need to adjust the baking time if I make mini-muffins instead of full-size muffins with this recipe?
Yes. Reduce the baking time to 12-15 minutes for mini muffins. You could also make 6 large muffins with this recipe – in this case, increase the baking time to 25-28 minutes.
The recipe instructs to barely combine the muffin batter when adding in the dry ingredients. Why does this matter?
Over-mixing the batter for muffins can cause them to be tough and chewy. Gently mix the ingredients together just until they have incorporated yielding the light and tender texture we love in a muffin.
Can I use different flavors of chips in my chocolate muffins?
Surely! We've used different chips in these muffins – peanut butter, chocolate mint, butterscotch, and white chocolate chip. It might even be fun to add cinnamon chips to the batter during the holidays.
To save calories and fat, can I substitute more applesauce instead of the oil in this recipe?
You can, but it will affect the outcome. I've tried this in the past, and it works pretty well but changes the texture and structure of the muffin.
I've found that I'd rather eat just ONE good, satisfying-ly moist, and yummy muffin instead of TWO just so-so muffins.
Can I freeze these muffins?
Absolutely and they freeze great. I like doubling up on this recipe and making 2-3 batches simultaneously.
Once baked and completely cooled, I place them into airtight containers and store them in the freezer.
When I have leftover batter to bake just a few more muffins in the 12-count muffin pan, is there anything I need to know?
Fill the muffin cups with the remaining batter from your bowl. Next, fill each one of the empty cups in the muffin pan about half full of water. Yes – you will be "baking water".
The water keeps from ruining your muffin pan by baking with empty cups.

More Easy Breakfast Recipes to Enjoy
And to prove how much we enjoy breakfast foods around here, you can check out all my breakfast recipes right here. Whether it's Creamed Eggs on Toast, Jan's Sausage, Egg and Cheese Breakfast Casserole, or Ham and Cheddar Quiche, my family is on board with breakfast.
It seems as though my family has leaned more towards savory breakfast recipes, but that's not always the case. We do really enjoy sweets for breakfast as well – Homemade Jumbo Cinnamon Rolls, Cherry Pecan Banana Bread, Cherry Cream Cheese Danish…just to name a few.
And do give these Cherry Pecan Banana Muffins a try. They are another family favorite and such a great recipe for using up over-ripened bananas.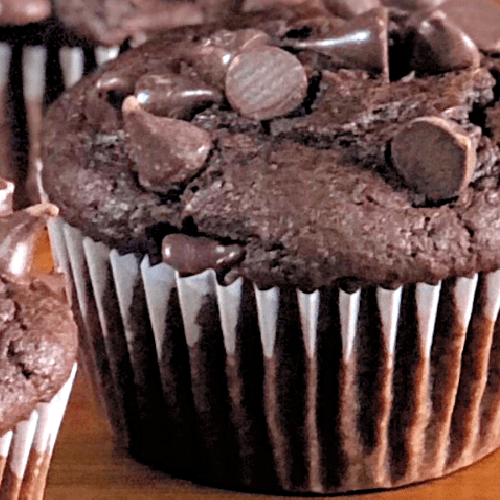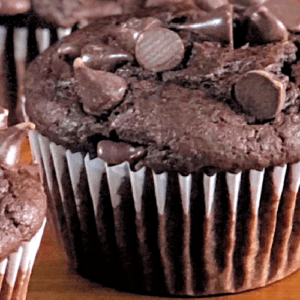 Super Moist Chocolate-Chip Muffins
THE BEST chocolate chip muffin recipe in the land is this Super Moist Chocolate Chocolate-Chip Muffins. These moist and chocolate-y muffins are all that one longs for in a muffin.
Print
Pin
Rate
Ingredients
2

cups

all-purpose flour

1

tsp.

baking soda

1/2

tsp.

salt

1/2

cup

granulated sugar

1/2

cup

packed dark brown sugar

1

cup

semi-sweet chocolate chips, divided use

1/2

cup

cocoa powder

1

tsp.

vanilla extract

1

egg

1

cup

applesauce

1/2

cup

milk

1/2

cup

oil

additional chocolate chips for topping the muffins, if desired
Instructions
Preheat oven to 350 degrees F. Grease 12 muffin cups or line 12 muffin cups with paper muffin liners.

**Use a muffin pan that makes 12 standard-size muffins and 12 standard-size cupcakes.

In a large mixing bowl, combine the flour, baking soda, salt, sugar, brown sugar, chocolate chips, and cocoa powder.

In a separate bowl, whisk together the vanilla, egg, applesauce, milk, and vegetable oil until smooth; pour into flour mixture and stir until the mixture is just combined. Don't over mix!

Divide the muffin batter between the 12 prepared muffin cups, filling each one about 2/3 full. If desired, sprinkle a few additional chocolate chips over the top of the muffins.

(You will have leftover batter at this point since the recipe makes approx. 15 total muffins.)

Bake muffins, uncovered, on center rack, in the preheated oven until a toothpick inserted into the center comes out clean, 20-23 minutes.

Remove the muffins from the oven, then loosely cover the muffin pan with a sheet of foil.

Let the muffins cool, covered, then loosen and remove each one from the muffin tin; store in an air tight container.

Cooled muffins can be placed in the freezer in an air tight container or wrapped in foil and placed into a large freezer bag.
Notes
Recipe Tips:
Don't over mix the batter so that your muffins are tender in texture.
Use other flavors of morsels to change-up the variety of these muffins.
Cover the muffins with foil when you remove them from the oven to force the heat and condensation down into the muffins. This makes them super moist!
These muffins freeze well. Double the recipe and have some for now and some for later.
If you opt to make mini muffins, reduce the baking time to 12-15 minutes. If making extra-large muffins, increase the baking time to 25-28 minutes. Muffins are done when a toothpick inserted into the center comes out clean – don't overbake.
Nutrition
Calories:
273
kcal
|
Carbohydrates:
37
g
|
Protein:
4
g
|
Fat:
13
g
|
Saturated Fat:
4
g
|
Cholesterol:
12
mg
|
Sodium:
166
mg
|
Potassium:
166
mg
|
Fiber:
3
g
|
Sugar:
20
g
|
Vitamin A:
40
IU
|
Vitamin C:
1
mg
|
Calcium:
31
mg
|
Iron:
2
mg