Pasta Fagioli is a classic Italian soup made with pasta, beans, ground beef, Italian sausage and a flavorful tomato broth. Pasta Fagioli translates to "pasta and beans", making perfect sense because this hearty soup is chock full of penne pasta and dark kidney beans. You will adore this easy one-pot dinner
Pasta Fagioli Recipe

Howdy! Chef Alli Here. Let's Get You Cookin'…. Shall We?? 🙂
We make huge pots of Pasta Fagioli during the winter months here in Kansas. Nothing comforts my soul more than a bowl of this warming, delicious Italian soup when the temperatures drop and the winds are blowin'.
Because winter can seem to hang on forever here in the Midwest, we eat soup a LOT. Just add some good, crusty bread and boom! Dinner's done.
Instant Pot Cheese Noodle Soup is creamy and luscious – we love the addition of broccoli, too. Ham and Corn Chowder has become another family favorite, made with chopped ham steak or leftover baked ham.
My family loves Mexican flavors, so I've got several Mexican-inspired recipes here on my blog. Tex Mex Corn Chowder has been a long-time fav, and so has Creamy Fiesta Chicken Soup.
White Chicken and Rice Chili and Rio Grande Ranch-Style Chili are both chilis that can be made in quickly and easily when you need dinner on the table in a hurry.
Which Ingredients Do You Need to Make This Traditional Italian Pasta Fagioli Soup?
If you can't find ground Italian sausage, did you know you can purchase Italian sausage links? All you'll have to do is cut open the casings and you find ground Italian sausage within. Or, you could even slice the sausage links and cook them like that for this pasta soup. That way, you'd have crumbled meat and also chunks of meat for a neat texture option.
We use lean ground beef, but you can use any type that you have on hand. If using a ground beef that's got a higher content of fat, just be sure you drain the fats after you brown it – the same goes for the ground Italian sausage. Too much undrained fat will make the pasta too greasy.
These are your aromatics and provide the foundation of this soup, giving it lots of flavor. If you don't have these fresh ingredients on hand, feel free to substitute dehydrated onion flakes (or granulated onion/onion powder) and granulated garlic/garlic powder. They will work just fine.
Dried Oregano Leaves and Dried Thyme Leaves
If you don't have these two spices on hand, you can always substitute Italian seasoning blend. Make sure you add both of these spices to the ground meats as you're browning them, just as the recipe directs. The heat will amplify the flavor of the spices, causing them to release more of their essence….a good thing!
I like petite diced tomatoes when I can find them – the chunks of tomato are much smaller. Italian diced tomatoes are canned tomatoes that have Italian seasonings added to them. You could also use fresh tomatoes in place of the canned tomatoes, if preferred.
The beans are what makes this Italian soup the traditional version. However, if your family just detests beans, you can certainly opt out of them.
Here's where you get the liquid part of the soup. The broth adds a lot more flavor than plain water would. If you don't have beef broth, you could certainly substitute chicken broth or even vegetable broth.
This ingredient adds richness and depth to this soup, especially if you take the time to brown the tomato paste. This is an easy task and just takes a few minutes. All you need to do is cook the tomato paste over low to medium-low heat until it turns from bright red in color to a brownish- red. This is a totally worthwhile step!
Red pepper flakes, salt and pepper
If your family likes a bit of spiciness, go for the red pepper flakes addition to the soup. If not, opt out and don't worry about it at all. Season the soup to taste when adding the salt and pepper.
Fresh Italian parsley gives a bit of peppery flavor when added to this pasta. It also gives a nice addition of color.
I prefer to use mini penne pasta when making Pasta Fagioli, but sometimes I have to use just the regular (larger) size of penne pasta – either one works just great. And, you can truly use any small pasta you have on hand. Be sure to cook the pasta just to the al dente stage so it's got a bit of bite to it and isn't all mushy because it's overcooked. I usually cook my pasta in chicken broth or vegetable broth instead of water to add more flavor to the pasta.
You can used grated Parmesan as a garnishment for this pasta/soup, or top with fresh Parmesan. I like to use a peeler on my block of Parmesan to peel off nice wide strips – so yummy.
Easy and Helpful Recipe Tips for Making Pasta Fagioli Soup
What if I don't have penne pasata on hand? Can I substitute another pasta?
Totally. You can actually substitute nearly ANY small pasta that you've got on hand – rotini, macaroni, rigatoni, whatever you have on hand is what I always say. I've made lots of pasta substitutions over the years and this still turns out to the best pasta fagioli recipe ever! Also, I noticed that when I used rotini pasta once, the sauce really clung to the pasta better because it could get down into the grooves. YUM.
Why does the recipe instruct me to brown the tomato paste once it's added to the ground meats?
Browning the tomato paste any time you use it in just about ANY recipe is always a worthwhile step if you've got the time to do so. This browning of the tomato paste gives it lots of depth, adding another flavor layer making this pasta nice and rich. You want the tomato paste to turn from bright red in color to a reddish brown.
This recipe calls for both sausage and beef. Do I have to use both?
Not at all. I use whatever I have the most of in my freezer at the time and you can, too. We often make this traditional Pasta Fagioli recipe with all beef or all Italian sausage and it's totally delicious. Using both meats just gives you both flavor profiles within the soup.
What kind of pot should I use for making Pasta Fagioli?
I like to use my big ole Lodge Cast Iron Dutch Oven, but you can use any kind of large pot for simmering this soup.
My kids aren't big fans of kidney beans. Can I leave these out of the pasta fagioli, if needed?
Sure. But then it's not TRADITIONAL pasta fagioli…..just sayin'. 🙂
Will the pasta wind up absorbing a lot of the broth when I make this soup?
Yes, and I'm so glad you asked this question! I often keep my cooked penne pasta separate from the rest of the soup so that it can't absorb so much of the liquid. To serve, reheat the cooked penne pasta and place it into the bottom of your serving bowls, then ladle the hot soup over the pasta then garnish with parsley and parmesan.

Other Pasta Recipes to Enjoy –
Printable Pasta Fagioli Recipe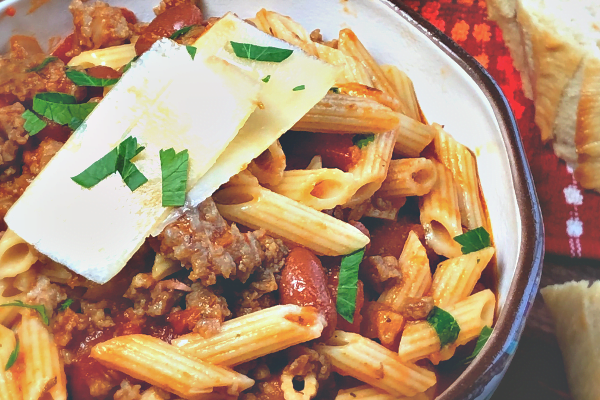 Pasta Fagioli
We make huge pots of this Pasta Fagioli during the cold weather months here in Kansas. There's truly not one thing that comforts my soul more than a bowl of this warming, delicious Italian soup.  #soup #Italian #OnePot #beef #sausage #pasta #comfortfood 


Print
Pin
Rate
Ingredients
½

lb.

Italian sausage, crumbled (or use regular pork sausage and add 1 tsp. Italian seasonings in addition to spices listed below)

½

lb.

lean ground beef, crumbled

½

onion, diced

2

cloves

garlic, minced or crushed

1

tsp.

dried oregano

1

tsp.

dried thyme

28

oz.

Italian diced tomatoes, undrained

14

oz.

can dark kidney beans, drained and rinsed

2

cups

beef broth

2

Tbs.

tomato paste

1/8 - 1/4

tsp.

red pepper flakes

1/8

cup

freshly minced parsley (or sub 1 tsp. dried parsley)

Kosher salt and freshly ground pepper, to taste

½

lb.

penne pasta, cooked according to pkg. directions, drained and reserved

Parmesan cheese, freshly shredded (may substitute grated Parmesan, if desired)
Instructions
Sauté the sausage, ground beef, onion, garlic, oregano, and thyme in a heavy Dutch oven over medium high heat until the meats are nicely browned and cooked throughout, crumbling them as they cook; drain any fats that accumulate. . 

Add the tomato paste to the meat mixture and cook over medium heat until the tomato paste has turned from bright red in color to a rather dull, brownish-red color. 

Stir in the tomatoes with their juice, the rinsed and drained kidney beans, broth, and red pepper flakes; season to taste with kosher salt and pepper. Simmer the soup over medium low heat for 25-30 minutes, adding more beef broth if needed, until the soup is a nice consistency.

To serve, place the warm, cooked penne pasta into serving bowls, topping the pasta with the prepared soup; garnish with Italian parsley and Parmesan. *If desired, the cooked pasta can be stirred right into the soup, but be aware that the pasta will absorb a lot of the broth if you do so.
We love hearing from our readers and followers, so leave us a comment if you'd like. And, if you don't hear back from us shortly, know that we may not have seen your comment. Feel free to reach out to us by email: [email protected]
Let's Get You Cookin'
Chef Alli
Please Note: We do use referral links for products and services that Chef Alli loves and recommends.