We can't get enough of these Tortilla Brat Wraps. Warm flour tortillas filled with perfectly seasoned sauerkraut then stuffed with grilled brats, a bit of mustard and shredded Swiss cheese. Talk about tasty Football Friday food.
Tortilla Brat Wraps Recipe

.
Howdy! Chef Alli Here. Let's Get You Cookin'…Shall We?? 🙂
If I've heard it once, I've heard it at least 100 times: "I do NOT like sauerkraut." It seems there's no in between – you either love it or you hate it. But actually, what I've come to know is that when people say they don't like sauerkraut, it's because they've never had sauerkraut that's seasoned and cooked properly! NOBODY likes limp, soggy sauerkraut and it certainly wasn't intended to be served as such.
Try the technique laid out in the recipe (below) to get perfectly seasoned and cooked sauerkraut that is absolutely delicious. This step makes ALL the difference in how you experience sauerkraut!
What Ingredients Will I Need to Make Tortilla Brat Wraps??
You can use any type of preferred brat in this recipe, as long as it's pre-cooked before using it to create the brat wrap. That said, you can purchase raw brats and cook them yourself in the method of your preference, OR you can do like I like to do and purchase fully-cooked brats that can simply and quickly be grilled for a nice crisp and brown exterior (while also fully heating the interior) of each brat as it cooks.
You can use any kind or brand of sauerkraut that you prefer – either jarred or canned. Definitely drain the sauerkraut well and then, if it's a type of sauerkraut that's packed in vinegar, give it a good rinse, draining it well again.
Remember that good quality sauerkraut is packed in just water and salt, no vinegar involved. I am totally in love with
Hoganville Family Farms Sauerkraut
– it's super mild, packed only in salt and water, super crisp, and is a wonderful Kansas product.
Here's the aromatic that you'll be adding to the sauerkraut to provide the foundation of this dish. Feel free to substitute a white onion or even a red onion, if needed. The onions will get golden brown and tender as they cook with the sauerkraut.
Sugar, Salt, Red Pepper Flakes
These are the seasoning ingredients that are added to the sauerkraut and onions to give them some sweetness and a little bit of a kick!
I've found that 6-inch flour tortillas are the perfect serving size for making brat wraps, but if you prefer to use bigger flour tortillas that will hold more of all the ingredients, go for it!
Mustard and Shredded Swiss Cheese
These two ingredients give added flavors that really round out the brats and the sauerkraut mixture – use as much or as little as you prefer. I've also made these brat wraps with honey mustard, as well. My favorite mustard for these wraps, (and I'm totally addicted!) is
Sarah Jane's Jalapeno Mustard
. It only has a hint of jalapeno and is a bit sweet, too. It's perfect for the flavors of these wraps! And, it also makes delicious
Deviled Eggs,
too.
Easy and Helpful Recipe Tips for Making Tortilla Brat Wraps
Can I make these wraps with corn tortillas instead of flour tortillas?
That's a good question. You could definitely do so, but I've never tried it and I'm not totally sure that it would taste good. I'd brown the corn tortillas a bit first. However, if you need a gluten-free option, that's definitely a route you could go.
I've never heard of adding sugar to sauerkraut. This seems odd. What's the purpose of the sugar?
I'm glad you asked! I know this seems a bit odd, but sauerkraut that's packed in vinegar (and many of them are) they can be rather acidic, even once it's rinsed. The sugar cuts the acidity, making the sauerkraut more mellow. The addition of the red pepper flakes and salt, rounds out the sauerkraut – totally delicious!
How do I know when my sauerkraut is fully cooked and ready?
When there's no moisture in the bottom of your pan and the sauerkraut actually appears almost "dried out". Give it a taste test to see – that's the best way, I've discovered. If there's a lot of moisture content when you chew, you'll need to cook it a bit longer. Any juices left in the pan can make the brat wrap seem soggy, also making them hard to eat!

More Favorite Recipes to Enjoy –



Printable Tortilla Brat Wraps Recipe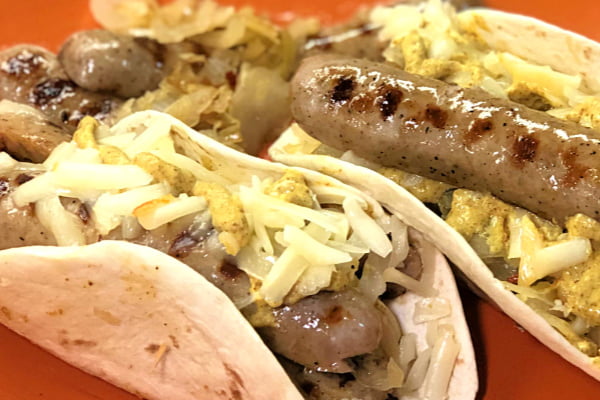 Tortilla Brat Wraps
Then there's this! We can't get enough of these Tortilla Brat Wraps.  Warm flour tortillas filled with perfectly seasoned sauerkraut then stuffed with grilled brats, a bit of mustard and shredded Swiss cheese. Talk about tasty Football Friday food - everyone at your party will be gorging on these wraps, then begging for the recipe. #Brats #Wraps #FootballFriday #Tailgate #WatchParty #Sauerkraut #Easy #Grill
Print
Pin
Rate
Ingredients
4

fully cooked brats, such as Johnsonville Precooked Stadium Brats, grilled and split in half lengthwise

1

yellow onion, sliced

1-2

tsp.

canola oil

14

oz.

can or jar of sauerkraut, we prefer Hoganville Family Farms Sauerkraut, drained (no need to rinse since it's packed in water, no vinegar added)

2

Tbs.

granulated sugar

1/2

tsp.

kosher salt

1/4 - 1/2  

tsp.

crushed red pepper flakes

4

flour tortillas, 6" or 8" in size, warm

1/2

cup

your favorite mustard, for drizzling over the brats, we prefer Sarah Jane's Jalapeno Mustard

1/2

cup

shredded Swiss cheese, for garnishing each wrap
Instructions
In a large saute pan, sauté onions in oil over medium heat until softened and translucent, approx. 15-20 minutes; stir in the drained sauerkraut, sugar, salt, and red pepper flakes and combine. Cook the sauerkraut mixture until all the moisture has cooked out of the ingredients in the saute pan.

Divide the warm prepared sauerkraut mixture into fourths, placing each fourth down the center of each flour tortilla. Place two grilled brat halves on top of sauerkraut; drizzle a bit of mustard over the brats, then top with shredded Swiss.  Fold up brat wraps as best you can and dig in.
Nutrition
Calories:
455
kcal
|
Carbohydrates:
34
g
|
Protein:
18
g
|
Fat:
28
g
|
Saturated Fat:
10
g
|
Cholesterol:
61
mg
|
Sodium:
1416
mg
|
Potassium:
556
mg
|
Fiber:
5
g
|
Sugar:
12
g
|
Vitamin A:
505
IU
|
Vitamin C:
39
mg
|
Calcium:
224
mg
|
Iron:
3
mg
We love hearing from our readers and followers, so leave us a comment if you'd like. If you don't hear back from us shortly, know that we may not have seen your comment. Feel free to reach out to us by email: [email protected].
LET'S GET YOU COOKIN',
CHEF ALLI
Please Note: We do use referral and affiliate links here for products and services that Chef Alli loves and recommends. If you click on a link and make a purchase, I may receive a small commission at no extra cost to you. For more information, please read my disclaimer and privacy policy.