Neapolitan Cheesecake Brownies
I'm always on the lookout for a rich and fudge-y chocolate brownie, and these Neapolitan Cheesecake Brownies are exactly that! Dark chocolate brownies (made from a box mix) are topped with a cheesecake filling, melted marshmallows and a luscious chocolate frosting.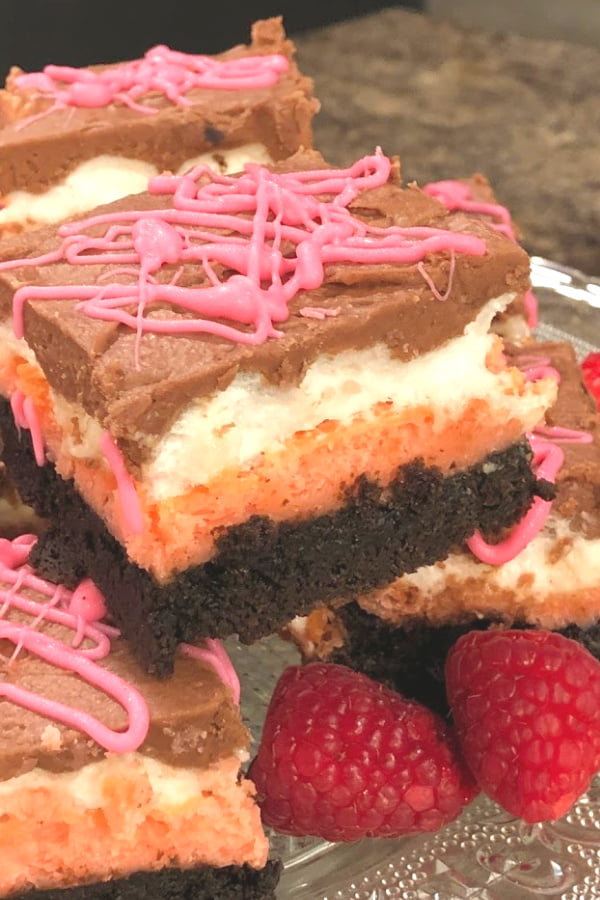 PLEASE NOTE: WE DO USE REFERRAL AND AFFILIATE LINKS FOR ITEMS CHEF ALLI LOVES AND RECOMMENDS
Howdy! Chef Alli Here. Let's Get You Cookin'……
Is there anything better than chocolate?? It seems my family never tires of it and to be honest, neither do I. Brownies are always at the top of the list, of course, but we also enjoy this chilled Dreamy Chocolate Dessert Trifle (especially during the summer!) and we like using our Instant Pot to make warm and oozing Chocolate Lava Cakes, too.
And if you'd like to enjoy some chocolate for breakfast, how about a nice batch of Super-Moist Chocolate Chocolate-Chip Muffins to start your day?
When we get a hankerin' for white chocolate, I like to make White Chocolate Strawberry Poke Cake, since it's a family favorite around here, along with Salted White Chocolate Crunch for those gatherings where a snack mix works well.
And what other chocolate goodies are we partial to? This yummy Pumpkin Pound Cake with Chocolate Chips and Cider Glaze ranks quite highly and who could forget a No-Bake Chocolate Butterfinger Pie?
Why This Recipe is a Keeper
These brownies turn out looking pretty fancy (like you slaved all day in the kitchen to prepare them), but in reality they are one of the easiest brownies to make.
I love it that the base is a simple brownie box mix that is embellished a bit by some substitutions that elevate the flavors of the brownies, such as butter in place of oil, strong coffee in place of water, and by adding a good splash of vanilla extract to the batter, too.
Due to the layering effect of these brownies they turn out looking pretty special and my guests have been delighted every time I've served them. They are yummy when paired with a steaming hot cup of coffee or mocha, and I especially enjoyed the dark chocolate paired with Ad Astra Dessert Wine from Wheat State Wine Co. of Winfield, Ks. Incredible!
It's also fun to customize these brownies by changing up the color of the drizzled chocolate over the top. I liked the pink drizzle since the brownies were paired and garnished with berries. (And wouldn't the pink be perfect for serving at a bridal or a baby shower?)
The cheesecake layer of these Neapolitan Cheesecake Brownies can also be customized depending on the theme of your gathering or even left as the original cheesecake color if you don't feel like messing with food coloring. And, you can certainly add flavorings to the cheesecake layer to switch things up a bit, too. Do what your creative heart desired!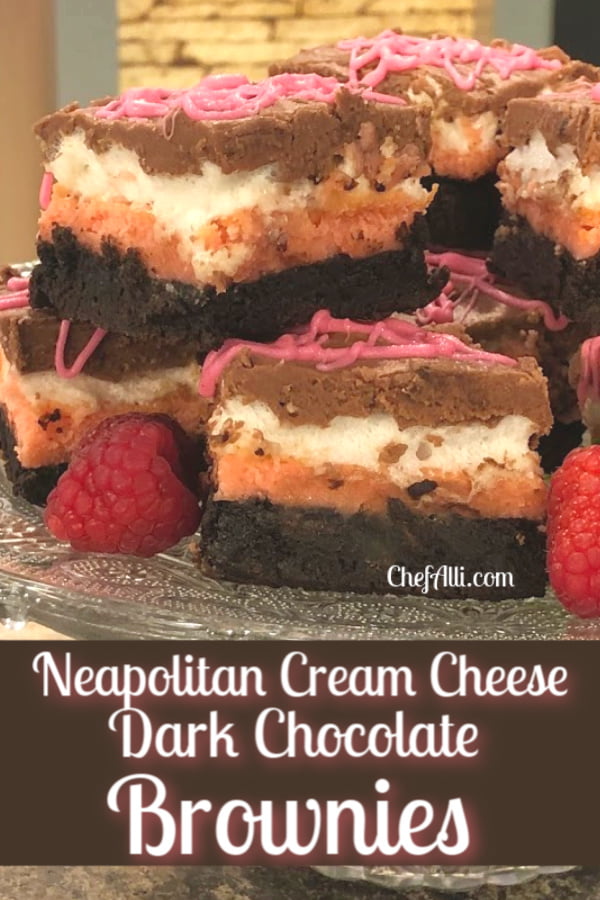 How to Make Neapolitan Cheesecake Brownies
Prepare the brownie mix according to the package directions, substituting melted butter for the oil, coffee for the water, and adding a splash of vanilla extract to the batter.
Spread the prepared brownie batter into a greased 9 x 13 pan.
Combine the cheesecake layer ingredients, spreading the mixture over the top of the brownie batter in the prepared pan; bake the brownies.
Once the brownies have baked, top them with the marshmallows, letting the brownies continue to bake for a couple of minutes. Remove the brownies from the oven to a cooling rack.
Meanwhile, prepare the frosting; once the brownies have cooled completely, gently spread the prepared frosting over the top.
Place the pan of brownies into refrigeration; when the brownies are fully chilled, cut them into 16 serving pieces.
Melt the candy melts, drizzling them over the top of each brownie. Garnish the brownies with whipped topping and fresh berries, as desired. Serve at once.
What Tools Are Helpful for Making Chocolate Cheesecake Brownies?
When using my hand-held mixer, I prefer a mixing bowl that is nice and deep so that my ingredients don't escape as I'm working.
A good silicone spoonula or spatula works really nicely for scraping down the sides of the mixing bowl and also for transferring the brownie batter and cheesecake filling from the bowl to the baking dish.
I also like to use a thin, wide spreader to make frosting the brownies easier, and when slicing the brownies into servings pieces, I've found using a bench scraper works best.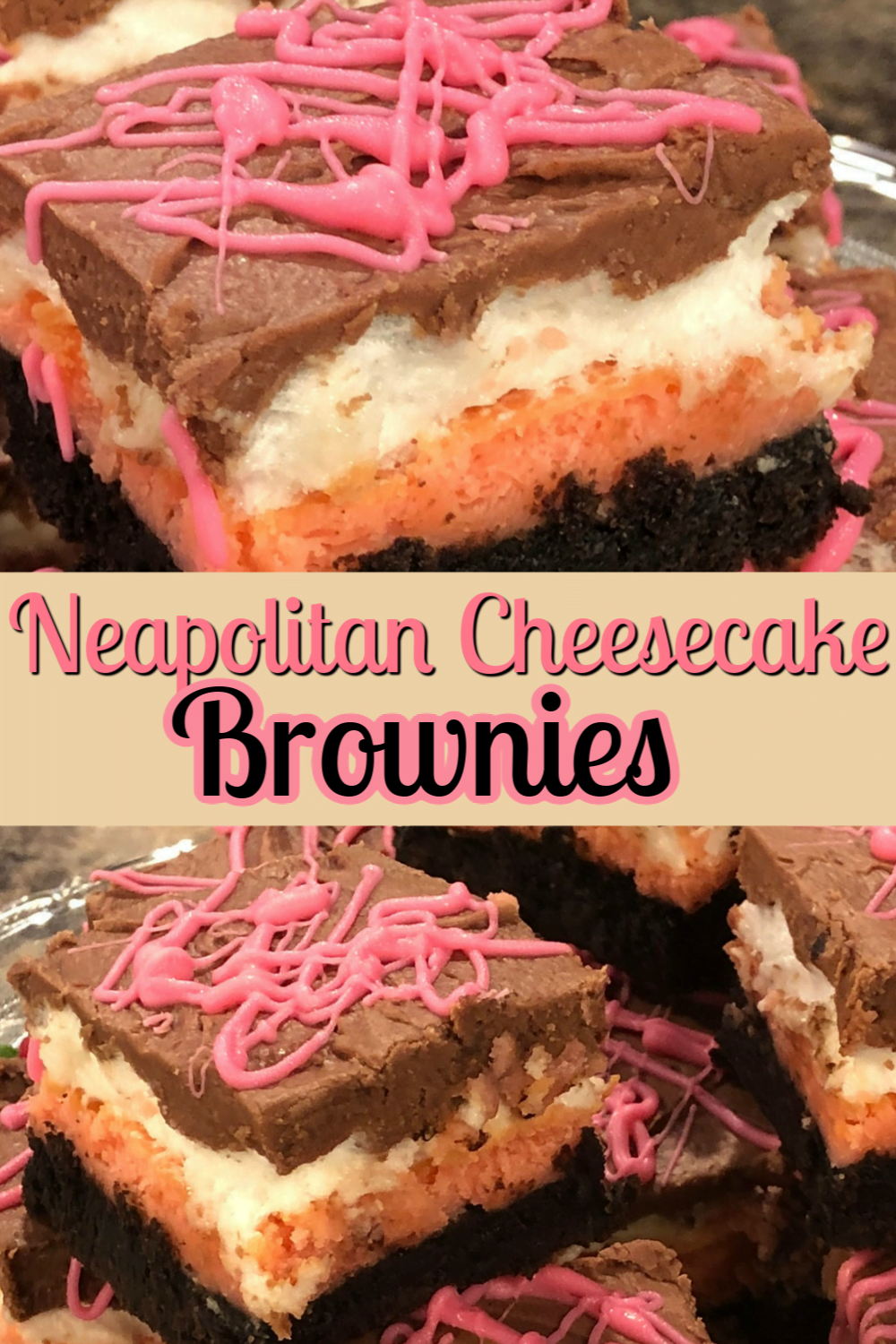 Easy Recipe Tips for Making Layered Cheesecake Brownies
Does it matter which brand of brownie mix I use and does it have to be dark chocolate?
You can use your favorite brand of brownie mix, just as long as it's one that makes enough for a 9 x 13 pan. For this recipe, we prefer the dark chocolate, but you can always use a milk chocolate brownie mix, instead.
Can I add flavorings to the cheesecake layer if I'd like?
Great question. I added food coloring to the cheesecake layer to give it contrast between the brownies and the marshmallows. Adding some raspberry or strawberry extract to the cheesecake filling would also be a nice touch. '
Can I make these brownies ahead? Do these brownies freeze well?
You can make these brownies 2 days ahead of when you want to serve them; store them in an airtight container. I've had great success in freezing these brownies, even after they've been drizzled with the chocolate melts. They will keep in the freezer for up to 6 months if tightly wrapped in foil then placed into a freezer bag.
What is the best way to soften cream cheese?
Cream cheese softens easily at room temperature within 2-3 hours. When I forget to let it soften ahead of time, I place my block(s) of cream cheese into the microwave using 30% power in 30 second blasts until it's soft to the touch.
What is the best way to melt chocolate without scorching it?
My favorite way to melt chocolate is in the microwave. Place the chocolate morsels in a small glass bowl; using 50% power, microwave the chocolate in 30-second intervals, stirring after each one until the chocolate is smooth and glossy.
If I only happen to have large marshmallows on hand (instead of the mini marshmallows), what can I do?
Great question and there's a quick and easy fix! Grab your kitchen shears and cut the large marshmallows into quarters, measuring out the 3 cups you need for the recipe as you go along. Ta-dah! Problem solved.
Looking for some Main Dishes when Serving These Neapolitan Cheesecake Brownies for Dessert? Here you go!
COUNTRY-FRIED STEAK FINGERS WITH CREAM GRAVY – Carnivores Unite! This easy recipe incorporates a reverse-cook method that transforms chewy beef minute-steaks into steak fingers that melt in your mouth.
BEEF AND CHEESE SANCHILADAS – a tasty Mexican favorite that's a cross between a sancho and a beef enchilada smothered with more enchilada sauce and topped with cheese.
INSTANT POT SAUSAGE, BACON AND POTATO SOUP – Here you go, folks – a super easy, super creamy, super tasty potato soup that can be made in one pot!
We love hearing from our readers and followers, so leave us a comment if you'd like. If you don't hear back from us shortly, know that we may not have seen your comment. Feel free to reach out to us by email: [email protected].
Let's Get You Cookin',
Chef Alli
This is a sponsored post paid for by From the Land of Kansas, the state trademark program that promotes and celebrates agricultural experiences and products that are grown, raised or produced in Kansas. Visit their website for more information! Our featured guest and member business for this televised segment on Good Morning KAKEland is Chris Tyler, of Wheat State Wine Co, Winfield, Ks. All opinions expressed within this post are my own.