This Dreamy Chocolate Dessert Trifle is layer upon layer of rich and creamy goodness, divided by cookie crumbs….what's not to like?? And, it's a dessert that makes a statement because it's so gorgeous.
#trifle #chocolate #creamy #dreamy #dessert


Please Note: We do use referral links for products and services that Chef Alli loves and recommends.
Howdy –
I can't wait for you to make this Dreamy Chocolate Dessert Trifle! The original version of this recipe had chunks of brownies between the pudding layers, but when I recently got ready to prepare the trifle, I realized I had forgotten to BAKE the brownies ahead of time. Yikes! So, in a pinch, I crushed some chocolate sandwich cookies I had on hand and guess what?! It worked perfectly! My family loves this version of the dessert and I'm glad to have a dessert I can make without much planning ahead required.
How to Make Dreamy Chocolate Dessert Trifle – An Easy, Quick and Beautiful Dessert
Chocolate Sandwich Cookies. This layer is what gives this dessert a bit of texture. I place the cookies into the bowl of my food processor and pulse them until they are crumbs. If you don't have a food processor, placing the cookies into a gallon bag and crushing them with your hands, a rolling pin or a mallet works great, too.
Whipped topping, instant pudding, sweetened condensed milk, cream cheese, and water. These ingredients are what make up the layers of the "creamy-ness" in this dessert. Don't get sweetened condensed milk confused with evaporated milk. They are always close to each other on the shelf at the grocer and it's easy to confuse one for the other, but they are VERY different ingredients. Sweetened condensed milk is super thick and very sweet. Evaporated milk, on the other hand, is processed milk that is concentrated due to having some of the liquid removed by an evaporation process…and it's delicious for making white sauces and cream gravy! And, yes, you may certainly use one-third-less-fat cream cheese and sugar-free pudding in this trifle – I do it all the time and it's totally yummy.


Easy Recipe Tips for Making Dreamy Chocolate Dessert Trifle
Can I vary the flavors of this trifle? Boy Howdy – yes! I love how versatile this dessert is. For Spring and Summer, I like to crush up lemon sandwich cookies, use lemon instant pudding, and add sliced strawberries or blueberries. In the fall, I often use gingersnap cookies and butterscotch pudding – so yummy! Feel free to be creative and substitute the flavors your family prefers.
Does it matter how I place the layers of filling into the trifle dish for this dessert? Not at all. You can layer them in there to your heart's content – however YOU think it looks GOOD!
What if I don't have trifle dish? No worries. Any deep serving bowl works just fine, especially if it's a clear glass bowl so you can display the layering in this recipe – so pretty.
Where can I find a trifle dish? Are they expensive? Here's the trifle dish I have. I use it so much for dessert and summer salads (especially this Delta Cornbread Salad!) that I had to get a second one. Luckily, they aren't expensive and I love how they show off whatever recipe I've created.
How long will this trifle keep in the fridge? Up to a couple days, easily. Just be warned that it's really hard to keep your spoon out of this dessert once you know it's in the fridge!
How far in advance should I make this dessert? This dessert is best served very chilled. That said, because it's a large dessert and made with dense ingredients, it takes quite a while to get in nice and cold in the fridge. I usually make this trifle in the early morning if I want to serve it that same evening, but feel free to make it even an entire day in advance.
It seems like this recipe makes a really big dessert trifle. If I want to make a smaller dessert, can I cut this recipe in half? You sure can, and it works just fine, other than you will have a half of can of sweetened condensed milk leftover, which isn't ideal unless you happen to use a lot of sweetened condensed milk and can incorporate it into another dish. I'd recommend just make the big batch, like the recipe instructs, dividing the dessert between two serving bowls. (One to eat and one to give away!)
More Favorite Dessert Recipes to Enjoy –
Printable Directions for Making Dreamy Chocolate Trifle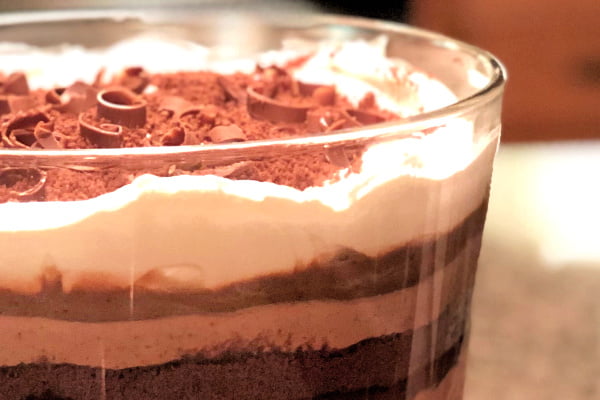 Dreamy Chocolate Dessert Trifle
This Dreamy Chocolate Dessert Trifle is layer upon layer of  rich and creamy goodness, divided by cookie crumbs....what's not to like?? And, it's a dessert that makes a statement because it's so gorgeous.

Print
Pin
Rate
Ingredients
20

chocolate sandwich cookies, crushed

2 - 8

oz.

containers whipped topping

3  - 3.9

oz.

packages chocolate instant pudding

1/2

cup

water

14

oz.

can sweetened condensed milk

4

oz.

cream cheese

3

cups

milk

1

chocolate bar, such as a Hershey bar
Instructions
In a large bowl, using an electric mixer, beat the softened cream cheese for 1 minute. In a separate bowl combine one package of the chocolate pudding with water; gradually whisk in the sweetened condensed milk. Now beat the chocolate pudding mixture, a little at a time, in the beaten cream cheese. Use a spatula to fold in one container of the whipped topping.

In a separate mixing bowl, combine the remaining 2 packages of chocolate pudding with the milk; whisk until smooth.

To assemble the trifle, place half of the chocolate pudding into the bottom of the trifle bowl; top with half of the chocolate cream cheese mixture; top with the chocolate cookie crumbs. Repeat the chocolate pudding and chocolate cream cheese filling layers again.

Spread the whipped topping over the top of the trifle as the last layer. Use a peeler to shave curls of the chocolate bar over the top of the whipped topping as garnish. Chill well before serving.
Nutrition
Calories:
398
kcal
|
Carbohydrates:
56
g
|
Protein:
7
g
|
Fat:
16
g
|
Saturated Fat:
9
g
|
Cholesterol:
28
mg
|
Sodium:
441
mg
|
Potassium:
338
mg
|
Fiber:
1
g
|
Sugar:
47
g
|
Vitamin A:
332
IU
|
Vitamin C:
1
mg
|
Calcium:
197
mg
|
Iron:
2
mg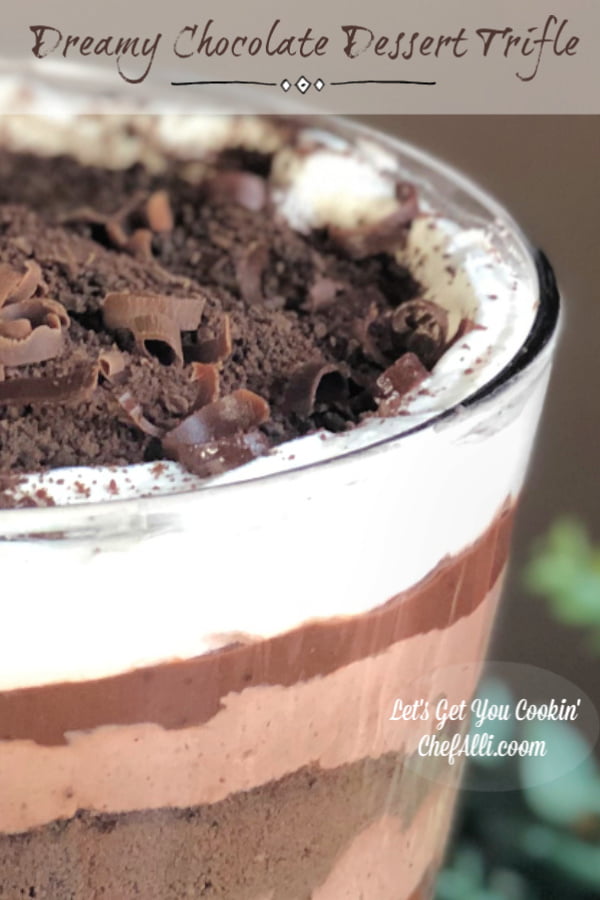 We love hearing from our readers and followers, so leave us a comment if you'd like. And, if you don't hear back from us shortly, know that we may not have seen your comment. Feel free to reach out to us by email: [email protected]
Let's Get You Cookin',
Chef Alli