So who knew??? I am totally amazed! You can make an Instant Pot Pumpkin Chocolate Chip Pound Cake with Cider Glaze right in your Instant Pot! Whaaaaat??? Cake baked in an Instant Pot??? Now that's pretty dang impressive.
And just wait until you taste it…yummy, dense, and moist – everything you desire in a pound cake. So don't walk to the kitchen, please run. You need this cake in your life.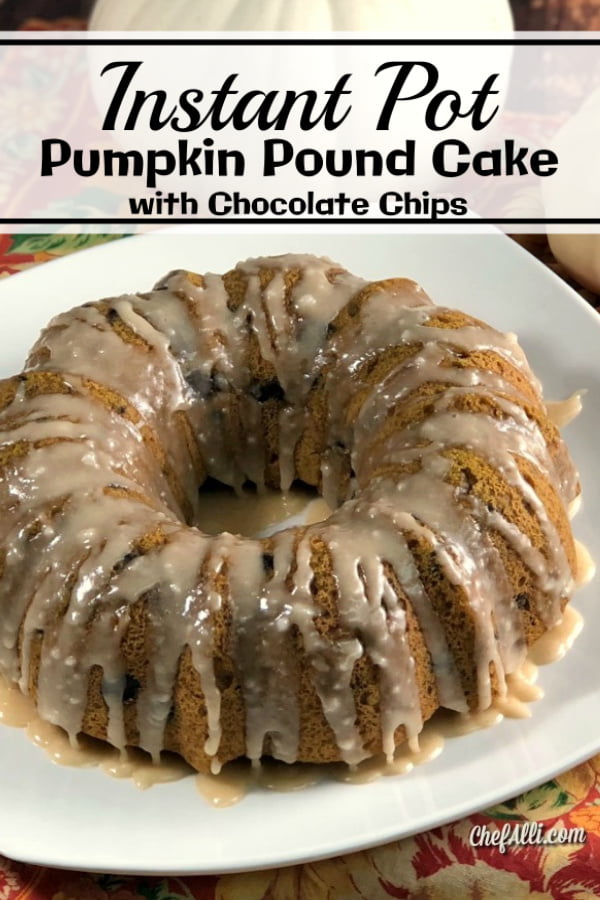 This recipe came to me by way of my friend, Laura Finson, a fabulous cook who always has the best recipes. I love how deliciously tender and moist this cake is – it melts in your mouth and is wonderful served with a big cup of freshly brewed coffee.
When Laura first mentioned this Instant Pot cake, I was a bit skeptical about pairing the chocolate chips with the pumpkin, for some crazy reason. But, after just a single bite, I was a total convert – the two are absolutely delicious together, especially when you throw the cider glaze into the scenario – talk about heavenly!
It's hard to believe you can make/bake a pound cake in your Instant Pot (or any brand of electric pressure cooker), but I've made this recipe many times and we are totally in love with it. The pressure and the moisture from the Instant Pot really make this cake super dense and rich – all anyone really needs is just a small piece because it's so satisfying.
What Ingredients Will I need for Making this Old Fashioned Pound Cake?
Flour, pumpkin pie spice, cinnamon, salt, baking soda, baking powder
These are the dry ingredients for your cake batter. The flour gives structure to the cake and the baking soda and baking powder are the leaveners that help the cake rise. Salt, pumpkin pie spice and cinnamon give flavor to the cake.
I like to use unsalted butter for all my cooking and baking. Since one doesn't know exactly how much salt is actually in salted butter when it's purchased, I like to begin with butter that has zero salt included so I can add it to taste in my recipe.
Dark brown sugar and granulated sugar
These two ingredients give the cake it's sweetness, of course. I love the deep molasses flavor in the dark brown sugar which lends itself nicely to the flavor of pumpkin in this cake.
Eggs act as a binder in this cake, helping it to be moist and dense once it's fully baked.
Well, it wouldn't be pumpkin pound cake without the pumpkin, right? When you purchase the canned pumpkin, make certain you aren't picking up canned pumpkin pie filling, by accident. They are typically sitting right beside each other on the shelf at the grocer, and it's easy to pick up one when you really need the other!
Chocolate chips or mini chocolate chips
We prefer semi-sweet chocolate chips in this pumpkin pound cake, but you could use milk chocolate or even white chocolate, if you prefer. I've used the mini chocolate chips in a pinch before, but really prefer the standard size chocolate chips better.
Easy and Helpful Recipe Tips for Making A Pound Cake In Your Instant Pot
When I made this pound cake, we ate it while it was still warm and it seemed like it wasn't fully cooked… it was rather gooey in texture. Do I need to cook it longer next time?
We did the same exact thing and I was pretty frustrated. However, I decided to try it one more time and this time we didn't eat it straight from the pot (though we wanted to!) but let it cool and ate it at a later time. That is the ticket! Once the cake is fully cooled, it's no longer gooey in texture, just moist and dense like it should be. Long story short, don't eat this cake straight out of the Instant Pot. Let it fully cool and THEN slice it. 🙂
When I look at that little bundt pan, I feel like I'd need to make two cakes in order to have enough to serve to my guests. Why even bother?
Actually, this is what I thought at first, too. Then, I learned that this little bundt cake is so moist, dense, and rich, my guests only needed a thin sliver of cake with a nice dollop of whipped cream on top along with a cup of coffee. Everybody was completely thrilled!
Why does the recipe instruct to cover the bundt pan with foil before cooking the cake in the Instant Pot?
Since an Instant Pot works under pressure, the liquid inside the pot has to be able to circulate in order to create steam. If you don't have a cover (in this case, it's foil) over the bundt pan, you'll wind up with a very soggy cake since the liquid that's circulating is able to get directly into the pan as it does so.
If my family doesn't like chocolate, can I leave the chips out of this recipe? I was considering adding golden raisins instead of the chocolate chips.
Doesn't like chocolate??? Say whaaaat?? Oh my goodness. But, YES. You can definitely leave the chocolate chips out of this heavenly little bundt cake if you so wish. It will still be totally yummy. As for the addition of golden raisins, I think you could definitely make this swap, but I've never actually tried it. I think the golden raisins would compliment the pumpkin very nicely, though.
I don't have apple cider on hand. Can I substitute apple juice to make the glaze?
So glad you asked this question, and yes that works just great. I usually keep a container of apple juice concentrate in my freezer to pull out and use when I just need a small amount, as in this recipe.
Is there any difference between a bundt cake and a pound cake?
All bundt cakes are pound cakes, but not all pound cakes are bundt cakes!! 🙂 A bundt cake is typically a pound cake that's baked in a bundt pan. Both terms are used interchangeably for the most part.
Does this pound cake freeze well?
You bet. I love to wrap individual slices of this cake in plastic wrap, placing all of them into a freezer bag. This allows me to pull out 1-2 slices (or more!) at a time for enjoying with a cup of coffee or packing in my husband's lunch as a treat. If you're freezing the entire cake (whole) wrap it well in lots of plastic wrap, then in heavy-duty foil to protect it. You can thaw the cake on the counter when you're ready for it.
Can I make my own pumpkin pie spice? Is it easy to do?
Yes, you can. Pumpkin pie spice is no more than cinnamon, nutmeg, ginger, and cloves combined. Whip up a big batch all at once and give the pumpkin pie spice as gifts during the holidays – people always love getting gifts they can use in the kitchen when cooking for their families.
Can I freeze canned pumpkin if I have some leftover?
Great question. You can absolutely freeze canned pumpkin! Just know that there will likely be a lot more moisture when you thaw it than previously. Just give the pumpkin a good stir and proceed with your recipe.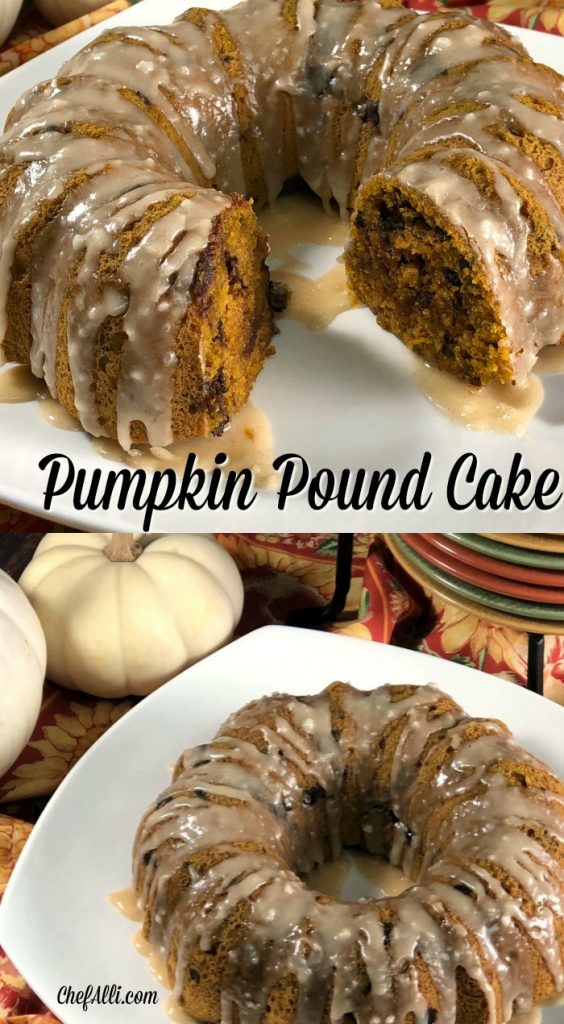 What Tools Will I Need to Make this Moist Pumpkin Pound Cake?
6-Quart Instant Pot – Actually, any brand of electric pressure cooker works great. I especially like the Cuisinart electric pressure cooker because it's so simplistic and efficient – much easier to use than my Instant Pot, in my opinion.
8-inch metal or glass bundt pan – With a 6-cup capacity, this is the perfect size pan for a 6-quart Instant Pot.
Silicone sling/trivet – Use this handy-dandy tool for lifting the bundt pan out of the Instant Pot after the cake has finished cooking. This tool will also keep your bundt pan elevated above the flat bottom of the Instant Pot, allowing the moisture in the pot to circulate, creating the steam that forms the pressure.
Other Recipe Favorites to Enjoy –
Printable Directions for Making Pumpkin Chocolate Chip Pound Cake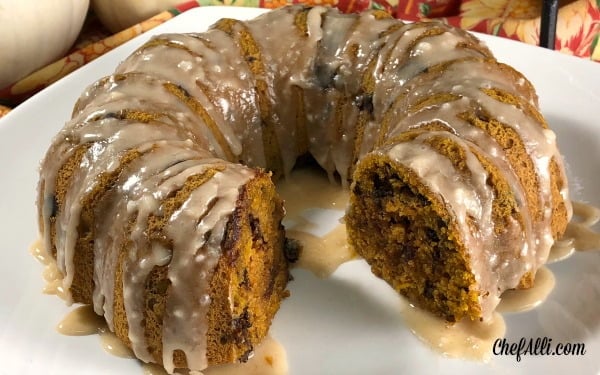 Instant Pot Pumpkin Chocolate Chip Pound Cake with Cider Glaze
So did you know you can make a Pumpkin Chocolate Chip Pound Cake right in your Instant Pot! Whaaaaat??? Cake baked in an Instant Pot??? Now that's pretty dang impressive.  And just wait until you taste it...yummy, dense, and moist - everything you desire in a pound cake.
Print
Pin
Rate
Ingredients
Pumpkin Chocolate Chip Pound Cake
1 1/2

cups

all-purpose flour

1/2

tsp.

pumpkin pie spice

1

tsp.

cinnamon

1/2

tsp.

kosher salt

1/2

tsp.

baking soda

1/2

tsp.

baking powder

1/2

cup

unsalted butter, softened

1/2

cup

packed dark brown sugar

1/2

cup

granulated sugar

2

large

eggs

1

cup

pumpkin puree (canned pumpkin)

1

cup

semi-sweet chocolate chips or mini chocolate chips
Cider Glaze
2

Tbs.

unsalted butter, melted

1

cup

confectioner's sugar

pinch of kosher salt

2-3

Tbs.

apple cider (may substitute apple juice)
Instructions
To Make the Pumpkin Chocolate Chip Pound Cake
In a medium mixing bowl, combine the flour, spices, salt, baking soda and baking powder; set aside.

Using an electric mixer, cream the softened butter with both sugars until fluffy, 2-3 minutes.  Add the eggs, one at a time, mixing well after each addition.  Add the pumpkin; mix until batter is just combined (batter will be very thick.) Use a mixing spoon to fold in the chocolate chips. 

Spoon the prepared batter into an 7-inch (6 cup) bundt pan that has been well sprayed with non-stick spray; cover bundt pan tightly with foil, pinching the edges of the foil and the cake pan to make sure it's well sealed.

Pour 1 cup of water into the Instant Pot, adding the silicone sling/trivet to the bottom of the pot.  Place the foil-covered bundt pan down into the pot, setting it onto the trivet, securing the silicone handles together over the top of the bundt pan.

Lock the Instant Pot lid into place, selecting the high pressure setting for 25 minutes, bringing the Instant Pot to full pressure. When the timer sounds, use a natural pressure release for 10 minutes, then perform a quick pressure release to remove any remaining pressure from the Instant Pot.

Using the silicone sling/trivet, carefully lift the bundt cake out of the Instant Pot, onto a wire rack to cool.  Leave the bundt pan covered for 10 minutes, then remove the foil.  After 10 minutes uncovered, invert the bundt cake onto a cake stand or cake plate so it can remove itself from the pan. Cover the cake and the platter with plastic wrap, allowing the cake to cool completely before glazing and slicing to serve.
To Make the Cider Glaze
In a medium mixing bowl, combine the melted butter with the powdered sugar and salt; add the cider a little at a time, whisking until glaze is glossy and smooth, reaching the desired consistency.  (If the glaze is too runny, add more powdered sugar. If the glaze is too thick, add a bit more apple cider.)

When the pound cake has fully cooled, remove the plastic wrap and drizzle the prepared cider glaze over the the top.  Or, if preferred, drizzle the glaze over individual slices placed onto dessert plates when ready to serve.  
Notes
**Please note:  the cooking time stated for this recipe does not include the time required to bring the Instant Pot up to pressure since this can vary. This recipe was made using a 6-quart Instant Pot. 
Nutrition
Calories:
476
kcal
|
Carbohydrates:
75
g
|
Protein:
6
g
|
Fat:
25
g
|
Saturated Fat:
15
g
|
Cholesterol:
86
mg
|
Sodium:
265
mg
|
Potassium:
251
mg
|
Fiber:
4
g
|
Sugar:
36
g
|
Vitamin A:
5287
IU
|
Vitamin C:
1
mg
|
Calcium:
74
mg
|
Iron:
3
mg
We love hearing from our readers and followers, so leave us a comment if you'd like. And, if you don't hear back from us shortly, know that we may not have seen your comment. Feel free to reach out to us by email: [email protected]
Let's Get You Cookin',
Chef Alli