Looking for a delicious spin on burritos? You've just arrived! Crispy Burrito Baskets are easy to bake in the oven and you don't even have to use a mold! Similar to taco salad baskets, this recipe puts a new spin on burritos.
Crispy Burrito Baskets Recipe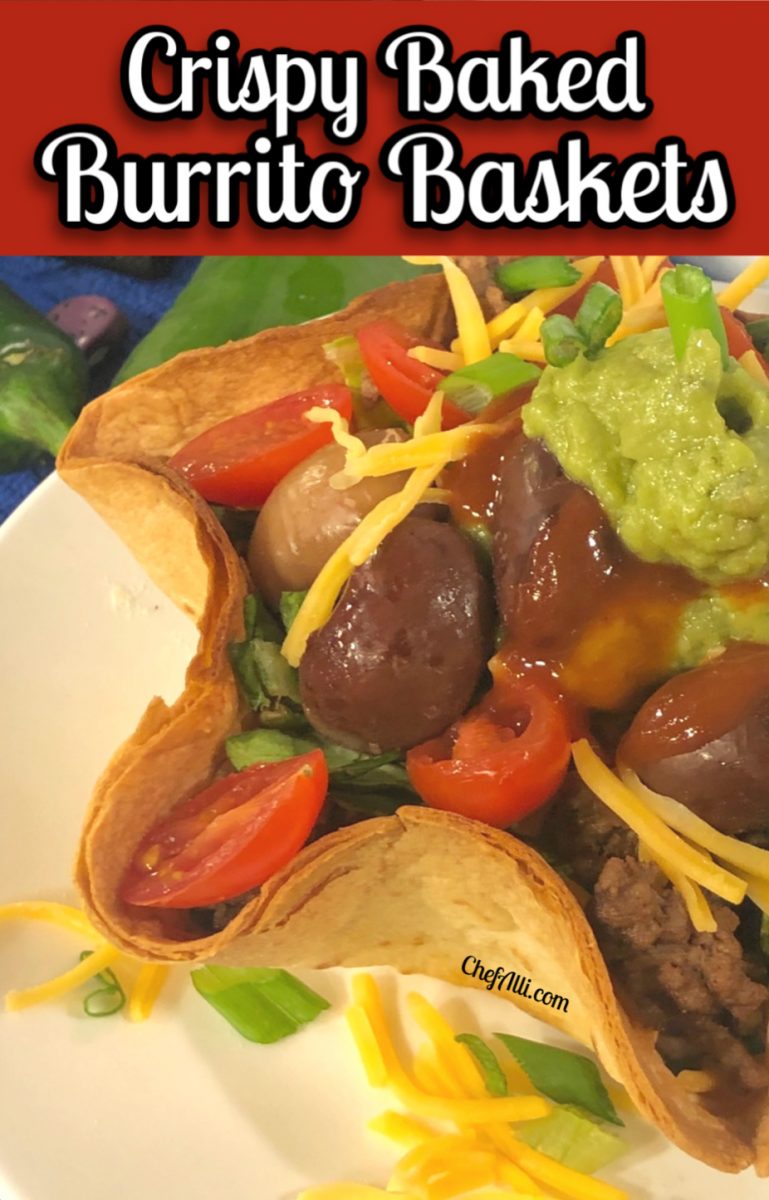 PLEASE NOTE: WE DO USE REFERRAL AND AFFILIATE LINKS FOR ITEMS CHEF ALLI LOVES AND RECOMMENDS
Howdy! Chef Alli Here. Let's Get You Cookin'……
If you ask my family what they want for dinner, they are always going to shout "Mexican Food!". That said, I've got tons of Mexican and Tex Mex recipes here on my blog that I refer to often.
Some of our favorite Mexican and Tex Mex recipes are Beef and Cheese Mexican Sanchiladas, Walking Taco Pull-Apart Bread, Tex Mex Cowboy Casserole, and Tasty Tex Mex Chicken Cornbread Casserole.
Are you looking for some low-carb Mexican fare? I've got you covered there as well! Try Tex Mex Cauliflower rice with Ground Beef or Low Carb Tex-Mexican Taco Pie. And how about some low-carb Mexican soups? You will enjoy Low-Carb Tex Mexican Soup as well as Low-Carb Chicken Bacon Ranch Soup and Low-Carb Creamy Fiesta Chicken Soup.
Why This is a Good Recipe – It's a Keeper!
These Crispy Burrito Baskets have shells that are baked in the oven, either using a tortilla basket mold or by using an inverted sauce pan. I love how the tortillas bake up so golden brown and crispy in just a few minutes.
Most taco shells and corn tortilla baskets that are available for purchase at the grocer are deep-fried. Of course they are delicious, but if you're trying to eat a little more healthy, this option for baked baskets (instead of fried tortilla bowls) is a good one and they are so easy to make!
How to Customize Crispy Burrito Bowls
This recipe calls for flour tortillas, but feel free to substitute corn tortillas. Either one bakes up nicely in the oven with sprayed with non-stick baking spray or when brushed with oil.
When you make the seasoned beef filling, you can actually use any type of ground meat. This recipe calls for ground beef, but you can substitute ground turkey, ground chicken, or even ground venison.
We love dry beans cooked in the Instant Pot! However, if that's not your gig, feel free to use canned refried beans or canned fat-free refried beans.
I was excited to use an heirloom bean in these Crispy Burrito Bowls from 21st Century Bean Processing of Sharon Springs, KS. They are purple beans, called a Freemont beans, and I noticed there were a few white beans mixed in. I learned that both colors come from the same plant, though they aren't exactly sure why. The legumes are rather large in size and they cook up into nice, meaty beans. Read more about heirloom Fremont Beans and their history.
Toppings! Your topping options are endless. The ones listed within this recipe can be customized to your liking and are only suggested toppings – use what you like and what your family enjoys!
How to Make Oven-Baked Burrito Baskets
Your first step is to cook the dried beans (whether you are using heirloom Fremont beans or pinto beans) in your Instant Pot. The nice thing about cooking dry beans in an Instant Pot is that there is no soaking of the dry beans required. Just keep in mind that when you cook dry beans in the Instant Pot, they absolutely require a natural release of the steam and pressure so they can rest and get fully tender – nobody wants to eat crunchy beans, am I right??
Your next step is to take the cooked beans and place them into the bowl of a food processor. Pulse the beans, adding the oregano and chicken broth, a little at a time, until the beans are smooth and creamy. Be sure to season the beans to taste with kosher salt and black pepper.
While the beans are cooking in the Instant Pot, you can be working on three other tasks! Make the chipotle cream (just 2 ingredients), cook the ground beef, and bake the burrito baskets in the oven.
Lastly, you will fill the crispy baked baskets (very similar to taco salad bowls) with the beans, seasoned beef, cheese, lettuce, tomatoes, scallions, lots of cilantro, guacamole, taco sauce, and sliced limes on the side. And don't forget to sprinkle some of the cooked Freemont or pinto beans over the top as an added garnish!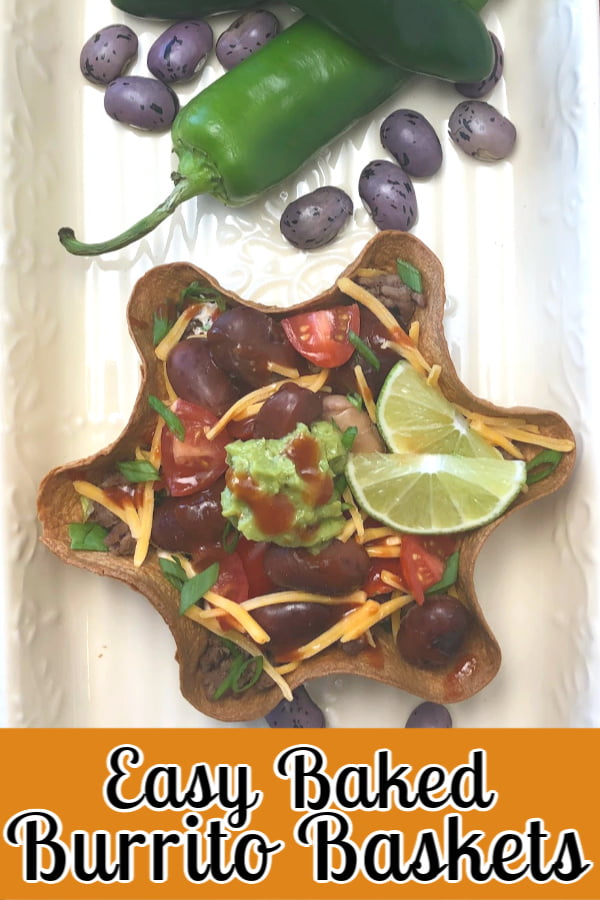 Easy Tips for Making Burrito Bowls in the Oven
I found that making the burrito baskets using a metal mold was pretty darn handy and they were very easy to use.
However, that's certainly not your only option for making burrito baskets in the oven. All you need is a 3″ ramekin if you are baking an 8″ flour tortilla; if you are using a 12″ flour tortilla, use a small saucepan.
Cover the ramekin or the saucepan with foil; spray the foil with non-stick baking spray, then spray the flour tortilla on one side. Place the flour tortilla on top of the saucepan or ramekin (depending on which you're using) sprayed side down, then use your palms to gently press the flour tortilla down around the vessel.
Now spray the top of the flour tortilla, pressing it down again, this time pressing inwards to with your palms a bit more to mold the tortilla and fold it in around the sides, kind of "pleating" the tortilla as your go. Now bake until golden brown and crispy; remove to a cooling rack after a 10 minute rest when removed from the oven.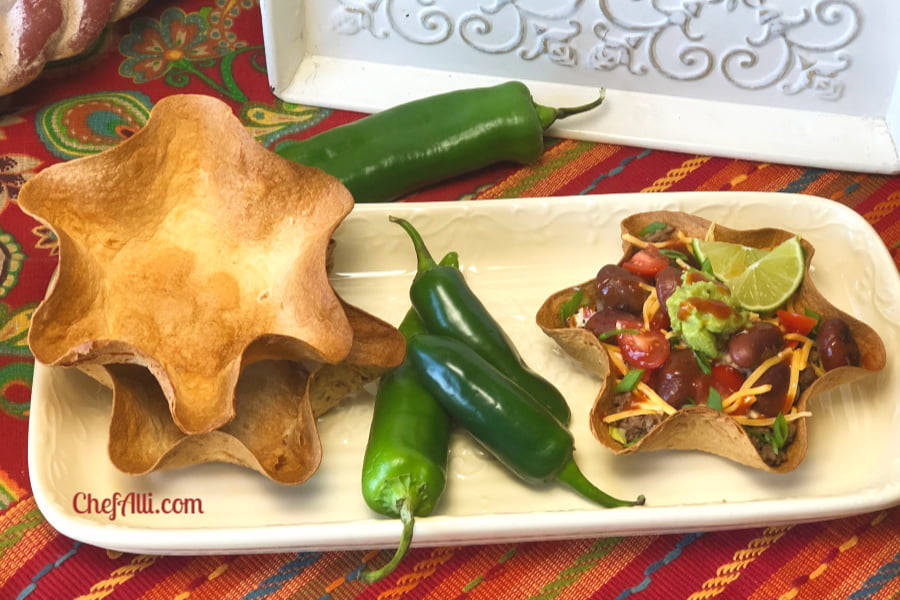 What Tools Are Helpful for Making Crispy Burrito Baskets?
It is very handy to have the molds for baking the flour tortillas until they are golden brown and crispy. The molds are fun to use and once I saw how easy it is to make and bake the baskets myself, I was glad I had the molds.
I love my 6-quart Instant Pot. (You can use any brand of electric pressure cooker for cooking beans and all kinds of other things, FYI.)
For cooking the seasoned beef filling, I used my Lodge 12-inch cast iron skillet, of course. Nothing cooks meat and fish like a good cast iron skillet!
I used my kitchen shears for chopping a lot of the vegetables for the burrito basket toppings – the lettuce, the grape tomatoes, the scallions, and the cilantro. I always chop my fresh herbs with my kitchen shears – so handy!
Can I make crispy burrito baskets ahead of time?
Great question, and the answer is a resounding NO. If made ahead, the baskets get soggy from the filling placed inside. What you CAN do ahead, though, is prepare each component of the burrito baskets and then simply assemble the baskets when you want to eat – easy peasy!
What if I want to set up a Burrito Bowl bar for my guests to make their own? Is this a good idea?
Heck yea! Have the baskets already baked, the beans warm and ready, the seasoned ground beef hot in a skillet, the chipotle crema in the plastic bag all ready to pipe over the filling, and the toppings laid out for guests to customize their bowls as they'd like – super fun idea!
What is a chipotle, anyway?
A chipotle is a smoked jalapeno – they are smoky and spicy and add wonderful flavor to any Mexican or Tex Mex cuisine. In this recipe, you'll be stirring minced chipotles (or chipotle sauce) into the sour cream. This makes a cool, creamy and spicy garnish for the burrito baskets – very delicious!
Where will I find chipotles when I'm at the grocery store?
Search the Hispanic section of your local grocer. You are looking for canned or jarred chipotles packed in adobo sauce. Or, look in the salsa section for a bottle of chipotle sauce – this works well, also.
What will I need to do with the chipotles when I get them home? And how do I store what's leftover?
Put the can or jar of chipotles into the bowl of your food processor; process until smooth. Store the process chipotles in a glass jar in your fridge, using them as needed, just like any other condiment.
Looking for Other Great Main Dishes to Enjoy? Here you go!
We love hearing from our readers and followers, so leave us a comment if you'd like. If you don't hear back from us shortly, know that we may not have seen your comment. Feel free to reach out to us by email: [email protected].
Let's Get You Cookin',
Chef Alli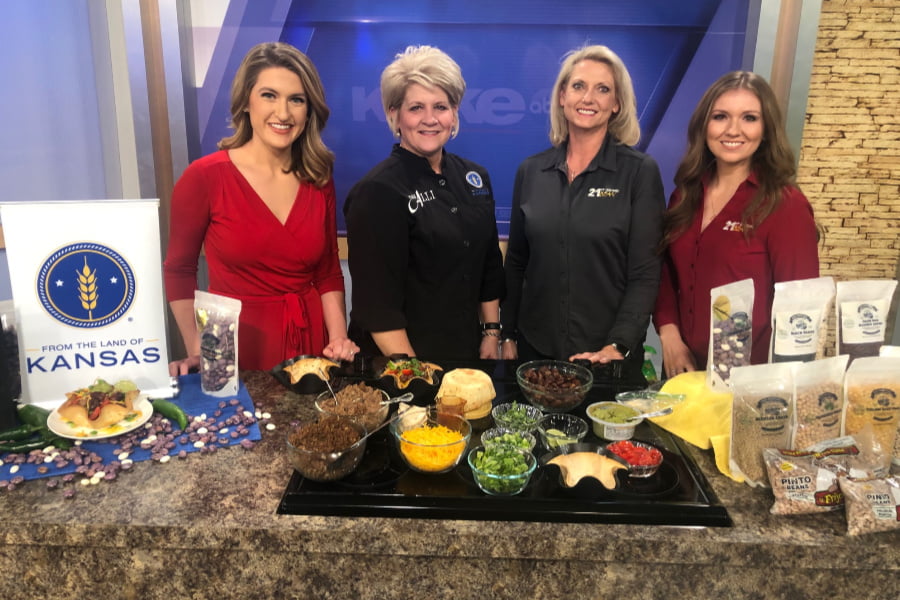 This is a sponsored post paid for by From the Land of Kansas, the state trademark program that promotes and celebrates agricultural experiences and products that are grown, raised, produced, or created in Kansas. Visit their website for more information! Our featured guest and member business for this televised segment on Good Morning KAKEland is 21st Century Bean Processing, Sharon Springs, KS. All opinions expressed within this post are my own.