Here you go, folks – a super easy, super creamy potato soup that can be made in one pot! Grab your favorite electric pressure cooker and whip up this Instant Pot Sausage, Bacon and Potato Soup for the fam – it's pure comfort food at it's finest.
Instant Pot Sausage, Bacon and Potato Soup Recipe

Note: We do use referral and affiliate links here for products and services that Chef Alli loves and recommends.
Howdy! Chef Alli Here. Let's Get You Cookin'….Shall We?? 🙂
My family never seems to tire of potato soup, nor do I. My former mother-in-law, Wilma, used to make a very unusual potato soup that had a thin broth that she thickened with a beaten egg; I loved it since I had actually never eaten potato soup at that point in my life – we didn't grow up eating potato soup, for whatever reason. Boy, was I missing out!
Now that I make potato soup myself all the time, I prefer it to be thick and rich with lots of potatoes and sausage or bacon….or both like this recipe features. My boys go crazy when I add the meat to this soup, though they don't especially like the baby kale or baby spinach that I like to throw in to finish it. Too bad!
What Ingredients Do You Need to Make This Easy and Creamy Potato Soup?
I prefer a center-cut bacon since it seems as though it's more meaty and there's less fat (and therefore grease) to deal with once it's cooked. As always, I say use what you have on hand.
Typically, you'll find Italian sausage right next to the plain or breakfast sausage at the grocer. It usually comes in 1 pound packages. Sometimes it will be located in the pork section of the meat case, too.
This is the thickening agent that you'll use in the recipe to make the liquid ingredients nicely thickened.
Ahhh, yes. The aromatics for this soup! If you don't have these on hand, feel free to substitute granulated onion (or onion powder) and granulated garlic – these will work just fine and I have to do that sometimes too, especially when I'm in a hurry.
Chicken broth and heavy cream
These are the liquids you'll use in this recipe that come together to make this soup nice and creamy – kind of the glue that holds everything together in this soup.
Well, it wouldn't be potato soup without the potatoes, right? I love Yukon Gold potatoes since you don't have to PEEL them – a super big plus! And, Yukon Gold potatoes tend to be more creamy and fleshy in texture, too. If all you've got are Russet potatoes or red potatoes on hand, use them – they work fine, too.
Black pepper, kosher salt, and red pepper flakes
Salt and pepper add flavor to round out this soup and red pepper flakes add a bit of spice on the backside of this soup. If your family doesn't like anything spicy, you can opt out on the red pepper flakes. Season the soup to taste when adding the salt.
Baby kale and/or baby spinach
Notice I said BABY before each one of these greens. You certainly don't want mature kale, though mature spinach really isn't a problem. Using baby greens in this soup means they will be nice and tender and provide a great eating experience.
Helpful and Easy Tips for Making Instant Pot Potato Soup with Bacon and Sausage
Can I purchase bacon and sausage when it's on sale to stock up my freezer?
Yep, and I do so all the dang time. It freezes just great and will also thaw very quickly, too. (Remember to always thaw foods in the fridge and not on the counter for optimum food safety.) And, I recommend cooking your bacon right in the oven – it's easy and fast and it keeps all the mess contained, plus you can cook a couple of pans at one time. As a reminder, you can also freeze cooked bacon and cooked sausage to grab as you need it for speedy weeknight meals.
How is baby kale and baby spinach different than mature kale or mature spinach? Does this add flavor?
If you've ever had mature kale, you probably remember it as a tough, fibrous, and chewy experience, right? The best way to eat mature kale is to physically massage the dressing into it, using your fingertips and then letting it rest for 30 minutes or so letting it soften. OR, you could just purchase baby kale and enjoy it right away – tender and wonderful. I can't say that baby kale and/or baby spinach add lots of flavor to this soup, but they certainly add color and fiber to the soup.
Why is the baby kale or baby spinach stirred in at the very end of the cooking process?
Once the soup has been cooked in the Instant Pot it is very, very hot. The baby kale/baby spinach cooks almost instantly when stirred in at this point. If you add it at the beginning of the cooking process, the greens will be extremely overcooked.
Why do you add the cream at the very end of this recipe?
Most dairy products can't be cooked in the Instant Pot under pressure or they curdle. This is typically a hard and fast rule when using the electric pressure cooker, but there always exceptions. Stirring the cream in at the end allows it heat up from the heat of the ingredients in the Instant Pot, almost in seconds.
If I don't have cream on hand, can I use half-and-half or milk in this soup?
Yep. The cream will make the potato soup extra rich and creamy in texture and consistency, but you can certainly stir in half-and-half (or even fat free half-and-half) or milk instead and the soup will still be yummy – I've had to do that many times and my family still scarfs this soup right down.
Can I use ground beef instead of ground Italian sausage for this soup?
Yes, you can. When browning the ground beef, I'd add a teaspoon of Italian seasoning to the pot, or if you happen to be using plain ground sausage (instead of Italian sausage as the recipe calls for) add 1 teaspoon of Italian seasoning to that as well.

Other Soup Recipes to Enjoy –
Printable Instant Pot Sausage and Bacon Potato Soup Recipe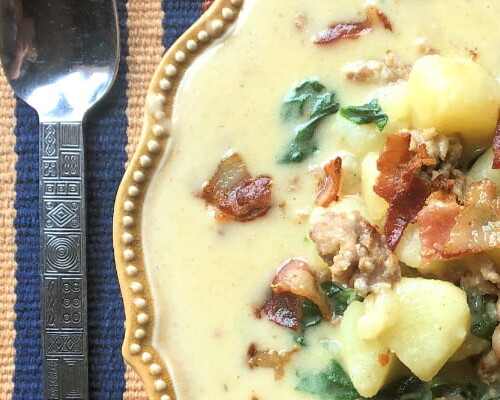 Instant Pot Sausage and Bacon Potato Soup
Here you go, folks - a super easy, super creamy potato soup that can be made in one pot! Grab your favorite electric pressure cooker and whip up this Instant Pot Sausage, Bacon and Potato Soup for the fam - it's pure comfort food at it's finest.
Print
Pin
Rate
Ingredients
6

strips center-cut bacon, chopped

1

lb.

ground Italian sausage

2

Tbs.

flour

1

medium yellow onion, diced

2-3

cloves

garlic, crushed

3

cups

chicken or vegetable stock

6

medium Yukon gold potatoes, skin-on, cut into 1" chunks

1/2

tsp.

freshly ground black pepper

1/2

tsp.

red pepper flakes

2-3

cups

chopped and stemmed baby kale or baby spinach, or a combination of both

1

cup

heavy cream or whipping cream (I love Hildebrand Farms Dairy whipping cream)
Instructions
Using the sauté setting on your Instant Pot (or any electric pressure cooker), cook the bacon until browned and crispy; remove the bacon, setting it aside on a paper towel to drain; reserve.

Still using the sauté setting on the Instant Pot, add the sausage, flour, onion, and garlic to the pot, crumbling the sausage, cooking it for 4-5 minutes or until it's fully cookekd through and the onions are nicely tender. Move the ingredients to one side of the pot, then tip the Instant Pot a bit to one side, propping it up with a hot pad or kitchen towel. Let the hot fats drain to the opposite side of the pot, then use paper towels to sop up the fats; remove to the trash.

Stir in the stock, potatoes, black pepper, and red pepper flakes to the Instant Pot, bringing the contents to a boil using the saute setting. Cover and locked the Instant Pot lid into place; use the manual button to choose high pressure for 5 minutes, bringing the IP to full pressure.

When the timer sounds, perform a quick release to remove all pressure from the Instant Pot. Carefully unlock and remove the lid; stir in the spinach. and cream. Taste and adjust the seasonings, as needed.

Ladle the soup into bowls and garnish with the cooked, reserved bacon. Serve at once.
Notes
**Please note:  the cooking time stated for this recipe does not include the time required to bring the Instant Pot up to pressure since this can vary. This recipe was made using a 6-quart Instant Pot. 
Nutrition
Calories:
485
kcal
|
Carbohydrates:
28
g
|
Protein:
14
g
|
Fat:
36
g
|
Saturated Fat:
15
g
|
Cholesterol:
95
mg
|
Sodium:
902
mg
|
Potassium:
797
mg
|
Fiber:
3
g
|
Sugar:
2
g
|
Vitamin A:
1328
IU
|
Vitamin C:
30
mg
|
Calcium:
57
mg
|
Iron:
2
mg
I love hearing from our readers and followers, so leave us a comment if you'd like. And, if you don't hear back from us shortly, know that we may not have seen your comment. Feel free to reach out to us by email: [email protected].
Let's Get You Cookin',
Chef Alli