Here's your new crowd-pleaser. We are crazy for so many quick and easy no-bake desserts, and this No-Bake Chocolate Butterfinger Pie is no exception.
If you're a fan of no bake peanut butter pie or the so-yummy millionaire pie, I can promise you're going to love butterfinger pie, too. When you set this dessert before your family or guests, expect it to vanish within seconds.
No-Bake Chocolate Butterfinger Pie Recipe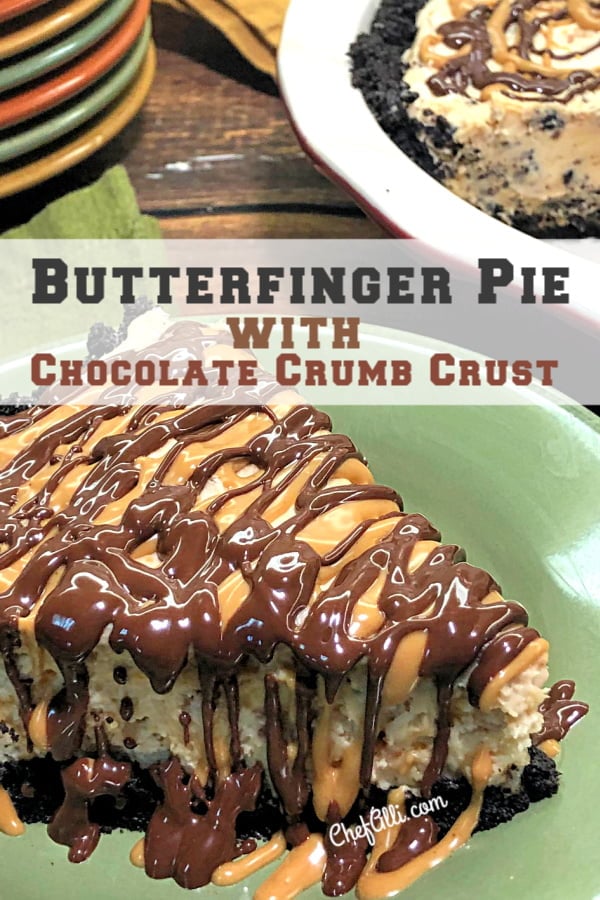 Please Note: We do use referral links for products and services that Chef Alli loves and recommends.
Howdy! Chef Alli Here. Let's Get You Cookin'….Shall We?? 🙂
Who doesn't love a decadent, creamy peanut butter pie that's surrounded with a chocolate crumb crust, I ask?? Nobody! This dessert is the stuff that DREAMS are made of. Don't believe me? Just take one bite and you'll see for yo-self. (And don't blame me when you can't stop with just one bite….)
In my family, I try to make desserts for all my nieces and nephews on their birthday and this pie has been a gi-normous hit with all of them. I've stopped trying to think of a new dessert to make for them each year since they love this dessert so much.
That makes things way easier for me (I can just keep these ingredients on hand at all times throughout the year) and they gain a big, fat, luscious dessert delivered on their special day. 🙂
What Ingredients Will I Need for Making This Cheesecake Dessert?
Chocolate Sandwich Cookies
You can use any brand that you prefer. My family loves Oreos, so I typically use those in this recipe since they are on hand.
I use unsalted butter in all of my cooking and baking because I like to add the salt by taste as I go along in preparing the recipe. And, when you purchase salted butter, you have no way of knowing exactly how much salt is in there!
In some areas of the country, you have lots of choices when it comes to cream. Heavy cream makes a sturdier whipped cream, but if your only choice at the grocer is plain whipping cream, know that it will still work just fine, the whipped cream just won't hold it's shape quite as long. And both are delicious!
I use full-fat cream cheese in this recipe, but I'm betting you could actually use one-third-less-fat if you are so inclined. (Like you're worried about fat if you're making a chocolate Butterfinger pie???)
Your favorite brand of peanut butter will work great in this recipe, as long as it's creamy, not chunky. You will be adding peanut butter to the pie filling as well as drizzling warm peanut butter over the top of the pie as a garnish just before serving it. Just place the peanut butter into a small bowl and warm it in the microwave for a few seconds so that it will pour/drizzle easily over the top of the dessert.
Powdered Sugar and Vanilla Extract
Sugar brings the sweetness and vanilla adds wonderful essence.
Use your favorite – semi-sweet chocolate chips, milk chocolate chips, dark chocolate chips….whichever. You could also use white chocolate chips if needed!
This recipe calls for 2 standard size Butterfinger bars, but you could certainly add as many or as few as you'd like to the filling. I place the candy bars into a gallon bag, crushing them with my rolling pin.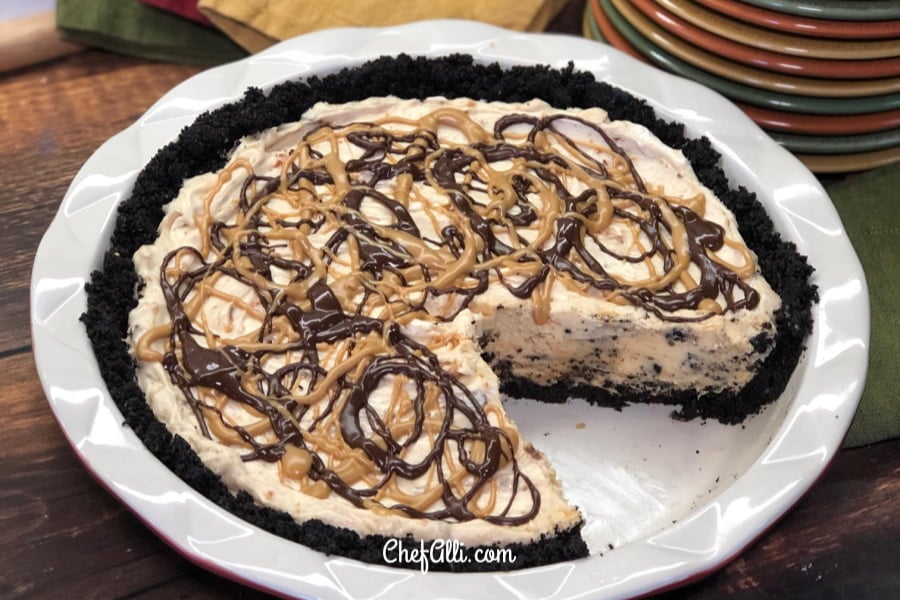 Easy and Helpful Recipe Tips for Making No-Bake Chocolate Butterfinger Pie
If I don't have a deep-dish pie plate. Can I use two shallow pie plates and divide the ingredients between them?
I think that will work just fine, though I've never done that. Or, you could even make this in a 9 x 9 casserole dish or pan if you've got one of those on hand.
Can I use a store-purchased chocolate pie crust instead of making one as this recipe directs?
Yes and it's a time saver, for sure. Sometimes I can't get quite all the filling into the store-purchased crusts, but I'm okay with that. I just put the extra filling into a bowl and we eat it like that!
How should I crush the chocolate sandwich cookies if I don't have a food processor?
Good ole elbow grease works just fine. Put those cookies into a gallon bag and either crush them with a meat mallet or a rolling pin. (If you don't have a rolling pin, a can of baked beans works pretty slick, too.)
What's the best way to melt the chocolate chips for drizzling over the top of the pie?
My favorite way to melt chocolate chips is to place them into a quart-size freezer bag, placing the bag into the microwave. Melt the chocolate chips using 50% power for one-minute intervals, stirring in between each interval, until the chocolate chips are melted. Cut a corner tip from the bag then press the chocolate through the hole, drizzling it over the pie.
How do I soften cream cheese in the microwave?
Place the unwrapped blocks of cream cheese into a large mixing bowl, placing the bowl into the microwave. Using 30% power, heat the cream cheese in 30 second intervals until it's very soft to the touch. Never soften cream cheese or butter on full power since this will melt it from the inside out, often causing it to explode in your microwave, spewing everywhere. I hate messes, don't you?
Why does the recipe instruct to add the milk to the softened cream cheese a little at a time? This seems like it will take forever.
Actually, it doesn't take much more time and is an important step. If you add the milk (even though it's a small amount) all at once to the cream cheese, it makes lumps that you can never get completely beaten out, ruining the nice smooth texture you want in a cheesecake.
Is there a difference between heavy cream and whipping cream?
Actually, yes, and it's all about one big thing: FAT! Heavy cream has a higher fat content than whipping cream. That said, whipped cream that is made from heavy cream has a more sturdy structure than whipped cream made from whipping cream. (Is that as plain as mud or what???) Long story short, either one works just fine for making whipped cream.
How do I know when my whipping cream is at the stiff-peak stage when I'm beating it with the electric mixer?
There are two ways to tell: When you lift your beaters up out of the whipping cream and the peaks stand straight up, you're at what's called the stiff peak stage (if the tips curl, you're at the medium peak stage). Or, if you lift the bowl of whipped cream over your head, flip it upside down, and everything stays put, you're at the stiff peak stage. Good luck!
Is there an easy way to crush the Butterfinger candy bars?
Just place them into a gallon bag and crush with a rolling pin or gently crumble them using a mallet.
Can I change this pie recipe just by substituting a different candy bar to the filling?
YUP!!! Isn't that awesome??? This dessert would be yummy as a Snickers Pie, a Milky Way Pie, a Twix Pie, a Reese's Pie….the options are endless!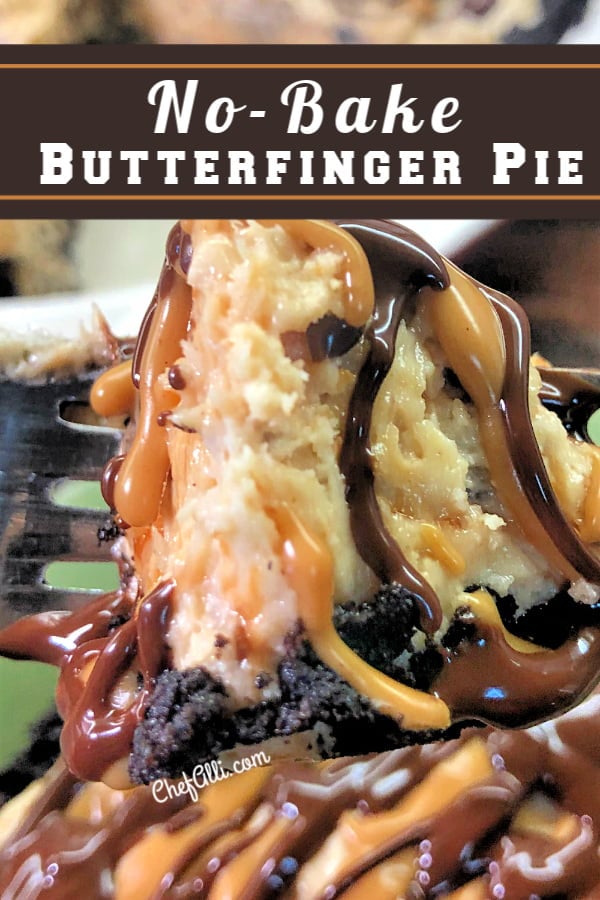 Other Dessert Recipes to Enjoy –
Printable Directions for Making No-Bake Chocolate Crumb Butterfinger Pie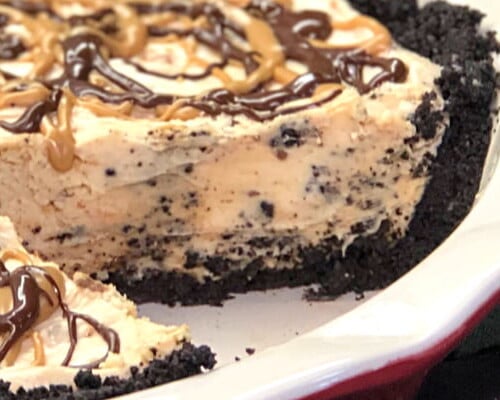 No-Bake Chocolate Butterfinger Pie
Here's your new crowd-pleaser. We are crazy for this No-Bake Chocolate Butterfinger Pie...and boy is that a mouthful! When you set this before your family or guests, expect it to vanish within seconds. I love how quickly this pie comes together and once it's chilled, it's so easy to slice and serve.  #Butterfinger #Pie #NoBake #Dessert #Chocolate #Easy #CreamCheese #Peanutbutter #Creamy
Print
Pin
Rate
Ingredients
Chocolate Crumb Crust
20

chocolate sandwich cookies (such as Oreos), finely crushed

4

Tbs.

unsalted butter, melted
Butterfinger Pie Filling
1

cup

heavy whipping cream, I love Highland Dairy Whipping Cream

1/4

cup

whole or 2% milk, I love Highland Dairy Milk

16

oz.

cream cheese, softened

½

cup

creamy peanut butter

1 1/2

cups

powdered sugar

2

tsp.

pure vanilla extract

1/3

cup

creamy peanut butter, melted, as garnish, if desired

1/3

cup

chocolate chips, melted, as garnish, if desired

2

full-size Butterfinger candy bars, crushed
Instructions
Place the crushed cookies into a medium bowl and stir in the melted butter; press the crumbs into a buttered 9-inch deep-dish pie plate, placing the crust into the freezer while you make the pie filling.

In a deep mixing bowl, using an electric mixer, whip the whipping cream until stiff peaks form; set aside in the fridge to keep cool.

In another mixing bowl, continuing to use the electric mixer, slowly combine the milk with the cream cheese, adding the milk just a little at a time until it is fully incorporated into the cream cheese; and the peanut butter, mixing until smooth. Add the vanilla and powdered sugar, mixing again until well combined and smooth.

Using a spatula, fold the reserved whipped cream into the peanut butter/cream cheese mixture until nicely combined, then fold in the the crushed Butterfinger candy bars.

Spread the prepared pie filling into the chocolate crust and refrigerate at least 8 hours.

Just before serving, drizzle the pie with the warm melted peanut butter, and warm melted chocolate chips, as desired. Cut into slices and serve.
Nutrition
Calories:
783
kcal
|
Carbohydrates:
56
g
|
Protein:
13
g
|
Fat:
59
g
|
Saturated Fat:
28
g
|
Cholesterol:
119
mg
|
Sodium:
461
mg
|
Potassium:
400
mg
|
Fiber:
3
g
|
Sugar:
41
g
|
Vitamin A:
1386
IU
|
Vitamin C:
1
mg
|
Calcium:
108
mg
|
Iron:
4
mg
We love hearing from our readers and followers, so leave us a comment if you'd like. And, if you don't hear back from us shortly, know that we may not have seen your comment. Feel free to reach out to us by email: [email protected]
Let's Get You Cookin',
Chef Alli