Be warned: Chocolate Crunch Peppermint Munch is a totally addictive snack mix recipe. It's got that sweet/salty/crunchy thing going for it, not to mention two kinds of chocolate, crispy cookies, and a generous sprinkle of crushed peppermint for good measure.
Chocolate Crunch Peppermint Munch Recipe


Please Note: We do use referral links for products and services that Chef Alli loves and recommends.
Howdy! Chef Alli Here. Let's Get You Cookin'!
We are crazy for kettle corn….most especially for Thrill's Kettle Corn, a tasty Kansas-made treat, made in the Kettle Corn Capitol of Kansas: the small town of Burlingame.
This recipe for a party popcorn snack mix is straight-forward, simple and quick to make, and is super easy to customize however you'd like. Plus, it's perfect party food, easily feeding any crowd you've gathered. You'll quickly see that Chocolate Crunch Moose Munch makes your people pretty darn happy!
What Ingredients Are Needed for Making Chocolate Crunch Peppermint Munch?
We like to use the original flavor of Thrill's Kettle Corn to make this recipe, but you can certainly use popcorn or even caramel corn for making munch, too.
White Chocolate and Peppermint Extract
These two ingredients come together to create the base coating for the munch.
Dark Chocolate and Crushed Candy Canes
Melted dark chocolate is the contrasting drizzle that goes over the top of the moose munch and crushed candy canes adds a finishing touch of color as a pretty garnish.
Bite-Size Chocolate Crunch Cookies
Prairy Bites Chocolate Crunch Cookies are bite-size chocolate cookies that fit right into this munchy treat. Made in Newton, KS, these little cookies are much like eating the crunchy edge of a brownie. Once I open a package of these little cookies, there's no stopping me!


Easy and Helpful Tips for Making Chocolate Crunch Peppermint Munch – An Easy No-Bake Popcorn Snack Mix
What if I don't have kettle corn available for making this recipe?
No worries, you can easily substitute popcorn in this recipe with no problem. We prefer the kettle corn since it's has that super-crunchy sweet exterior, but popcorn works just fine, as well.
I've never melted chocolate before. Is there anything I should know before attempting to do this?
Chocolate scorches easily so I like to melt it in the microwave at 50% power in short, 30-second increments, stirring between each one until the chocolate is smooth and glassy.
If you're going to melt the chocolate on your stove top, it's best to use a double-boiler for this task. Place a mixing bowl over a saucepan of water; bring the water to a high simmer. Place the chocolate into the mixing bowl, stirring occasionally until the chocolate melts.
What does it mean when chocolate seizes, and what should I do if this happens when I'm melting my chocolate?
This is very common and you'll know immediately when it seizes because the chocolate quickly hardens into one big mass.
To remedy this, don't add any liquid of any kind, but rather a bit of vegetable or canola oil. Add a small amount of vegetable oil to the hardened chocolate, then give it a few seconds in the microwave to soften the seized chocolate a bit. Stir in the oil, adding more, only as needed, until the chocolate is nicely smooth again.
You may have to give the seized chocolate a couple go rounds in the microwave, adding the oil a bit at a time until it's back to the melted state once again.
Can this popcorn snack mix be made ahead of time?
Yep! As long as you store this snack mix in an air-tight container, it will keep for 3-4 days easily.
Can this snack mix be frozen, then served at a later time?
Surely and I've done that many times. I like to freeze it solid on a baking sheet, then place the frozen clumps of the snack mix into a freezer bag. This makes it easy to store in the freezer and also to thaw the snack mix when you preparing to serve the it. To thaw, place the frozen clumps onto a sheet of parchment or foil at room temperature.
Can white almond bark be substituted for the white chocolate?
Yes, and sometimes I almost like the almond bark better than the white chocolate in this recipe, just because I find it's a bit easier to work with. Also, the almond bark is more economical – feel free to use either one.
What is the easiest way to drizzle the dark chocolate over the top of this popcorn snack mix?
Great question! I find the easiest way is to place my chocolate pieces into a quart freezer bag, melting the chocolate in the microwave (inside the bag) using 30-second cooking intervals at 50% power, massaging the bag and the chocolate after each one.
Once all the chocolate is fully melted and smooth, snip off the corner of the bag, leaving a small exit there. Press the melted chocolate through exit in the corner of the bag to easily drizzle it over the kettle corn mixture. Voila!
More Recipes to Enjoy –
Printable Recipe for Making Chocolate Crunch Peppermint Munch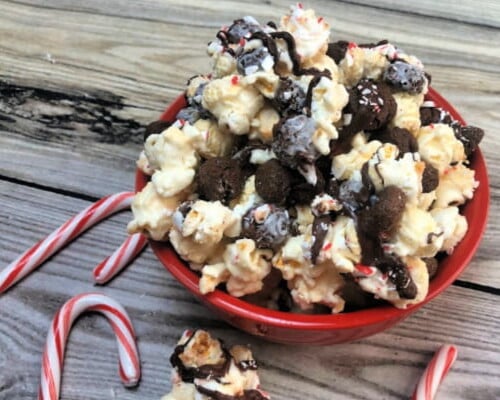 Chocolate Crunch Peppermint Munch
Be warned: Chocolate Crunch Peppermint Munch is a totally addictive snack mix recipe - it's got that sweet/salty/crunchy thing going for it. Who can resist??
Print
Pin
Rate
Ingredients
10

cups

kettle corn or popcorn, we prefer the original Thrill's Kettle Corn

16

oz.

white chocolate, melted

1/4

tsp

peppermint extract

6

oz.

dark chocolate, melted, for drizzling

8

candy canes, crushed

2-3

cups

Prairy Market Chocolate Crunch Cookies
Instructions
Place the kettle corn and 1 cup of the chocolate cookies into a large bowl.

In separate bowls, melt the white and dark chocolates in the microwave, using 30-second intervals at 50% power, stirring gently between each interval.

When the white chocolate is melted and smooth, stir in the peppermint extract; pour this mixture over the kettle corn mixture, immediately giving the mixture a gentle toss to coat.

Spread the kettle corn mixture out over large sheets of parchment paper or foil (or rimmed baking sheets), then immediately sprinkle the mixture with the half of the remaining cookie bites, pressing them down into the white chocolate coating on the kettle corn a bit.

Lastly, drizzle the prepared kettle corn mixture with the warm dark chocolate, then add the remaining cookies over the top; sprinkle the crushed candy canes over the munch.

Let the munch fully cool, then break it apart and store in an airtight container.
Nutrition
Calories:
628
kcal
|
Carbohydrates:
104
g
|
Protein:
6
g
|
Fat:
23
g
|
Saturated Fat:
9
g
|
Cholesterol:
9
mg
|
Sodium:
286
mg
|
Potassium:
232
mg
|
Fiber:
6
g
|
Sugar:
72
g
|
Vitamin A:
16
IU
|
Vitamin C:
1
mg
|
Calcium:
88
mg
|
Iron:
3
mg
We love hearing from our readers and followers, so leave us a comment if you'd like. And, if you don't hear back from us shortly, know that we may not have seen your comment. Feel free to reach out to us by email: [email protected]
Let's Get You Cookin',
Chef Alli

This is a sponsored recipe post, paid for by From the Land of Kansas, the state trademark program that promotes and celebrates agricultural experiences and products that are grown, raised or produced in Kansas. Visit their website for more information! Our featured guest and member business for this televised segment on Good Morning KAKEland is Aaron Gaeddert of Prairy Market, Newton, KS. All opinions expressed are very much my own.