Classic Swiss Steak made right in your Instant Pot…tender beef in a rich tomato gravy that's so easy and fast. You can make Easy Instant Pot Swiss Steak from scratch in just minutes, and it's the perfect inexpensive family dinner.
Easy Instant Pot Swiss Steak Recipe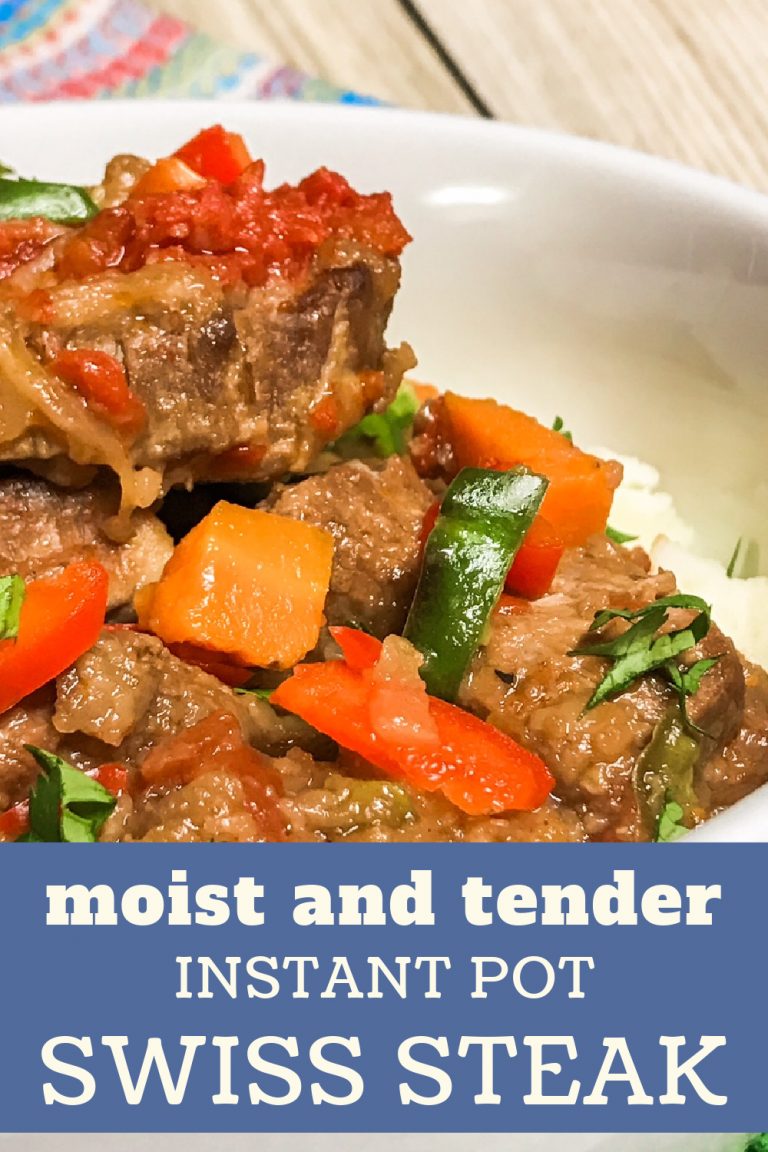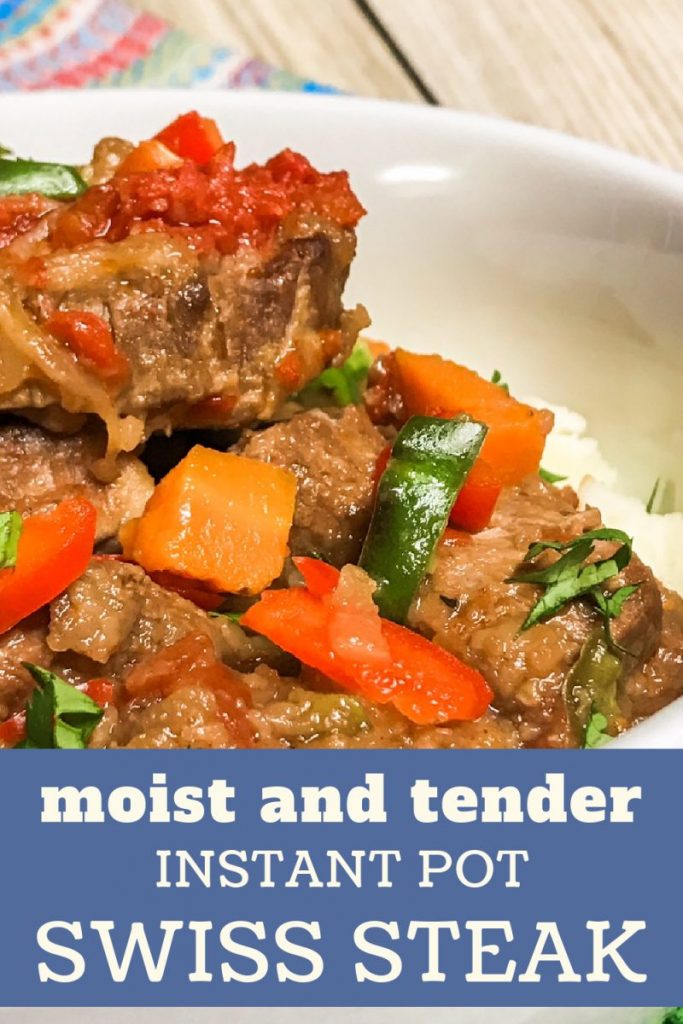 Howdy! Chef Alli Here. Let's Get You Cookin'….Shall We? ?
Growing up, my Mom made Swiss steak in the oven all the time – it was slowly braised and so delicious. I like Swiss steak made with tomato gravy and I like it made with brown gravy.
Either way, Swiss steak is a delicious old-fashioned favorite made from cube steak. My family considers it an impressive steak dinner that doesn't cost Mom a ton of money. Yep, I'm cheap.
What to Love About This Recipe –
It's cheap, easy, and luscious.
Who doesn't love a good one-pot meal?
It makes great leftovers….if you have any left.
Does Swiss Steak Come from Switzerland?
No. Swiss steak is named Swiss Steak because of an old process of tenderizing called "swissing" that is needed to make the beef tender before it is cooked.
Swiss Steak is Similar to Salisbury Steak…But They Are Not The Same.
Swiss Steak and Salisbury Steak are similar and often confused for each other. They have one main thing in common – they are both one pot meals, cooked in gravy.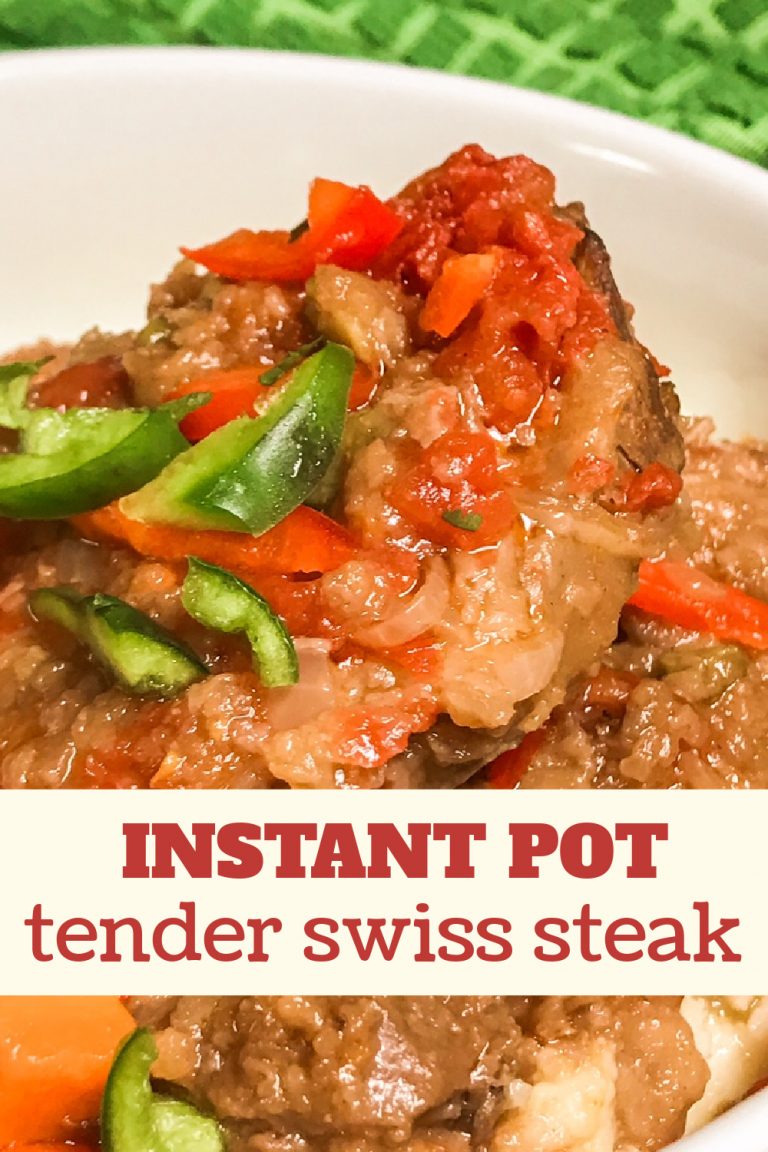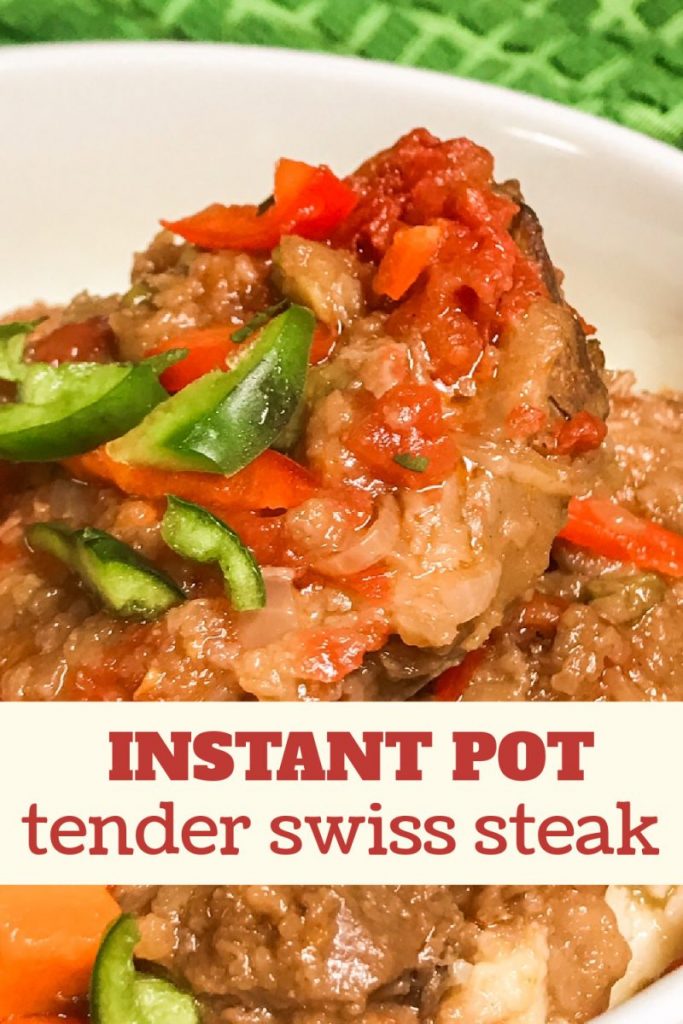 What is the Main Difference Between Salisbury Steak and Swiss Steak?
One big thing – the meat. Swiss Steak is made with cube steak (aka round steak) and Salisbury Steak is made from ground beef.
Are Cube Steak and Round Steak the Same Thing?
Cube steak (or cubed steak) is round steak that has been tenderized by the butcher shop term called "cubing". When you look at cube steak, you will seem small indentions (or pockets) all over the surface of the meat that are made to flatten and tenderize the round steak.
Is Cube Steak the Meat that Is Used for Making Chicken Fried Steak?
Yes. Many people are very familiar with Chicken Fried Steak, but they don't always realize that is it made from beef cube steak that is breaded and pan-fried until golden brown.
What Are the Big Secrets for Making Traditional Delicious Swiss Steak in Tomato Gravy?
Browning. Before you can cook Swiss Steak low and slow in the oven or a slow cooker, each piece of beef needs to be browned in hot oil. The browning provides an essential layer of flavorful that is a hallmark of Swiss Steak.
Low and Slow. Once the steak is browned on all sides, it's time to cook it using low heat over a period of a few hours so the beef can become moist and tender. (Except when you're using an Instant Pot!)
How is Cooking Swiss Steak in an Instant Pot Different Than Making it in the Oven or Slow Cooker?
An Instant Pot is a game changer when we are cooking tough pieces of meat. An Instant Pot uses pressure and moisture to cook things in a very fast method.
And, a pressure setting on the Instant Pot called the Natural Pressure Release ensures that the ingredients (meat, in this recipe) receive a nice rest following the cook time.
This rest allows the meat to rest and relax so that it is fork-tender and gives us a great eating experience.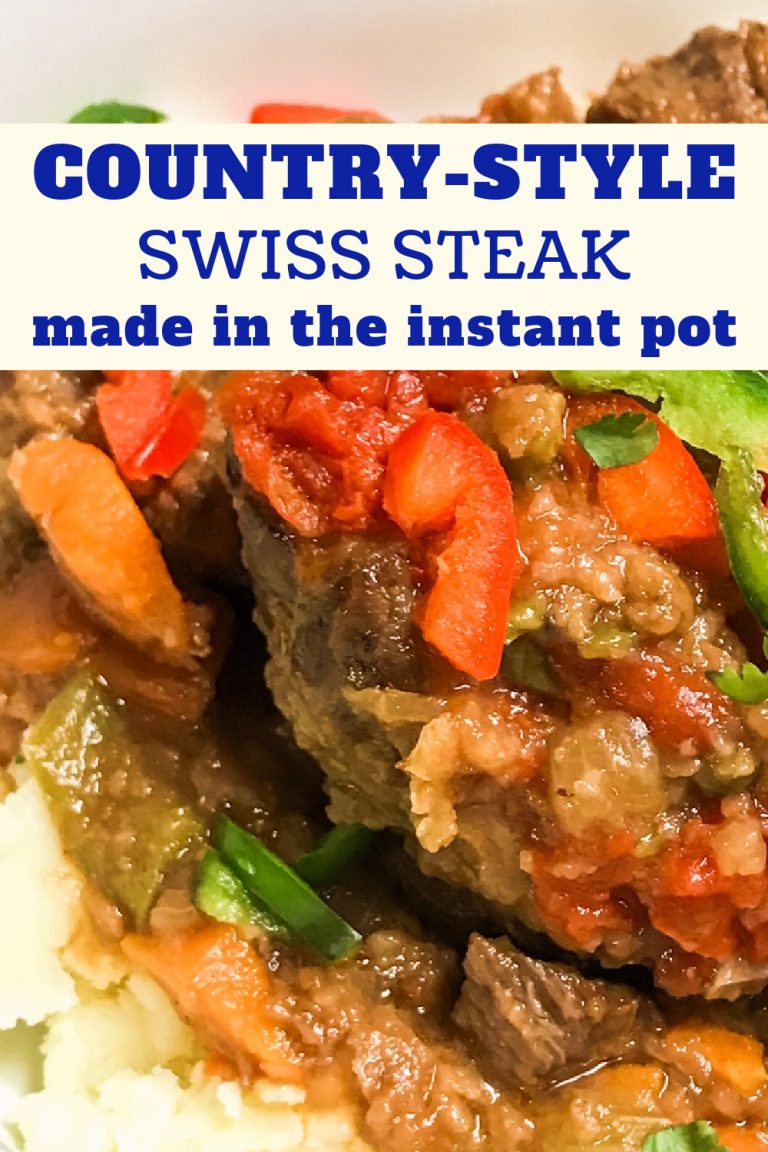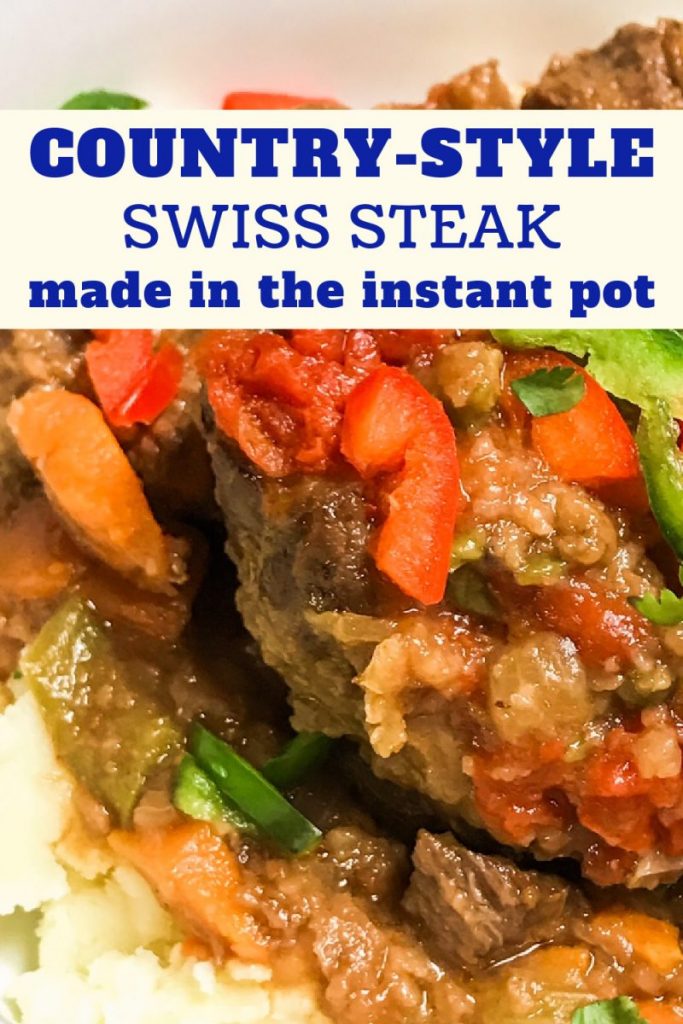 Helpful Recipe Tips for Making Instant Pot Swiss Steak
To make sure the beef used in this recipe turns out tender and juicy, be certain to utilize the Natural Pressure Release method on your Instant Pot.
The Natural Pressure Release method allows the pressure in the Instant Pot to gradually come down in a slow manner and this makes sure the meat inside gets to continue to cook (low and slow at this point) as it also rests and relaxes.
Letting the meat rest and relax during the Natural Pressure Release time makes sure the protein fibers are flexible so the meat is tender and easy to eat.
When you remove the Instant Pot lid after the Natural Pressure Release, use a fork to check the meat. The fork should insert into the meat in an easy manner; when you twist the fork, the meat should easily give to the pressure.
If the meat is not tender after the Natural Pressure Release, lock the Instant Pot lid back into place and pressurize the pot once more, setting the time for 2-3 minutes.
When the timer sounds, perform a Quick Release to remove all the pressure from the Instant Pot. Perform the fork test once more – the meat should be perfectly tender and ready to eat.
More Favorite Meat Recipes to Enjoy –
Printable Instant Pot Swiss Steak Recipe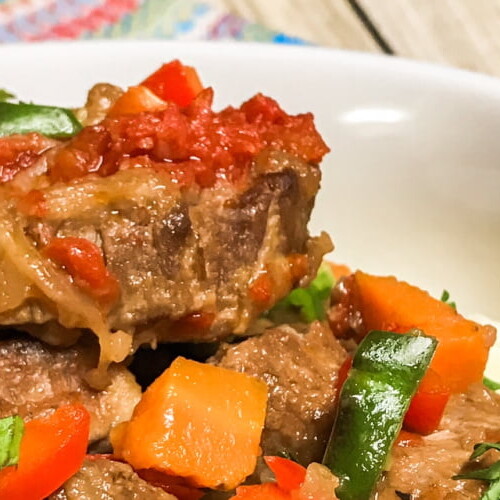 Easy Instant Pot Swiss Steak
Classic Swiss Steak made right in your Instant Pot…tender beef in a rich tomato gravy that's so easy and fast. You can make Easy Instant Pot Swiss Steak from scratch in just minutes, and it's the perfect inexpensive family dinner.
Print
Pin
Rate
Ingredients
2

lbs.

round steak

trimmed and sliced into serving pieces

2

tsp.

granulated garlic

1

tsp.

kosher salt

1

tsp.

ground black pepper

2

Tbs.

corn starch

2

Tbs.

vegetable or canola oil

1

medium yellow onion

diced

2

bell peppers

green or red, seeds and membranes removed, diced

1

cup

low beef broth

14

oz.

can crushed tomatoes

with juice

1

batch

of your favorite mashed potatoes or cooked egg noodles
Instructions
Season the sliced round steak on both sides with salt and pepper.

Place the corn starch and the granulated garlic into a shallow bowl; dredge the round steak pieces on both sides in the cornstarch mixture.

Using the sauté setting on the Instant Pot, add the oil. When the oil is hot and sizzling, add the prepared pieces of beef, a few at a time.

Quickly brown the beef on both sides, working in batches, removing each browned piece of steak to a platter as you work.

Continuing to use the sauté setting, add the onions and bell peppers to the drippings in the Instant Pot, cooking for a minute or so. Add some of the beef broth, stirring to deglaze the pot and to release any particles on the bottom of the pot.

Turn the Instant Pot off, then return the browned round steak pieces to the pot. Pour the remaining broth over then beef, then top everything with the crushed tomatoes and juice. DO NOT STIR!!

Lock the Instant Pot lid into place. Choose high pressure, setting the cook time to 30 minutes, bringing the Instant Pot to full pressure.

When the timer sounds, use a natural pressure release for 20 minutes. At that time, if any pressure remains, perform a quick release to remove all the pressure from the Instant Pot.

Unlock and remove the Instant Pot lid. Using tongs, gently remove the steak to a platter.

Turn the Instant Pot to the sauté setting once again; simmer the sauce in the pot until it is reduced and slightly thickened.

To serve, place the Swiss steak over a bed of mashed potatoes, then top with the tomato gravy.
Nutrition
Calories:
313
kcal
|
Carbohydrates:
13
g
|
Protein:
37
g
|
Fat:
12
g
|
Saturated Fat:
6
g
|
Cholesterol:
95
mg
|
Sodium:
569
mg
|
Potassium:
947
mg
|
Fiber:
3
g
|
Sugar:
5
g
|
Vitamin A:
1384
IU
|
Vitamin C:
58
mg
|
Calcium:
63
mg
|
Iron:
4
mg
Thanks for visiting! Please return soon to gather more yummy recipes for your family.
We love hearing from our readers and followers, so leave us a comment if you'd like. If you don't hear back from us shortly, know that we may not have seen your comment. Feel free to reach out to us by email: [email protected]fAlli.com.
Let's Get You Cookin',
Chef Alli
Please Note: We do use referral and affiliate links here for products and services that Chef Alli loves and recommends.