Here's your new favorite sweet and salty oatmeal cookie: Butterscotch Cowboy Cookies. My family constantly begs for these cookies, and we adore every bite! These nuggets of caramel and butterscotch flavors can be soft and chewy or buttery and crisp, depending on how you bake them.
Butterscotch Cowboy Cookies Recipe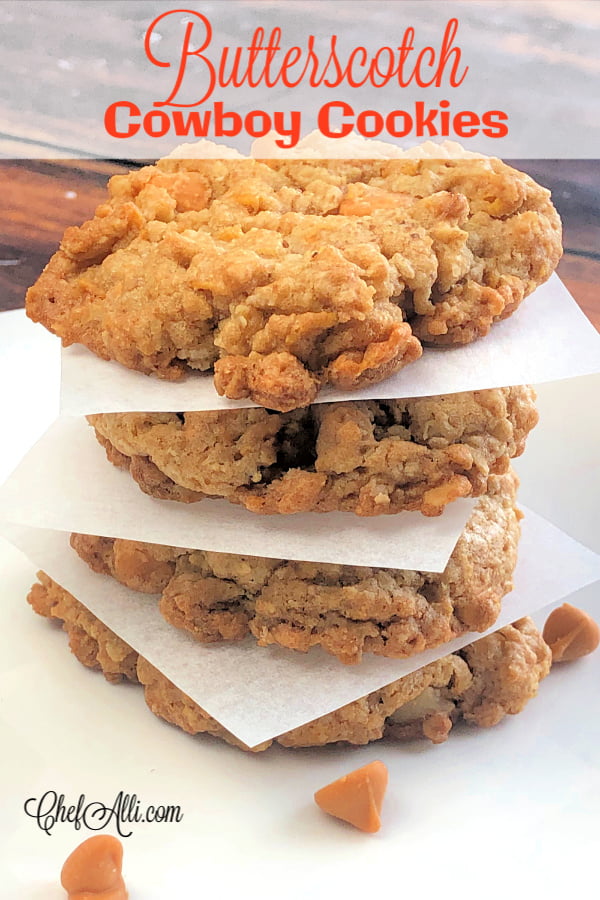 Please Note: We do use referral and affiliate links here for products and services that Chef Alli loves and recommends.
Howdy! Chef Alli Here. Let's Get You Cookin'….Shall We?? 🙂
So this is it. These cookies are my family's absolute favorite cookie….even more so than peanut butter cookies and Snickerdoodles.
We are big fans of homemade cookies, likely because both of my Grandmas always had a cookie jar full of them and always encouraged us kids and grandkids to enjoy them when visiting.
I've tried to do the same thing for my kids, though I often fall short of having homemade cookies on hand every minute.
I'm not sure where I ever came across this recipe, but I've been making it for years and years, tweaking it over the years to create the perfect oatmeal cookie.
We really enjoy the added crunch of the cornflakes and the pecans since the body of each cookie is soft and chewy, unless you happen to over bake them which I've done many times.
Even as very crispy butterscotch oatmeal cookies they are delicious and that way I've always got a cookie I can dip into a glass of milk or a cup of coffee. 🙂
What Ingredients do You Need to Make Butterscotch Cowboy Cookies?
I prefer to use unsalted butter for cooking and baking so that I can add my own salt, to taste, in the recipe I'm working on.
Soften the butter by letting it rest on the counter for an hour or so before making the cookie dough. If you're in a hurry, you can soften the butter in the microwave by using 30 second intervals at 30% power, touching the butter after each interval to see if it's softened to the touch.
Be sure you don't melt the butter as this can completely change the structure and texture of the cookies once they bake.
Brown sugar and granulated sugar
Sugar provides sweetness and the brown sugar enhances the flavors of caramel in these cookies.
Eggs provide structure, richness, leavening, color and flavor to baked goods, along with nutritional value, as well.
Vanilla enhances all the flavors in sweet baked goods, much like salt enhances the flavors of savory. Leaving out the vanilla in baked goods can make them tend to taste rather flat and bland.
You may be wondering what role WATER could possibly play in baked goods such as these cookies. Adding a bit of water to cookie dough adds steam as the cookies bake, making them puff up a bit.
Flour, baking soda, baking powder, salt
The dry ingredients are very important in any cookie dough – the flour provides structure to the dough while the baking soda and baking powder are the leaveners that help give rise to the cookies. S
Salt rounds out the flavors of the cookies, taking the bitter edge of the sugars away.
This recipe calls for quick oats, which are whole oats that have been processed so that they cook more quickly.
I often use whole oats (also known as rolled oats) in this recipe or even a combination of both quick and whole oats together. Oats bring a nutty flavor to the cookies.
This is one of the most unique ingredients in this cookie recipe and I love the added crunch and texture that the cornflakes bring!
This little bits of confectionery bring the flavors of brown sugar and butter. If you can't find butterscotch morsels, you can always substitute white chocolate morsels in this recipe, as well.
Crunch. Crunch. Crunch. Nuts give such great texture to these oatmeal cookies. I like to toast my pecans and walnuts in big batches spread over a baking sheet in a single layer in a 300 degree F. oven.
Once you smell the fragrance of the nuts from the oven, you've toasted them and they can be removed to the counter to cool.
I then store my toasted pecans or walnuts in a large Mason jar in the freezer so I can remove the amount I need as I go along.


Easy Recipe Tips for Making Oatmeal Butterscotch Cookies
My oatmeal cookies always seem to wind up too crispy and when you eat them they completely fall apart. Is there anything I can do to prevent this and keep them more on the softer side?
When you store your cookies, place a few slices of apple in the same airtight container, or you can also use a slice of bread. The cookies will draw the moisture from the bread and the apple slices, keeping them from getting crispy.
You can also wrap a couple of the baked cookies in a slightly dampened paper towel and microwave them for 10 seconds which steams them and they soften a bit.
I like my oatmeal cookies more soft and chewy than crispy/crunchy. Does how I bake them affect their outcome?
Yes and there are a few things you can do. Over baking your oatmeal cookies will result in super crispy cookies. If you under bake the oatmeal cookies just a bit, they can rest on the baking sheet for a couple of minutes once you remove the cookie sheets from the oven.
This allows residual heat to continue baking the cookies and helps make sure you don't over bake. Don't worry if you don't have perfect cookies the first time you bake them. Sometimes this takes a bit of practice (plus also learning how your oven bakes) to get perfectly soft oatmeal cookies.
Also, you'll get a more chewy texture in a cookie when you substitute baking powder for baking soda. Baking powder caused the cookies to raise and then quickly fall once you remove them from the oven, creating a much chewier cookie once they cool.
And, another step that helps get softer cookies is really creaming the butter with the sugars before adding any other ingredients. Using an electric mixer or a stand mixer can sure make this easier to accomplish.
What's the purpose of making a couple of test cookies?
I often forget to do this, and usually regret it. Lots of things in our environment can affect our cookie dough and the outcome of the cookies when baked.
For instance, if you don't have quite enough flour in the dough because you possibly measured a bit wrong or because you may have over mixed the cookie dough, the cookies can spread out and flatten a lot as they bake and this always ensures you'll have very crispy cookies as an end result.
Making a test cookie before you make an entire batch lets you see if you need to make any adjustments to the dough. So, if your test cookies flatten out too much, you'll know that you likely need to add a bit of flour to the dough (so your fat to dry ingredients evens out a bit better) to keep the cookies more solid and dense as they bake.
Should I use parchment paper when baking cookies?
I have begun using parchment paper every time I bake cookies, and here's why: parchment paper works wonders for the times you ignore the timer on the oven and over bake your cookies a bit.
By sliding the entire sheet of parchment paper right off the baking sheet and onto the cooling rack (with the cookies right on top) this helps stop the baking process and it works slick as a whistle.
Also, using parchment paper ensures that you don't have to spend time washing your baking sheets since the parchment usually keeps them nice and clean. You can fold up your parchment paper (I slide mine into my towel drawer) and reuse it time after time, as well.
What about my baking sheets? Do they affect how my cookies turn out?
Absolutely. Investing in two really heavy-duty cookie sheets (that have a rim!) is worth it. Cookie sheets that have a nice heavy construction give better browning and they are almost a life-time purchase if taken care of properly.
Keep your baking sheets out of the dishwasher so they finish stays in tact. Always hand wash your baking sheets, drying them immediately to store them.
Remembering to use parchment paper every time you bake something (unless you are using the broiler or very high temperatures) will keep you from having to wash your baking sheets as much.
Is it okay to bake two sheet pans of cookies in the oven at the same time?
I do this often so that I can get my cookies baked in a quicker fashion. Once both baking sheets of cookie dough are into the oven, I set my timer for half of the suggested baking time.
At the half way point when my timer sounds, I not only rotate the baking sheets from front to back by turning them around, I also rotate the baking sheets from upper to lower to help with more even baking.
Why is it important to have my ingredients at room temperature instead of chilled when making my cookie dough?
When your ingredients, such as butter, eggs, or other dairy products are at room temperature, it's much easier to incorporate them together.
Room temperature ingredients for making baked goods is important for forming an emulsion within your dough which traps air; this trapped air expands during the baking process and produces fluffier/softer cookies.
If I want my cookies to have a more prominent salty flavor to enhance the sweetness and butterscotch/caramel flavors, is there a way to easily impart that?
Sure, and it's an easy fix! As you place the cookie dough onto the parchment on the baking sheets, sprinkle each one with a tiny smidge of kosher salt.
That way, once the cookies are baked and you are eating them, the salt will be one of the first things to hit your palate, letting you experience it more fully along with the sweetness of the cookies and the flavors of butterscotch and the savory-ness of the walnuts or pecans.
Other Cookie Recipes to Enjoy –
Printable Directions for Making Butterscotch Cowboy Cookies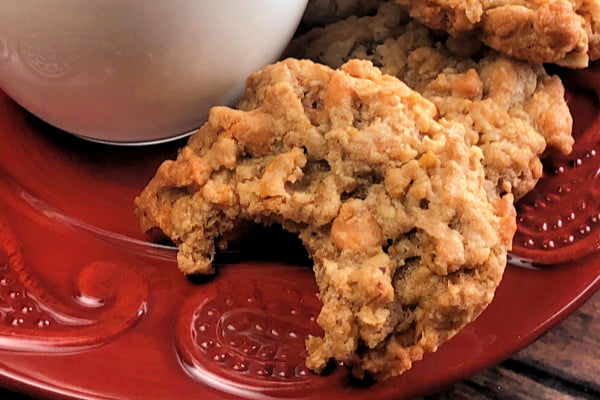 Butterscotch Cowboy Cookies
Here's your new favorite sweet and salty oatmeal cookie:  Butterscotch Cowboy Cookies. My family constantly begs for these cookies, and we adore every bite! These nuggets of caramel and butterscotch flavors can be soft and chewy or buttery and crisp, depending on how you bake them. Either way, they are at their best when served with an ice cold glass of milk.  #OatmealCookies #Butterscotch #BakeSale


Print
Pin
Rate
Ingredients
1

cup

unsalted butter, softened

1

cup

granulated sugar

1

cup

packed dark brown sugar

2

large eggs

2

tsp.

vanilla extract

1

Tbs.

water

2

cups

all-purpose flour

1

tsp.

baking soda

1/2

tsp.

baking powder

1

tsp.

kosher salt

2

cups

quick oatmeal, or use half quick oatmeal and half old-fashioned oatmeal (whole oats)

11

oz.

bag Nestle butterscotch morsels

2

cups

sort-of-crushed corn flakes

1

cup

toasted chopped pecans or walnuts
Instructions
In a large mixing bowl, using an electric mixer, beat the butter with both sugars until well blended; add the eggs, beating in one at a time, then add the vanilla and water.

In a separate bowl, combine the flour soda, baking powder and salt; add the dry ingredients to the prepared butter mixture and combine well. By hand, stir in the oatmeal, morsels, corn flakes and pecans until the cookie dough is well combined.

Preheat the oven to 350 degrees F. Place heaping spoonfuls (about 2 tablespoons of cookie dough) of cookie dough, approx 2" apart, onto a greased parchment-lined baking sheet. Gently flatten each mound of cookie dough just slightly, using a fork. Bake, uncovered, on the center rack for 10-11 minutes or until golden brown and slightly set at center when lightly touched with your fingertip.

Let the cookies set on the baking sheet for 2 minutes, then remove to a cooling rack.  Once the cookies have cooled completely, store in an air tight container.
Nutrition
Calories:
171
kcal
|
Carbohydrates:
26
g
|
Protein:
3
g
|
Fat:
7
g
|
Saturated Fat:
3
g
|
Cholesterol:
18
mg
|
Sodium:
112
mg
|
Potassium:
61
mg
|
Fiber:
1
g
|
Sugar:
14
g
|
Vitamin A:
157
IU
|
Vitamin C:
1
mg
|
Calcium:
17
mg
|
Iron:
1
mg
We love hearing from our readers and followers, so leave us a comment if you'd like. And, if you don't hear back from us shortly, know that we may not have seen your comment. Feel free to reach out to us by email: [email protected].
Let's Get You Cookin',
Chef Alli