I love a good bar cookie recipe – they save so much time! Peanut Butter Polka Dot Bars bring together creamy peanut butter, dark brown sugar, and oats to make a rich base, topped with a layer of chocolate and sprinkled with Reese's Pieces. My sons go crazy for these!

Howdy! Chef Alli Here. Let's Get You Cookin'….Shall We?? 🙂
It's pretty darn hard to go wrong with peanut butter and chocolate – am I right?? We love the peanut butter base, topped with creamy chocolate ganache and crumbles, then Reese's pieces over all.
Peanut Butter Polka Dot Bars are super easy to make and you'll get a nice big pan's worth…plenty to share if your heart desires.
Any place I've take these peanut butter/chocolate bars, they've been a big hit and a couple of times I've even make a double batch to accommodate everyone.
Let's Talk Ingredients
Butter. I like unsalted butter and when it's on sale, I stock my freezer! I've seen it for as little as $1.99 per lb. during the holidays so I'm always on the look out. I cook with unsalted butter since I can control that amount of sodium that's going into my recipe that way.
Peanut butter. I used creamy peanut butter in these Peanut Butter Polka Dot Bars since that's what I always have on hand, but you could totally use crunchy peanut butter, instead. I've never substituted any other nut butter in this recipe, say almond butter or cashew butter, but I'm betting it would probably work fine.
Dark brown sugar. Sweetness! I use dark brown sugar in nearly everything. Dark brown sugar has more molasses flavor than does light brown sugar and I'm a huge fan, so that's what I keep on hand for cooking and baking.
Eggs. These provide the binder for your ingredients and also give the cookie bars a soft texture.
Vanilla extract. I use pure vanilla extract (love making my own, too!) and this provides pretty much one thing: FLAVOR. 🙂
Oats. This recipe calls for quick oats, but if all you've got on hand is whole oats (aka old-fashioned oats) you can certainly substitute those with no problem.
Flour. All-purpose flour combined with the quick oats provides the foundation for your bar cookies, making a nice firm dough for pressing into the 9 x 13 pan.
Baking soda. This leavener gives these bar cookies their lift.
Kosher salt. Flavor! I love using kosher salt because of the nice, large, flat crystals it has. It's super easy to grab a pinch of salt for sprinkling or adding to a recipe as I need it.
Reese's Pieces. More sweetness and lots of great color for the cookie bars. I used regular Reese's Pieces for this recipe, but I really prefer using the Mini Reese's Pieces. Sadly, they are kind of hard to find in my area of NE Kansas.
Cocoa powder. I always use Hershey's Unsweetened Cocoa Powder, because my Grandmothers and Mom did. The best chocolate desserts and treats begin with a good quality cocoa powder, for sure.
Sweetened condensed milk. This is not to be confused with evaporated milk, though they do typically sit side-by-side on the shelf at the grocer. Sweetened condensed milk is a super thick, super sweet consistency that is typically used when making desserts and specialty baked goods.
Evaporated milk (sometimes called un-sweetened condensed milk) is milk that is a shelf-stable canned milk product with about 60% of the water removed, making it more concentrated and rich, though the consistency is not thick like sweetened condensed milk.


Easy Recipe Tips for Making Peanut Butter Polka Dot Bars
Do Peanut Butter Polka Dot Bars freeze well? Extremely! Sometimes I find it's not really any more work to make two pans of these bar cookies, giving me an extra pan to freeze.
This recipe calls for lining the 9 x 13 pan with foil and says you can lift the bar cookies out of the pan after they are baked? Why would anyone want to do this??? Can't I use cut the cookies into bars right in the pan? Yep, you sure can….BUT! Using a foil sling, to lift the cookies out of the pan really makes slicing the bar cookies SO MUCH EASIER! And, without the sides of the pan being in the way, it's way easier to cut the sheet of bar cookies into pieces that are all the same size, too, which makes them look really pretty when you get ready to serve them.
Should I use a knife to slice the bar cookies? I usually use one of two things: either my 8″ Chef's knife or my bench scraper. I'm finding using a bench scraper when cutting bar cookies works really slick because it's super maneuverable. I keep mine right on my magnetic knife bar with my knives so it's handy to grab when I need it for gathering up ingredients, cleaning my counter top of stuck-on dough, or for cutting bar cookies.
If I wanted to, could I bake these bar cookies in a large cast iron skillet? Great idea! You sure could and how fun would THAT be?? I've not tried that with this recipe, but if you use a large 12″ cast iron skillet, it should work really well. You may need to bake the bar cookies a bit longer since using the cast iron skillet will make them thicker.
Enjoy more sweet treat recipes –
Printable Peanut Butter Polka Dot Bars Recipe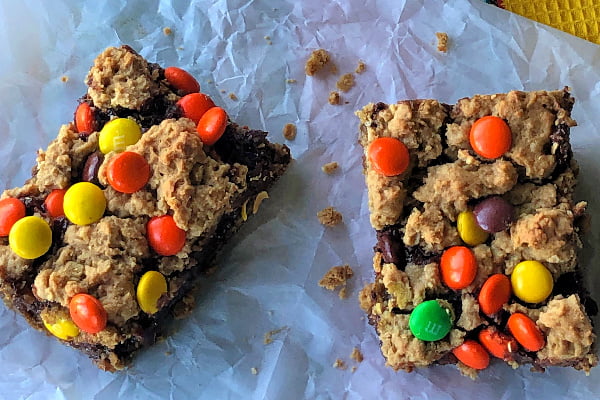 Peanut Butter Polka Dot Bars
I love a good bar cookie recipe - they save so much time! Here you'll find peanut butter, dark brown sugar, and oats combined to make a rich base, topped with a layer of chocolate ganache and sprinkled with Reese's Pieces. My sons go crazy for these. This recipe came from the Big Hershey's Cookbook.
Print
Pin
Rate
Ingredients
3/4

cup

unsalted butter, softened

3/4

cup

creamy peanut butter

2

cups

packed dark brown sugar

2

eggs

1

tsp.

vanilla extract

2 1/2

cups

quick oats

2 1/2

cups

all-purpose flour

1

tsp.

baking soda

3/4

tsp.

kosher salt

1

cup

Reese's Pieces or Reese's Mini Pieces
Chocolate Filling
1/2

cup

unsalted butter

2/3

cup

Hershey's cocoa

1/3

cup

granulated sugar

14

oz.

can sweetened condensed milk

2

tsp.

pure vanilla extract
Instructions
Preheat oven to 350 degrees F.

Line a 9 x 13 pan with a large sheet of foil, then spray the foil with nonstick spray.

Meanwhile, in a large mixing bowl, beat butter, peanut butter, and brown sugar until well blended. Add eggs and vanilla and beat again. In a separate bowl, combine oats, flour, baking soda, and salt; add to peanut butter mixture and combine well. Press all but 2 cups of dough into the foil-lined 9 x 13 pan.

Meanwhile, prepare chocolate filling by melting the butter in a saucepan over medium low heat; stir in the cocoa, sugar, and condensed milk. Cook, whisking constantly until smooth and thickened; remove from heat and whisk in vanilla extract.

Spread the warm prepared chocolate filling over the cookie dough that's been pressed into the 9 x 13 pan. Now, using your fingers, crumble the reserved cookie dough evenly over the top of the chocolate filling. (You'll see some of the filling peeking through the crumble.) Sprinkle the Reese's Pieces over the crumble topping.

Bake, uncovered, on the center rack of the oven for 25-30 minutes or until the top is golden brown and bars seems set at the center.

Cool the bars completely, then carefully lift the foil and sheet of bar cookies out of the pan, placing it onto a cutting board. Using a knife or a bench scraper, cut the sheet into the desired size of bar cookies, then store them in an air-tight container.
Notes
Makes 18-24 bar cookies, depending on how large you cut each one. www.ChefAlli.com
Nutrition
Calories:
593
kcal
|
Carbohydrates:
80
g
|
Protein:
12
g
|
Fat:
28
g
|
Saturated Fat:
14
g
|
Cholesterol:
67
mg
|
Sodium:
303
mg
|
Potassium:
380
mg
|
Fiber:
4
g
|
Sugar:
52
g
|
Vitamin A:
539
IU
|
Vitamin C:
1
mg
|
Calcium:
127
mg
|
Iron:
3
mg
We love hearing from our readers and followers, so leave us a comment if you'd like. If you don't hear back from us shortly, know that we may not have seen your comment. Feel free to reach out to us by email: [email protected].
Let's Get You Cookin',
Chef Alli
Please Note: We do use referral and affiliate links here for products and services that Chef Alli loves and recommends. If you click on a link and make a purchase, I may receive a small commission at no extra cost to you. For more information, please read my disclaimer here.