These Apricot Almond Bars are a favorite holiday treat that I've been making for years now. I love to include these little packages of heaven on my Christmas goodie trays for gift-giving each year.
Super dense and rich, you can cut these little goodies into bite-size bars for your friends and family to enjoy. This is a keeper recipe that you'll make again and again!
Apricot Almond Bars – The Best Yellow Cake Mix Dessert Recipe You'll Find!

Howdy! Chef Alli Here. Let's Get You Cookin'…. Shall We? 🙂
I found this recipe in a little cookbook that was either a Betty Crocker cookbook or a Pillsbury cookbook, not sure. You know the kind – the ones that are always up by the check-out stand at the grocery store?
Yep. Anyway, once I made these cookie bars, I never stopped. They are absolutely delicious and I get tons of requests for these during the holidays.
I also like to make the Apricot Almond Bars for special Spring events, too – graduations, tea parties, brunches, Mother's Day, etc.
Everyone loves them with a cup of hot coffee or tea, and I'm always besieged with recipe requests. Lots of people are surprised to learn that this dessert is made with a yellow cake mix. 🙂
Ingredients needed to make this recipe –
Use any brand of yellow cake mix you prefer. I typically use Duncan Hines or Pillsbury, but I also like the cake mixes available at Aldi, too. This is a standard size cake mix which is anywhere from 15-18 oz at the grocer.
I prefer unsalted butter for cooking and baking. This allows me to add the salt to taste instead of trying to figure out how much salt is already in the butter and doing a work-around as I cook. I do purchase salted butter for spreading onto warm slices of bread, but for cooking, I like unsalted butter. (And, if you hit a sale during the holiday season, remember that butter freezes just great, so stock up when you can save some $$$$.)
Almonds give nice crunch and texture to this dessert, both in the base as well as in the topping. I've never substituted another type of nuts in this recipe, such as pecans or walnuts, but as long as they are chopped up fairly small, I think you could use either one.
I try to purchase all of my nuts in bulk so that they aren't quite as expensive, toasting them all at one time. (See how to do that in the recipe tip section below) Then, once they are toasted and cooled, I package them into 1/2 cup or 1 cup portions in freezer bags, placing them into the freezer to use as needed.
You'll find apricot preserves in the jelly section at your grocer. I usually wind up purchasing apricot jam (which works just fine) since most grocery stores in my area don't carry preserves.
When it's time to spread the apricot preserves (or jam) over the base of this dessert during the preparation, warm the preserves in the microwave for a few seconds to make them much more easily spread -this helps so much!
Cream Cheese, Granulated Sugar, All-purpose Flour, Salt, Almond Extract, Egg
These ingredients comprise the creamy filling for this dessert. The addition of the flour and the egg are to give structure to the filling so it stays in place during the baking time, while sugar, salt, and the almond extract provide added sweetness and flavor.
Toasted Coconut (sweetened flake coconut)
I was never a fan of coconut flakes…..UNTIL I toasted them! Talk about a huge difference in flavor and texture – toasting coconut is life-changing! Now I can't get enough of it. Adding the toasted coconut flakes to the topping in this dessert makes it extra crunchy and so pretty, too.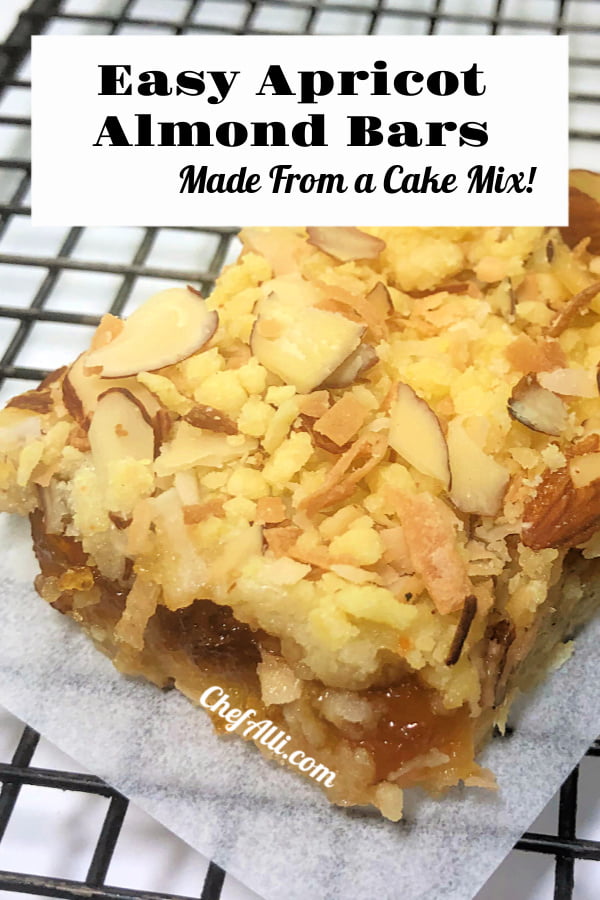 Easy and Helpful Recipe Tips for Making These Bar Cookies
Are apricot preserves the same thing as apricot jam?
Technically, preserves have more fruit than jam, or at least the pieces of fruit are supposed to be more chunky in form. Jam has crushed pulp and fruit and should be a bit smoother in texture than preserves. (And while we are at it, jelly doesn't have fruit at all, just fruit juice, and is supposedly more stiff in texture than jam or preserves.)
What if I don't have apricot preserves on hand. Can I substitute something else?
Sometimes I don't have apricot jam on hand, either, so I've been known to substitute peach jam in it's place and that works great. However, what DOESN'T work great is orange marmalade! I used this one time in a pinch and it was awful…..so disappointing!
Also, I once substitute raspberry jam in place of the apricot jam and that worked well, too. Long story short – you can probably use nearly any flavor of jam or preserves you have on hand – just not ORANGE MARMALADE……ewwww.
I don't have almond extract on hand. Can I substitute vanilla extract in this recipe?
Yes, and I do so all the time. I think the bars taste better with the compliment of almond alongside the apricots, but you can't ever go wrong with vanilla extract in any baked goods.
How do I toast coconut? How do I toast sliced almonds?
Great questions! This is super easy to do in the oven and I like to do big batches all at one time when I can, since I purchase coconut and sliced almonds (all my nuts, actually) in bulk. Preheat your oven to 325 degrees F., then spread your coconut out in a single layer across the baking sheet.
Place the coconut into the preheated oven on the center rack. Toast the coconut, uncovered, in the oven for approx. 10-15 minutes, or until the coconut is nicely golden brown and very fragrant, stirring often. Let the coconut cool then store it in the freezer to use as needed.
The process is the same for any kind of nuts, too. Just be sure to keep your eye on both the coconut and the nuts when you're toasting them as they burn easily and quickly.
Why should I toast the coconut and the nuts, anyway?
I'm glad you asked. Toasting coconut and nuts enhances their flavors, allowing us to use less in our recipes and still have the great flavors; using less means we cut down on the fat and calories in our recipe, as well.
Can I substitute slivered almonds in place of sliced almonds in this recipe?
Yes, you can. However, I do like the thinner texture of the sliced almonds better. Some people think that slivered almonds are better for baking since the exterior of the almond is completely removed, making them a more prominent in baked goods, especially when used as a garnish.
What is the best way to soften cream cheese?
I place my unwrapped blocks of cream cheese into a large mixing bowl, placing the bowl into my microwave. Using 30% power, heat the cream cheese in 30 second intervals until it's very soft to the touch.
Never soften cream cheese or butter on full power since this will melt it from the inside out, often causing it to explode in your microwave, spewing everywhere.
More Recipe Favorites to Enjoy
Printable Apricot Almond Bars Recipe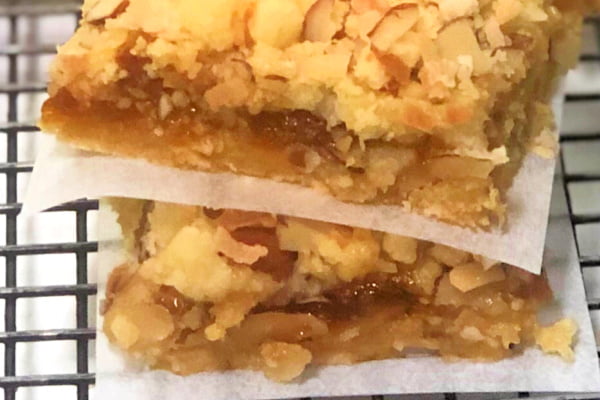 Apricot Almond Bars
These Apricot Almond Bars are a favorite holiday treat that I've been making  for years now.  I love to include these little packages of heaven on my Christmas goodie trays for gift-giving each year.  Super dense and rich, you can cut these little goodies into bite-size bars for your friends and family to enjoy. This is a keeper recipe that you'll make again and again!
Print
Pin
Rate
Ingredients
Base
1

standard-size yellow cake mix, 18 oz.

½

cup

unsalted butter, melted

1/2

cup

sliced almonds, toasted

12

oz.

jar apricot preserves, warmed (may substitute apricot jam)
Filling
8

oz.

cream cheese, softened

1/3

cup

granulated sugar

1

Tbs.

all-purpose flour

½

tsp.

kosher salt

1

tsp.

almond extract

1

egg
Topping
1/4

cup

sliced almonds, toasted

1/2

cup

sweetened flake coconut, toasted
Instructions
Preheat the oven to 350 degrees F. (325 degrees F. if using a glass baking dish).

Generously spray a 9 x 13 baking dish with non-stick spray.

To prepare the cookie base, combine the dry cake mix and the melted butter in a large mixing bowl, using an electric mixer set on low speed, mixing just until the mixture is crumbly.  Stir in the 1/2 cup of almonds, then reserve 1 cup of this prepared base mixture. 

Press the remaining cookie base mixture evenly over the bottom of the prepared 9 x 13 baking dish. Warm the apricot preserves in the microwave 20-30 seconds. When the preserves are warm enough to almost be pourable, spread them over the top of the base mixture in the 9 x 13 pan, leaving a 1/4-inch edge all the way around.

In the same mixing bowl, prepare the filling by combining the softened cream cheese with the sugar, flour, and salt; beat in the egg and vanilla, mixing until the mixture is smooth; spread the prepared cream cheese mixture over the apricot preserves.

To prepare the topping, combine the reserved cup of the cookie base mixture with the coconut and ¼ cup sliced almonds, then sprinkle this over the top of the cream cheese layer.

Bake, uncovered, on the center rack of the preheated oven for 35-40 minutes, or until golden brown and the center is set. 

Cool the bars completely before cutting to serve. (Tip: The cookie bars are easier to cut when they are chilled.) Store the bars in the fridge, but serve at room temperature. Delicious with coffee or hot tea.
Nutrition
Calories:
302
kcal
|
Carbohydrates:
39
g
|
Protein:
4
g
|
Fat:
15
g
|
Saturated Fat:
7
g
|
Cholesterol:
33
mg
|
Sodium:
284
mg
|
Potassium:
118
mg
|
Fiber:
2
g
|
Sugar:
23
g
|
Vitamin A:
341
IU
|
Vitamin C:
1
mg
|
Calcium:
96
mg
|
Iron:
1
mg
We love hearing from our readers and followers, so leave us a comment if you'd like. If you don't hear back from us shortly, know that we may not have seen your comment. Feel free to reach out to us by email: [email protected].
LET'S GET YOU COOKIN',
CHEF ALLI
Please Note: We do use referral and affiliate links here for products and services that Chef Alli loves and recommends. If you click on a link and make a purchase, I may receive a small commission at no extra cost to you. For more information, please read my privacy policy disclaimer.