Classic Macaroni Salad – an old-fashioned family favorite that's made with your choice of pasta, lot of fresh vegetables, and a traditional mayonnaise-based dressing. You'll enjoy this creamy macaroni salad recipe all summer long, especially once you discover how quick and easy it is to make – no more trips to the deli! #macaronisalad #pasta #summer #sidedish #potluck


Please Note: We do use referral and affiliate links here for products and services that Chef Alli loves and recommends.
Howdy! Chef Alli here.
Hosting lots of summer gatherings this season? Great! That means you'll need an awesome side dish and this simple macaroni salad is just the ticket. I think it's fun to observe how every family has their traditional side dishes that are specific to the season, and how those side dishes are expected to be at every family dinner and potluck gathering, made exactly the same way they've always been made. Don't go changing anything lest you get in trouble with your peeps!
Let's Talk Ingredients for Making Classic Macaroni Salad with Peas
Pasta. Yes, this recipe is called Macaroni Salad, even though I no longer making it with macaroni pasta, aka elbow macaroni. I've found that I like small shell pasta for making this macaroni salad with egg because the shells hold onto the dressing better, making it taste more creamy in texture. As I always tell my readers, use what you've got on hand! Any kind of pasta will work.
Peas. I like frozen peas in this salad, but if all you've got in the pantry is a can of peas, those will definitely work as well. Drain them well before adding them to the pasta salad. I like to include the frozen peas in this salad because they add such a brilliant green color!
Hard-boiled eggs. I love the addition of hard boiled eggs to this Classic Macaroni Salad – both the color and the flavor is enhanced.
Red bell pepper, red onion, celery. More veggies and more color for your pasta salad! This will also bring some nice "crunch" to your salad, as well.
Shredded cheddar cheese. We prefer sharp cheddar in this macaroni salad, but you can use whatever your heart desired. Also, if you'd prefer to cube the cheese instead of using shredded cheese, that works well, also.
Parsley. Italian parsley brings a peppery flavor to this salad, and also adds some pretty color as a garnish.
Mayonnaise, granulated sugar, apple cider vinegar, spicy brown mustard. These ingredients come together to make the dressing for this Classic Macaroni Salad. You can whisk these ingredients until smooth, or place all of them into a mason jar fitted with a lid and shake to emulsify.
Easy Recipe Tips for Making The Best Classic Macaroni Salad
Can I make hard-boiled eggs in my Instant Pot?
YES! And it's wonderful, I'm telling you right now. Here's the easiest way I've found: place 1 cup water into the bottom of your Instant Pot, then add a trivet. Stack from 1-18 eggs on top of the trivet (just make sure the pot isn't more than 2/3 full) and lock the Instant Pot lid into place. Using the manual button, choose High Pressure for 5 minutes, bringing the Instant Pot to full pressure. When the timer sounds, perform a quick release to remove all pressure from the pot. Immediately place the hard-boiled eggs into a bowl of ice water to chill. Once the eggs have been in the ice water for 2-3 minutes, crack their shells on the counter, then re-submerge the eggs into the water to quickly peel the shells right off – works so slick. And, yes, you can cook as few or as many hard-boiled eggs in your Instant Pot at one time.
What's the best way to cook pasta?
My favorite way (because it's super FAST!) to cook pasta is using my Instant Pot. I always use chicken broth (instead of water) to cook my pasta since it gives the pasta such a nice flavor. For this recipe, I placed 3 cups of chicken broth and 3 cups of small shell pasta into my Instant Pot, bringing it to full pressure. After 5 minutes, I used a quick release to remove all the pressure from the pot. Once you remove the lid, you'll see that the cooked pasta has absorbed all of the broth – no need to drain anything!
How can I keep my macaroni salad from absorbing all of my dressing?
Such a great question, and if I knew the exact answer to that million dollar question, I'd be on a tropical island basking in the sun! Pasta is a starch and starch has a job to do: absorb moisture. That's pretty much it's sole purpose in life and pasta typically takes it job very seriously. There are many a dry pasta salad out there because pasta sucks up a ton of dressing when you're not looking! There are two things you can do that help:
Keep all the components of the salad separated (but chilled and ready to assemble) until it's time to serve the salad, then quickly toss them together and serve.
Go ahead and assemble the salad per the directions in the recipe, but make extra dressing and reserve it; when you're ready to serve the salad, add the extra dressing and toss to combine. You'll see that the pasta has already likely absorbed the majority of the dressing that was previously added to the salad.


Other Summer Salad Recipes to Enjoy –
Printable Directions for Making Classic Macaroni Salad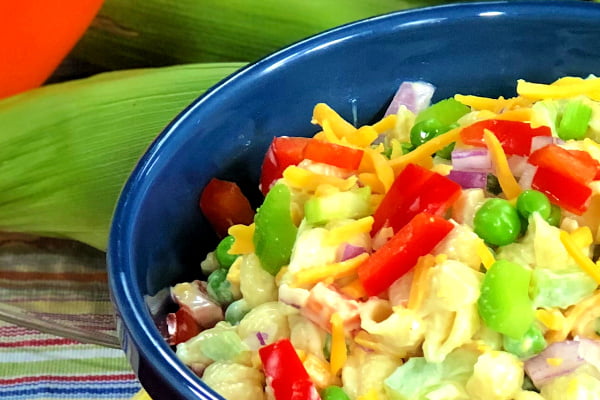 Classic Macaroni Salad
Hosting a bbq this summer? Then you'll need a great side dish, and this Classic Macaroni Salad is just the ticket. My fam loves this macaroni salad made with basic ingredients you'll have on hand, all dressed up in a creamy mayo-based dressing.
Print
Pin
Rate
Ingredients
3

cups

elbow macaroni pasta, cooked until al dente, according to pkg. directions (may substitute any small pasta, as preferred)

1

cup

frozen peas

3

hard boiled eggs, peeled and diced

1

red bell pepper, seeds and membranes removed, diced

1/2

cup

diced red onion

3

celery ribs, diced

1

cup

diced or shredded extra-sharp cheddar cheese

2-3

Tbs.

chopped fresh parsley leaves

Kosher salt and freshly ground black pepper, to taste
Dressing
1

cup

mayonnaise

1

tsp.

granulated sugar

2

Tbs.

apple cider vinegar

1

Tbs.

spicy brown mustard
Instructions
In a large bowl, whisk together mayonnaise, sugar, vinegar, and mustard to make the dressing. Stir in the cooked pasta, peas, eggs, bell pepper, onion, celery, cheese, and parsley. Season to taste with salt and pepper. Cover; place into the refrigerator for 2 hours or up to 2 days.

Serve chilled.
Notes
**Sometimes I make extra dressing so I can dress the salad a bit more directly prior to serving it; pasta always has a way of absorbing most of your dressing. 
www.ChefAlli.com 
Nutrition
Calories:
487
kcal
|
Carbohydrates:
73
g
|
Protein:
15
g
|
Fat:
16
g
|
Saturated Fat:
5
g
|
Cholesterol:
89
mg
|
Sodium:
393
mg
|
Potassium:
142
mg
|
Fiber:
3
g
|
Sugar:
4
g
|
Vitamin A:
954
IU
|
Vitamin C:
28
mg
|
Calcium:
121
mg
|
Iron:
2
mg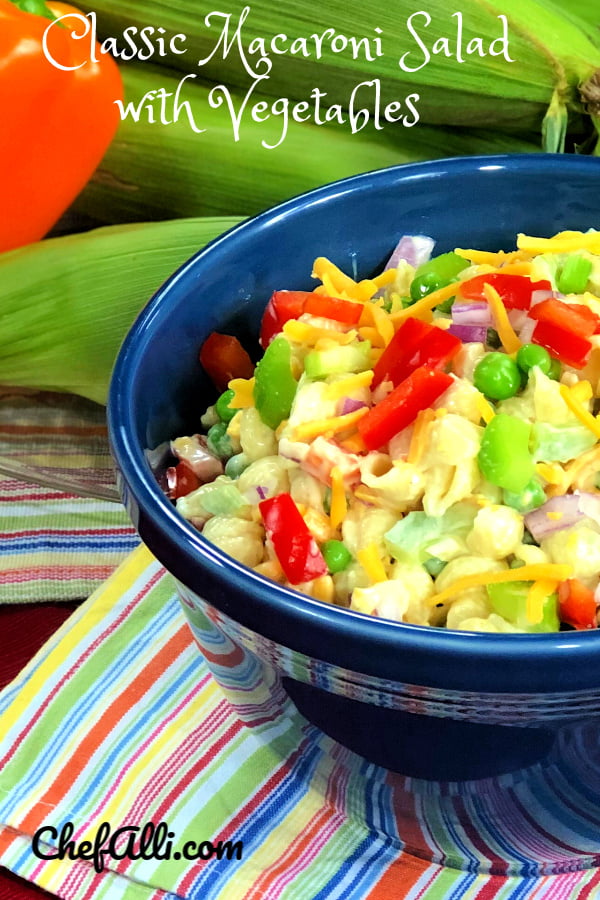 We love hearing from our readers and followers, so leave us a comment if you'd like. And, if you don't hear back from us shortly, know that we may not have seen your comment. Feel free to reach out to us by email: [email protected].
Let's Get You Cookin',
Chef Alli