Bacon Jalapeno Deviled Eggs Recipe
Bacon Jalapeno Deviled Eggs…..now that sounds like some kick-butt-delicious deviled eggs, with a side of spicy! These deviled eggs will be the hit of your next summer gathering.

Please Note: We do use referral and affiliate links here for products and services that Chef Alli loves and recommends.
Howdy! Chef Alli Here. Let's Get You Cookin'…..Shall We?? 🙂
So this is it, folks! The best deviled eggs recipe that everybody and their brother will beg you for: Nice and Spicy Bacon Jalapeno Deviled Eggs. These amazing deviled eggs never tasted so good and all you need are just 8 ingredients, most of which you'll already have on hand.
We make deviled eggs all summer long, keeping them in the fridge for a nice chilled treat when you need a little pick-me-up.
In addition, it seems my family expects deviled eggs at every single holiday meal throughout the year, as well. Have you ever noticed that regardless of when you make them, deviled eggs are always the first dish to go?? True story.
Now, if you want to take your deviled eggs to an entirely new level, one must consider the addition of BACON! Incorporating bacon and jalapenos into a deviled egg recipe has been well received here at home and also at several neighborhood gatherings where some serious taste-testing took place.
I'm pleased to announce that Nice and Spicy Bacon Jalapeno Deviled Eggs have been voted a hands-down WINNER!
What Ingredients Will You Need to for Make Bacon Jalapeno Deviled Eggs?
Eggs

Pretty self explanatory, right? I get mine from my Egg Lady (I love my Egg Lady!) and they are so fresh I can hardly stand it! Sometimes she even throws some duck eggs in there when she delivers.

I love how orange and vibrant the yolks are. But, alas, if you don't have access to farm fresh eggs, don't you worry your pretty head, truly. Store-bought large eggs work JUST FINE.



Mayonnaise

I love Hellman's mayonnaise, but as I'm always saying "use what ya got" on hand. However, mayonnaise and Miracle Whip (aka salad dressing) are NOT the same thing, so don't get that turned around. Go for straight up mayonnaise when making deviled eggs.



Rice vinegar and dry ground mustard

This is where some of your tangy-ness comes in. Common substitutions for these ingredients would be regular white or cider vinegar, and prepared or spicy brown mustard in place of the dry, ground mustard.



Granulated sugar

Just a pinch of sugar really cuts the acidity of the vinegar, rounding out the flavor profiles very nicely.



Jalapeno

You never know how spicy jalapenos are going to be. Even jalapenos from the same plant can vary in their degree of spiciness.

Be sure to remove the seeds and membranes since that's where the majority of the heat comes from. You'll be adding minced jalapeno to the deviled egg filling, then using sliced jalapenos for the garnish.



Bacon


I prefer center-cut bacon that's a bit on the thicker side. We are finding that the best (and quickest!) way to cook bacon is in our air fryer – who knew???? (It only takes 8 minutes!)

Smoked paprika


This is mainly for color since you're just using a light dusting. Don't have smoked paprika? Just use regular Hungarian paprika – it works just fine.


Easy Recipe Tips for Making Nice and Spicy Bacon Jalapeno Deviled Eggs

What if I don't have a food processor to make deviled eggs? Does that leave me out?

Not at all, my friend. You're just gonna have to add some elbow grease and a sturdy fork to mash your yolks by hand. The finished texture might not be QUITE as creamy as the food processor version, but they will still be phenomenal, I promise.

Do I need to wear protection on my hands when working with fresh jalapenos?

YES!!! I definitely recommend using a pair of latex kitchen gloves to protect your finger tips and nail beds. Jalapeno juice has a way of lingering on the skin causing some nasty burning.

And, if you wear contacts, it's absolutely miserable to get jalapeno juice on your contacts when you're removing them from your eyes at the end of a long day in the kitchen – ouch!

What's the best way to seed a jalapeno?

Here's how I like to do it: Cut the jalapeno in half lengthwise. Now take a grapefruit spoon (yes, a grapefruit spoon) and quickly scoop out the seeds and membranes, scraping the spoon along the inside of each jalapeno half – it works super slick!

Next, slice each half into super thin strips, then cut across all the strips to make a nice small mince.

What if I don't have a disposable pastry bag and tip for placing the filling into each egg half?

Don't worry at all. Just use a small spoon and spoon the filling into each one. Once you get them garnished, nobody will be the wiser since you're adding bacon and sliced jalapenos on the top of each one.

I've never made hard-boiled eggs before? Is it difficult? What method do you recommend?

Making hard-boiled eggs in your Instant Pot is the best thing EVER! Here's how you do it: place 1 cup water into the bottom of your Instant Pot, then add a trivet.

Stack from 1-18 eggs on top of the trivet (just make sure the pot isn't more than 2/3 full) and lock the Instant Pot lid into place. Using the manual button, choose High Pressure for 5 minutes, bringing the Instant Pot to full pressure.

When the timer sounds, perform a quick release to remove all pressure from the pot. Immediately place the hard-boiled eggs into a bowl of ice water to chill.

Once the eggs have been in the ice water for 2-3 minutes, crack their shells on the counter, then re-submerge the eggs into the water to quickly peel the shells right off – works so slick. And, yes, you can cook as few or as many hard-boiled eggs in your Instant Pot at one time.
More Favorite Summer Recipes to Enjoy –

Printable Directions for Making Southern-Style Deviled Eggs with Bacon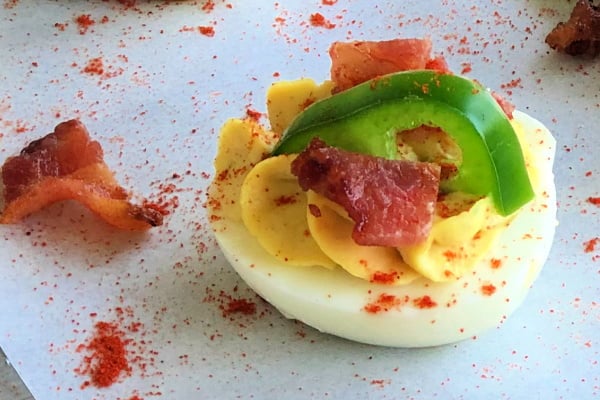 Nice & Spicy Bacon Jalapeño Deviled Eggs
Bacon Jalapeno Deviled Eggs.....now that sounds like some kick-butt-delicious deviled eggs, with a side of spicy! These deviled eggs are a tasty side dish for your next summer gathering that will really impress the neighbors. #deviledeggs #sidedish #spicy #jalepeno #bacon
Print
Pin
Rate
Servings:
24
deviled eggs
Ingredients
12

lаrgе еggѕ, hard-boiled, рееlеd and cut in half lengthwise, chilled

1

cup

mayonnaise

1 1/2

tsp.

rice vіnеgаr

3/4

tsp.

dry grоund muѕtаrd

1/2

tsp.

granulated sugar

1

jаlареnо, seeds and membranes removed, minced

6-8

slices

center-cut bасоn, cooked аnd сrumblеd

1

jalapeno, seeds and membranes removed, sliced, for a garnish

Smoked paprika, for sprinkling
Instructions
Rеmоvе each yolk from the egg halves and place them into a food processor bowl; add the mауоnnаіѕе, rісе vinegar, ground mustard, sugar, and minced jalapenos tо thе egg yolks. Use the pulse button on the food processor to process the ingredients until smooth. Place the deviled egg mixture into a disposable pastry bag that has been fitted with a large star tip.

Pipe the prepared deviled egg mixture into each egg white half; gently top each egg with crumbled bacon and sliced jalapenos. Sprinkle with paprika. Chill well before serving.
Nutrition
Calories:
85
kcal
|
Carbohydrates:
1
g
|
Protein:
4
g
|
Fat:
7
g
|
Saturated Fat:
2
g
|
Cholesterol:
98
mg
|
Sodium:
137
mg
|
Potassium:
45
mg
|
Fiber:
1
g
|
Sugar:
1
g
|
Vitamin A:
149
IU
|
Vitamin C:
1
mg
|
Calcium:
13
mg
|
Iron:
1
mg
We love hearing from our readers and followers, so leave us a comment if you'd like. And, if you don't hear back from us shortly, know that we may not have seen your comment. Feel free to reach out to us by email: [email protected].
Let's Get You Cookin',
Chef Alli