Here's a fat-free salad that's crunchy, fresh, and chock-full of vegetables. I also love how colorful this Sweet Corn and Baby Pea Salad with Jicama is. And talk about delicious on a hot summer day! #summer #salad #fresh #vegetables #crunchy #jicama #sweetcorn #babypeas


Please Note: We do use referral and affiliate links here for products and services that Chef Alli loves and recommends.
Howdy! Chef Alli Here.
If you're looking for a fresh and fast side dish for that upcoming family reunion potluck, you've just found it! I'm in love with this salad and all of it's glorious crispy-crunchy-ness. This summer veggie salad is colorful and healthy, and can also be made in advance – a very nice perk, if you ask me! Plus, it's a great summer salad to customize by adding any fresh produce you have on hand.
This is a great summer salad to keep stored away in your fridge. It's so refreshing to grab a bowl of this, add a fork, then devour! My husband, BDP, also likes to have this salad in his lunch box when he needs something cool and quick when he's checking cattle or hauling hay. Now! If I could just get my sons to enjoy this marinated vegetable salad as much we their parents do. 🙂
Let's Talk Ingredients for Making This Delicious Summer Salad
Gold and white sweet corn blend and baby peas
You'll find both of these veggies in the freezer section at your favorite grocer. Sometimes I've substituted canned white shoepeg corn in this salad when I couldn't find the frozen corn that I like – it works just fine. (Maybe not quite as crunchy, but still very good.)

Celery, scallions, red bell pepper, jalapeno
More veggies for your salad, all adding wonderful texture and color. Any color of bell pepper works nicely in this salad and if spiciness isn't your gig, you can opt out of the jalapeno. Use your favorite pair of kitchen shears for cutting the scallions to make it super quick and easy.

Jicama (pronounced Hee-kah-ma)
A jicama is a starchy root vegetable with a white interior, also known as the Mexican potato. You'll find it in the produce section of larger grocery stores – look for a globe-shaped vegetable with papery, golden-brown skin that typically has a waxy finish to help preserve the moisture inside. Jicama is wonderfully crunchy and is delicious served raw as part of a vegetable tray or to add texture to a salad.
Easy Recipe Tips for Making This Summer Corn Salad Recipe
I can't find jicama at my local grocery store. If I leave it out of this recipe, will it still taste good?

Great question. I love the crunchiness the jicama adds, that's for sure, but this marinated corn salad is still completely delicious without the jicama.

Can I make this salad in advance?

Surely. Making this salad a day ahead lets all the vegetables marinate in the dressing, yet they are still crunchy. This salad can stay in the fridge for up to 3 days.

What's the best way to cut up a jicama?

Use your peeler to peel the waxy outer covering of the jicama away. Next, cut the jicama in half, then lay each half cut-side-down onto your cutting board. Now cut each one of these halves into slices about 1/2″ – 3/4″ thick, then cut each slice into strips. You should now have jicama pieces that would be an ideal size for a vegetable platter. For this recipe, you can then dice each strip into smaller pieces to get the consistency you need.

And what about cutting the jalapeno? I've heard that getting jalapeno juice on your fingers is painful. Is this true?

Yes, jalapeno juice burns like the devil. I like to keep food-safe latex gloves on hand in my kitchen for this task since jalapeno juice can get down into your nail beds and can also remain on your skin for quite a lengthy period. I learned this the hard way when I had worked with jalapenos all day long, then went to remove my contacts late that night – ouch! The jalapeno juice was still lingering on my fingertips and it got into my eyes. Since then, I've always used latex gloves when working with any jalapeno cutting.


Other Summer Salad Recipes to Enjoy –
Printable Directions for Making Sweet Corn and Baby Pea Salad with Jicama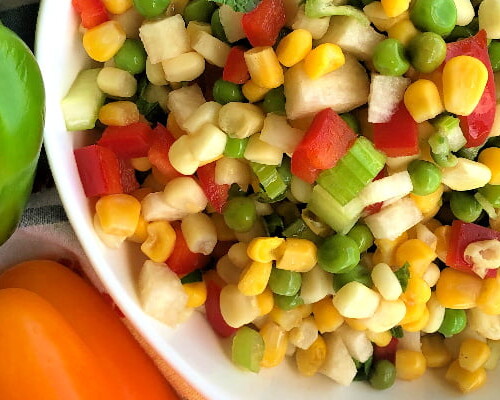 Sweet Corn and Baby Pea Salad with Jicama
Here's a fat-free salad that's crunchy, fresh, and chock-full of vegetables. I also love how colorful this Sweet Corn and Baby Pea Salad with Jicama is. And talk about delicious on a hot summer day!
Print
Pin
Rate
Ingredients
16

oz.

bag frozen gold and white sweet corn blend, thawed and drained

16

oz.

bag frozen baby peas, thawed and drained

1

cup

peeled and diced jicama

1

cup

diced celery

4

scallions, white and green parts both, chopped

1

sweet red or orange bell pepper, seeds and membranes removed, diced

1

jalapeno, seeds and membranes removed, diced
Dressing
1/2

cup

seasoned rice vinegar

2

Tbs.

dark brown sugar

1/2

tsp.

kosher salt

1/4

tsp.

ground white pepper

1

Tbs.

minced fresh mint
Instructions
In a large mixing bowl, combine all of the vegetables. To make the dressing, combine the ingredients in a dressing cruet or jar with a lid and shake well until the dressing is emulsified. Pour over the vegetables, tossing gently to combine. Chill for at least 4 hours before serving.
Nutrition
Calories:
131
kcal
|
Carbohydrates:
26
g
|
Protein:
6
g
|
Fat:
1
g
|
Saturated Fat:
1
g
|
Sodium:
136
mg
|
Potassium:
367
mg
|
Fiber:
6
g
|
Sugar:
10
g
|
Vitamin A:
1211
IU
|
Vitamin C:
52
mg
|
Calcium:
31
mg
|
Iron:
1
mg
We love hearing from our readers and followers, so leave us a comment if you'd like. And, if you don't hear back from us shortly, know that we may not have seen your comment. Feel free to reach out to us by email: [email protected].
Let's Get You Cookin',
Chef Alli