Mexican Panzanella Salad with Steak and Shrimp: This classic Italian bread and tomato salad goes South of the Border. Fresh and full of summer, this main-dish salad is a great way to use up those really-ripened tomatoes and that day-old hunk of French bread.
Mexican Panzanella with Steak and Shrimp Recipe

Howdy. Chef Alli Here. Let's Get You Cookin'….Shall We?? 🙂
I was first introduced to grilled panzanella salad when I traveled to Italy; I immediately fell in love with it – such a great use of crusty bread, ripe tomatoes, cucumbers, red onions and fresh basil leaves….all my favorite things of summer, and of course it didn't hurt to be dining on panzanella in a beautiful open-air restaurant in Florence, either!
To put a Mexican spin on this salad, we used salsa as part of the dressing and replaced the fresh basil with fresh oregano – o.m.gosh! Talk about fabulous – I could not stop eating this salad! And, to make this salad a main dish salad, I added grilled steak and grilled shrimp, which really put it over the top. We have a new go-to salad for summer….awesome.
What Ingredients Will I Need to Make Panzanella?
Olive oil, salsa, and balsamic vinegar. These ingredients comprise your dressing. I love a good 3-ingredient dressing! And since you're utilizing so few ingredients in this dressing, be sure to use the best quality of each one that you can.
How do you know if they are good quality? If you enjoy sipping/tasting each one as a stand-alone ingredient, it's good quality. Don't be tempted to leave out the balsamic vinegar – it's adds so much to the overall flavor of this dressing!
Italian bread. Here's where your croutons come in to play. You can actually use any type of good, crusty bread for making your panzanella croutons. Slice the loaf into fat slices, then cut each slice into strips, lastly cutting the strips into cubes that become the croutons.
Spread them out over a rimmed baking sheet, drizzle with a bit of olive oil and pop them into the 400 degree F. oven, uncovered, until golden brown. Easy peasy.
Steak and Shrimp. Protein! We love a good ribeye steak sliced up in this Mexican Panzanella Salad, but if you've got sirloin on the grill, that's okay as well – any kind of steak works fine, as long as it's tender. Panzanella is a great salad for using up leftover cooked meat….grilled salmon, rotisserie chicken, grilled steak, boiled shrimp, whatever.
Tomatoes, cucumber, red onion, and fresh oregano. The fruits of summer! Use your juiciest, ripest tomatoes along with crispy cucumbers and red onions. I especially love fresh oregano in this salad, but if you don't have it available, substitute dried oregano in it's place.
Easy Recipe Tips for Making Mexican Panzanella Salad at Your Next Summer Gathering
I've actually never even heard of panzanella! What is it exactly? Panzanella is a Tuscan bread salad that's an Italian staple in their culture. It's a great way to use up day-old bread. (For some delicious traditional panzanella salad recipes, try these from Jamie Oliver, The Pioneer Woman, and, of course, Giada de Laurantiis.)
Can I make panzanella salad ahead of time? Sorry, but NO. You do want to let the salad rest for a few minutes right after you dress it so the croutons can absorb the dressing a bit, but panzanella doesn't hold well because eventually those wonderful croutons get pretty mushy. Assemble and eat panzanella immediately!
Every time I cook shrimp, it winds up tough and chewy. What am I doing wrong?
That's a super easy fix! You're simply overcooking the shrimp. Raw shrimp is gray in color.

When you are cooking shrimp, know that it will quickly turn from gray to pink in color which literally takes from seconds to just a couple minutes, depending on how many shrimp you are cooking at one time, and what size they are.

Also, when the shrimp just begin to curl, immediately remove them from the heat.

I don't have fresh oregano so I need to substitute dried oregano in it's place…what is the ratio?
Typically, if a recipe calls for 1-2 Tbs. of a fresh herb, you're going to want to substitute 1/2 – 1 tsp. of the dried spice in it's place. I always start with the 1/2 tsp. and do a taste test before going further. You can always add more!
The recipe says to seed the cucumbers. Why and how do I do that?
The seeds can add unneeded moisture to a salad and the texture there isn't the greatest, either. Cut your cucumber in half lengthwise, then in half lengthwise again. This will make the seeded center of the cucumber very easy to slice right off – you'll know it when you see it!
What should I serve with this South-of-the-Border panzanella salad?
We really enjoy Salsa Bloody Mary Cocktails paired with this salad.
What tools will I need for making panzanella salad? A serrated knife and wooden cutting board (I really love Epicurian cutting boards!) for cutting the croutons, a rimmed baking sheet, a salad dressing shaker, and silicone spatulas for tossing the panzanella.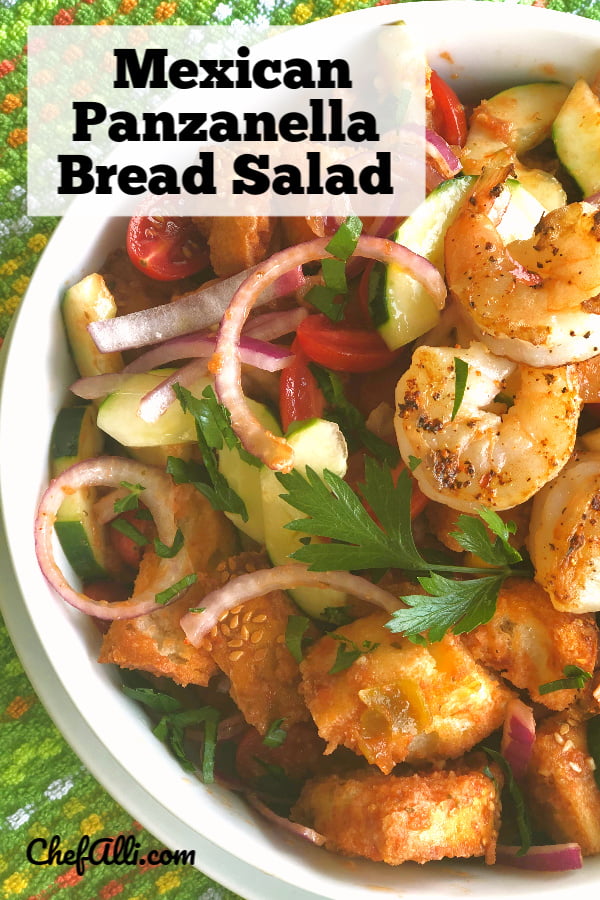 More Salad Recipes To Enjoy –
Printable Directions for Making Mexican Panzanella Salad with Steak and Shrimp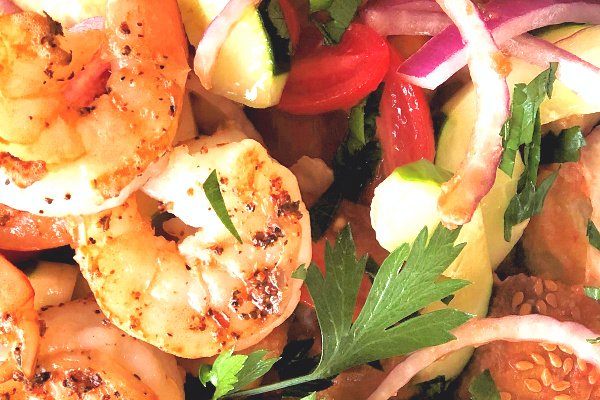 Mexican Panzanella with Steak and Shrimp
Mexican Panzanella Salad with Steak and Shrimp: This classic Italian bread and tomato salad goes South of the Border. This main-dish salad is a great way to use up those really-ripened tomatoes and that day-old hunk of French bread. #Salad #Tuscan #Mexican #BreadSalad #Summer
Print
Pin
Rate
Ingredients
Dressing
1/3

cup

good olive oil

1

cup

Black Bean and Corn Salsa, I like Holmes-Made from Wichita, KS!

Splash of good balsamic vinegar
Salad
4

cups

day old French or Italian bread, cut into one-inch cubes

2

Tbs.

Olive oil

1

lb.

sirloin or ribeye steak, seasoned

12

large raw shrimp, shells removed, deveined

1

pint

grape tomatoes, halved lengthwise

1

large

cucumber, seeded and sliced into half moons

1/2

red onion, thinly sliced

salt and pepper to taste

1-2

Tbs.

chopped fresh oregano (may substitute 1 tsp. dried oregano, if fresh isn't available)
Instructions
In a dressing cruet or mason jar, combine dressing ingredients and shake well to combine; reserve.

To make the salad croutons, preheat the oven to 400 degrees F.

Spray a baking sheet with non-stick cooking spray. Toss the bread cubes with 2 tablespoons olive oil; season with salt and pepper. Bake bread cubes for about 10 minutes or until golden brown; remove from oven and set aside to cool.

Preheat a grill or grill pan over medium-high heat. Cook the steak about five to six minutes on the first side, flip, and cook for additional three to four minutes or until slightly pink in the middle. Remove from heat and set aside to rest before slicing the steak into thin strips across the grain, on the bias.

Next, preheat a skillet to medium-high heat. Add 2 tablespoons olive oil to the skillet; when the oil is nicely hot, and the shrimp, cooking just a few seconds until the shrimp begin to curl; remove at once,

To make the salad, in a large serving bowl or platter, add the croutons, cucumbers, tomatoes, red onion, oregano, shrimp, and sliced steak. Pour desired amount of prepared salsa dressing over all, then toss well. Let salad rest for 5-10 minutes before serving. Season to taste with salt and pepper.
Nutrition
Calories:
611
kcal
|
Carbohydrates:
74
g
|
Protein:
39
g
|
Fat:
18
g
|
Saturated Fat:
3
g
|
Cholesterol:
139
mg
|
Sodium:
1351
mg
|
Potassium:
728
mg
|
Fiber:
4
g
|
Sugar:
7
g
|
Vitamin A:
664
IU
|
Vitamin C:
17
mg
|
Calcium:
133
mg
|
Iron:
6
mg
We love hearing from our readers and followers, so leave us a comment if you'd like. If you don't hear back from us shortly, know that we may not have seen your comment. Feel free to reach out to us by email: [email protected].
LET'S GET YOU COOKIN',
CHEF ALLI
Please Note: We do use referral and affiliate links here for products and services that Chef Alli loves and recommends. We may receive a small compensation when you use these links. This really helps us keep the recipe blog moving forward. Thank you so much!