Now's the perfect time to bake up a fresh batch of Cheddar and Green Chili Sausage Cornbread! How do I know? Because it's loaded with layers of moist, dense cornbread, melted cheddar, mild green chilies, and cooked crumbled sausage. Serve topped with sour cream and sliced scallions, this is the perfect side dish for most any soup or chowder.


Howdy! Chef Alli Here. Let's Get You Cookin'….Shall We?? 🙂
We love all things cornbread at our house….cornbread muffins, crumbled cornbread for chili, plain cornbread with butter and honey! Then came THIS: Cheddar and Green Chili Sausage Cornbread – WOW.
Dense, moist and stacked with generous goodies in the middle – you can't go wrong. We love this as a side dish to accompany Tex Mex Corn Chowder, one of our favorite hearty soups in the cold of winter.
And if you feel a hankerin' comin' on for other Mexican dishes, a couple of our all-time favs might be Chicken And Bacon Black Bean Enchiladas or Cheesy Chicken Tamale Casserole.
What Ingredients Will You Need to Make Sausage Cornbread with Green Chilies and Cheese?
Use a mild pork sausage for this recipe. I like to cook up a couple pounds of pork sausage at a time so I can use what I need for the recipe, then freezer the rest for use later – it saves so much time when you're trying to get dinner done.
Cream-style corn is made by combining whole sweetcorn with a creamed soup that's made from the pulp of corn that's scraped from the cob. I always keep a couple cans of cream-style corn in my pantry for this particular recipe because we make it so often. You'll find cream-style corn next to the regular canned sweet corn at your grocer.
Cornmeal is made from dried corn kernels that have been ground into a fine or medium texture. Yellow cornmeal is ground from dried yellow corn, while white cornmeal is ground from dried white corn. The taste is almost exactly the same, but some people insist the yellow cornmeal is a bit sweeter.
The role of oil in baked goods is to make them lighter and moister. You may use either oil interchangeably n this recipe, though the canola oil is lower in saturated fats.
Large Eggs, baking soda, kosher salt, and granulated sugar
When use in baking, eggs provide structure, leavening, richness, color and flavor. The baking soda is the leavener that gives lift to your cornbread (along with the eggs). Salt rounds out all the ingredients and heightens their flavors, while the sugar adds a nice sweetness to the cornbread.
Green chilies add a Southwest or Mexican flair to this cornbread recipe. Fire-roasted green chilies are incredibly mild and smokey in flavor, with a lightly pungent fragrance that can be similar to garlic. Diced green chilies in a can are readily available in the Hispanic foods section of your local grocer.
Shredded cheddar cheese or shredded Colby-Jack cheese
We like a sharp cheddar for this easy cornbread recipe, but you can actually use any type of cheddar, Monterey Jack, or Colby-Jack cheese that you prefer. Use whatever you'd got on hand!
Chopped scallions and sour cream
Both of these ingredients are optional, but they make a nice garnish. We never miss the opportunity to use sour cream atop our cornbread – it's such a nice finishing touch that's cool and creamy.
Easy and Helpful Recipe Tips for Making Cornbread with Sausage, Cheese, and Green Chilies – Mexican-Style!
What's the best way to brown sausage?
Use your favorite cast iron skillet over medium high heat. Once your skillet is nicely preheated, add the pork sausage and crumble it (I use my potato masher to do this task) so it can cook evenly across your skillet. Your skillet should be preheated before the sausage hits it so that you get the nice browning (and extra flavor!) that's desired when cooking crumbled meats. Once the sausage is fully cooked throughout, drain the fats well and proceed with your recipe.
What's an easy way to drain the fats from cooked, crumbled sausage in a skillet?
I place my skillet onto a hot pad on my counter or on an area of my cook top that's not hot. Next, fold a separate hot pad and place this beneath one side of the skillet so that it tips. Use your spatula to move the cooked sausage to the side that's elevated. This will allow all the hot fats to run down to the other side of the skillet, pooling there. Once all the fats have stopped accumulating, use a few paper towels to sop of the hot fats, gently pressing the papers towels down using your spatula. Toss the paper towels and proceed to use the cooked sausage. This works great with any kind of crumbled meats that you're cooking in a skillet.
If I only have white cornmeal on hand, can I substitute that for the yellow cornmeal in this recipe?
You sure can, just be aware that your cornbread will be white in color…it will TASTE the same, but will just be much lighter than what's pictured here in this recipe.
Can I make this recipe using ground beef instead of ground sausage?
Yes, and I've done that many times. Either browned and crumbled meat works great in this recipe and the green chilies compliment each one very nicely, as does the cheddar cheese.
Can I double this recipe to make a 9″ x 13″ pan of cornbread?
Yep. You will just need to increase the baking time a bit because you're making a double batch in a bigger pan. Just bake the cornbread until a knife inserted into the center comes out nice and clean. You may want to decrease the oven temperature to 325 degrees F. when baking a 9″ x 13″ pan of cornbread so that the exterior doesn't get too browned as you work to get the center fully baked.
Can this bread be garnished with other ingredients?
The sky is the limit when it comes to garnishes. We've used sour cream. sliced scallions, diced green chilies, salsa, sliced black olives, guacamole, diced tomatoes, shredded cheese…..and on and on. Be creative!
Is there anything I can do if I happen to over bake my cornbread?
Over baked cornbread is dry and crumbly, just the opposite of what we all desire. When I over bake my pans of cornbread, I remove them from the oven as quickly as possible, then cover the pan with a big sheet of foil, sealing the edges well. This forces the condensation that forms from the steam back down into the cornbread, helping it regain some moisture.
If we have leftovers of this cornbread, are there other things we can use it for?
You can definitely crumble this cornbread and use it as a topping for baked beans, soups, and chowders. Sometimes we crumble leftover cornbread into the bottom of serving bowls, then top it with chili and cheddar cheese – yummy!
Does this cornbread freeze well?
Surely. I like to make a double batch and bake it in a 9″ x 13″ pan. We eat half of it and I freeze the other half for using later. To reheat it, let the cornbread thaw, then wrap it in foil and place it into a 300 degree F. oven for 15-20 minutes or until hot throughout; serve at once.

More Favorite Recipes Your Family May Enjoy –
Printable Cheddar and Green Chili Sausage Cornbread Recipe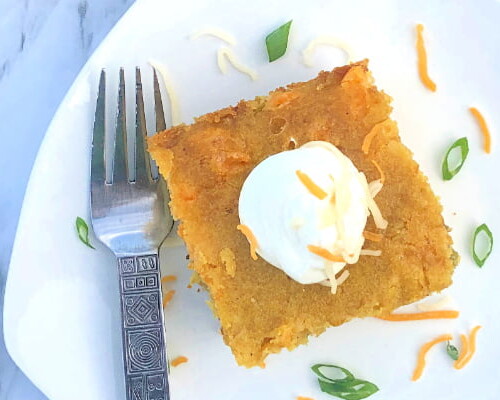 Cheddar and Green Chili Sausage Cornbread
Now's the perfect time to bake up a fresh batch of Cheddar and Green Chili Sausage Cornbread! How do I know? Because it's loaded with layers of moist, dense cornbread, melted cheddar, mild green chilies, and cooked crumbled sausage. Serve topped with sour cream and sliced scallions, this is the perfect side dish for most any soup or chowder. #cornbread #cheddar #greenchilies #sausage #sidedish #soup #chowder #loaded #moist
Print
Pin
Rate
Ingredients
1

lb.

mild pork sausage, browned, crumbled and drained

14

oz.

can cream-style corn

1

cup

yellow cornmeal

1/2

cup

vegetable or canola oil

2

large eggs, beaten

1/2

tsp.

baking soda

1

tsp.

kosher salt

2-3

Tbs.

granulated sugar

4

oz.

can diced green chilies, preferably fire-roasted

4-6

oz.

shredded cheddar or Colby Jack cheese

sliced scallions and sour cream, as garnish
Instructions
Preheat the oven to 350 degrees F.

In a large mixing bowl, combine the corn, cornmeal, oil, eggs, baking sod, and salt just until blended.

Pour half of the cornbread batter into a greased 8" x 8" baking dish; sprinkle the cooked sausage crumbles over the batter, followed by the diced green chilies and shredded cheese.  Top with the remaining half of the cornbread batter.

Bake, uncovered, on the center rack of the preheated oven for 30-35 minutes, or until a knife inserted into the center comes out clean.  Let rest for 5-10 minutes before cutting into squares.

Serve the cornbread with garnished with sliced scallions and sour cream.
Nutrition
Calories:
489
kcal
|
Carbohydrates:
27
g
|
Protein:
16
g
|
Fat:
36
g
|
Saturated Fat:
20
g
|
Cholesterol:
97
mg
|
Sodium:
931
mg
|
Potassium:
327
mg
|
Fiber:
3
g
|
Sugar:
5
g
|
Vitamin A:
297
IU
|
Vitamin C:
4
mg
|
Calcium:
119
mg
|
Iron:
2
mg
We love hearing from our readers and followers, so leave us a comment if you'd like. And, if you don't hear back from us shortly, know that we may not have seen your comment. Feel free to reach out to us by email: [email protected].
Let's Get You Cookin',
Chef Alli
Please Note: We do use referral and affiliate links here for products and services that Chef Alli loves and recommends. I may receive a small compensation when you use these links. This really helps me keep my recipe blog moving forward. Thank you so much!