Zesty Shrimp Salsa. Grab a bowl and your favorite tortilla chips! This salsa is super addictive and sports a secret ingredient that you don't often find in most salsa recipes….and it's not the shrimp that I'm referring to, either!


Note: We do use referral and affiliate links here for products and services that Chef Alli loves and recommends.
Howdy! Chef Alli Here. Let's Get You Cookin'….Shall We?? 🙂
A good friend of mine from North Carolina first introduced me to this salsa. When I read through the ingredient list I was kind of surprised – ketchup and horseradish?? Now that's a first for me. But you know what?? Those two ingredients (along with the shrimp, of course) make a fantastic batch of fresh salsa!!
If you don't love this salsa as much as we do, I'll kiss your grits and give you an entire week to draw a crowd! Seriously, it's fresh, flavorful and zesty – that's just a fact. We love to make salsa year round, but find ourselves enjoying THIS salsa much more often in the summer months when it's too hot to eat and you just need a good snack.
This Zesty Shrimp Salsa may seem as though it has alot of ingredients (because it does!), but don't be deterred. You'll have most of them on hand and you literally just throw it all together in a big old bowl.
What Ingredients Do You Need to Make Fresh and Easy Homemade Salsa?
Cooked shrimp

You can purchase fully cooked shrimp, which is the easiest, or you can purchase raw shrimp and cook it yo-self. If you opt for the raw shrimp to cook yourself, get a pot of water boiling, then stir in some Old Bay seasoning; add the raw shrimp and keep a close eye on them!

As soon as those suckers turn from gray in color to an opaque pink color, they are DONE. This will happen within MERE MINUTES, especially if you're using a large pot of water and just 1 pound of small shrimp.

Once the shrimp turn pink, immediately drain them, then toss them all into a bowl of ice water to stop the cooking process. If you've ever had overcooked (chewy and tough) shrimp, you know it's not a great experience.

Small shrimp will cook especially quickly, so stand right over your pot with a long-handled spoon to stir them a bit – you may be surprised at how quickly they cook! Make sure you pull off the tails of the shrimp before adding them to salsa.

Homegrown tomatoes
This is a great way to use up some of the those garden tomatoes that always seem to be coming out of your ears every summer. You can use any type that you've got as long as they are nice and ripe.
So here's a little canned tomato primer for you: Diced tomatoes are chunks of tomato that are packed in tomato juice. Crushed tomatoes are a mixture of diced tomatoes and tomato paste. Stewed tomatoes are cooked and then canned, usually with other seasonings and sugar added into the mix.
Yep, scallions are the same thing as green onions. Like all onions and garlic, they belong in the Allium family, as are shallots, leeks and chives. Typically when a recipe calls for scallions, it is referring to the green part, though some recipes (like this one) call for both the green and white parts, using nearly the entire scallion. I like to use my kitchen shears for cutting scallions; you can hold the entire bundle in one hand, cutting them with your shears in the other hand – it makes short work of this task.
I love the smokiness of fire-roasted green chilies and you can always find canned diced green chilies in the Hispanic section at the grocer. Green chilies are typically very mild in flavor.
Jalapeno, chipotle sauce or minced chipotles in adobo sauce
Here's where more smoke and lots of spiciness come into the picture for this salsa. Sometimes, I leave out the jalapeno and just add a bit more chipotle sauce. I like to purchase the Buffalo brand of chipotle sauce when I can find it. Otherwise, I purchase a can of whole chipotle chilies packed in adobo then process them until smooth in my food processor. I then store them in a Mason jar in my fridge to use as needed. They will keep for several weeks in the fridge.
Squeeze a lemon to get fresh lemon juice for this recipe.
Use a nice mild olive oil for this salsa. This gives the salsa a nice, velvety finish.
Here's the tang in this salsa! Love it. Any brand of ketchup you have on hand works just fine.
So be sure you use prepared horseradish (also called grated horseradish) in this salsa, not cream-style horseradish!
You will find prepared horseradish in the refrigerated section of the grocer – sometimes near the cheese, sometimes near the meats, sometimes near the cold cuts and refrigerated pickles; it all depends on the particular grocer.
All I know is that I'm NEVER without prepared horseradish on hand as a condiment – it's totally ESSENTIAL! Horseradish possesses a very potent flavor that's kind of hot and peppery.
That said, you typically won't need much of it. I'd recommend adding a little at time, always taste-testing as you go.
Here's an aromatic that gives extra flavor to this salsa. I love it when I get a good SWEET red onion, but sometimes they are hard to come by and can be very strong in flavor. Keep in mind that the finer you slice or chop an onion, the strong in flavor it will be – every cut causes the onion to release it's essence (oil) which really intensifies the onion flavor.
To be honest, I'm really not sure WHY this recipe calls for jarred salsa, but I always add it just because I love the end result so much. I typically add Pace (medium or mild) to this salsa.
Added just before serving, avocados add a creamy texture to this salsa, a perfect flavor compliment that can actually tone down the spiciness of the salsa, too.
Choose avocados that are give slightly to your thumb when you press against the skin. Or, if you aren't going to use the avocados for a few days, the unripened ones will be ready in just a couple of days, especially if you place them in a closed paper bag.

Easy and Helpful Recipes Tips for Making This Fresh Tomato Salsa Recipe
How long can I keep this salsa in the fridge?
You can keep it in the fridge for up to 3-4 days, but don't plan on that. Once your family gets a taste of it, you'll find that it's gone in a flash.
You can, though freezing the salsa changes the structure of the finished product, making it pretty runny once it's thawed. Yes, you can certainly strain off that extra liquid, but my family prefers me to make this salsa fresh each time so I do since it's so easy to throw together.
What exactly is a chipotle anyway?
So a chipotle is a smoked jalapeno. Since I don't have time to be smoking my own jalapenos, I just buy whole chipotles in a can and process them until smooth in my food processor. Then, you can store this smoky and hot condiment right in your fridge for use in all kinds of recipes. Anything that you want to add a bit of smoke and heat to can benefit from a touch of minced chipotles in adobo or chipotle sauce.
Other Favorite Recipes to Enjoy –
Printable Directions For Making Zesty Shrimp Salsa from Scratch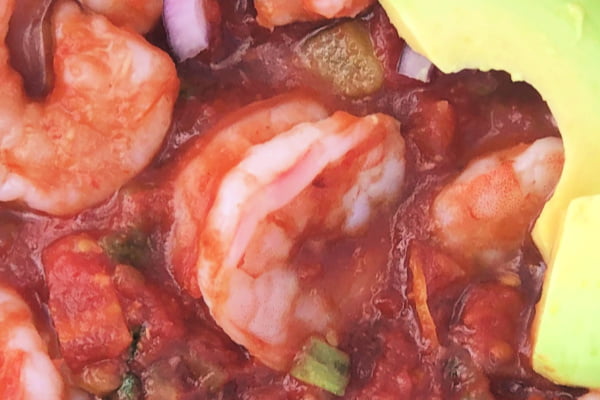 Zesty Shrimp Salsa 
Zesty Shrimp Salsa.  Grab a bowl and your favorite tortilla chips! This salsa is super addictive and sports a secret ingredient that you don't often find in most salsa recipes....and it's not the shrimp that I'm referring to, either! #shrimp #freshsalsa #zesty #flavorful #tomatoes
Print
Pin
Rate
Ingredients
1

lb.

small cooked shrimp, tails removed

2

cups

diced homegrown tomatoes, with juice

28

oz.

can crushed tomatoes, juice reserved

1

bundle scallions, chopped, using both the green and white parts

4

oz.

can diced fire-roasted green chilies, drained

1

jalapeno, seeds and membranes removed, diced small

1-2

tsp.

chipotle sauce or minced chipotles in adobo, depending on how hot and smoky you prefer your salsa

1

tsp.

fresh lemon juice

1

Tbs.

olive oil

1 1/2

cups

ketchup

1-2

Tbs.

freshly grated horseradish, not cream-style!

1

small red onion, diced

1

cup

jarred salsa such as Pace

2

ripe avocados, peeled and chopped
Instructions
Combine all ingredients, except the avocados in a large mixing bowl or a large container with an airtight lid.  Just before serving, stir in the avocados.  Serve with your favorite tortilla chips.  Salsa is best served at room temperature.
Nutrition
Calories:
93
kcal
|
Carbohydrates:
12
g
|
Protein:
8
g
|
Fat:
2
g
|
Saturated Fat:
1
g
|
Cholesterol:
76
mg
|
Sodium:
549
mg
|
Potassium:
313
mg
|
Fiber:
2
g
|
Sugar:
9
g
|
Vitamin A:
420
IU
|
Vitamin C:
13
mg
|
Calcium:
69
mg
|
Iron:
1
mg
I love hearing from our readers and followers, so leave us a comment if you'd like. And, if you don't hear back from us shortly, know that we may not have seen your comment. Feel free to reach out to us by email: [email protected].
Let's Get You Cookin',
Chef Alli