Cajun Sweet Corn Medley (succotash or hash in the deep South) is a traditional summer side dish that combines sweet corn and vegetables with BACON to make a tasty and colorful addition to any meal.
Cajun Sweet Corn Medley Recipe
Please Note: We do use referral and affiliate links here for products and services that Chef Alli loves and recommends.
Howdy! Chef Alli here. Let's Get You Cookin'……Shall We?? 🙂
You know what happens every summer. All of a sudden the garden takes off because the heat sets in and BOOM! you've got vegetables running out of your ears. OR, you went to the Farmer's Market and just couldn't resist all the gorgeous vegetables that were available.
Regardless of HOW you acquired the veggies, they are now sitting on your kitchen counter and you've got to figure out what to make!
Search no further. This creamy skillet corn with veggies is the answer to your dilemma. Of all my corn recipes, I think this might just be my favorite….likely because it's got BACON as a key ingredient! And, well, it's gorgeous-ly delicious, not to mention EASY!
Let's Talk Ingredients for Making Cast Iron Skillet Corn
Bacon. Need I say more??
Sweet corn. Yes, I've often cut corn off of the cob for this recipe, but if you don't want to do that extra work, just purchase sweet corn from the freezer section at the grocer. Heck, I've even used canned corn in this recipe before – just drain it really well before adding to your skillet. I also think it looks super pretty to combine both white corn and yellow corn in this recipe. For optimal flavor in this recipe, I'd opt for the fresh sweet corn (cut off the cob) or the frozen kind.
Onion and red bell pepper. These vegetables are called "aromatics" and they provide the foundational layer of any dish that calls for them. This means they add a lot of good flavor to get your recipe going.
Cajun seasoning blend. My go-to here is Tony Chachere's Creole Seasoning, though you do have to be careful as it's a bit more on the salty side than some seasoning blends. I always have this in my cupboard for adding just a bit of spicy-ness to a recipe. Good stuff!
Scallions. Yes, these are the very same thing as green onions. I usually use both the green parts and the white parts, unless my recipe specifies using only one or the other. I find it handy to cut scallions with my kitchen shears, and you can actually cut several scallions at once using your kitchen shears – super hand.
Grape tomatoes. I love the size of grape tomatoes, but you can certainly use ANY tomato in this southern skillet corn recipe….grape tomatoes, cherry tomatoes, heirloom tomatoes, roma tomatoes….whatever you've got on hand. I just think grape tomatoes are easy to eat and work into this Cajun Sweet Corn Medley really well.
Lima Beans. Here is where I get push back from my family – they think they don't like Lima beans. Truth be told, I don't think they've ever even TRIED lima beans. Good grief. They are delicious, unless you overcook them and they get too mushy. A good substitution here would be edamame, but I sometimes have trouble finding edamame at my local grocer.
Whipping cream. This ingredient is completely optional. A splash of whipping cream adds a nice creaminess to this dish to finish it off, but it's not a must by any means. You could also add a splash of half-and-half instead if you've got that in the fridge.
Kosher salt and freshly ground black pepper. I use kosher salt for just about everything. I like the nice, big crystals because it's easy to grab of pinch when I need it. And, because pepper is a spice (thought we often tend to forget this) it's a good idea to grind it fresh as we use it in our cooking.
Easy Recipe Tips for Making Cajun Sweet Corn Medley
How do I cut corn off the cob…..exactly???
If I'm doing just a few ears, I hold the corn vertically on my cutting board, then use my chef's knife to cut down each side of the ear of corn, cutting the kernels off. Yes, it's kind of messy, so be prepared. Using a large cutting board helps a bunch. If I'm doing SEVERAL ears of corn, I get out my angel food cake pan and stick the ears of corn into the center hole, one at a time, slicing the kernels off the cob and letting them fall into the cake pan. It works so slick! Or, you can even purchase a corn stripper tool that works great as well.
So this seasoned corn medley in a skillet is the same thing as SUCCOTASH?
You caught me! Yes, it's actually the very same thing. I opted not to CALL it succotash, though, because I've noticed that when I make this dish and call it succotash, people either don't know what that is, or they immediately associate succotash with lima beans and freak out. WHATEVER you call it, this sweet corn medley is absolutely delicious….lima beans or not. (And how can people be so afraid of little ole lima beans, anyway? It slays me!)
What's so great about cast iron cooking, anyway?
I'm glad you asked. Though they are very heavy, I adore my cast iron skillets. I find that I use my 12″ cast iron skillet the most, though a 10″ cast iron skillet is a pretty dang versatile size, as well.
No matter which one you use, you'll find that cast iron goes from cook top to oven and back super easily. Also, due to their heavy-duty construction, they brown foods really well, holding the heat in.
A cast iron skillet is going to take a long time to heat up due to the thickness, but that means it's also going to take a long time to cool back down. Why is this a good thing? Because it means that if you're serving food from it, a cast iron skillet will keep it warmer longer – I love that!
How do I care for my cast iron skillet?
Read this article for all the details: Season Your Cast Iron Cookware In Four Easy Steps .


Other Corn Recipes to Enjoy –
Crunchy Corn Salad – Crunchy Corn Salad has a cool, creamy dressing that compliments both the corn and the veggies, as well as the crunchy Fritos – downright yummy.

Summer Corn Salad – Corn Salad is a summer staple in our house and we adore this refreshing, crisp-and-creamy-all-at-the-same-time salad!
Tortellini Salad with Tomatoes, Fresh Basil and Sweet Corn -If there's any salad that tastes like summer, this Tortellini Pasta Salad with Tomatoes, Basil and Corn absolutely has to be it.
Crispy Bacon and Sweet Potato Hash – a sauteed vegetable medley with crispy, browned bacon pieces that's both beautiful and delish.
Instant Pot Mexican Street Corn – Similar to Cuban Street Corn, this corn has bold flavors and makes a delicious side dish for grilled meats.
Potato Salad with Sweet Jalapeno Relish – Made with red potatoes, this side dish recipe is quick and easy to make. My family really enjoys this potato salad since it includes hard-boiled eggs and lots of creamy dressing.
Best Ever Corn-on-the-Cob Hacks and Recipes!
Printable Cajun Sweet Corn Medley Recipe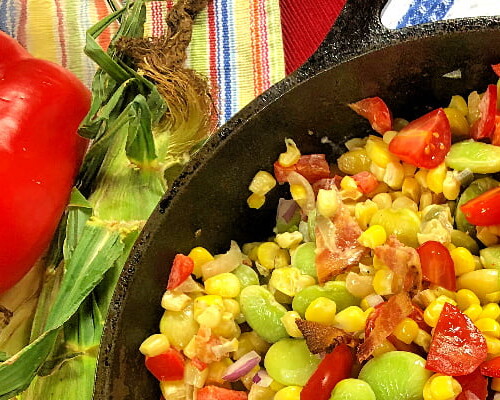 Cajun Sweet Corn Medley
Cajun Sweet Corn Medley (aka succotash in the deep South) is a traditional summer side dish that combines sweet corn and vegetables with bacon to make a tasty and colorful addition to any meal.
Print
Pin
Rate
Ingredients
5-6

slices

center-cut bacon, chopped

1

small onion, diced

1

red bell pepper, seeds and membranes removed, diced

1/2 - 1

tsp.

your favorite Cajun seasoning blend

3

cups

sweet corn, cut from the cob (may substitute frozen corn)

1

cup

grape tomatoes, halved lengthwise

1

cup

lima beans or edamame

4

scallions, chopped, white and green parts both

Splash of heavy cream, optional

Kosher salt and pepper, to taste
Instructions
In a 10" cast iron skillet over medium high heat, cook the chopped bacon until crisped; remove from the skillet to a paper towel.

In the bacon fats that remain in the skillet, sauté the onions, bell pepper, and seasoning blend until the vegetables have softened a bit.

Stir in the corn, tomatoes, lima beans, and scallions; cook for another few minutes. Add the splash of cream and season to taste with salt and pepper. Serve at once.
Nutrition
Calories:
158
kcal
|
Carbohydrates:
21
g
|
Protein:
6
g
|
Fat:
7
g
|
Saturated Fat:
2
g
|
Cholesterol:
9
mg
|
Sodium:
107
mg
|
Potassium:
366
mg
|
Fiber:
4
g
|
Sugar:
4
g
|
Vitamin A:
823
IU
|
Vitamin C:
30
mg
|
Calcium:
33
mg
|
Iron:
1
mg
We love hearing from our readers and followers, so leave us a comment if you'd like. And, if you don't hear back from us shortly, know that we may not have seen your comment. Feel free to reach out to us by email: [email protected].
Let's Get You Cookin',
Chef Alli
Save