Here's the answer to the perfect summer party bake: Low Country Sheet-Pan Shrimp Boil! An easy sheet pan shrimp boil….straight from your oven. This easy and healthy shrimp meal with veggies and sausage will make your guests will squeal with delight.
Low Country Sheet-Pan Shrimp Boil Recipe

Please Note: We do use referral and affiliate links here for products and services that Chef Alli loves and recommends.
Howdy! Chef Alli Here. Let's Get You Cookin'……Shall We?? 🙂
If you're from the Southern regions of the U.S., you've probably experienced a shrimp boil or two…no big deal, right? Well, here in the Midwest, shrimp boils aren't exactly the norm, and that's EXACTLY WHY you need to host one! I got to experience one for myself while in Louisiana, and I quickly decided a shrimp boil is just what my friends and family in Kansas need. 🙂
So far, every shrimp boil I've created and served to my guests has been a huge hit. Just envision your sweet self with a chair pulled up to a table that's completely covered with newspapers. Soon, you'll watch in amazement (and appreciation!) as your host gingerly dumps a ginormous pot of cooked shrimp, sausage, potatoes, and sweet corn right into the center of the table in a huge pile.
THEN, as if that wasn't already enough, she pours warm, melted garlic butter and parsley over that mound of steaming food before throwing some lemon wedges at you, shouting "DIG IN!" Nope, there's no silver ware or plates involved, though you might get lucky enough to score a nice big bib, some wipes, and a hand towel. You're gonna need 'em!
Here's a Facebook Livecast SHOWING how to make the Sheet-Pan Shrimp Boil.
Let's Talk Ingredients for Making Low Country Shrimp Boil
Red potatoes and yellow potatoes
I like to use baby potatoes, but sometimes, depending on the time of the year and the grocer, they can be hard to find. No worries! Just use regular size potatoes, cutting them into 2″ chunks. Maybe not as cut, but the end result is fine – they taste great! Also, you don't have to use both colors of potatoes – I just like the color contrast.
Chicken broth
I always use chicken broth for cooking my potatoes and vegetables – it adds such great flavor when you use it for simmering.
Corn on the cob
Husk your corn on the cob, then cut each ear into quarters or thirds, whichever you prefer. Cook these along with the potatoes.
Unsalted butter, minced garlic, Old Bay Seasoning, and Italian parsley
These powerful ingredients comprise the warm, melted butter you need to drizzling over the hot shrimp, corn, potatoes, and sausage. Think of this as the icing on the cake.
Shrimp
Be sure you purchase raw shrimp for this Cajun shrimp boil recipe. I prefer what's called EZ Peel shrimp that are shell-on shrimp (as opposed to peeled, raw shrimp) and you'll be looking for the shrimp that are larger in size, such as 16/25. (This means there are 16-25 shrimp in that one pound bag.)
Andouille or Cajun sausage
Here's where you want to make sure you purchase a fully cooked sausage. It will state this on the package if it's fully cooked and you'll find these type of sausages in the section where the lunch meat and bacon typically are at the grocer. If Andouille or Cajun sausage is too spicy for your taste, you can certainly opt for a Kielbasa or smoked sausage, instead.
Lemons and grape tomatoes
You'll need lemon wedges for squeezing over your shrimp and the grape tomatoes are a tasty addition that also gives great color to this dish.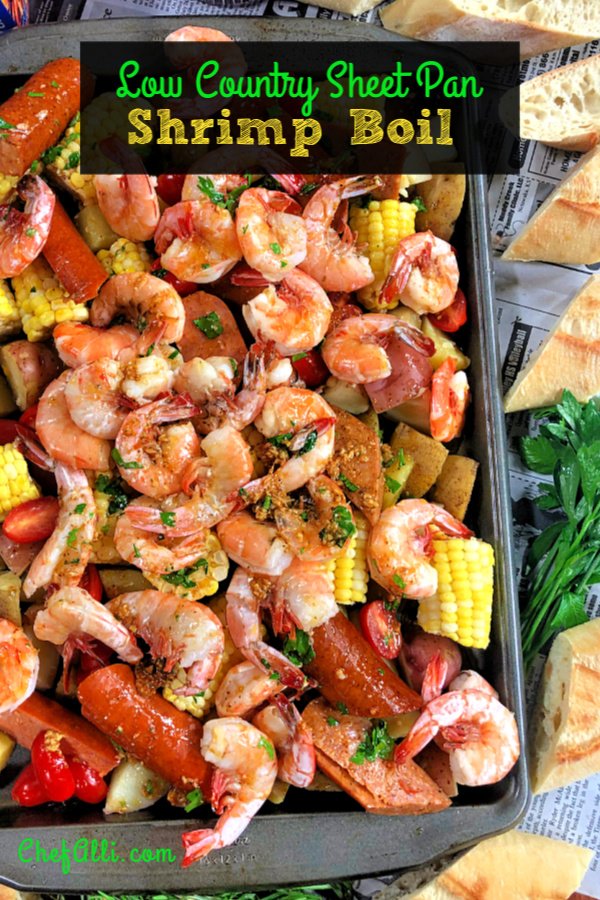 Easy Recipe Tips for Making Low Country Sheet Pan Shrimp Boil
I've never heard of a shrimp boil done on a sheet pan. Why do it this way?
Great question! Sometimes, we may not have access to a big table covered with newspapers that can accommodate our shrimp boil. In this case, it's nice to be able to slide a sheet pan of shrimp boil onto the table for our guests, easy peasy. Also, if you're transporting this spicy Cajun shrimp boil recipe to a gathering, it's nice to have it on a sheet pan in case you need to pop it into the oven upon arrival. This shrimp boil will hold nicely in the oven on warm for up to 1-2 hours!
Are there other ways to make shrimp boil, besides on a sheet pan in the oven?
I'd say that most shrimp boils are made in a pot on the stove, or at least this is how most of them originated. It's totally fine to do it this way and when you are serving big crowds of people, this is probably the easiest way to do a shrimp boil.
I accidentally picked up raw peeled shrimp instead of the EZ Peel shell-on shrimp that this recipe calls for. Am I sunk?
Not at all. Just know that these peeled shrimp won't take as long to cook in the oven, so decrease the time. You always want to cook shrimp by site, anyway….once they are opaque and pink in color instead of gray in color, those suckers are DONE. Stop cooking!
Is there an easy way to stop the cooking process of cooked shrimp?
Yep. Simply plunge the hot, cooked shrimp into a bowl of ice water. This will halt the cooking process from the residual heat.
Will I know if my shrimp are overcooked?
Yes. Any seafood that is chewy and rubbery, is over cooked. This is actually rather easy to do since we sometimes don't realize how darn FAST fish and seafood really do cook! Be sure to keep a good eye on your shrimp as they cook. Once they begin to turn pink and opaque, get those puppies out of the heat….right NOW!
Why does the recipe instruct to boil the potatoes and corn in broth instead of water?
Broth imparts a nice flavor to the potatoes and corn, but if you'd prefer to use water, you can certainly do so.
What if we don't really care for shrimp and seafood? Can we do a boil that showcases other forms of protein?
You sure can and this is more common than you might think, especially if you happen to have a guest who has a seafood allergy. Boneless, skinless chicken thighs pair perfectly alongside the sausage. Just cut the thighs into chunks and cook them with the potatoes and corn – it works great!
What is Andouille sausage?
Andouille sausage is typically associated with the creole cuisine of the South. It's a smoked, fully cooked sausage (unless otherwise stated on the packaging) made of pork, garlic, pepper, onions, wine, and seasonings. Andouille sausage is very flavorful sausage, sometimes a bit on the spicy side. If you can't find Andouille sausage in your area, you can substitute Cajun sausage or even kielbasa sausage.
What should I serve with the shrimp boil as a side dish?
Lots and lots of good, crusty bread….just perfect for soppin' up the sauce. Sometimes I even toss sliced bread right on top of the shrimp boil after I dump it onto the table to serve. Everybody just grabs what they want. If you want to bake a super easy homemade bread, here's a recipe for my favorite: Peasant Bread.
Can I make Shrimp Boil in my Instant Pot?
Totally! The recipe for this Low Country Sheet-Pan Shrimp Boil includes the instructions (see the Notes section of the recipe card below) for cooking your potatoes and corn in the Instant Pot which makes this shrimp boil and even faster meal. #Score
How to Host and Serve Your Own Shrimp Boil Party – It's The Easiest Cajun Dinner Party You'll Ever Throw!
A seafood boil requires little prep work and you're going to find it's one of the best ways to bring people together. It's an easy, delicious, fun and informal way to entertain and dine – I am not kidding when I say your guests are going to go bananas over this – everyone seems to love this rustic, casual way of eating together, and what can make a hostess happier than THAT??
Here's what you need to keep in mind for throwing the best-ever shrimp boil party:
Gather up lots of newspapers and cover a big table. Pull up chairs for everyone who's attending.
Find your biggest stock pot; gather your ingredients. Sometimes we even boil our ingredients in beer instead of broth to impart an even more unique flavor.
Load up on bibs, sanitizing wipes, napkins, and hand towels for your guests.
Remember the condiments, such as lemon wedges, Old Bay Seasoning, shrimp sauce, sliced red onions, grape tomatoes, more melted butter, Old Bay mayo….whatever you want.
Don't forget the "beverages". We usually offer a cocktail or two, plus lots of bottled beer and water on ice for the grabbing.
Whatever you do, don't overcook the shrimp!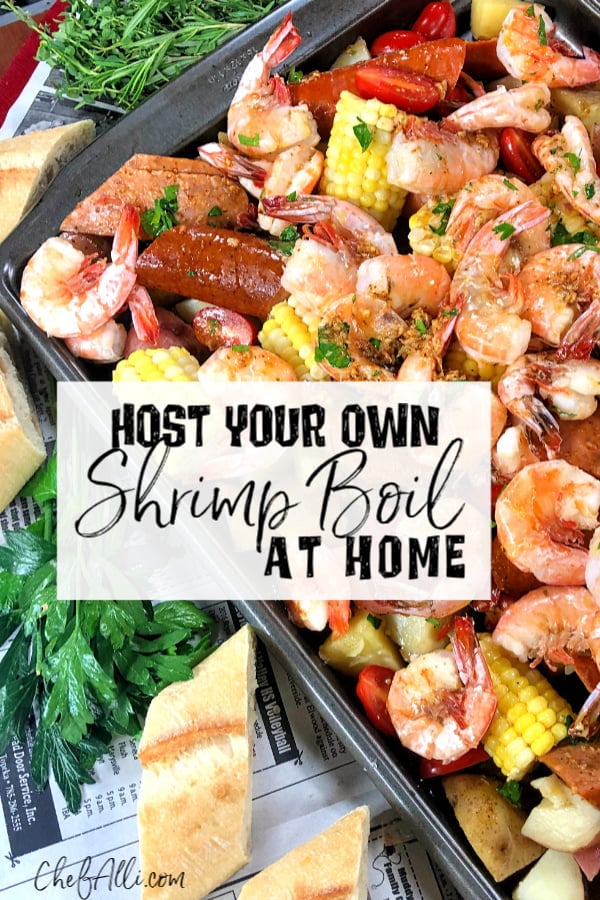 More Recipes for Sheet Pan Meals –
More Shrimp and Seafood Recipes You'll Enjoy –
Printable Directions for Low Country Sheet-Pan Shrimp Boil Recipe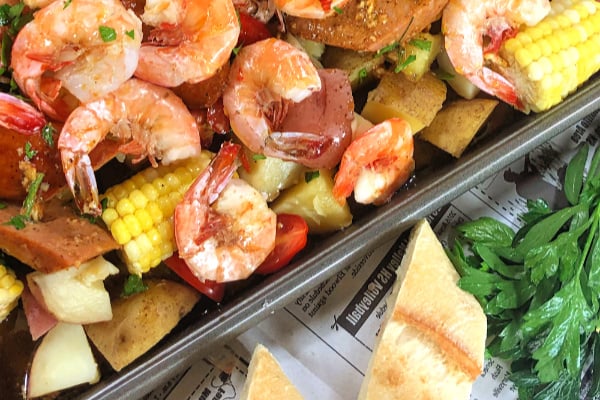 Low Country Sheet-Pan Shrimp Boil
Here's the answer to the perfect summer party: Low Country Sheet-Pan Shrimp Boil! Talk about fun and easy and your guests will squeal with delight. And, as the host, you're going to love it as because there's hardly any clean up required. #Shrimp #Cajun #Easy #Andouille #SheetPanMeal #SheetPanDinner
Print
Pin
Rate
Ingredients
3/4

lb.

baby yellow potatoes, cut in half (or use regular size yellow potatoes, cutting them into 2" chunks)

3/4

lb.

baby red potatoes, cut in half (or use regular size yellow potatoes, cutting them into 2" chunks)

8-10

cups

chicken broth

4

ears fresh corn on the cob, each one cut crosswise into 3-4 chunks

1/2

cup

unsalted butter, melted

6

cloves

garlic, minced or 1 tsp. granulated garlic

1-2

tsp.

Old Bay seasoning

1

Tbs.

chopped fresh Italian parsley, for garnish

2

lbs.

large (16/25 size), EZ peel, unshelled, raw shrimp

1

lb.

pkg. smoked Andouille or Cajun sausage, cut in half lengthwise, then into thirds (this is a pre-cooked sausage)

1

lemon, cut into wedges lengthwise

1/2

cup

grape tomatoes, halved lengthwise, for garnish
Old Bay Mayo Dipping Sauce
1/2

cup

Hellman's mayonnaise

1-2

tsp.

Old Bay seasoning

Zest and juice of 1 lemon

1

tsp.

Worcestershire sauce

Dash of hot sauce
Instructions
To Make the Old Bay Mayo Dipping Sauce
Combine all ingredients together in a small bowl; reserve.
To Make the Sheet-Pan Shrimp Boil
Preheat the oven to 425 degrees Lightly grease a large, rimmed baking sheet.

In a large pot of boiling chicken broth, cook the potatoes until just tender and parboiled, about 12-13 minutes. Stir in corn during the last 5 minutes of the cooking time; drain well. (For specific instructions on how to cook the potatoes and corn in the Instant Pot super fast, see the notes section of this recipe.)

In a small bowl, combine the melted butter, minced garlic, Old Bay seasoning, and chopped parsley.

Place the par-boiled potatoes, corn, and sausage in a single layer onto the prepared baking sheet; top with the shrimp, then pour the prepared butter mixture over the top, gently tossing to combine.

Place the baking sheet into the preheated oven, uncovered, and bake for about 15 minutes, or until the shrimp are opaque (no longer gray in color but more pink in color). **If you are using peeled shrimp, you will need to decrease the cooking time.)

Serve at once, garnished with lemon wedges and tomatoes, as desired, using the dipping sauce for the shrimp.
Notes
Notes:
**To cook the potatoes and corn in the 6-quart Instant Pot, add 1 cup chicken broth, potatoes, and corn to the Instant Pot; lock the lid into place. Using the manual setting, choose High Pressure for 5 minutes, bringing the Instant Pot to full pressure. When the timer sounds, perform a quick release to remove all pressure from the Instant Pot; drain well, then proceed as the recipe directs above. 
****If you opt for using peeled shrimp in this recipe, you won't need to cook it quite as long as the recipe directs.
www.ChefAlli.com 
Nutrition
Calories:
714
kcal
|
Carbohydrates:
39
g
|
Protein:
42
g
|
Fat:
44
g
|
Saturated Fat:
18
g
|
Cholesterol:
298
mg
|
Sodium:
2854
mg
|
Potassium:
1382
mg
|
Fiber:
4
g
|
Sugar:
7
g
|
Vitamin A:
1075
IU
|
Vitamin C:
57
mg
|
Calcium:
159
mg
|
Iron:
4
mg
We love hearing from our readers and followers, so leave us a comment if you'd like. And, if you don't hear back from us shortly, know that we may not have seen your comment. Feel free to reach out to us by email: [email protected].
Let's Get You Cookin',
Chef Alli