Is there anything better than fresh-from-the-oven homemade bread?? NO!! It's the bomb, for sure.  Especially when you slather it with lots of butter…am I right? Peasant Bread is one of our very favorite homemade bread recipes.
And, in case you're wondering, it's a white bread recipe for a good, chewy type of bread that's super easy because there is ZERO KNEADING involved. Crusty bread is our favorite, hands down.
Peasant Bread Recipe 

Howdy! Chef Alli Here. Let's Get You Cookin'….Shall We?? 🙂
3 reasons to love this recipe –
No kneading required!!!
Peasant bread is super easy and quick to make and bake.
This bread makes THE BEST toast the next day….providing you have some left.
What ingredients do you need to make homemade Peasant Bread? 
Warm water
yeast
kosher salt and sugar
flour
Italian seasoning, optional
How to Make the Most Delicious Crusty Bread in ?? Easy Steps
Combine the yeast, sugar, and salt with warm water; let get foamy on top.
Place the flour and Italian seasonings into a large bowl; stir in the prepared yeast mixture and gently combine until you have a sticky dough.
Spray another bowl with nonstick spray, then transfer the dough over. Cover with a light kitchen towel and set the bowl in a place that's not too drafty; let the dough rise for 35-45 minutes or until doubled in size.
Gently punch down the dough, dividing it in half.  Place each half onto a greased baking stone or baking sheet and let rise for 20 minutes.
Bake the loaves in a preheated 425 degree F oven for 10 minutes, then reduce the heat to 350 degrees F. and continue to bake 15-20 minutes longer until the bread is golden brown on top and bottom.  Let cool and slice into big, fat slices served with lots of butter. The bomb.

Common Questions Asked About This White Bread Recipe- 
Is this a tried-and-true recipe that is reliable?

Absolutely.  I've made this bread so many times I could do it in my sleep.  It is truly the easiest bread in the world.  You will make it over and over again.
Does it matter if I use regular yeast or quick rise yeast? 
Either one is fine.  I always use quick rise since I'm in a hurry.
How do I know if the water is warm enough, or too hot?  
Great question!! I usually use my elbow.  The water for yeast just needs to be BARELY warm…like what you'd use for bathing a baby.  Just luke warm.  That's why I use my elbow for testing.  If the water is too warm, you'll kill your yeast.
Will the yeast give me a sign if I've killed it somehow? 
It sure will.  If the water is too hot and kills the yeast, it usually won't become foamy on top.  The foam that builds on top of the yeast mixture is a good sign that all is well!!
Why is there sugar in this bread recipe?  That seems kinda odd….
You will actually find sugar as an ingredient in lots of bread recipes. One of the best benefits of adding sugar to yeast is that provides the yeast with easy food that allows carbon dioxide to be produced faster, making rising times go more quickly.

More Favorite Recipes to Enjoy – 
Printable Peasant Bread Recipe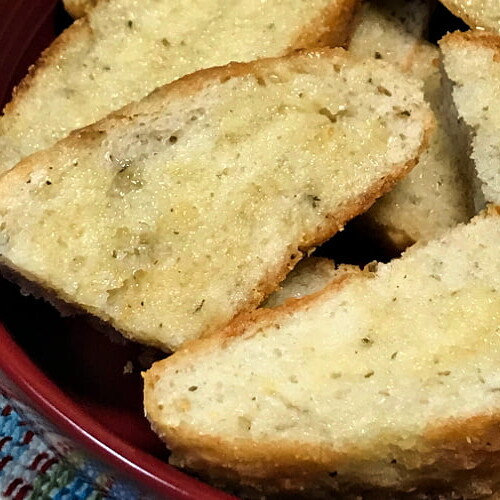 Ingredients
2

cups

warm water

2

tsp.

granulated yeast or quick rise yeast

1

Tbs.

granulated sugar

1 1/2

tsp.

kosher salt

5

cups

all-purpose flour

1

tsp.

Italian seasoning
Instructions
In a small mixing bowl, place the warm water then sprinkle in the yeast; add the sugar, and salt and give the mixture a quick, gentle stir. Let the yeast mixture rest for a few minutes until foamy on top.

Place the flour and Italian seasoning into a large mixing bowl; stir in the yeast mixture. At this point, the dough will be fairly sticky. Spread another large mixing bowl with nonstick spray, then transfer the dough to this bowl; lightly cover and let the dough rise for 35-40 minutes or until nearly doubled in size.

Gently punch or stir the dough down and then divide in half; place each half in a mound on two greased baking stones (or two greased baking sheets) that have been sprinkled with a bit of corn meal.

Gently press the dough out into a nice, level mound that's about 2 1/2 - 3 inches thick. Let the dough rise for 15-20 minutes.

Preheat the oven to 425 degree F. Bake the loaves for 10 minutes, then reduce the oven temperature to 375 degrees F. Continue to bake the loaves of bread for an additional 15-20 minutes longer. Remove the loaves to a cooling rack, slather with butter, if desired.

Let the bread loaves cool before slicing....if you can wait. Once the bread is cooled, it will be crusty and chewy. Serve with lots of butter.
Nutrition
Sodium:
182
mg
|
Calcium:
12
mg
|
Vitamin C:
1
mg
|
Vitamin A:
5
IU
|
Sugar:
1
g
|
Fiber:
1
g
|
Potassium:
52
mg
|
Calories:
148
kcal
|
Saturated Fat:
1
g
|
Fat:
1
g
|
Protein:
4
g
|
Carbohydrates:
31
g
|
Iron:
2
mg
Thanks for visiting! I hope you return soon for more yummy recipes for your family.
We love hearing from our readers and followers, so leave us a comment if you'd like.  If you don't hear back from us shortly, know that we may not have seen your comment.  Feel free to reach out to us by email:  [email protected]
Let's Get You Cookin',
Chef Alli
Please Note: We do use referral and affiliate links here for products and services that Chef Alli loves and recommends. I may receive a small compensation when you use these links.  This really helps me keep my recipe blog moving forward.  Thank you so much!